As the Major League Baseball season hits mid-May, pitchers have put together enough of a track record that those that are struggling can be targeted in daily fantasy and those that are dominating can be avoided, if need be.
There is only about a half slate of games on Monday, seven in total, and there are some legit quality starters going, a list that includes Aaron Nola, Jose Berrios, Matthew Boyd, Shane Bieber, Robbie Ray and even Yusei Kikuchi and Brad Peacock have WHIPs under 1.10.
All that means is that it might be better to target some of the other starters on tonight's schedule to go against in terms of finding potential upside.
David Hess, Reynaldo Lopez, Nick Kingham and Mike Fiers, his no-hitter notwithstanding, are some of the Monday starting pitchers that have struggled this season.
With those pitching considerations in mind, here are some angles to consider before making your MLB picks Monday.
Editor's Note: Our friends at Monkey Knife Fight have released the best, most fun, fastest growing DFS props game! It's super simple to play and win real money. Just choose your MLB, NBA, NHL or PGA game, and make your picks! Get a 100% instant deposit bonus up to $50 using promo code: BALLER. That's $50 for free - don't miss out!
BALTIMORE-N.Y. YANKEES
OVER/UNDERS
David Hess UNDER 3.5 STRIKEOUTS – Even though he has at least four strikeouts in back-to-back starts, and that is a low number, the 25-year-old had three or fewer in his previous four starts and he's not getting deep into games, going six innings once this season.
DJ LeMahieu OVER 1.5 HITS + WALKS – The Yankees second baseman is averaging 1.56 hits plus walks per game, but a home game against a subpar Orioles team pushes this more towards the over. In his past 14 games, LeMahieu is hitting .422 with a .467 on-base percentage, so he's in a good zone at the plate.
MILWAUKEE-PHILADELPHIA
OVER/UNDERS
Freddy Peralta UNDER 5.5 STRIKEOUTS – Although the Brewers starter does have 30 strikeouts in 26 2/3 innings, he's not getting deep into games and has recorded six strikeouts or more once in six appearances this season.
HOUSTON-DETROIT
OVER/UNDERS
George Springer OVER 1.5 HITS + WALKS – The Astros' leadoff hitter is averaging 1.76 hits plus walks per game and has a .463 on-base percentage against left-handed pitching (which applies to Tigers starter Matthew Boyd).
L.A. ANGELS-MINNESOTA
OVER/UNDERS
Tyler Skaggs OVER 4.5 STRIKEOUTS – The Angels' starting pitcher has recorded at least five strikeouts in four of his past five starts.
RAPID FIRE
Mike Trout +0.5 runs + RBI vs. Mitch Garver – Believe it or not, Garver is outpacing Trout in these categories, 1.52 to 1.41 per game, respectively, but that's not enough to take Garver minus the half run plus RBI, mostly because it's a difficult category. Trout, even with some relative struggles, has multiple runs plus RBI in three of the past four games.
CLEVELAND-CHICAGO WHITE SOX
OVER/UNDERS
Jose Ramirez UNDER 1.5 HITS + WALKS – He's getting a bit better lately, but Ramirez has managed 1.23 hits plus walks per game this season.
RAPID FIRE
Tim Anderson +0.5 total bases vs. Francisco Lindor – The battle of the shortstops and the White Sox shortstop, Anderson, is an underdog despite averaging 2.11 total bases per game, compared to 1.75 per game for Lindor.
PITTSBURGH-ARIZONA
OVER/UNDERS
Francisco Cervelli UNDER 1.5 HITS + WALKS – With a .288 on-base percentage, it's tough to bank on Cervelli getting on base twice in any game. He's done it in three of the past 10 contests and has struggled enough this season that the under works nicely here.
RAPID FIRE
Josh Bell -0.5 total bases vs. Jung-Ho Kang – This is a mismatch, with Bell putting up 2.46 total bases per game – he's a legit slugger – and Kang has been ineffective, averaging .87 total bases per game. Getting an extra half base isn't going to close that gap enough to make Kang appealing.
OAKLAND-SEATTLE
OVER/UNDERS
Mike Fiers UNDER 4.5 STRIKEOUTS – His no-hitter in his last start was one of the most unlikely in history and now he's coming off a start in which he threw 131 pitches. That typically doesn't lead to great results in the next start.
Ryon Healy OVER 1.5 TOTAL BASES – The Mariners slugger has a .294 on-base percentage and is 0-for-12 in the past three games, but he's still averaging 1.7 total bases per game and if Fiers is indeed a vulnerable starter then opportunities ought to exist for some Mariners to have big games at the plate.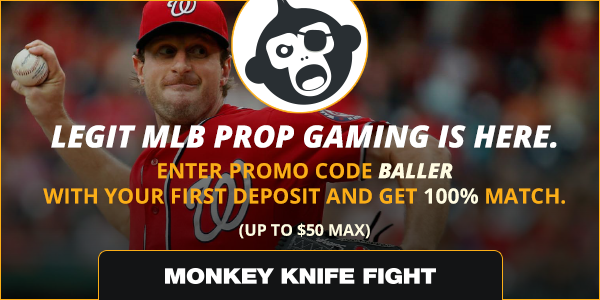 More 2019 Fantasy Baseball Advice