As Major League Baseball moves closer to its three true outcomes there are more home runs and more strikeouts in the game, and that makes for compelling plays on Monkey Knife Fight.
Even veterans who aren't known for bringing the heat can still generate strikeouts. Zack Greinke has 32 in 29 1/3 innings and Jon Lester had 14 strikeouts in 14 innings before going on the injured list. At the same time, up-and-comers like Luis Castillo and Trevor Bauer are putting up big strikeout numbers, with 12.0 and 11.6 strikeouts per nine innings, respectively. They are in action Thursday, with potential to hang some Ks on the board. Does someone want to let Jameson Taillon know about this?
Keep those trends in mind before making your picks for Thursday's baseball games.
Editor's Note: Our friends at Monkey Knife Fight have released the best, most fun, fastest growing DFS props game! It's super simple to play and win real money. Just choose your MLB, NBA, NHL or PGA game, and make your picks! Get a 100% instant deposit bonus up to $50 using promo code: BALLER. That's $50 for free - don't miss out!
ARIZONA-PITTSBURGH
OVER/UNDERS
Zack Greinke OVER 5.5 STRIKEOUTS – The veteran Diamondbacks starter had 25 strikeouts in three games before managing just four in six innings against the Cubs in his last start.
Jameson Taillon UNDER 4.5 STRIKEOUTS – This was supposed to be a big year for Taillon, but he has struggled to miss bats, recording five strikeouts just once in five starts. For whatever reason, his K rate is down so the under makes sense until that trend changes.
DODGERS-CUBS
OVER/UNDERS
Javier Baez OVER 1.5 TOTAL BASES – The Cubs slugger is averaging 2.8 total bases per game and while Dodgers starter Ross Stripling is good, he's not good enough to cut Baez's production in half.
RAPID FIRE
Jon Lester +1.5 strikeouts vs. Ross Stripling – Lester is returning from the injured list but had 14 strikeouts in 14 innings before getting hurt, so taking him as the 'dog is the play.
ATLANTA-CINCINNATI
OVER/UNDERS
Joey Votto OVER 1.5 HITS + WALKS – Votto has struggled early in the season but he did earn three walks last game and gets a favorable matchup against Braves starting pitcher Julio Teheran, who has walked 4.9 per nine innings this season.
Luis Castillo OVER 7.5 STRIKEOUTS – That's a big number to hit, but Castillo has been held to seven or fewer strikeouts once in his first five starts. He's striking out 12 batters per nine innings.
MIAMI-PHILADELPHIA
RAPID FIRE
Caleb Smith +1.5 strikeouts vs. Aaron Nola – While Nola has the pedigree and has whiffed 28 in 25 innings thus far, Smith has struck out 29 in 23 innings through four starts so getting him plus 1.5 Ks should do the trick.
DETROIT-BOSTON
RAPID FIRE
Mookie Betts +0.5 runs + RBI vs. J.D. Martinez – A battle of slow-starting Boston sluggers. Betts is averaging a combined 1.1 runs plus RBI per game, down from more than 1.5 last season, yet it's still better than Martinez, who is averaging just under one combined run plus RBI per game. Getting the half point here is a gift.
CLEVELAND-HOUSTON
RAPID FIRE
Trevor Bauer +1.5 strikeouts vs. Gerrit Cole – Going up against the Astros lineup is a bigger challenge than facing the Tribe's starting nine, but Bauer has 11.6 strikeouts per nine innings and hasn't had fewer than seven in a start this season. Cole has 13.5 strikeouts per nine, but these guys (ie. starting pitchers) don't tend to go nine.
YANKEES-ANGELS
OVER/UNDERS
Mike Trout OVER 1.5 TOTAL BASES – He's 1-for-13 at the plate in three games against the Yankees this series but is still averaging just a hair under two total bases per game. Can he bounce back against Tanaka?
RAPID FIRE
Mike Trout +0.5 runs + RBI vs. Luke Voit – Doubling down on Trout here, even though Voit is in the midst of an 11-game hitting streak.
TEXAS-SEATTLE
OVER/UNDERS
Edwin Encarnacion OVER 1.5 HITS + WALKS – Edwin is averaging just over 1.5 hits plus walks per game, but a matchup against Taylor Hearn, making his MLB debut for the Rangers, seems like a favorable way to start the game.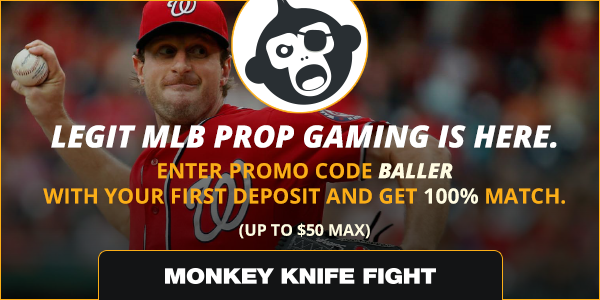 More 2019 Fantasy Baseball Advice