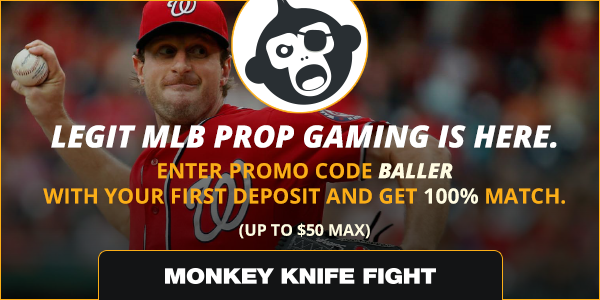 It's a funny thing about early in the baseball season. Some trends might just carry on all year, and they are easy to accept, but what do you do when a star stumbles out of the gate?
It may be one thing when it's older guys like Albert Pujols and Robinson Cano because age catches up to everyone at some point. But Jose Ramirez, Nolan Arenado, and Manny Machado are some of the stars, who should be in their respective primes, that aren't performing up to their standard level.
They will presumably turn it around at some point, but it's hard to bank on that improvement when you're doing this for daily prop picks.
Keep that in mind when when making picks for Friday's baseball action.
Editor's Note: Our friends at Monkey Knife Fight have released the best, most fun, fastest growing DFS props game! It's super simple to play and win real money. Just choose your MLB, NBA, NHL or PGA game, and make your picks! Get a 100% instant deposit bonus up to $50 using promo code: BALLER. That's $50 for free - don't miss out!
L.A. ANGELS-CUBS
OVER/UNDERS
Albert Pujols UNDER 1.5 RUNS + RBI – After falling a bit under one run plus RBI per game in 2018, Pujols has a combined nine runs plus RBI in 13 games this season. A match-up against Cole Hamels doesn't figure to make this especially more favorable.
WHITE SOX-YANKEES
RAPID FIRE
Aaron Judge +0.5 total bases vs. Luke Voit – In a dozen games, Judge has 23 total bases and Voit has 21. Take Judge plus the extra half bag. Court's adjourned!
PITTSBURGH-WASHINGTON
RAPID FIRE
Anthony Rendon -0.5 total bases vs. Starling Marte – It's easy to like Rendon, who has a 1.371 OPS and has 3.4 total bases per game, so while Marte has been fine, Rendon has been a monster early in the season.
TAMPA BAY-TORONTO
OVER/UNDERS
Lourdes Gurriel Jr. UNDER 1.5 TOTAL BASES – He's going to break out at some point, but it's hard to bank on it happening day after day and Gurriel has seven total bases through the first 10 games.
Austin Meadows OVER 1.5 TOTAL BASES – A breakthrough talent in the Rays outfield, Meadows has seven hits and 14 total bases in 10 at-bats over the past two games, giving him 29 total bases in a dozen games.
BALTIMORE-BOSTON
OVER/UNDERS
J.D. Martinez OVER 1.5 RUNS + RBI – Admittedly, this is against the numbers to this point, as Martinez has 16 combined runs plus RBI in 13 games, but a home game against starter David Hess and Baltimore is reason enough to think that Martinez can pull in at least two.
PHILADELPHIA-MIAMI
RAPID FIRE
Jake Arrieta -0.5 strikeouts vs. Sandy Alcantara – Alcantara has great potential but may not be there yet and faces a tough Philly lineup, while Arrieta is established and gets a better matchup at the Marlins.
METS-ATLANTA
OVER/UNDERS
Robinson Cano UNDER 1.5 TOTAL BASES – After a dozen games in the National League, Cano has 16 total bases, and that includes four bases on his first at-bat in the National League.
Josh Donaldson UNDER 1.5 RUNS + RBI – While Donaldson is still waiting for his first RBI of the season it's hard to bank on him picking up two runs plus RBI.
OAKLAND-TEXAS
OVER/UNDERS
Drew Smyly UNDER 5.5 STRIKEOUTS – The last time that Smyly struck out at least six batters in a game was August, 2016.  He's missed the past two years and has gone 6 1/3 innings in two starts this season.
CLEVELAND-KANSAS CITY
OVER/UNDERS
Jose Ramirez UNDER 1.5 RUNS + RBI – It's been a tough start to the season for the player who ranked third in AL MVP voting last season, as Ramirez is hitting .136 through a dozen games.
SAN DIEGO-ARIZONA
OVER/UNDERS
Manny Machado UNDER 1.5 RUNS + RBI – It's been an underwhelming start to his Padres career, as Machado is hitting .245 and has 15 combined runs plus RBI in 14 games.
HOUSTON-SEATTLE
OVER/UNDERS
Jose Altuve OVER 2.5 TOTAL BASES – With 33 total bases in 13 games, Altuve is good for 2.5 on average and while Seattle isn't a hitter-friendly park, a match-up against Wade LeBlanc is fair enough reason to try the over on Altuve.
MILWAUKEE-L.A. DODGERS
OVER/UNDERS
Lorenzo Cain OVER 1.5 TOTAL BASES – Cain is averaging two total bases per game, hitting .353 with a .924 OPS. He can go for a couple of total bases against the Dodgers and Julio Urias.
COLORADO-SAN FRANCISCO
OVER/UNDERS
Nolan Arenado UNDER 2.5 TOTAL BASES – It's been an atypically slow start for Arenado, who is hitting .260 with a .649 OPS. He has yet to hit a home run and has 17 total bases in 13 games.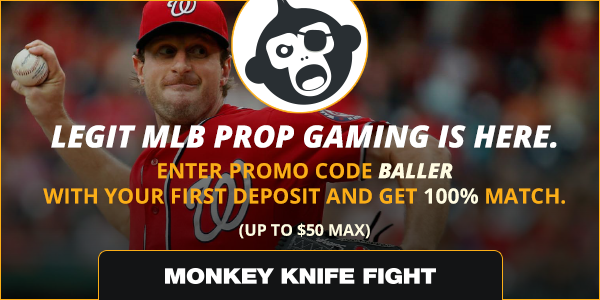 More 2019 Fantasy Baseball Advice