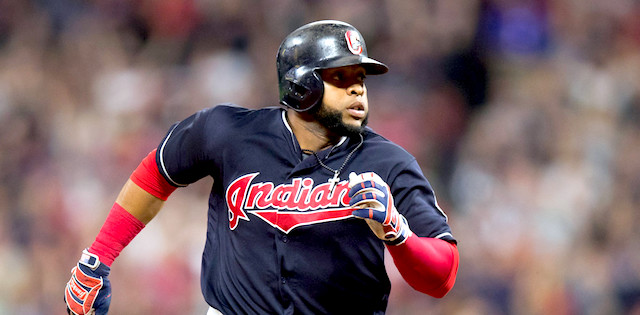 Once you reach the later rounds of drafts, you start thinking about upside fliers that can provide a great return on value. These are the rounds to take risks on more unknown commodities like prospects, forgotten-about veterans, players returning from injuries or players that have previously showed promise but haven't put it all together yet. Knowing about the deeper player pool can help you be more flexible throughout the draft, especially if you can identify someone you like and plan your earlier picks around that.
Today we are looking at some late-round third basemen who need to be considered. Do we think they are draft targets, or players to avoid? Are their ADPs undervalued? Will they make significant fantasy contributions and be one of your later-round draft sleepers? Read on to see our take.
Our editors have hand-picked these specific MLB players for your draft prep enjoyment. Normally only available to Premium subscribers, the five outlooks below are meant to give you a taste of the in-depth analysis you receive with our industry-leading 2019 Draft Guide. Be sure to subscribe today and start reading all 400+ of our 2019 player outlooks, and many other premium articles and tools, available exclusively in our 2019 Draft Guide.
Featured Promo: Get your 2023 MLB Premium Pass for 50% off. Exclusive access to our preseason Draft Kit, #1 accuracy rankings, #1 ATC projections, Team Sync platform, Live Draft Assistant, 15 in-season lineup tools, customized rankings and much more!
Sign Up Now!
Nick Senzel - 3B/2B/OF, Cincinnati Reds
Cincinnati Reds infielder Nick Senzel came into last season as the club's top prospect and was expected to make a midseason splash, both on the field and in fantasy leagues. Amidst the numbers of things that went wrong for the Reds, Senzel's battle with vertigo was just the beginning.
After missing an extended period of time, Senzel also managed to fracture the finger on his throwing hand and capped it off with surgery to remove bone spurs from his elbow. If he can put all that behind him, there is great talent waiting to emerge. Senzel hasn't tasted the majors yet, but his minor league numbers show he can hit, with a .310 average in 171 Triple-A at-bats following up a .340 average at Double-A the year before.
Senzel will need to increase his fly ball rate in order to unleash his raw power, but that should come with experience. As long as he is healthy heading into Spring Training, Senzel is easily worth a flier since he can be taken past the first 15 rounds in most re-draft leagues.
Carlos Santana has been fairly consistent, and to some extent, you know what you are getting. Depending on your league and needs, that can be a good thing or a bad thing. If your league and roster construction require an upside play, then Santana would not be your guy. But if you needed a safe pick to complement your roster, he could fit well.
With Santana, you can reasonably expect around 25 homers with an average between .230 and .260 and about 170 runs + RBI. That line means he will likely produce around a 13th round value, where he finished last year. However, a big part of that ranking is due to the fact that he simply played nearly every game.
When looking at a per game basis and factoring in the lack of upside, he's a safer pick closer to 200 than 150, unless you are actively seeking a high floor, safe player. In OBP leagues, however, he receives a significant bump in rankings. Last year, he finished with a .229/24/82/86/2 line. That line, with a slight boost in average, is a reasonable projection for 2019 as well.
In his second full season with the Houston Astros, Yuli Gurriel's 2018 numbers were exactly as expected. He hit a cool .291 with 13 HR, 70 R, 85 RBI and he even chipped in five stolen bases. Other than superb contact skills, Gurriel is league average in all batted ball metrics. The 34-year-old had a LD/GB/FB slash line of 20.2%/44.3%/35.6%, all numbers within 1% of the major league average. Gurriel also doesn't walk or strikeout much, he only had a 4.0% BB% and an 11.0% K%, so he puts the ball in play a ton.
Having these contact skills helped him get the 85 RBI as the primary cleanup or fifth-hole hitter in the Astros lineup, but with the addition of Michael Brantley this offseason, it may push Gurriel down another spot in the order. If this happens, more RBI and run-scoring opportunity will be lost, so it's likely these counting stats see a decline in 2019. A power spike for the Cuban doesn't seem to be in the horizon as he doesn't hit the ball in the air enough or have the hard contact to push it over the fence (30.6% in 2018). He only seems to hit lefties with power, a .188 ISO against southpaws and just .117 versus righties.
The batting average should remain in the .290 vicinity with the elite contact skills, and another handful of thefts would be a bonus. With an ADP of 190 in a relatively thin first base pool, Gurriel is a fine option if you're looking for a batting average helper, but you'll have to look elsewhere if you're searching for power with high-upside for big-time counting stats.
Kyle Seager - 3B, Seattle Mariners
Kyle Seager's 2018 might have been a career-worst for the 31-year-old. He finished the year batting .221 with 22 HR and 78 RBI, all numbers below his career norms. His numbers last season can be attributed to a career-low BABIP (.251), an unnatural K% (21.9), and a deflated HR/FB (11.0%). His LD% (21.4%) and Hard% (37.0%) remained in line with his recent year numbers so there is nothing to suggest that his power numbers won't return in 2019. His above-average contact skills will also bring his K% back to his normal pace, solidifying his AVG.
One of Seager's main assets is that he has been a model of consistency over the years. Since 2012, he has played in at least 154 games every year averaging .258 with 25 HR and 84 RBI in that span. Expect these numbers to be a baseline for his production in 2019. With the departures of Robinson Cano and Nelson Cruz, Seager is slated to bat third in a Mariners lineup that will provide him more at-bats, RBI, and Run opportunities than ever before.
It wasn't long ago when Seager was getting drafted in the top 100 and his numbers show nothing has changed in his swing since then. He likely won't lead his position in any roto category, but his current ADP of 238 is a bargain given his stable floor and year to year consistent production.
Joey Wendle - 3B/2B/SS/OF, Tampa Bay Rays
In 139 games in 2018, Joey Wendle slashed .300/.354/.435 with seven home runs and 16 stolen bases. After earning 11% of American League rookie of the year votes (fourth behind Ohtani, Andujar, and Torres), he is set to return as a main contributor for the Rays offense. His .353 BABIP may seem high but was partially aided by a solid 37% hard-contact rate. He's also projected to hit in the three spot in the Rays lineup in 2019.
It's likely not well-known that the Rays posted the third-best batting average in 2018 and managed 16th in runs scored (ninth after the All-Star break). You can expect the seven home runs to be improved as his historical statistics in the minors have shown a higher ISO than he managed in 2018. At a current ADP of 204, he certainly offers batting average consistency over some 2B being drafted in front of him (Schoop, Moncada, Dozier, Odor to name a few).
Expect him to build on the 62 runs and 61 RBI with a consistent top-of-the-order spot. Even if Kevin Cash moves Wendle around a bit, he hit either leadoff, third, fifth, sixth in 77% of games played in 2018. There is major upside for owners that select him in the late rounds of their drafts.
More Fantasy Baseball Analysis