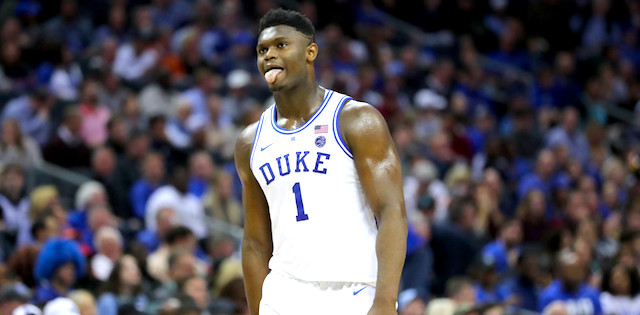 Over 40 million people will sit down to fill out an NCAA Tournament Bracket this week. How do you make your bracket stick out? Do you want it to stick out? Should you just Sharpie Duke into the National Championship? Can you be a true American and not pick Liberty?
All these questions and more are answered. Just read below.
Whether you play with office mates, family, friends or exes, there is no right way to fill out a bracket. There is a wrong way, however. Follow these simple guidelines and put yourself in the best position to cut down the nets of your NCAA Tournament Bracket Challenge.
Editor's Note: Be sure to check out the rest of our NCAA Tournament articles and analysis, including a guide on how to fill out your brackets. Read our March Madness picks, sleepers, busts and predictions for the East, West, South and Midwest regions.
Don't Pick Duke!
We'll start off with the biggest and most controversial. The Blue Devils at full strength have been almost unbeatable all season, and they certainly looked that way in the ACC Tournament. It is why they earned the NCAA's top overall seed. That, however, has almost never dictated a national championship. In the 15 years since the NCAA made seedings public, the top overall seed has won the title just three times!
To add to that, whether it is Zion Williamson or R.J. Barrett selected first in the upcoming NBA Draft, only four times has the number one pick won a national championship in the same season, with Anthony Davis the last one with Kentucky in 2012.
You want more to feed your Duke animosity?
If all the stars were to align, and Duke found themselves cutting down the nets in Minneapolis, the Blue Devils would be the worst three-point shooting national champion--EVER! They shoot a horrific 30.2 percent from beyond the arc. That ranks 338 out of 351 division one schools.
Don't Get Upset-Hungry
Part of what makes the NCAA Tournament the best sports spectacle in America is the upsets. We love them, we crave them, we devour them like we're Homer Simpson at an all-you-can-eat donut buffet. Do not let that love affair spoil your bracket.
Who amongst us doesn't want to brag when we pick that 13-4 upset. Did I scream from the mountain tops when I successfully picked Loyola-Chicago to make the Final Four last season? You're damn right I did. I can't not talk about . You will never hear me stop talking about it. So deal with it, America.
That being said, most bracket challenges award you points for the more teams you have advancing the furthest. So while that Vermont-Florida State matchup may have you craving maple syrup, you might be doing yourself more harm than good.
Pick one 13 or 14-seed to win.
Definitely pick a 12-seed. Those schools have upset the 5-seed 26 out of the last 30 years.
8/9 games are a toss up.
That's it though. Remember, the more teams you have later, the better your chances are of winning your bracket. Less risk, more chalk.
Don't Balk at Chalk
While seedings can sometimes leave fans dumbfounded, teams typically play to where they are placed. Top-seeded teams make the Sweet 16 86 percent of the time. Yes, Gonzaga has a tendency to leave earlier than expected from the NCAA Tournament, but don't hold your breath of that happening to Syracuse or Baylor. Especially since Gonzaga touts the best offense in all the land. This team is for real. Believe me!
Same goes for the Elite Eight. The top seeds make the Regional Final 71 percent of the time.
There's a Snake in the Grass
A team seeded seventh or higher has made the Final Four six years straight. Last year, three teams seeded 7th or higher made the Elite Eight, with 11-seeded Loyola Chicago making it out of the South Region.
Does that trend continue this year? Maybe!
Some sleepers to consider: Louisville, Buffalo, Saint Mary's, Nevada, Oregon
Color Matters
14 out of the last 15 seasons, a team wearing the color blue has won the national championship. So look for blue. Except Duke, don't pick Duke.
Nothing Matters
Last year I filled out two brackets. One where I researched, looked at matchups, trends and used my overall basketball I.Q. to make informed decisions. The other, I picked solely on gut and pop culture. Remember when I mentioned picking Loyola-Chicago? Allow me to let you in to a little secret. Yeah, guess which bracket that was. I actually got the entire Final Four correct by picking Michigan (Wolverine, X-Men), Loyola-Chicago (Sister Jean), Villanova (Champagne Supernova, the seminal Oasis record) and Kansas (Wizard of Oz).
So have fun, use the numbers, don't use the numbers. In the end, Angela from accounting is going to win and what will have to show for it? At least you didn't pick Duke.
More March Madness Brackets Advice