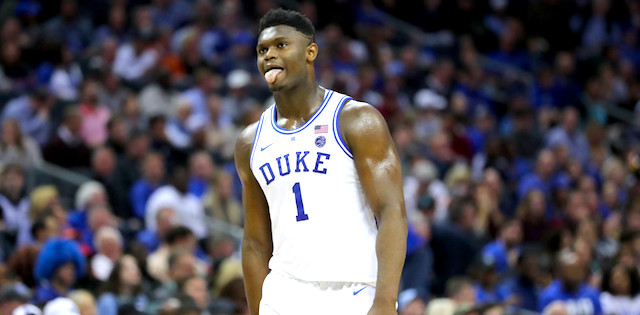 March Madness is officially here, so let's fill out some winning brackets! RotoBaller will be bringing you a full breakdown on each tournament region, including some potential sleepers and busts. Today we'll be taking a look at the East Region and my bracket picks.
I'm here to tell you some teams that I believe in to help you make the right tournament bracket decisions. Below I analyze the top four seeds, a potential bust, and a potential final four candidate. Hopefully my college basketball predictions can help you win your March Madness brackets. Now let's get to it.
Editor's Note: Be sure to check out the rest of our NCAA Tournament articles and analysis, including a guide on how to fill out your brackets. Read our March Madness picks, sleepers, busts and predictions for the South, Midwest, and West regions.
East Region Top Four Seeds 
Top four seeds: No. 1 Duke, No. 2 Michigan State, No. 3 LSU, No. 4 Virginia Tech 
When Zion Williamson was out for a month, Duke lost to UNC twice, Virginia Tech, and almost lost to lowly Wake Forest, but with him back, they are scary good. My only qualm with Duke is that they rank 338th (out of 353 teams) in three-point shooting percentage. If teams pack the paint against Duke and dare them to shoot the three, they can be beaten.
Tom Izzo has his Spartans hot at the perfect time. They're fresh off a Big Ten tournament title and Big Ten regular-season title.
LSU somehow won the SEC regular season title, but they are overrated. Their offense is good but their adjusted defense rank per Ken Pom is 62. They also have the cloud of their head coach, Will Wade, being involved in an alleged wiretap scandal. Wade was suspended for the SEC Tournament.
Virginia Tech has a good offense but must travel to California for the opening weekend. They do, however, get one of the best players back who missed 12 games, Justin Turner.
Most Intriguing First Round Matchup
No. 6 Maryland vs. No. 11 Belmont/Temple
Many people wanted Belmont in the field despite losing their conference championship to Murray State, and they got in. Now they get the chance to prove themselves Tuesday night against Temple in the First Four. Maryland has been up-and-down all year with major head-scratching losses to Penn State and Nebraska. It'll be interesting to see which Maryland team shows up against either Belmont or Temple.
Bust of the Region
LSU isn't making it out of the first weekend. They rank 274th in three-point shooting percentage and have a mediocre defense, 156th opponent two-point shooting percentage. Combine that with the shadow of their head coach in legal trouble and it all points to an early exit.
Final Four Pick
I really hate to pick Duke because everyone else will have Duke in the Final Four, but no one else in this region is beating them. Maybe Virginia Tech will give them a run in the Sweet 16 and Michigan State could take it to the wire in the Elite Eight, but Duke is too good.
More March Madness Brackets Advice