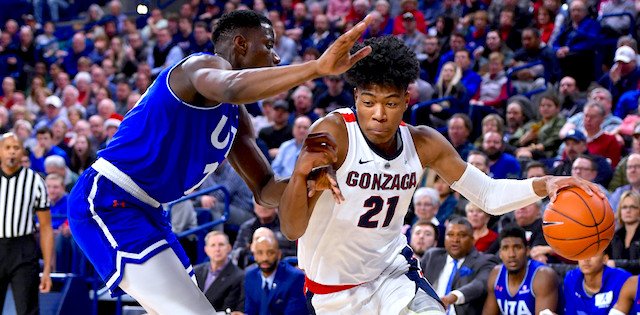 March Madness is officially here, so let's fill out some winning brackets! RotoBaller will be bringing you a full breakdown on each tournament region, including some potential sleepers and busts. Today we'll be taking a look at the West Region and my bracket picks.
I'm here to tell you some teams that I believe in to help you make the right tournament bracket decisions. Below I analyze the top four seeds, a potential bust, and a potential final four candidate. Hopefully my college basketball predictions can help you win your March Madness brackets. Now let's get to it.
Editor's Note: Be sure to check out the rest of our NCAA Tournament articles and analysis, including a guide on how to fill out your brackets. Read our March Madness picks, sleepers, busts and predictions for the East, South, and Midwest regions.
West Region Top Four Seeds 
Top four seeds: No. 1 Gonzaga, No. 2 Michigan, No. 3 Texas Tech, No. 4 Florida State
Gonzaga is the only team to beat Duke when they were at full strength. Them losing to Saint Mary's in their conference championship game will have people shorting the Zags but not me. They are really good.
Michigan is hot once again at the right time. Even though they lost to Michigan State in the Big Ten championship, they're still to be reckoned with.
Texas Tech has had a quiet, but very good season. Top three seeds unranked before the season have made the Final Four just two times out of 53 since the field expanded in 1986. The Red Raiders fall under that category.
Florida State returns many players from their Elite Eight run last season. They are a big, athletic bunch that is physically intimidating. They rank 32nd in opponent effective field goal percentage.
Most Intriguing First Round Matchup
No. 5 Marquette vs. No. 12 Murray State
Ja Morant against Markus Howard. Two of the best point guards in the country will face off. That's enough to make this game the most intriguing First Round matchup. Marquette will win though because they're most physical, something Murray State doesn't see much of that in the Ohio Valley Conference.
Bust of the Region
Texas Tech. The odds are against them like I pointed out above. If they were to beat Northern Kentucky in the First Round, they'd face Buffalo/winner of St. John's vs. Arizona State. The Sun Devils are alright, but Buffalo and St. John's can do damage. Both of those teams run up-and-down and can score a lot.
Final Four Pick
Gonzaga. The Zags are so good and can beat you in so many ways. Them against Florida State in the Sweet 16 would be a rematch of last year's Sweet 16 in which the Seminoles won. The Zags avoid Michigan/Texas Tech/Buffalo until the Elite Eight.
More March Madness Brackets Advice