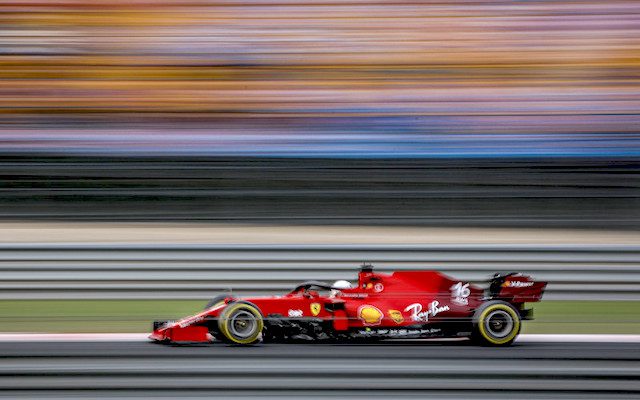 Formula 1 heads to Singapore this weekend for the Singapore Grand Prix. It's been a few weeks since the last race—the cancelation of the Russian Grand Prix meant that 9/11/22 was the last time these cars hit the track for the Italian Grand Prix, which Max Verstappen won. It was his fifth win in a row.
With seven races left in the season, Verstappen has a commanding lead in the race for the title, but there are still some intriguing races on the schedule. And with Singapore hosting a race for the first time since 2019, we don't necessarily know what to expect here.
Below you will find our Formula 1 DraftKings DFS lineup picks for 10/2/22, with the slate locking at 8:00 a.m. ET. If you have any questions or want to talk about Formula 1, you can find me on Twitter at @juscarts.
Editor's Note: Win big with our NASCAR DFS Premium Pass! Jordan McAbee joins the team in 2023 with his exclusive DFS projections and algorithm-predicted finishing order. Get VIP access to our Lineup Optimizer, Research Station and Cheat Sheets for NASCAR Cup, Xfinity and Trucks contests. Join in on the fun with our other NASCAR DFS winners!
Check It Out!
How Does Formula 1 Fantasy Work?
If you're familiar with using DraftKings for NASCAR, this Formula 1 format is going to feel really, really different from what you're used to. It's a lot closer to the NFL single-game showdown slates than it is to anything on the NASCAR side.
So, here's how the scoring and format work. You'll pick five drivers and a constructor. One of those drivers will be your captain, who earns you 1.5-times the points but also costs 1.5-times as much as they usually cost. For the constructor, you're choosing one of the F1 teams.
So, here's how the scoring works. Your driver only gets points if they finish in the top 10. Here's a chart for how that breaks down.
| Finishing Spot | DraftKings Points |
| --- | --- |
| 1 | 25 |
| 2 | 18 |
| 3 | 15 |
| 4 | 12 |
| 5 | 10 |
| 6 | 8 |
| 7 | 6 |
| 8 | 4 |
| 9 | 2 |
| 10 | 1 |
In addition, the driver with the fastest lap of the race gets three points. You get 0.1 points per lap led, five points for beating your teammate, one point for being classified at the finish (finished 90% of the race, essentially), and points for place differential. Finish three spots higher than your grid position and you get two points. Finish five better and you get three points. Finish 10 better to get five points. You also lose points for negative place differential, starting at three spots.
The constructor points work the same way, with some added points if both cars do well.
It's confusing, but for Formula 1 DFS to work, it probably had to be confusing.
Now that we've gone over that, let's talk drivers.
Captain: Max Verstappen ($18,600)
Starts 8th
Max Verstappen only qualified eighth. Based on how this season has gone, it should take him what...12 laps to make it up to first place?
It's just so hard to not play Verstappen, especially when a win would mean that he would get him three extra points for place differential—and if he's your captain, that would be 4.5 extra points. Formula 1 DFS is a game where those small points are even more important than in NASCAR DFS, so I think that added upside makes it worth it.
Verstappen has won five races in a row. Red Bull seems to know how to out-drive and out-strategize every other team, so Verstappen will be up there in the lead barring a mechanical issue, a crash or some other unforeseen circumstance.
Last time the series was here in 2019, Verstappen finished third.
Constructor: Red Bull ($11,900)
I go back and forth between stacking my captain and my constructor and not stacking them and every time, I seem to make the wrong choice. This week, I'm back to stacking, because I think Red Bull should be the team to beat.
Obviously, Verstappen is a big part of that. But I already wrote about Verstappen above. Let's talk about the other part of Red Bull, Sergio Perez.
Perez qualified second, behind only Charles Leclerc. But with Leclerc's Ferrari teammate Carlos Sainz starting fourth behind a resurgent Lewis Hamilton, I think Red Bull is better positioned for a double podium than anyone else, considering Max Verstappen, despite an issue that led to him being two seconds off the pace in Q3, has been fast all weekend and should find himself up front in this one.
Esteban Ocon ($6,400)
Starts 18th
Tough qualifying effort for Ocon, who has his worst starting spot since Miami, when he started 20th but finished eighth.
Ocon will have his work cut out to gain the points for defeating his teammate, since the other Alpine car, Fernando Alonso, starts fifth. If this race goes normally, Ocon won't get those points.
But the reason I'm playing him is that Ocon is capable of making a lot of passes in this race. Get a few key retirements ahead of him, and Ocon can crack the top 10. If he gets those place differential points AND something happens to Alonso, this could be a high-scoring play.
Of course, that's pretty speculative, but when you're spending big money on a Verstappen/Red Bull stack, you've got to get lucky at the margins. This is the first attempt to get lucky. We know Ocon has talent and usually has race day speed, so while the likeliest outcome is he finishes around 12th and Alonso beats him, it's worth aiming for that less-likely outcome.
Valtteri Bottas ($5,400)
Starts 16th
Bottas starts one spot back of teammate Guanyu Zhou, and he's gone four races in a row without defeating Zhou. But a lot of that was bad luck, with a string of three DNFs in a row before he was 13th in Italy.
But before this run, Bottas has earned those points for defeating his teammate in 11 of the first 12 races. We've seen Bottas' DraftKings salary really plummet on this current cold streak, as he was $6,600 on July 31 and is now $1,200 cheaper. I think that opens up some solid value here.
Bottas finished in the top five in four of his last five races here. His experience at a track that F1 hasn't been at since 2019 gives him an added boost.
Alexander Albon ($4,400)
Starts 19th
There's some risk here since Albon missed last race because of appendicitis, but I would assume he's at full strength this week, because the team wouldn't have put him in this car if they didn't think he could handle things.
Albon's 19th place starting spot is a concern, though. Was it just because he's been off so long? Hopefully, because there's some good place differential upside for Albon this week.
Also of note: even starting 19th, he's starting ahead of teammate Nicholas Latifi, and Albon has been a consistent source of the defeated teammate points. The last time he didn't earn them was in May at Monaco.
Kevin Magnussen ($3,200)
Starts 9th
Honestly, I hate playing Haas cars, but to make Verstappen/Red Bull work, you've got to take some risks and do some things you don't like, so we're playing Magnussen, I guess!
He starts a few spots ahead of teammate Mick Schumacher, though Schumacher has earned the points for defeating his teammate a lot more than Magnussen has lately. But...well, Schumacher is $800 more than Magnussen and every dollar counts here. So lets take a risk on Magnussen staying ahead of Schumacher.
The Keys to Weekly NASCAR DFS Success
NASCAR is back, and it's time for you to win big with RotoBaller!
Our DFS NASCAR Premium Package
 features several heavy hitters and proven winners.
Jordan McAbee joins the team in 2023 with his exclusive NASCAR DFS projections and algorithm-predicted finishing order! In 2022 DFS contests, Jordan had a +33.92% profit margin good for +$10,467.06 profit and qualified for the Fantasy Racing World Championship.
Four-time NASCAR Racing Writer of the Year finalist and fantasy industry legend Scott "The King" Engel is also in the crew, bringing you his weekly strategies and lineup picks. Set your winning DFS lineups with our award-winning team.