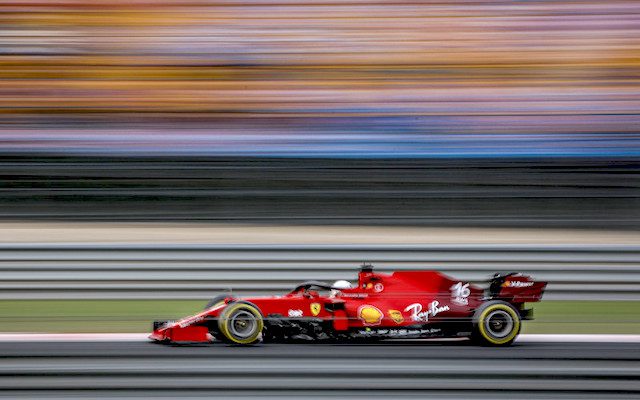 Formula 1 heads to Japan this weekend for the Japanese Grand Prix. Last weekend in Singapore, Max Verstappen shockingly didn't win, which meant he also didn't wrap up the 2022 Formula 1 title, though he'll have a good chance to do so on Sunday in Japan.
Most of you reading this will be in North America, so get ready for an incredibly late night of action. This race begins at 1:00 a.m. ET and is the last Formula 1 race this season that will be inconvenient for American fans. The final four races feature three races in the western hemisphere, but a finale at Abu Dhabi.
Below you will find our Formula 1 DraftKings DFS lineup picks for 10/9/22, with the slate locking at 1:00 a.m. ET. If you have any questions or want to talk about Formula 1, you can find me on Twitter at @juscarts.
Editor's Note: Win big with our NASCAR DFS Premium Pass! Jordan McAbee joins the team in 2023 with his exclusive DFS projections and algorithm-predicted finishing order. Get VIP access to our Lineup Optimizer, Research Station and Cheat Sheets for NASCAR Cup, Xfinity and Trucks contests. Join in on the fun with our other NASCAR DFS winners!
Check It Out!
How Does Formula 1 Fantasy Work?
If you're familiar with using DraftKings for NASCAR, this Formula 1 format is going to feel really, really different from what you're used to. It's a lot closer to the NFL single-game showdown slates than it is to anything on the NASCAR side.
So, here's how the scoring and format work. You'll pick five drivers and a constructor. One of those drivers will be your captain, who earns you 1.5-times the points but also costs 1.5-times as much as they usually cost. For the constructor, you're choosing one of the F1 teams.
So, here's how the scoring works. Your driver only gets points if they finish in the top 10. Here's a chart for how that breaks down.
| Finishing Spot | DraftKings Points |
| --- | --- |
| 1 | 25 |
| 2 | 18 |
| 3 | 15 |
| 4 | 12 |
| 5 | 10 |
| 6 | 8 |
| 7 | 6 |
| 8 | 4 |
| 9 | 2 |
| 10 | 1 |
In addition, the driver with the fastest lap of the race gets three points. You get 0.1 points per lap led, five points for beating your teammate, one point for being classified at the finish (finished 90% of the race, essentially), and points for place differential. Finish three spots higher than your grid position and you get two points. Finish five better and you get three points. Finish 10 better to get five points. You also lose points for negative place differential, starting at three spots.
The constructor points work the same way, with some added points if both cars do well.
It's confusing, but for Formula 1 DFS to work, it probably had to be confusing.
Now that we've gone over that, let's talk drivers.
Captain: Charles Leclerc ($16,800)
Starts 2nd
Look: Max Verstappen with a Red Bull stack is probably the highest-scoring play here, but I want to have some better options with the rest of my lineup, so I'm fading Verstappen and hoping that he finishes anywhere but first place.
Leclerc starts second, so if anyone can get past Verstappen early on, it's him. Leclerc has three podiums in a row and has beaten teammate Carlos Sainz in all three of those races.
Past track record here isn't great for Leclerc, but that'll happen when F1 hasn't been here since 2019. He did qualify second for that race, though he faded during the race and finished seventh.
Still, this is the obvious best non-Verstappen play and the only non-Red Bull driver who I would bet on winning a race before this season ends.
(If you decide to play the Verstappen/Red Bull stack, then replace Lando Norris with his teammate Daniel Ricciardo below and hope that Danny Ric can finish ahead of Norris for the first time since June.)
Constructor: Ferrari ($11,300)
Look, if I'm fading Verstappen, then I'm going to go all out here and also fade Red Bull. In fact, I think fading Red Bull is a smarter move than fading Verstappen. I'll likely run some lineups that pair Verstappen with Ferrari.
Anyway, Ferrari's two drivers start second and third and are coming off of a double podium last week at Singapore. I mentioned above what Leclerc has done lately, but Sainz has been good himself. Over the last six races, Sainz has five finishes of fifth or best, including a pair of podiums. Can Ferrari go back-to-back with double podiums? We'll see. It's what I'm hoping for by playing them, even if it's a little unlikely based on how the season has gone and how Ferrari strategy has been.
Lando Norris ($8,000)
Starts 10th
Norris starts a little too close to McLaren teammate Daniel Ricciardo for me to feel like this play is a lock, but considering Norris has now finished ahead of Ricciardo in eight consecutive races, Norris starting one spot ahead of Ricciardo is probably enough of a buffer.
This car has had some good runs lately, with Norris finishing fourth at Singapore last week. He has double-digit DFS points in seven of the last eight races, and the only race in that span where he didn't hit that number was at Belgium, when he had nine fantasy points, mostly because he started way back in 17th.
Esteban Ocon ($5,600)
Starts 5th
Ocon starts two spots ahead of teammate Fernando Alonso. Even with that, Alonso is the safer play, but the salary savings of a Ferrari stack over a Red Bull stack still doesn't put you in a position to afford Alonso this week, unless you play him over Norris.
Ocon has really struggled in qualifying lately, starting outside the top 10 in the last four races. But earlier in the year when he was starting near the front, he was doing a decent job of maintaining position. Ocon has started eighth or better five times. He's either gained spots, kept his position, or lost just one position in four of those five races. He finished ahead of Alonso in all four of those races.
Valtteri Bottas ($5,000)
Starts 12th
The safest play in F1 if you're looking for points for beating a teammate is Alexander Albon from Williams, but Bottas is close. Or, rather, he was close. He earned those points in 11 of the first 12 races. And then he hit a wall, finishing behind Guanyu Zhou in four consecutive races.
But of those four races, Bottas failed to finish three of them—twice via mechanical failure and once via crash. Zhou has defeated Bottas on track just once this year: Monza, when Zhou finished 10th and Bottas 13th. Zhou qualified well this week—he starts 14th—but the safe money is on Bottas here, as long as the car holds up.
Yuki Tsunoda ($3,200)
Starts 13th
Tsunoda starts 13th, while his Alphatauri teammate Pierre Gasly—who has announced he's leaving the team after this season—starts back in 17th.
And, well...that's my argument for Tsunoda as a value play this week. He starts the race with a pretty good advantage over his teammate, making him an interesting option if you want to chase the "beat teammate" points. The only driver under $4,000 who I would consider for this role aside from him is one of the Haas drivers, but I've really soured on Haas lately.
Tsunoda hasn't gotten the teammate points since the British Grand Prix on July 3rd, so don't go thinking this is a lock or anything. But Tsunoda did get those points in four of the first five races of the season, and if Tsunoda will be back next year and Gasly won't be, maybe Alphatauri will put more attention on this car going forward?
The Keys to Weekly NASCAR DFS Success
NASCAR is back, and it's time for you to win big with RotoBaller!
Our DFS NASCAR Premium Package
 features several heavy hitters and proven winners.
Jordan McAbee joins the team in 2023 with his exclusive NASCAR DFS projections and algorithm-predicted finishing order! In 2022 DFS contests, Jordan had a +33.92% profit margin good for +$10,467.06 profit and qualified for the Fantasy Racing World Championship.
Four-time NASCAR Racing Writer of the Year finalist and fantasy industry legend Scott "The King" Engel is also in the crew, bringing you his weekly strategies and lineup picks. Set your winning DFS lineups with our award-winning team.