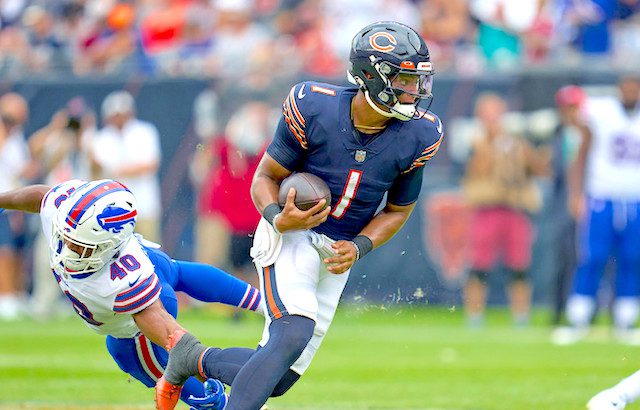 The Super Bowl will be played this week and it will put a final stamp on the 2022 NFL season. It is a season that will be remembered for a number of different reasons - perhaps the biggest being Damar Hamlin. We continue to wish him a speedy and miraculous recovery. While that will largely be what fantasy football players remember about this season, there were plenty of other major storylines and takeaways from an eventful year. 
Once the season ends, the attention quickly starts to turn. Many will turn their eyes to baseball, but there are plenty of you who are already itching for more football content. And let me tell you, I will be providing plenty of that this offseason here at RotoBaller! But before we just turn the page to the 2023 season, it's beneficial to look back and see how the landscape may have changed in the past season. 
And I mean, plenty has changed. Just a year ago, Christian McCaffrey and Saquon Barkley were injury-prone and not able to stay healthy. Jonathan Taylor was the unquestioned first overall pick, Kyle Pitts was the greatest tight end ever, Tom Brady was still an active player, and the Broncos were an offense that everyone thought would provide some league winners. Yeah, life comes at you fast! But before we close the book on a very eventful season, let's take a look back at the main takeaways.
Featured Promo: Get any full-season NFL Premium Pass for 50% off and win big in 2023. Exclusive access to our Premium articles, 15 lineup tools, new Team Sync platform, Lineup Optimizer, Premium DFS tools and cheat sheets, and much more!
Sign Up Now!
Changing of the Guard at Quarterback 
To me, the biggest takeaway of the 2022 season is the clear change of the guard at the QB position. For a while, it felt like the old guard would be in charge as long as they wanted. Even after names like Peyton Manning, Drew Brees, Eli Manning, Ben Roethlisberger, and Philip Rivers called it a career in recent years, there was still Tom Brady winning Super Bowls and Aaron Rodgers winning MVPs. Add in Russell Wilson, who was a bit of a tweener, and it felt like the vets may be able to hold off the youth invasion at the QB position. But that all changed in 2022. 
Brady and Rodgers finished as the QB12 and 13 in total points, but averaged less fantasy PPG than Tua Tagovialoa, Geno Smith, Daniel Jones, Jared Goff (and for Rodgers - less than Marcus Mariota). Russell Wilson bottomed out and is hoping Sean Payton can save him. But while the old heads were struggling in their battle against father time, the young dudes balled out. 
Patrick Mahomes broke his own record for most fantasy points scored in a season, while Jalen Hurts actually averaged more fantasy PPG -- meaning he too could have broken the record. Josh Allen was five points shy of becoming the first QB to ever score 400 fantasy points in back-to-back seasons, and he would have done so if not for the canceled game. Joe Burrow has established himself as a top fantasy pick for next season. And these QBs were also joined by two up-and-coming stars, Trevor Lawrence and Justin Fields. Both finished as top seven QBs this season in total points, and there was a stretch where Justin Fields was the best QB in fantasy. 
This is a key takeaway from the 2022 season, as to me, the top QBs in next year's draft are all a part of the youth takeover at the position. Mahomes, Hurts, and Allen, in any order really, should be the first three QBs off the board -- and you can make the case that they are worth taking in the second round. Joe Burrow will likely be the fourth QB drafted in the majority of leagues, but Fields belongs right there with him as he has a path to be the QB1. And I am saying that before the Bears load up with weapons around him this offseason. Lawrence will be another year acclimated both in the league and this system, and he will also be getting Calvin Ridley next season -- who you could easily argue would be the best free agent receiver if he was on the market. 
We have not spoken at all about Lamar Jackson and Justin Herbert. Both disappointed in fantasy last season, however we know the upside they each bring. Jackson has the highest fantasy PPG by any QB in a single season, and Herbert just a year ago finished as the QB2. He gets an upgrade in play-caller with Kellen Moore, and Jackson is still capable of things that few QBs are in fantasy. Both of them still deserve to go in the second tier of the elite QBs. That second tier includes Burrow, Fields, Lawrence, Herbert, and Jackson. 
After that, the position starts to thin out. There are fall-back options like Smith, Jones, Kirk Cousins, Goff, Tua Tagovailoa, Dak Prescott, and Deshaun Watson amongst others. But the depth at the position is just not what it used to be. Normally the advice is to wait at QB -- but given the current landscape of the position, I think you would be very smart to leave drafts with one of those eight QBs. Much can change in the coming months, but for now, start planning on taking a QB earlier than in past years. 
Most Dominant Season Ever?
Travis Kelce has dominated the tight end position for years, so it could be easy to take him for granted. That is especially true when you consider that in 2021, Kelce did not finish as the top tight end (Mark Andrews). That led to him going cheaper in drafts than he had been for a while.
Not only did you get a discount this year, but he also was not even the first tight end drafted in many leagues. Yeah, he proved that to be a mistake -- all Kelce did was go on to score 316 fantasy points. Not only would that be enough to make him the WR5 on the season, but it was over 100 more fantasy points than any other tight end.
T.J. Hockenson was second with 215 fantasy points, and George Kittle was the only other tight end to score over 200 fantasy points (he scored 200.5). Kelce averaged 18.6 fantasy PPG this season, and Kittle at 13.4 was the closest. That means for most tight ends, at least a touchdown separated them from Kelce on a weekly basis. Kelce led the position in targets, catches, yards, and touchdowns this season. His six games with over 100 yards tied for the most by a tight end in a season. 
The gap between the top scorer and the second-highest fantasy point scorer at every other position was less than 30. But at tight end, it was over 100. Not only was Kelce the fantasy football MVP to me (and the RotoBaller staff), but this was arguably the most dominant fantasy season we have seen -- at least in my life as a fantasy player (15 years). 
Elite Wide Receivers
There has been a shift in the last 10 years or so where receivers have been going more and more in the first rounds of fantasy football drafts. That trend was put to the test a couple of seasons ago, as the first round was largely loaded with running backs. Then last year we started to see more balance, with many first rounds being closely split between the two positions.
Going forward, we should see even more receivers taken in the first round after the 2022 season. More receivers scored over 300 PPR fantasy points than running backs in 2022. But, of the running backs who did so, three of them are at least 27 years old and have a lot of touches on the tires -- Austin Ekeler, Christian McCaffrey, and Derrick Henry. But that is just a small part of why I will be attacking receivers early on. 
Another big reason is that teams are just throwing more than ever while using multiple backs in the backfield. This is nothing new. Neither is the influx of young talent that has really redefined the receiver position in recent years. But another reason is the running backs -- if you look at the names that were the best running backs in fantasy this past season, it gets interesting. Josh Jacobs, Saquon Barkley, and Tony Pollard are all set to be free agents. Joining them are Miles Sanders, David Montgomery, Kareem Hunt, Devin Singletary, Damien Harris, and Jamaal Williams amongst a bunch of strong secondary options. 
There is also a deep RB draft class set to enter the NFL this year. The position is going to look very different next season and that will lead to a lot of uncertain backfields. Given that, there will likely be a lot of RB values that hit in the middle and late rounds of drafts -- and certainly, there will be value to be had off the waiver wire throughout the season.
I know it's crazy to make plans for stuff that hasn't happened yet -- but given the landscape of the WR and RB positions in 2022, and how they project for 2023, start planning now on drafting receivers in the earlier rounds of your drafts.
Youth Takeover Continues
In the last couple of years, there has been a ton of young talent that has made an immediate impact in the NFL. Last year we saw it with Breece Hall, Kenneth Walker III, Dameon Pierce, Isiah Pacheco, and more for the running backs. But we saw it even more with Garrett Wilson, Chris Olave, Drake London, George Pickens, Christian Watson, Jahan Dotson, and others at wide receiver. That's after we had Jaylen Waddle, Amon-Ra St. Brown, and of course the big two of Justin Jefferson and Ja'Marr Chase in recent years. Rookies have made more and more of an impact in recent years.
Football is a young man's game and 2022 proved that more than ever. I already spoke about the youth influx at the QB position, but we have seen a strong influx at running back and receiver in the last couple of years too. Of course, every NFL draft class is different -- but the takeaway is that it's okay to take shots on rookies in fantasy football, especially if you are not using a high-end pick to do so.
Heading into 2023, I am not telling you to only take players under 25 or something like that -- but we are seeing players make big impacts at younger and younger ages. It has also led to veterans not getting as long of a leash as they age. That means at the very least, age is a tiebreaker when deciding between two similarly ranked players.
So much will change between now and when you draft in the summer. But it is vital to look back at the past season, see what we learned, and how we can apply it to the next season. Congrats, by reading this you can officially say your 2023 fantasy football prep is underway! 
Make sure to follow Michael on Twitter, @MichaelFFlorio.
Download Our Free News & Alerts Mobile App
Like what you see? Download our updated fantasy football app for iPhone and Android with 24x7 player news, injury alerts, rankings, starts/sits & more. All free!


Win Big With RotoBaller
Be sure to also check out all of our other daily fantasy football articles and analysis to help you set those winning lineups, including this new RotoBaller YouTube video:


More Fantasy Football Analysis