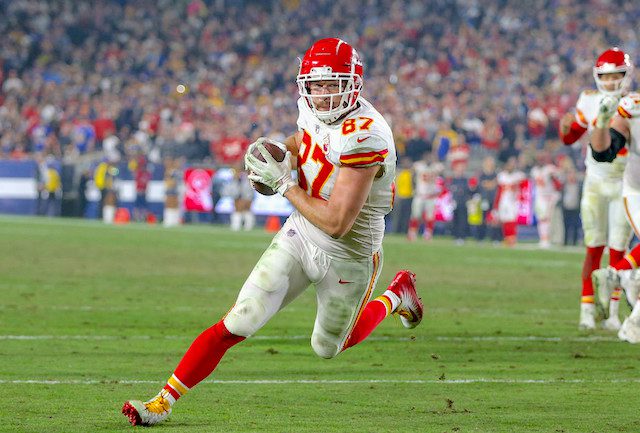 Howdy, and welcome to the official 2022 Fantasy Football Awards Show, presented by RotoBaller. These awards are voted on by RotoBaller's NFL writers, with some lighthearted commentary by yours truly.
As is tradition, I'm your host, Nick Mariano. I'm not Michael Scott, but I always try to make The Dundies proud as we look back on 2022, look forward to 2023, and have some fun along the way. Let's laugh, cry, and poke fun at ourselves while honoring some of the fine football players who have had outstanding (for better or worse) performances in the 2022 season.
It remains a bittersweet affair when the fantasy football season ends but I hope it sparked joy in your life. We all need those moments to escape into. So let's celebrate the season that was before leaping right into draft prep for the 2023 season, eh?

Featured Promo: Battle it out on Bettle with your season-long lineups! Join the free RotoBaller weekly contests on Bettle -- just important your season-long lineups and enter! Winners get a free year of RotoBaller Premium access for all sports ($450 value) plus another free $50 in Bettle credits!
Join Now!
Most Valuable Player
Also known as First By A Mile Award
I wouldn't have argued with Austin Ekeler, who was a strong buy-low after three underwhelming weeks (PPR RB No. 31, 15, and 37) to open 2022. He was then a top-16 RB in 11-of-13 weeks to finish the season, including eight top-10s and five top-3s that culminated in a Week 17 boom with 28.1 PPR points. That was the top RB performance, while JJ teams languished under Jaire Alexander's taunt to the tune of one 15-yard catch.
I won't be mad at anyone stumping for Patrick Mahomes either, but QB streaming does lower the overall value at QB. Those who secured Daniel Jones, Jarrett Stidham, or Sam Darnold were happy in Week 17.
Kelce offered an advantage like no other. His 306.5 PPR points (Weeks 1-17) were nearly 100 points more than the No. 2 TE in T.J. Hockenson. Kelce averaged 19.2 PPG to Hock's 13.3. The distance in TE1→TE2 for PPG is the same as TE2→TE17. One simply doesn't find gaps like this often. The durability and consistent performance from Kelce will maintain his first-round status in 2023.
(He also won Most Consistent.)
Fantasy Rookie of the Year
Aka the Chasing Upside Award
Everyone's always chastised for chasing ceilings with unproven rookies. Garrett Wilson may have taken this down with halfway-competent quarterbacking throughout 2022, but this award isn't built on coulda-shoulda-woulda. With a clean bill of health then Christian Watson would've likely constructed a strong case as well.
But KW3 is our man, stepping up for Seattle when Rashaad Penny's season ended early (F). Walker made a splash from the jump, scoring a 69-yard TD in Week 5 after Penny exited. Walker was the No. 7 RB in Half-PPR scoring between Weeks 6-17, standing as one of nine players to average 15 or more points in that window. That'll play.
Fantasy Playoffs MVP
Aka The Late Hammer Award
Everyone loves having that hammer in the late game of DFS slates to bring home the bacon. Well, take that philosophy and apply it to the full season you get someone to slam down on your opponents in the playoff weeks.
While Austin Ekeler and Christian McCaffrey had more fantasy points in Weeks 15-17, the traditional FF playoffs, McKinnon was not far behind. And if you expand that to Weeks 14-17 then McKinnon's 102 PPR points led all RB/WR/TE. He's the MVP, especially considering his low draft cost and likely waiver availability in most leagues following a modest start.
McKinnon had just one touchdown through Week 12 but then found paydirt eight times over the next five weeks. He was *the* RB1 in Weeks 14 and 15. Teams facing a win-and-in scenario in Week 14 with McKinnon would ride him all the way to a title. Beautiful.
Comeback Player of the Year
Geno Smith (Honorable Mentions: Travis Etienne Jr., Saquon Barkley)
Aka The Stan Award

"Dear Geno, I wrote you but you still ain't callin'...I left my cell, my pager, and my home phone at the bottom."
The "I ain't write back though" line could've won this award on its own, but finishing as the No. 5 QB in 2022 doesn't hurt either. He edged out Christian McCaffrey by one vote as a feel-good story that helped drive Seattle to the playoffs.
While his fantasy outlet dwindled in the playoffs, we were pressing our luck with matchups against San Francisco, Kansas City, and the New York Jets. And he had to start against Denver and San Fran as well! Between Weeks 3-14, Smith was a top-12 QB in 8-of-11 weeks, never finishing QB20 or worse. We appreciate you, Geno.
Biggest Fantasy Football Flop
Aka The Fútbol Award aka The It's Even Funnier The Second Time Award

Those who bought back in on an A-Rob rebound with Matthew Stafford were force-fed Ben Skowronek targets instead. I'm writing this so I get to nudge this joke in there despite Pitts taking the vote by an overwhelming margin.
Alas, Atlanta never committed to the passing game and Pitts was being dropped by the time injury ended his season following Week 11. He was the No. 18 TE in PPR through that period, trailing the likes of Tyler Conklin, Hayden Hurst, and Robert Tonyan.
Our dreams of an alpha WR having the TE tag were crushed almost immediately. Marcus Mariota tried to hang in there but after 33 pass attempts in Week 1, he would average fewer than 20 in the following six games.
Sleeper No Sleeping Award
Gabe Davis, Chase Edmonds, Kadarius Toney, Skyy Moore
Aka the Wake Me Up, I Can't Wake Up Award
Not just a hilarious song lyric to me, this line epitomizes a popular "sleeper" pick being unable to spring into action and actually do something during the season.
As you can see, our writers have presented us with a tiered approach to this. At the higher end of the spectrum, we saw Gabe Davis getting steamed following a strong postseason flash. That didn't pan out.
Chase Edmonds was going to smash with the potent Miami offense, except he stunk and wound up dealt to Denver. Kadarius Toney never earned the Giants' trust and is now rebuilding trust with Patrick Mahomes, but the lack of play between injuries still burned.
And Skyy Moore was many an analyst's darling with upside tied to Mahomes & Co. but some early fumbles kept him locked into a rotation role at best. We started to see momentum after a 6-63-0 line in Week 11 led to six more catches in Week 12, but another fumble there led to another step back. He'd only see 10 touches across KC's final six games of the regular season.
Midseason Fantasy Savior
Aka the "Damn Son, Where'd You Find This?" Award
If you didn't hear that drop in your head upon reading that then I don't know if we can be friends. Fields was going nowhere in the opening month, scoring in traditional formats as the QB23, QB27, QB31, and QB26 in Weeks 1-4. It was brutal. Then he had a tidy QB13 week against Minnesota's generous defense in Week 5 and we were off to the races.
Outside of missing Week 12, Fields was a top-eight fantasy QB in eight consecutive games between Weeks 6-15. He was effectively a stream-worthy QB while also producing low-end RB1 numbers. He had to do it himself with barely any playmakers in the WR corps following Darnell Mooney's season-ending injury. He was indeed a waiver gem.
Most Inconsistent Award
Aka the Biggest Headache Award aka the Hallelujah Holy S&%# Where's the Tylenol Award
Cooper was a top-12 WR in PPR scoring in 6-of-17 fantasy weeks and finishing outside of the top 40 in six others. Some of the blame lies at Deshaun Watson's feet, no doubt, but it doesn't change the ups and downs experienced by Cooper's teams. The home-road split memes were funny but he exploded for 8-113-2 at BUF in Week 11 and had 3-105-2 at WAS in the championship in Week 17.
At least we can blame injuries with Swift, but the will-they-won't-they game with Detroit ramping him up left us with many headaches. Swift had both shoulder and ankle injuries following Week 3 and didn't return until Week 8. While he scored three touchdowns over the following four games, he only combined for 18 carries and 12 receptions in that window.
His snap count rarely rose over 40% down the stretch. And Swift teams had to watch Jamaal Williams break Barry Sanders' franchise rushing TD record with 17. Fun times!
Tinder Ghost of the Year
Mike Evans & Clyde Edwards-Helaire
Aka the Pls Respond Award
Damn, last year it was Mike Williams, what's in a name? Evans had three touchdowns and over 60 yards in each of Tampa's first three games before enduring an 11-game streak without a TD. There was some horrid luck and still four games of 80-plus yards sprinkled in to keep us hooked, but this hurt.
Clyde Edwards-Helaire's game log fits the description of ghosting a bit more closely. After a strong first four games buoyed by five TDs, his touches dwindled and he lost playing time to Isiah Pacheco and Jerick McKinnon. And wouldn't you know it, the Chiefs kept on Chiefing without him. There were about 150 sell-high articles regarding CEH and I hope you listened to 'em.
Elijah Moore could easily take this except we didn't even get a cursory early-season "Hey, what are you up to?" message before the ghosting hit. Rude.
2023 Comeback Player of the Year Award
Aka the Jon Snow Award
Notable players receiving votes: Jonathan Taylor, Javonte Williams, D'Andre Swift, Kyle Pitts, DJ Moore, Diontae Johnson, Russell Wilson, J.K. Dobbins, Darren Waller, Darnell Mooney. And also Quintez Cephus, because there is a troll in our midst.
I get to play tiebreaker king because I'm writing this darn thing, so I'll put Pitts up top because it gets the people going. And the bar at TE remains criminally low. Do you trust Desmond Ridder to take a step or two? I'm not sold, but this would make for one hell of an arc.
The Fred the Fish Award
Aka the Copy and Paste This Entire Section Each Year Award
I genuinely feel for the guy and recognize that Fuller had entertained us with flashes of greatness, only to have them rudely interrupted with an injury, much like Spongebob's Fred the Fish character. Fuller was a popular late-round pick over the summer in anticipation that he'd latch onto a team near 100% health. This never came to fruition and he wound up retiring instead. Enjoy the sunset, Fred.
The Whitest Sneakers Award
Aka the Kickers Matter Too Award
This Pam Beesly-inspired award goes to the best kicker of the season, Justin Tucker. It didn't even feel as though Tucker was that special this year, yet he edged out Daniel Carlson, Brett Maher, and Jason Myers for the top slot. Of course, that fact and those other names speaks to the value of still waiting on kickers.
Some Staff Shoutouts:
Most Useless Player That Was Widely Rostered: Kareem Hunt
Ran Out of Gas (Who got you to the playoffs only to fail when it mattered most): Miles Sanders
The Goal-Line King: Jamaal Williams
Playoff Meltdown Award: Davante Adams
Player Most Likely To Make You Quit Fantasy Football: Kyle Pitts
Download Our Free News & Alerts Mobile App
Like what you see? Download our updated fantasy football app for iPhone and Android with 24x7 player news, injury alerts, rankings, starts/sits & more. All free!


Win Big With RotoBaller
Be sure to also check out all of our other daily fantasy football articles and analysis to help you set those winning lineups, including this new RotoBaller YouTube video:


More Fantasy Football Analysis