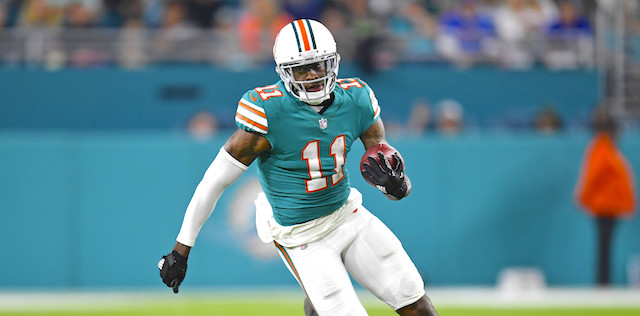 What's worse for a fan base than seeing your rebuilding team field a barely professional football team as they march towards the No. 1 pick in the 2020 NFL draft by letting Ryan Fitzpatrick throw the ball 35 times a game? Watching your team pull all of those same overtly tanking maneuvers but then lose out on the first pick because they won a losable game to the New York Jets. That's what's worse. After picking up their first victory in Week 9, the Miami Dolphins now sit behind the Cincinnati Bengals in the race to the top of draft mountain, with the NFL proving once again that you can't take your eye off the prize for even one second, lest you get sucker-punched by a team coached by Adam Gase and led by a quarterback who looks more like a lego fireman than a professional football player.
There is a silver lining, however, as Miami could still end up with the quarterback they desire even if the Bengals beat them to the bottom of the standings. Because, unluckily for the Bengals fanbase, there's at least a 50/50 chance that Cincinnati rehires Marvin Lewis, who - bewitched by Andy Dalton's red-haired trickery - will then declare that the Bengals are already set at quarterback and promptly draft Dan Wilkinson.
Now that we've looked in on some of America's worst football teams and needlessly taken a shot at a 61-year-old man, let's look back at last week's action before taking a glance at some of the biggest risers and fallers in Fleaflicker leagues entering Week 10.
Editor's Note: Get any rest-of-season NFL Premium Pass for 50% off. Our exclusive DFS Tools, Lineup Optimizer and Premium DFS Research through the Super Bowl.
Sign Up Now!
Last Week's Recap
Let's imagine a world where former general manager Bill Polian was correct in his evaluation that Lamar Jackson's best position in the NFL would be at wide receiver and wonder just how good of a receiver Jackson could have been. Because while his 1,813 passing yards are only good for 20th in the league, Jackson's 637 yards rushing are the 10th-most by any player, and the second-year phenom sits in fourth place in fantasy scoring, with 199 points for the season. But just think about how good he would have been at wideout!... Is what zero Ravens fans thought as Jackson led Baltimore to a victory over the previously unbeaten New England Patriots and their top-ranked defense in Week 9.
The quarterback position wasn't paced by Jackson, however, with Russell Wilson and his 4o points leading all players in Week 10, as the Seahawks beat Tampa Bay 40-34 on the back of Wilson's 378 yards and five touchdowns. Matthew Stafford filled up the stat sheet for the third week in a row, throwing for three touchdowns and over 400 yards in a losing effort versus the Oakland Raiders. There was another Ryan Tannehill sighting in Carolina, with the former Dolphin throwing for 331 yards and scoring 23 fantasy points for the Tennesse Titans in a losing effort.
Remaining in the land of the Panthers, Christian McCaffrey continued doing Christian McCaffrey things in Carolina's 30-20 victory over the Titans, scoring three touchdowns on 166 yards and leading all running backs with 36 points in standard leagues. Finally unshackled from the stinky chains holding him down in Miami, newest Cardinal Kenyan Drake quickly proved his mettle by rushing for 110 yards and a touchdown in replacement of the constantly questionable David Johnson. Adding in his 52 yards receiving, Drake scored 26 points in standard leagues on Sunday, which matched his entire point total as a Dolphin for the season. Read that last part again.
All of the owners who thought they were stealing Melvin Gordon amidst his holdout only to see the former fantasy standout total just 112 yards on the ground through his first four weeks, got another shot of sweet, sweet justification on Thursday night in a 26-24 Charger loss to the Raiders. Gordon scored 20 points in standard leagues, rushing for 108 yards and a touchdown, a week after he scored 22 points in a victory over the Green Bay Packers. Pendulums swing both ways, though, and as Gordon's stock has risen so has Austin Ekeler's fallen, with Ekeler scoring just nine points for the second-straight week. Seeing that he has now scored nine points or less in five of the six games since Gordon returned, saying that Ekeler's owners are only now starting to sweat would be like saying that Guy Fieri is only now starting to be a plague upon our society.
Moving on from tragic "stars" who think food can be improved by adding something called "Donkey Sauce", the wide receiver position had plenty of real stars in Week 9, with six players scoring 20 points or more. Seattle's Tyler Lockett led the pack with 31 standard-league points on 152 yards and two touchdowns in a 40-34 win over the Buccaneers; while second-place for the week went to Mike Evans over on the other sideline, as the Tampa Bay wideout scored 28 fantasy points in the losing effort. Lockett wasn't the only Seahawk receiver to benefit from Russell Wilson's big day, as D.K. Metcalf had 123 yards receiving and a touchdown on his way to scoring 22 points. And is that a Miami Dolphin making the list of the week's top performers? That can't be right, can it? It does say here that Preston Williams scored two touchdowns and 19 points in a victory over the New York Jets, so it must be so. Unfortunately, it also says that Williams will miss the rest of the season after suffering a knee injury in the contest, proving again that the stink of the Dolphins can take out anyone, at any time.
Now that we've warned the world once again of the Fieri in a flame shirt,  let's take a look at three of this week's biggest risers and fallers on Fleaflicker.com. A full list of the most added and dropped players on Fleaflicker can be found here.
Most Added in Fleaflicker - Week 10
Zach Pascal (WR, IND vs. MIA), 4,926 Adds – 49% Owned
When T.Y.Hilton was declared inactive prior to the Colts Week 9 matchup in Pittsburgh, fantasy owners rushed to the waiver wire to grab Pascal. Those spritely enough to snag the second-year receiver out of Old Dominion were rewarded with 14 points in standard leagues, with Pascal catching five of his six targets for 76 yards and a touchdown. After missing Wednesday's practice, Hilton is currently seen as being doubtful for Sunday's game against the visiting Dolphins, even though head coach Frank Reich has yet to officially rule him out. If Hilton can't go, then that leaves just Pascal to lead the Indianapolis receiving corps against a Miami defense that's allowing the seventh-most fantasy points to wide receivers in 2019. Even with Hilton in the lineup prior to last week, Pascal has been most successful when facing teams with suspect secondaries in 2019, as his three highest-scoring games have come against Oakland (most fantasy points allowed to wide receivers), Houston (third-most), and Atlanta (fourth-most). Still available in more than half of leagues, Pascal is a WR2 until Hilton returns but should remain valuable even after he returns.
Devante Parker (WR, MIA @ IND), 2,244 Adds – 52% Owned
The first of two(!) Dolphins on this week's most-added list, Devante Parker scored 11 points on 57 yards and a touchdown in Miami's 26-18 win over the New York Jets last Sunday. After failing to find the endzone last week, Parker connected with quarterback Ryan Fitzpatrick on a 17-yard strike midway through the second quarter, giving him his fourth touchdown in the last five weeks. He has now tied his career-high in touchdowns and was already firmly entrenched as the Dolphins' No. 2 receiver behind Preston Williams, as his 52 targets on the season far outpace tight end Mike Gesicki, who is third on the team with 31. Now that it's been confirmed that Williams will miss the rest of the season with a knee injury, that leaves Parker as Miami's de facto No. 1 receiver heading into a Week 10 matchup on the road against the Indianapolis Colts. While Miami may have picked up their first win of the season last week and Parker may be the new top dog of the receiving corps, the sledding is about to get a lot tougher when facing a 5-3 Colts team whose defense has allowed the 14th-fewest points to receivers in 2019. Parker is a WR3 going forward with the same boom-or-bust potential he's always had, but the loss of Williams raises his floor as he should see more and more targets as the Dolphins continue to run out of players to give the ball to.
Kalen Ballage (RB, MIA @ IND), 1,878 Adds – 51% Owned
Double your Dolphins pleasure, as running back Kalen Ballage is the fourth-most added player among the skill positions on fleaflicker.com this week. Its been quite the fantasy rollercoaster for Ballage this season, with him entering the year as Kenyan Drake's backup but being drafted over 40 picks sooner in NFBC leagues. No one informed the tanking Dolphins of Ballage's sleeper status, however, as his touches and snap counts have sunk lower and lower as the season has progressed. Even after the Dolphins traded Drake to Arizona before the deadline, Ballage's stock still only received a small bump because Mark Walton had already supplanted him on the depth chart by then. Walton had started the past four games for Miami but he's out of the picture for the immediate future after the NFL suspended him four games on Tuesday for his three offseason arrests. Attrition, thy name is Ballage! While he might still be asleep in terms of talent, Ballage now finds himself as the last man standing in Miami's backfield.  While being the sole option out of the backfield is great news for Ballage and his usage rate, the bad news is that he's still running behind a swiss-cheese offensive line and is facing an Indianapolis Colts Defense in Week 10 that's allowing the ninth-fewest fantasy points to running backs in 2019. Seeing that his only competition for touches will come from players named Patrick Laird and Myles Gaskin (insert googling break), Ballage needs to be owned, but be aware that his floor remains the same as every other Dolphin...zero.
Most Dropped in Fleaflicker - Week 10
Mark Walton (RB, MIA @ IND), 3,163 Drops – 29% Owned
Flipping over the coin to this week's most-dropped players on fleaflicker.com, we find our third Dolphin in a row, as Mark Walton is being dumped like a lump of hot coal after getting handed a four-game suspension by the NFL on Tuesday. The suspension isn't a surprise, as all parties involved knew that Walton's three arrests from January to March for a variety of charges would eventually lead to punishment. While the Dolphins have to be thrilled that his suspension will only average 1.3 games-per-arrest, Walton is borderline useless in all but the deepest leagues as he won't return until Week 14 when the Dolphins take on the New York Jets. That will be in time for the fantasy playoffs but seeing that he will likely return as Kalen Ballage's backup and will still be playing for one of the league's worst teams, it's hard to imagine any owner taking a chance on starting him. Forget about John-boy and say goodnight to Mark instead, because it's officially time to put Walton to sleep.
Gardner Minshew (QB, JAC, Bye), 3,044 Drops – 47% Owned
Sacré bleu! The national treasure that is Minshew's mustache is being taken from us! Don't worry, this isn't leading to another rant about enlisting Nicholas Cage to help track down that sweet 'stache; this is actually leading to a rant about why the fantasy community is being deprived of Minshew, his mustache, and a fashion sense that makes him look like an extra from "SuperFly". Minshew is the 13th-highest scoring quarterback in standard leagues, having scored 142 points in his eight starts since starter Nick Foles was injured in Week 1, but will nevertheless head to the bench after the Jaguars return from their bye week for a Week 11 matchup with the Indianapolis Colts. Having signed him to an $88 million contract in the offseason, it's no surprise to see the Jaguars hand the starting role back to Foles now that he is fully healthy. While that does make sense on paper, that paper won't be able to patch the Minshew-sized holes in hearts across the nation, as Jacksonville's furry-chested lothario will be relegated to just holding a clipboard as long as Foles remains healthy, making him droppable in all leagues as soon as his roster spot is required. Unless we want to wish harm upon an innocent Nick Foles, we can only hope that the only thing Minshew is wearing underneath his shoulder pads is a gold chain and a sequined shirt that's unbuttoned halfway down to party town. Go back to the time from which you came, young Minshew; this world is not yet ready for you.
DeSean Jackson (WR, PHI, Bye), 2,421 Drops – 63% Owned
What has two legs, blazing speed, and a body seemingly composed of the finest Swarovski crystal? If you guessed Philadelphia wide receiver DeSean Jackson, then go ahead and reach your hand into the waiver wire prize-box and pluck out a replacement for the 32-year-old wideout who was placed on injured reserve after undergoing core muscle surgery on Tuesday. The surgery essentially ends Jackson's season after having only played one full game, but at least he made that Week 1 game count, racking up 31 points in standard leagues on 154 yards and two touchdowns. Seeing that he will still be under contract for $8 million in 2020, Jackson should remain one of the central pieces of what was once an exciting Eagles offense; but even with his speed and upside, Jackson will always carry the injury-caveat of, "when, not if".
More Waiver Wire Adds and Pickups