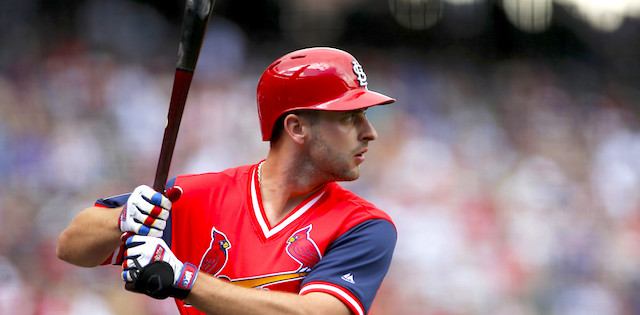 The shortstop position is arguably deeper than it's ever been, which means there's no shortage of playable options for fantasy owners. The days of glove-first shortstops being the rule, rather than the exception, are long gone at this point. In fact, shortstops are being drafted in the top 100 this spring more often than any other infield position.
As a result, it's actually not as easy as you might expect to find true draft values at short - the 20 highest ADPs are all in the top 200. You probably don't want to enter the season relying on any of the players below as your primary shortstop in standard 12-team mixers, but they all have the potential to earn their way into a crowded conversation at the top, and all are excellent candidates for your middle infield slot.
ADP data is taken from the National Fantasy Baseball Championship (NFBC) platform and is current as of publication. Let's dive in.
Featured Promo: Get your 2023 MLB Premium Pass for 50% off. Exclusive access to our preseason Draft Kit, #1 accuracy rankings, #1 ATC projections, Team Sync platform, Live Draft Assistant, 15 in-season lineup tools, customized rankings and much more!
Sign Up Now!
Paul DeJong, St. Louis Cardinals (180 ADP)
DeJong failed to replicate his excellent rookie season in 2018, as both his batting average (44 points) and slugging percentage (99 points) dropped significantly from the prior year. That lowered output, however, masked some legitimate strides in his plate approach. The 25-year-old chased fewer pitches and made more contact when he did swing, leading to modest improvements in both his walk and strikeout rates.
With his propensity for infield flies (career 14.7 IFFB%) and lack of foot speed, DeJong is unlikely to be an asset in the batting average department. What he does offer is power, as evidenced by his 44 home runs in 933 MLB plate appearances. He's also expected to open the year hitting second in a top-heavy Cardinals lineup, sandwiched between Matt Carpenter and Paul Goldschmidt. Given a full season in that role, 30 homers and excellent run production are easily within reach.
Jorge Polanco, Minnesota Twins (213 ADP)
A late-season surge in 2017 had Polanco rising in the estimation of many fantasy owners last spring. Unfortunately for those who invested in his services, late in spring training it was announced that the Twins' shortstop had tested positive for a banned substance and would serve an 80-game suspension as a result. However, owners who were able to roster him after his return enjoyed a performance that suggested his 2017 breakout was no mirage.
Caveats about arbitrary endpoints aside, over his last 132 games (567 PA), Polanco has produced a .299/.358/.478 line, with 16 home runs, 14 stolen bases, and 150 R+BI. His success rate on thefts (just 25-of-40 for his career) leaves a bit to be desired, but he has 20/20 potential to go along with a plus average and what should be a healthy runs scored total out of the leadoff spot. Not bad for the 21st SS off the board.
Simmons will always be known more for his incredible defense than his prowess at the plate, but the veteran deserves credit for turning himself into an above-average hitter the last couple of years. The Angels' slick-fielding shortstop has adjusted his launch angle enough to hit 25 homers over the past two seasons without sacrificing his elite contact ability.
The latter allowed him to hit a career-best .292 in 2018, and he's also stolen at least 10 bases in each of the last three years. His spot in the bottom half of the Los Angeles lineup limits his run production somewhat, although with an average of 145 R+RBI the last two seasons, he's not a serious drain on you in those categories.
How much of a fantasy impact Tatis makes in 2019 likely has more to do with his playing time than his talent. One of the game's top prospects, Tatis hit .286/.355/.507 with 16 homers and 16 steals in just 88 games at Double-A last season as a teenager. The power and speed are legitimate, though the average shouldn't be counted upon given the high strikeout rates he has routinely run in the minor leagues.
Still, there aren't many 20-year-olds with the raw power and overall skill that Tatis has flashed thus far, and he's shown the ability to make quick adjustments as he's moved up the ladder. With San Diego pushing toward contention after a decade in the wilderness, injury or ineffectiveness from unproven Luis Urias or 37-year-old Ian Kinsler may be all that separates the future phenom from a chance to show he belongs in the major leagues.
Orlando Arcia, Milwaukee Brewers (470 ADP)
Arcia got a little love from fantasy owners last spring after hitting .277 with 15 homers and 14 steals in 2017, his first full MLB season. Going by his afterthought ADP, that love is clearly gone after a disastrous follow-up wherein he managed just three homers and a .236 average. Arcia hit so poorly that at one point, the Brewers demoted him and played multiple other players out of position. He looked better after returning from that minor-league detour, and turned heads with an unexpectedly dominant performance in the playoffs.
While we can't simply ignore how terrible he was in the first several months of last season, Arcia was a well-regarded prospect who has at least demonstrated an ability to succeed at the MLB level previously and is still just 24 years old. He's more of an NL-only option than a viable play in mixers, but worth at least keeping on your radar.