Well, the first half of the season has absolutely flown by! We have seen some great hitting and a lot of runs scored so far, and there promises to be just as much excitement in the second half of the season.
Contact rate can foretell a player's batting average and general hitting statistics, and any drastic change could signal a shift in performance. Contact rate shifts often act as a precursor to hot streaks and slumps.
In this article, we will look who has been strong at making contact in the first half of the season and who has struggled.
Editor's Note: Get our 2020 MLB Premium Pass for 50% off, with exclusive access to our draft kit, premium rankings, player projections and outlooks, our top sleepers, dynasty and prospect rankings, 20 preseason and in-season lineup tools, and over 200 days of expert DFS research and tools.
Sign Up Now!
Contact Rate Risers
Data current as of the All-Star Break
78.5% contact rate in 2019 (+6.1%)
Cody Bellinger is having an incredible year. He has already passed last years home run total, with 30 in 2019, and is well on pace to go over 50. On top of that, he has eight steals, and an impressive 141 combined runs and RBI. However, the most impressive part about this season may well be his .336 batting average, having hit in the .260 region each of the last two years.
That batting average jump has come despite having a BABIP of just .328, compared to .313 last season. The increase in batting average has largely come thanks to his ability to simply put more balls in play, by striking out less. His strikeout rate is down a whopping 9% on the season, and his SwStr% is down 3.2%. That is thanks to a big increase in his Contact%, both on balls inside and outside the zone. He is still swinging as often as he always has, but now he is getting bat on ball and his numbers are surging because of it.
How he is hitting the ball has also made a big difference, as he is making cleaner contact, with a 13.6 Barrel%. His infield flyball rate has dropped to 5.7% and his line drive rate has skyrocketed to 31.2%. He is also hitting the ball harder, with an average exit velocity up over 2 mph from the previous two years. All of this has led to an xBA of .353, suggesting that what we have seen so far this season s no fluke, and may well be sustainable if he keeps doing the same thing. Right now Bellinger is among the best players in the baseball universe, and another half a season like this could see him challenging for the top overall pick next season.
77.0% contact rate in 2019 (+5.8%)
Things have not been so rosy for Castellanos is Detroit. He is stuck on a poor team, producing unspectacular baseball so far in 2019. The positive is that he is making contact at a better rate than at any time since his rookie season, and his SwStr% reflects that. His O-Contact% has jumped an impressive 10% from last season, and his Z-Contact% has improved as well.
The problems come when you look at the quality of that contact. Castellanos currently has his lowest Barrel% an Exit Velocity of the last four seasons, and with that, an xBA of just .265, having not been below .290 any of those previous three seasons. His LD% is down 5% and his HR/FB rate is just 8.7%. Right now Castellanos is offering no real optimism for fantasy owners, but maybe a trade to a contender in the coming weeks might change that. For now, it is worth holding and hoping that is the case.
69.7% contact rate last seven days (+4.9%)
Soler may not be having the headline-grabbing season that Bellinger is having, but 23 home runs are nothing to sniff at. Unfortunately, that comes with a .240 batting average, .278 BABIP, and a 28.9 K%.  Those numbers are a little odd because Soler is making contact at a better rate than any time in his career outside of his rookie season. However, his SwStr% is still up at 14%, because his O-Contact remains stuck down at just 44.6%, which is an issue when you are swinging at over a quarter of the pitches you see outside the zone.
The other problem is the outcome when he does make contact. His FB% has jumped 5% this season, and his LD% remains stuck at 17.7%. That means that despite ranking in the 85th percentile for exit velocity, and in the top 9% of the league for Barrel%, too many balls are just going up and not out. If he can get that launch angle down in the second half of the season, while maintaining the 91.3 mph exit velocity, he could see a big jump in his batting average. He could also kick on and get close to 50 home runs. Soler is a name worth buying right now because if he gets it right, his second-half could be extremely rewarding for his fantasy owners.
Honorable Mention
Jake Bauers (OF, CLE) 80.4% contact rate in 2019 (+7.7%)
Domingo Santana (OF, SEA) 72.6% contact rate in 2019 (6.2%)
Contact Rate Fallers
Data current as of the All-Star Break
68.4% contact rate last seven days (-8.8%)
It has been a pretty pathetic year for Myers, as he has a scarily low .217 batting average. Yes, he is on pace to hit double-digit home runs and could threaten that for steals. However, when it comes with a soul-sucking batting average, in a year where 20 home runs are commonplace, it is not a fun thing for fantasy owners. His K% has jumped to a career-worst 35.7%, on the back of some dreadful contact. His O-Contact% has dropped nearly 16% from last year and is nearly 10% down on his career average. His SwStr% is up 2.3% on any other year in his career and 3.5% above his career average. I have been a big fan of Myers in the past but he cannot be rostered in the majority of leagues, at least until he shows some major improvements.
77.9% contact rate last seven days (-5.6%)
It has been a thoroughly unconvincing year for Benintendi. He is on pace to get close to last years totals in both home runs and stolen bases, but his batting average is down at .274 and his combined runs and RBI are at just 80 after he had 190 in 2018. Most concerningly is the strikeout rate climbing up to a career-high 22.9%. That increase has been largely driven by an increase in SwStr% from 7.6% to 11.4%. His O-Contact% has dropped 7.5% to 69%, although that is only 3% lower than his numbers in his first two years in the league. The biggest issue has been his judgment on pitches outside the zone, as not only is he swinging and missing more, but he is swinging at more pitches in general, and 5% more outside the zone than he had been previously in his career.
72.6% contact rate last seven days (-5.5%)
The arrival of Yasiel Puig in Cincinnati came with so much hope and expectation, but so far it has been a mixed outcome. He is on pace to set career-highs in home runs, stolen bases, runs, and RBI, but his strike rate has jumped to 22.5%. That jump in strike rate has seen his batting average drop to .257, and a BB% of just 5.5% had meant his OBP is just .304. Part of the reason for that can be found in an 8% jump in Swing%, while also seeing a 5.5% drop in contact rate. That has led to a jump in SwStr% to 15.3%, which is only topped by his rookie year. An interesting observation is that his launch angle has increased over five degrees from 12.4 to 17.6. That increase helps to explain the increase in home runs this season. Right now Puig's numbers are certainly interesting, but realistically the batting average could yet end up going either way in the second half of the season.
Honorable Mention
Austin Meadows (OF, TB) 76.9% contact rate in 2019 (-5.8%)
Rougned Odor (2B, TEX) 72.9% contact rate in 2019 (-5.3%)
Contact Rate Risers and Fallers - Premium Tool
Identifying top batting average surgers for each week can help you spot the best pickups before your competition. RotoBaller's Premium Contact Rate Risers and Fallers tool has you covered every day. As thoughtful fantasy baseball players, we won't lead you astray. Here is a small sample: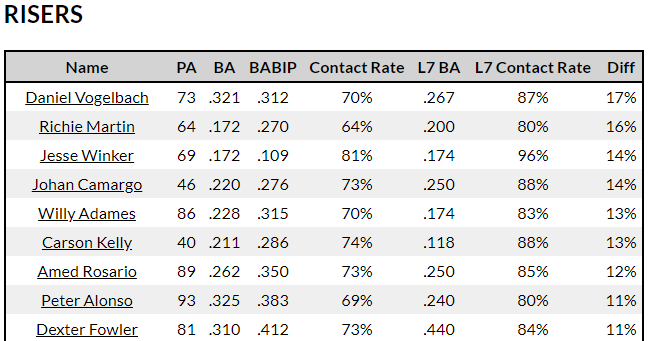 This type of data is available as part of our Premium MLB Subscription and launched on April 22nd for the 2019 season. Don't settle for basic stats and surface-level advice from other sites. RotoBaller brings you advanced statistics and professional analysis that you need to win your fantasy leagues and DFS games because we're ballers just like you. We are your secret weapon!
More Fantasy Baseball Advice and Analysis