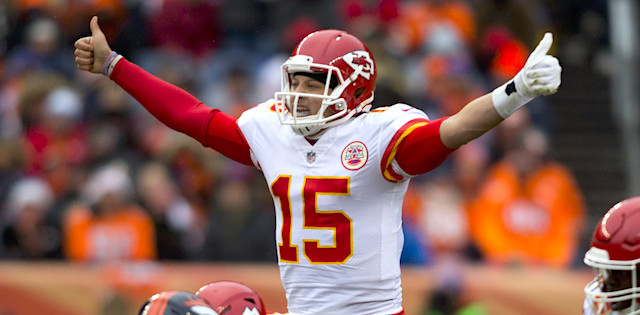 Most of you are undoubtedly familiar with the Fantasy Football Players Championship by now. It is known throughout the industry as one of the most competitive high-stakes sites for season-long fantasy football. It only stands to reason therefore that it would be the best place to compete in an NFL Playoff Challenge. If you want to get in on some postseason fantasy action, whether it be the FFPC Playoff Challenge or the FootballGuys Playoff Challenge, then we're here to help you.
If there is a big-industry fantasy football event, RotoBaller is there. The NFL playoffs are no different. Pierre Camus and Chris Mangano, hosts of the Fantasy Bomb podcast and weekly Start/Sit shows on Youtube, are competing in this year's FFPC Playoff Challenge. Check out our full video podcast detailing how they built their team and thought processes behind their strategies right here. For those who prefer the written word, continue below to find out how this competition works, what strategies you should keep in mind, and how to build the optimal lineup for success.
Editor's Note: Get any rest-of-season NFL Premium Pass for 50% off. Our exclusive DFS Tools, Lineup Optimizer and Premium DFS Research through the Super Bowl.
Sign Up Now!
Always Read the Manual
As always, you have to know the ground rules before you play the game. Entering a high-stakes fantasy contest like this without knowing every detail of the scoring system would be like trying to put together a furniture set from IKEA without the instruction manual. Actually, that might be easier. Bad example. You get the idea though.
The playoff challenge is unique first and foremost because, unlike DFS lineups, you can only pick one player per NFL team. That means no stacking Chiefs, no Drew Brees to Michael Thomas connection, no dodging an entire conference because you have no idea how the bracket will play out. You must pick 10 players from the 12 playoff teams, which means two will be omitted but all others must be represented.
In terms of scoring, the FFPC Playoff Challenge isn't far off from the typical full PPR format, with a couple of exceptions. Full details are listed below for your convenience.
First, you may notice there is a tight end premium of 1.5 points per reception. Obviously, this makes it wise to target one of the big three tight ends such as Travis Kelce, George Kittle, or Zach Ertz since all three will be competing in this year's postseason. With two flex spots available, you could even consider playing two of these studs, although that ignores the wealth of talented RB/WR options.
Quarterbacks receive four points per TD and -1 per INT, so you will probably find that the top passers wind up as the leading scorers. If there is a single position to prioritize, it would be QB. There is no dearth of options as far as franchise quarterbacks go. The question then becomes, who do you trust to lead their team to victory? Between Aaron Rodgers, Tom Brady, Lamar Jackson, Patrick Mahomes, Drew Brees, Russell Wilson, and others, you must pick the one that you feel will put up the best numbers. The other consideration is how many games each team will play, which leads to the next key point.
Play the Long Game
You may want to consider filling out an NFL playoff bracket, NCAA basketball tournament-style, before creating your lineups. If you can't decide whether to trust Mahomes or Jackson, ask yourself which team is more likely to win and advance to the Conference Championship and possibly the Super Bowl. If your gut tells you the Chiefs are destined to take the next step this year, go with Mahomes. If you feel the Ravens are too balanced and that home-field advantage will make a difference, go with Jackson. Of course, you could opt to go with Travis Kelce or Tyreek Hill instead of Mahomes as your Kansas City player but the point remains that your decision-making at each position should hinge on how successful the teams could be throughout the postseason.
While stacking teams is not possible, you could attempt to build around matchups. If you predict that New Orleans and San Francisco will meet again in the NFC Championship game and combine to put up 90+ points again, it makes sense to pick one of Drew Brees, Alvin Kamara, or Michael Thomas and to avoid San Fran's highly-ranked defense while opting for Kittle or possibly someone like Raheem Mostert or Emmanuel Sanders if you picked Kelce at tight end. There are many possibilities but you have to project upside because this is a tournament and only the highest-scoring rosters will cash in.
Of course, every team except two will lose before reaching the Super Bowl and four teams will be eliminated in the first round. There will be two teams you don't need to select from but that still leaves a minimum of two teams that will have players giving you exactly one game worth of production. In this instance, it would make sense to choose lower-priority positions such as kicker or defense. You could also take a chance on a high-upside flex play on one of those teams.
For example, if you foresee Minnesota, Tennessee, Seattle, and Buffalo losing in the Wild Card round, you may want to choose Seattle Defense because they're unlikely to give up a high point total to the Eagles, and Dan Bailey because he'll be playing in a dome and could still put up several points in what could be a high-scoring game. The other thought process behind this is that you don't want to waste your QB position on Russell Wilson if he might lose in the first round, nor do you want to use up a spot on an offense like New Orleans or KC for your kicker, even if they were the top scorers at their position.
When picking a player on a team that is projected to lose, such as Minnesota, you should play it as safe as possible by going K/DST or picking the player who is most likely to have an impact in a losing effort. Dalvin Cook is their best player but if the Vikings are losing, potentially by multiple scores, that means he isn't likely to get as many touches or has been ineffective. Therefore, a flex option like Stefon Diggs could be a smarter choice. In super-deep leagues, going with a riskier player could be a strategy worth pursuing. This also gives you a player that is likely to be lower-owned and differentiates you a bit from the competition, which brings us to the final point.
Differentiation Matters (Sort Of)
If you've ever played DFS, you're familiar with this concept. If everyone owns the same player, his point totals effectively mean nothing in terms of winning or losing. You want to build the best team possible but you also want to do your best to seek out players that separate you from the competition. The trick is to do so but in a limited fashion so as not to pick an all boom/bust team that is prone to letting you down. With such a shallow player pool, you should be able to effectively start a stud at every position so your differentiation play should be at the flex spot, not in place of a top-five QB, RB, or WR.
In 2018, selecting a surprise player like Damien Williams gave you a big boost and C.J. Anderson turned out to be a better pick than Todd Gurley. Keke Coutee scored 28 fantasy points even though Houston lost 21-7 to Indianapolis. Meanwhile, a WR1 like Alshon Jeffery scored 25 points over two games, which turned out to be fewer than Coutee in just one. Your sleeper pick doesn't have to be from a winning team, they just need to have a high ceiling.
Bet on a young running back likely to get significant touches such as Devin Singletary or Travis Homer. Buffalo's opponent, Houston, allowed the fifth-most fantasy points to running backs this year, while the Seahawks ran the second-most rushing plays and will utilize Homer as a receiver as well (not Marshawn Lynch). You could also choose a slot receiver with a favorable individual matchup such as Cole Beasley or Greg Ward, who will square off with Vernon Hargreaves and Ugo Amadi respectively. Boston Scott, Ted Ginn, Kenny Stills, and Dawson Knox could each be worth a roll of the dice this year too. Just make sure you don't include multiple players like this in any one lineup you submit.
Take the Challenge
Now that you've got the lowdown on how the league is played and some pointers on building a championship team, it's up to you to take the next step. Sign up for the FFPC Playoff Challenge or build your own league and try it out. Playoff leagues provide a different twist on season-long fantasy football and offer a way to come up with unique strategies that will keep you invested in the NFL postseason even if your favorite team isn't involved. Good luck, RotoBallers!
More Fantasy Football Analysis