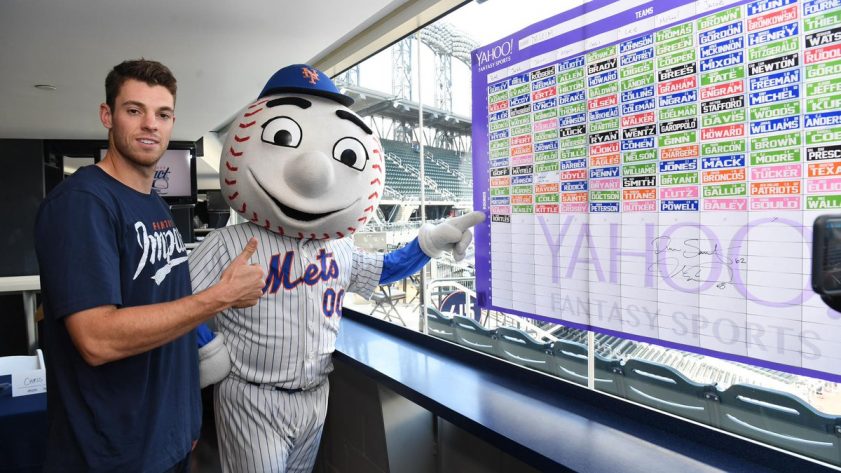 In late August at Citi Field, for the fifth time I witnessed a scene that demonstrated the unique power of fantasy sports to affect so many lives in positive ways. Through Big League Impact, the charitable organization founded by Adam Wainright in 2013, a room full of New York Mets fan drafted in fantasy football leagues with starting pitchers Steven Matz and Zack Wheeler.
Coming into the 2019 NFL season, Big League Impact had raised over three million dollars for charitable causes and events. They have worked with prominent charities in the areas of health and medicine, humanitarian aid, education, food, water, farming and more. Their partners have included the Salvation Army, Ronald McDonald House, Habitat for Humanity, Operation Food Search, the Mets Foundation, Mission: St. Louis and many more.
Fantasy football drafts with Major League Baseball players was the original event that launched BLI to make a national difference, and the organization has expanded its calendar of events to include March Madness brackets, digital Fantasy contests, karaoke nights and other multiple happenings. On this late August day in New York, the latest annual draft event in the Citi Field Promenade Club powerfully displayed what BLI has accomplished to touch so many people through fantasy football.
Editor's Note: Get any rest-of-season NFL Premium Pass for 50% off. Our exclusive DFS Tools, Lineup Optimizer and Premium DFS Research through the Super Bowl.
Sign Up Now!
Meet the Mets
Mets fans all around were thrilled to be spending time in an informal setting with the players. Matz and Wheeler were apparently having a great time interacting with their supporters, too. For Matz, it was tremendously rewarding for him to able to raise important funds for his "Tru 32" program, which was launched by the starting pitcher and the Mets to honor first responders of the Fire Department of New York, the New York City Police Department and the military. Members of the F.D.N.Y., N.Y.P.D and military were among the drafters.
"Fantasy Football is a great way to stay connected with the fans, it's fun trash talking and formulating your team. But ultimately, we're raising money for families of fallen first responders. People who were affected by 9/11 who were in the piles working and affected several years down the road. It's a lot of fun but ultimately were raising money for a greater cause."
Football season is approaching. 🏈

We had an awesome time hosting @BigLeagueImpact's annual #fantasyfootball draft! Thanks to @Smatz88 for making it all happen, @Wheelerpro45 for joining the fun and everyone else who participated. Best of luck this season! pic.twitter.com/5sV166U3jq

— Citi Field (@CitiField) August 27, 2019
For Fantasy Football to bring fans together with their favorite players in a way no other hobby can, provide the athletes a major platform to give back to communities, and most importantly help so many people in need, shows us how Fantasy is making a big difference in reality.
Drafting with Major Leaguers
I was fortunate to be able to participate in one of the BLI drafts. Major League players are very enthusiastic about Fantasy Football, so I know I was going to engage in some banter with Matz when we were slotted next to each other, with me at No. 8 and him at No. 9 in a 12-team league. There was a healthy mix of experienced participants who have been involved in the Mets BLI events since the beginning, when David Wright hosted the event for the first few years, to newcomers who were thrilled to be having fun with the players.
Over the years, the level of competition in BLI has increased, and participants seem to get savvier every year. The players saw it as a good way to further prepare for their own upcoming drafts. For those who needed help, there were Fantasy experts like myself and my friends Andy Behrens and Brad Evans of Yahoo Sports on hand for advice.
We all treated this like a real competitive draft other than lending some help to people who needed it. Maybe the best part of the event was Mr. Met doing the draft board.
Here's the team I drafted from the eighth position. If you are still drafting this week, it can give you an approximate picture of what to expect from that slot using my latest rankings. This is a PPR league with two WRs and a flex.
Round One: James Conner – I have him as a Top 5 RB and I want one of the Top 7 RBs this year if I can get one.
Round Two: Tyreek Hill – Another Top 5 player at his position, he is somewhat underrated as an elite WR.
Round Three: Adam Thielen – Now I had two WR1s at the position to start off.
Round Four: Josh Jacobs – I will not be surprised if he finishes the year as a back-end RB1. Matz did not agree and thought there were better RBs on the board at the time.
Round Five: Tyler Lockett – I seem to be landing him in every league. I think he will be a Top 15 Fantasy WR working in Doug Baldwin's past role.
Round Six: D.J. Moore – He was my highest-ranked player on the board remaining, a quality WR3 pick.
Round Seven: Austin Ekeler – I have a possible RB2 if Gordon continues to stay away.
Round Eight: David Njoku – he should be a prime TD target for Baker Mayfield near the goal line.
Round Nine: Tony Pollard – he was a hot choice at the time, thought he might go a bit earlier.
Round 10: Russell Wilson – He has dropped to double-figure rounds in many drafts, making him a very good value selection.
Final Rounds: Kalen Ballage could still be a prominent RB for Miami, Tyrell Williams is one of my favprite late rounders, Trey Burton for a better second year in Chicago, and Kyler Murray for some upside in Round 14. The Browns Defense, because I draft based on Week One matchups (Tennessee) and then stream, and Jason Myers, coming off a Pro Bowl season.
Matz's draft: He started strong with David Johnson, Michael Thomas and Zach Ertz. He took Derrick Henry as his RB2, and Allen Robinson as his WR2. I like the Robinson pick as he is now two years removed from a major knee injury. Matz admitted possibly some bias on his part as a Bears fan. Matz took Andrew Luck in the seventh round, but made sure to tab Kirk Cousins not too long thereafter. Matz and I agreed Geronimo Allison was a good value pick in the 10th round.
You can support Big League impact here.
More Fantasy Football Analysis