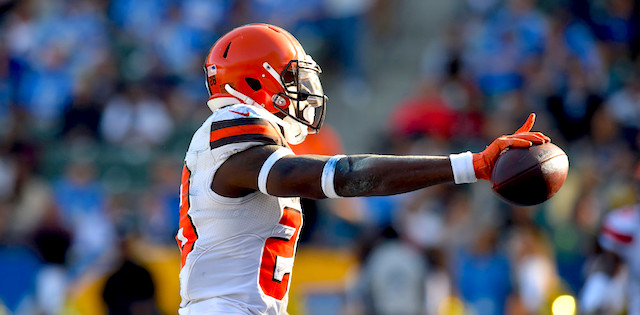 Okay, follow my instructions, keep calm, and everything is going to be alright. Don't panic yet! We've burned almost half of the football fantasy season, if we assume playoffs start in Week 14. So far, it's been a wild one, and as expected, the tight end position has been as unpredictable as ever. We all knew it was going to happen, but it never fails to amaze us.
Oh, and you can't tell me you are some Nostradamus that knew this was coming. I mean, just compare the 2018 to 2019 tight end leaderboards through six weeks. In both 2018 and 2019, nine tight ends averaged 10 points per game. Only four of them (Zach Ertz, Travis Kelce, George Kittle, and Austin Hooper) are common names in both lists, and those were for the large part highly predictable. The rest? A crapshoot. Not only is the position volatile year to year, but also inconsistent during the season.
Between all of the variance (Jared Cook), player injuries (Will Dissly), absence of targets (O.J. Howard), or just plain regression (Eric Ebron, Jimmy Graham, Vance McDonald), fantasy owners are staring down the barrel at the tight end position if they didn't draft a member of the big-three or Austin Hooper. But fear not! There are still plenty of games to be played and tight ends to stream weekly. Here, I'll take a look at the most favorable schedules for TEs rest of season and let you know who you should be targeting and when to pull the trigger.
Editor's Note: Get any rest-of-season NFL Premium Pass for 50% off. Our exclusive DFS Tools, Lineup Optimizer and Premium DFS Research through the Super Bowl.
Sign Up Now!
Why Divide Tight Ends Between Regular Season and Playoffs?
Just before we start, I've divided the schedule into two parts: the one concerning the regular season (assuming it ends in Week 13, which happens in most leagues), and the one related to the fantasy playoffs (normally between Weeks 14 and 16 inclusive).
There is a reason behind it. If you're reading this, more probably than not you're short of a set-and-forget tight end. You are looking for options to pick from waivers on a weekly basis, but that doesn't mean you just have to carry one tight end on your roster. Remember, being a step ahead of the competition is the key to winning. So while your focus should be on the best weekly options, you should also keep an eye on the best matchups to come when the playoffs arrive. You should target those players and stash them on your roster if you can to fire them up later.
While the regular season (again, assuming it finishes in Week 13 in your league) still has seven more games to be played out and matchups will be a mixture of good and bad propositions, the playoffs only comprise three weeks of play. That means you can easily find teams and players with three cupcakes in a row. Take advantage of it. Seriously.
Best TE ROS Schedules: Weeks 7-13 (Regular Season)
Here's how the 32 teams rank in terms of ROS strength of schedule at the tight end position (the rank is based on how many fantasy points defenses are allowing TEs to score per game through Week 6):
Seeing San Francisco with the best ROS schedule is surely a winner considering George Kittle is already a top-10 tight end this season. Other than that, though, not many of the best tight ends have favorable schedules going forward. To avoid taking into account players with bad matchups coming, I'll be looking just at the tight ends with an above-average chance of performing against the teams they'll face (that is, those belonging to the teams on the top half of the chart).
Here is how the ROS looks for the teams with the best TE-matchups, and what to do with them and their tight ends:
If you have noticed, I've marked some team names in black. Those franchises have tight ends owned on 70% of leagues (as of Wednesday on Yahoo), so it's more probable than not that you won't be able to find them available for streaming. In any case, here are some notes about them.

San Francisco Giants / George Kittle: Not much to say. If you have him, you keep him and play him every week. He has a couple of bad matchups the next couple of weeks but a clear schedule other than that.
New York Giants / Evan Engram: Engram is a lock to the position. Same as Kittle. The Giants' backups are not worth streaming not handcuffing even with Engram banged up.
Tampa Bay Bucs / O.J. Howard: If you have Howard, drop him. He's not worth holding onto and you're better off without him and streaming the position. Cameron Brate is his "backup", and he's performing better but his opportunities are so low that he's totally touchdown-dependent and only worth it in super deep leagues or in suicide/desperation plays. Only a trade to a team like Seattle or Houston would give Howard value at this point.
New Orleans Saints / Jared Cook: Cook has turned into a viable option to stream during the past two weeks and will keep being a good one if Teddy Bridgewater keeps looking for him in the end zone. He has back-to-back 12-plus points performances. He could also be better once Drew Brees comes back after the bye, but the schedule won't favor him as much by then.
Oakland Raiders / Darren Waller: Waller had a great start to the season but has regressed a bit. There is almost no chance you find him for free, but if you do just jump at him. His backup is Foster Moreau, who might be worth consideration. Considering how good the ROS schedule is for Oakland, you can keep an eye on him for the most favorable matchups against Detroit, Los Angeles, and Kansas City. He is not worth keeping on your roster long-term though.
Kansas City Chiefs / Travis Kelce: Same as with Kittle, forget about him. Play Kelce every week, and don't expect to find him anywhere around your free agent pool. Not a chance any backup produces if he doesn't get injured.
The teams with a white background under their name are those who have tight ends owned in fewer than 70% of Yahoo leagues, and thus are viable streamable options to find and pick up for free. Let's asses them:

Los Angeles Rams / Gerald Everett + Tyler Higbee: The Rams have played a tight-end-by-committee this season, slightly favoring Everett. While the Rams have bad matchups in Weeks 7 and 8, if you can get Everett for free on his bye you can keep him on your roster ROS. Higbee (at least from what we've seen through six games) doesn't merit holding onto. You could stream him after the bye though, but keep in mind he'll probably lose opportunities to Higbee and play the role of a TE2 in LA's offense.
Houston Texans / Darren Fells + Jordan Akins: Believe it or not, Fells is the overall TE13 this season in PPR leagues and Akins ranks as the TE15. The snap share is really even and both have similar percentages (Fells has played 49.7% of them and Akins 43.5%). However, go for Fells over Akins. Fells is being used more and is getting almost every red-zone pass on offer for the two Houston TEs. If you have room on your roster, you can hold onto him ROS even during the bye if he keeps up his current pace (three of four games scoring 12.9 or more points). Akins isn't at that level yet, but you can stream him against Oakland and try to get him and hold onto him once he comes back from the bye.
Minnesota Vikings / Kyle Rudolph: No Minnesota tight end should be considered an option. If you're desperate you can go and pick up Rudolph, but he's not going to get you more than six or eight points in this offense. Irv Smith Jr. is not fantasy relevant.
Jacksonville Jaguars / Geoff Swaim: The Jaguars have a top-10 ROS schedule for TEs but most of the good matchups come after Week 9 and the bye. I'd advise leaving Swaim on the bench/FA pool for now and go for it after he comes back (he's currently on the concussion protocol, too). His averages are bad but he's faced one of the toughest schedules through this point and played behind James O'Shaughnessy. He should do better going forward.
Los Angeles Chargers / Hunter Henry: If you've not jumped all over Henry in this week's waivers you've whiffed big time. And if for some weird reason he's still available, just get him, put him in your lineup, and forget about the position for the rest of the season. If he's not there, Virgil Green is not worth streaming at all.
New England Patriots / Ryan Izzo + Ben Watson: Ryan Izzo has been the TE1 of the Patriots (and Matt LaCosse will be out for five weeks at least), though Ben Watson is now back again and should take the role going forward. New England is not known for using tight ends not called Rob Gronkowski that much, so I'd advise going after just Watson of the two, and only if he proves worthy of it during a couple of weeks before the bye.
Indianapolis Colts / Eric Ebron + Jack Doyle: People finally grew disenchanted of Ebron and are dropping him all around the place. Jack Doyle has almost doubled him in the number of snaps played this season. However, both are taking too much from each other in production terms, and that is why they only rank as TE24 and TE26. There aren't many better (at least with a proven record) tight ends available to stream weekly, so either of them is a good option. You can try and hold onto one long-term, but their use is so even (four targets per game each) that you can't predict who is going to have the better day.
Chicago Bears / Trey Burton: Burton has been really bland but at least solid in what he does. He sees between three and four targets per game and has finished his last three games with 16-plus yards. The problem is he's not sniffing the ball in the red zone, so his upside is cut really short. Adam Shaheen should be only a desperate move, and not worth streaming regularly.
Cincinnati Bengals / Tyler Eifert: Assuming he stays healthy, he might be one of the most reliable streaming options based on his track record. That doesn't mean he's going to score tons of points though, as he's averaging 5.3 per game so far and even against mediocre defenses didn't amount to much (4.7 points against the Steelers and 3.4 against the Cardinals). I would definitely look elsewhere.
Best TE ROS Schedules: Weeks 14-16 (Fantasy Playoffs)
Here's how the 32 teams rank in terms of playoff strength of schedule at the tight end position (the rank is based on how many fantasy points defenses are allowing TEs to score per game through Week 6):
As you can see, the short span in which the playoffs take place makes for a completely different set of teams in terms of the strength of the defenses their TEs will face. That is why you should keep this in mind before you arrive at Week 13. Same as with the regular season in the section above, I will focus only on the teams with the most favorable matchups and provide advice on them in greater detail next.
Here is how the playoff schedule looks for the teams with the best TE-matchups, and what to do with them and their tight ends if you want to stay ahead of the pack and look for potential stashes to have ready to play come playoff time:
Again, the teams in black have tight ends owned in 70% of leagues (as of Wednesday on Yahoo), so it's more probable than not that you won't be able to find them available for streaming. I'm only writing about those not covered earlier (read above for advice on the others):

Carolina Panthers / Greg Olsen: First of all we have to assume Olsen makes it all the way to Week 14, which is not guaranteed given his past two seasons (he missed nine and seven games). If you can find him available at some point near the playoffs, though, he's one of your best bets. Yes, he's had a 2.5 and a 0-points performance this year, but he will be playing (presumably) for Cam Newton and his upside is actually high (he had back-to-back 17-plus points games in Weeks 3 and 4 and racked up 75 yards or more in each of them).
Tennessee Titans / Delanie Walker: Walker started the season with a bang (22.5, 7.9 and 13.4 points) but then was missing in action (1.4 and 2.0). This past week he came back to a moderately good performance (7.3) and his usage rose back to six targets. Same as Olsen, he should be one of the go-to options you should target for the playoffs as a veteran player. I'm concerned about the quarterback situation, though, with Ryan Tannehill named the starter but by no means secure in the role, so keep an eye on how that develops.
The teams with a white background under their name are those who have tight ends owned in fewer than 70% of Yahoo leagues. If you don't find comments on some team here they should be in the section above. Let's asses them:
Other TEs To Stream (Despite Tough Schedules)
Due to their teams not having favorable schedules for the position going forward, I've skipped some tight ends through this article. Here are some notes on a few of them who are not massively owned (less than 70%) in Yahoo leagues:
Dallas Cowboys / Jason Witten: Dallas doesn't have any other reliable option so Witten is their go-to guy at the position, and his ownership percentage shows in fantasy leagues. He's another veteran capable of more than solid outcomes. Even if the Cowboys don't have the most favorable games left for TEs, Witten shouldn't suffer much against any team and could still put up around 10 points per game easily.
Detroit Lions / T.J. Hockenson: After posting 25.1 points in his debut, Hockenson has 20.6 combined during his last four games and only one 10-plus points performance. I still think his true talent is neither at 25 points nor at a ground zero, but in the middle. Although Detroit didn't make it to the most-favored teams ROS for TEs, they actually face eight teams ranked 20th or worst at defending the position. Hockenson is a weekly streaming option (except against the Giants in Week 8) and a potential candidate to keep on your roster long-term.
Pittsburgh Steelers / Vance McDonald: Both Pittsburgh's situation at quarterback and McDonald health issues have and will keep playing against McDonald's upside this season. Other than his 22.8-point game in Week 2, McDonald has not reached seven points in any other game. You can pick him in really favorable matchups (Miami W8, Indianapolis W9, Arizona W14), but other than that I wouldn't expect a lot from him.
More Fantasy Football Analysis