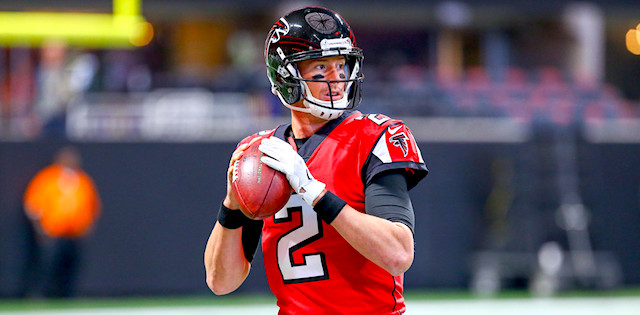 You made the playoffs. Awesome. Now you have even won your first game. That is even better. But now what?
There are many players, some of whom performed in the first round, who may not be so fortunate this week. Whether it is a bad matchup or injuries to key players around them, this could be a tough week for some stars.
Looking ahead to the playoffs, grabbing handcuffs is a great strategy. But what happens if the player you handcuffed is not the person who gets hurt? Well, now that is a problem you couldn't have foreseen. With this in mind, it is time to take a look at some of those players who will have difficult times this week. Not totally because of their doing but also because of some attrition to those surrounding them.
Editor's Note: Get any rest-of-season NFL Premium Pass for 50% off. Our exclusive DFS Tools, Lineup Optimizer and Premium DFS Research through the Super Bowl.
Sign Up Now!
He had quite a game last week. Over 350 yards and three touchdowns was a great performance. But this was not a huge surprise. The Carolina Panthers came in off an emotional week in which their head coach was fired. Their defense is in shambles and their secondary, a strength last season, is a weakness in 2019. All these factors led to an explosion for Matt Ryan.
This week is a different beast. Not only is the opponent the 49ers and not the Panthers but the game is being played outdoors. Not in the cozy confines of Atlanta's climate-controlled dome. Not only this, but Calvin Ridley officially announced on Instagram that he is out for the rest of the season due to the abdominal injury he suffered on Sunday. And you know it is official when you hear it on the 'Gram, right?
With Ridley ruled out there will be more pressure on the rest of the team to perform, something they have failed to do for most of the season. Julio Jones is having a down year in the first season of his new contract. Funny how that always seems to happen. Austin Hooper is still returning from his knee injury. With Ridley out, it will fall to Russell Gage to make an impact. He has had a nice season, but not enough to make us think he is a guarantee to perform. Especially against the top-ranked pass defense of San Francisco, a team that will be looking to show themselves after being embarrassed by New Orleans this past weekend.
The offensive line in Atlanta is bad, plain and simple. Nick Bosa was able to get pressure on Drew Brees all game and this week those pressures will convert to sacks. A lot of sacks. Don't expect a good offensive game from anyone on the Falcons offense. From the run game to the passing game this will be a struggle. San Francisco is a top-two team in the league when it comes to time of possession. They will milk the clock all game using Raheem Mostert and Matt Breida. George Kittle will smash against the Falcons back seven. And in return? Matt Ryan will be left wanting as he tries to throw against what is still an elite defense that is playing at home nonetheless.
The stats have been there the past two weeks for Wentz but he is not actually playing well.
Yes, he has five touchdown passes over the past two weeks. Yes, he has thrown for over 300 yards in both games. But this is where it stops with him. He has been sailing his passes and the only reason the numbers are where they are is due to the opponents. The Dolphins and Giants do not scare opposing quarterbacks.
Sure, Washington is not much better. Yes, Derrius Guice is out this week. But the Redskins are still going to run, run, run. Bill Callahan has said as much and with Dwayne Haskins behind center, it is a great idea. This will limit the amount of time Philadelphia is on the field. Miles Sanders is also finally showing why the Eagles took him in the draft out of Penn State. As the Eagles make their final push for the playoffs, they will need to rely heavily on Sanders and perhaps Jay Ajayi to get them there.
Zach Ertz is great. His 91 yards and two more touchdowns on nine receptions on Monday showed it. But who else is going to catch the ball? Alshon Jeffery was carted off and said he heard a pop in his leg. By the end of the game, Philly was down to one healthy wide receiver and Josh McCown said he was ready to go in there. Not great Bob.
Hopefully Nelson Agholor can get back healthy this week. The team will also need to go out and sign a few receivers. Maybe one of the many they have released in recent weeks. But this is a patchwork job at best. It will be difficult for Carson Wentz or any quarterback to make chicken salad out of this chicken poop.
The cards are all lined up against a good game this week for him. So, don't lose your championship hopes because you want to stay steadfast in your devotion to a player who has done nothing to deserve it so far this season. There are very good streaming options this week. Ryan Tannehill against the Texans and Philip Rivers against the Vikings come to mind. So, give yourself a fighting chance this week. Stay away from Carson Wentz.
Julio Jones (WR, ATL)
We already talked about his teammate. Now it is important to talk about Julio as well. Whereas you may have another option over Matt Ryan, it is unlikely you have a clear-cut better option than your likely first or second-round fantasy draft pick.
Jones is one of the best receivers in the NFL. But he is having a down season. One which is only going to continue to get worse with the injury to Calvin Ridley taking him out for the rest of the season. If you were disappointed by the fact that Julio Jones has fewer receptions than Leonard Fournette before, imagine what he will do with even more coverage being rolled his way in the final weeks. Those hardships will likely start this week. On the road at San Francisco, Jones is going up against the top-ranked pass defense in the NFL. Yes, they were exploited by New Orleans last week. But every team has a game like that. Even the best of them.
The 49ers now know they cannot let any game slip away if they want to remain the No. 1 seed. They will use this motivation to dominate the Falcons and smother the elite Jones. Atlanta has a good offense but they are an indoor offense. This means the grass track in Santa Clara will hinder their speed just enough to cause issues. Those issues will lead to a tough game for the entire offense. This game could get ugly early so be careful of what you can expect from an ailing Jones against an ailing but motivated Richard Sherman.
More Fantasy Football Analysis