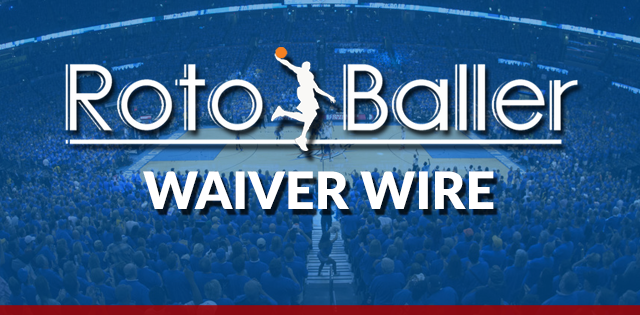 Fantasy football playoffs may have begun, but the NBA's fantasy season is in full gear with no signs of slowing down. The Bucks and Lakers are dominating the league as the only two teams to cross the 20-win threshold, starting a conversation about the possibility of a 70-win campaign.
Elsewhere in recent days, we've seen game-winning buzzer-beaters fall through the net and incredible stat-stuffing performances from several of the league's breakout players.
Things should only intensify as the trade window for recently signed players opens on Sunday and teams begin to plan out potential trades. Where that leaves your fantasy roster is anyone's guess, but here are five players who can help mitigate the potential chaos. Here are five mid-week waiver wire pickups for week 8.
Editor's Note: Our friends at Monkey Knife Fight have the best, most fun, fastest growing DFS props game! It's super simple to play and to win real money. Just choose your NBA, NHL or PGA game, and make your picks! Get a 100% instant deposit bonus up to $50 using promo code: BALLER. That's $50 for free - don't miss out!
Play Now!
Week 8 Mid-Week Waiver Wire Pickups
Kevin Huerter - SG - Atlanta Hawks - 43% owned
Kevin Huerter was absent for an 11-game stretch for Atlanta on account of a shoulder injury, halting his ability to make any progress after an All-Rookie Second Team showing a year ago.
Having finally returned on Dec. 4, Huerter has been brought along slowly by head coach Lloyd Pierce which has capped the sophomore's production while he reacclimates himself to the NBA game.
He's played only three games and scored a total of 18 points, but it's the latter two with some interesting tidbits that are worth noting.
Huerter canned three shots from beyond the arc in each of those two outings while dishing out a combined 13 assists highlighted with zero turnovers.
The Hawks have been looking for someone to assist their star point guard at the offensive end for a few weeks now. Huerter was dubbed as potentially one of those guys before getting hurt. Now that he's back, a sizeable role should be available for him that should help him return to the projection he was on before his injury.
Mikal Bridges - SG/SF - Phoenix Suns - 42% owned
It's been an up and down second season for Mikal Bridges, who's seen his playing time cut with only a handful of encouraging performances on the year. A recent stretch of games, however, has attracted some attention, raising the question of whether it is here today.
A recent nine-point outing aside, Bridges had averaged 12.6 points and 3.2 rebounds per game over a five-game stretch in which he also shot 54.5 percent on 2.2 three-point attempts per game.
Even amid Bridge's first single-digit scoring performance in nearly two weeks, he still managed to contribute elsewhere, grabbing eight boards while cobbling together four assists, three steals, and two blocks.
The Suns are a recipe for fantasy production for 3-and-D types like Bridges, ranking eighth in pace and ninth in three-point attempts.
Given his inconsistent nature, Bridges could just as easily fall back into a state of struggle as easily as he climbed out of it. Until then, consider giving him a look until the hot streak fizzles out.
De'Andre Hunter - SF - Atlanta Hawks - 30% owned
De'Andre Hunter has gotten off to a much faster NBA start than most had expected on draft night thanks in part to the absences that have sprinkled across the Hawks roster.
The rookie is averaging 12.8 points and 4.0 rebounds per game while chipping in 1.8 three-point makes a night at a 36.5 percent clip.
He's coming off the best game of his young career in which he put up 28 points, five three-pointers, four rebounds, and three assists down in Miami.
Kevin Huerter has returned to Atlanta's lineup but John Collins is still set to miss the next six games to finish off his 25-game suspension. Even upon return, Hunter will still see a prominent role with a Hawks team on the outside of the playoff picture in hopes of developing him as quickly as possible to further that goal.
Aron Baynes - C - Phoenix Suns - 42% owned
Aron Baynes was having himself a phenomenal stretch of production before going down for nine of 10 games with a calf injury. Baynes returned to the lineup last Monday to put up 12 points, four rebounds, and two three-pointers, all in just 15 minutes of action, signaling a return to form from the hulking big man.
He's currently averaging 14.5 points, 5.6 rebounds and 2.8 assists per game while also contributing an unexpected 1.9 three-point makes per game as well.
Deandre Ayton is expected back from a 25-game suspension on Dec. 17 against the Clippers and will likely return to the starting lineup as well, but Baynes has been too integral to Phoenix's surprising 11-12 start to fade out of relevance.
The Suns need him and will almost certainly do their best to find space for him in the rotation, even if it means scaling back some of Ayton's minutes. We may have witnessed the peak production of Baynes, but that doesn't mean he's completely absent of contributions, especially if you find yourself thin at center.
Kent Bazemore - SG/SF - Portland Trail Blazers - 33% owned
Kent Bazemore had started just two games all season before Portland hosted the Lakers on Friday night, stuck behind Rodney Hood in the depth chart.
Against LA, however, Hood, unfortunately, tore his left Achilles tendon, likely placing him out for the remainder of the 2019-20 season and creating a hole in the Blazers' starting lineup.
Bazemore has assumed that position in each of the last two games but hasn't done much outside of draining three three-pointers against Oklahoma City, but he did see 36 minutes of action against the Thunder -- he saw just 21 in a blowout win over New York.
Per 36-minutes, Bazemore is averaging 12.1 points, 6.6 rebounds and 1.9 three-pointers per game. Who knows if he'll get those minutes or replicate those stats, but the opportunity will certainly be there for a Blazers team looking to steady a rocky ship and return to the playoff picture out west.
More Fantasy Basketball Analysis