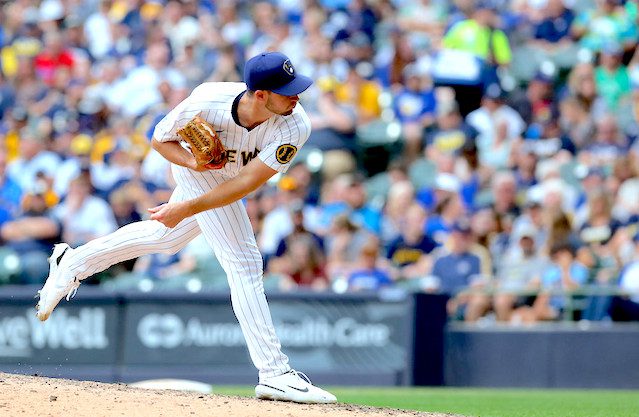 The second half is underway so it's time to get back into the swing of things. It's going to be a little tricky forecasting streamers who will definitely start twice the week after the All-Star break. Many things aren't set in stone, so for now we will move ahead with the information we have.
This fantasy baseball waiver wire pickups column aims to identify starting pitchers expected to make two starts in the upcoming fantasy baseball week, ahead of the Sunday night waiver wire runs for leagues with weekly transactions.
This list will be limited to players under 50% rostered in Yahoo leagues and divided into three sections based on recommendation levels: solid starters, risky streamers, and must-avoids.
Featured Promo: Get any full-season MLB and DFS Premium Pass for 50% off. Exclusive access to our Team Sync platform, Premium articles, daily Matchup Rating projections, 15 lineup tools, DFS cheat sheets, Research Stations, Lineup Optimizers and much more!
Sign Up Now!
Solid Two-Start Pitcher Streamers
JT Brubaker, Pittsburgh Pirates - 9% rostered
Scheduled starts: @CHC, vs PHI
Ignoring the 15-spot that the Cubs just put up, it's a good week to trust Brubaker. He has already faced the Cubbies three times, most recently shutting them out over six innings on June 20. The Phillies haven't been the same without Bryce Harper, averaging two runs per game over the last two weeks.
He's been solid most of the season, putting up a 4.02 ERA albeit with an unsightly 1.41 WHIP. He strikes out over a batter per inning and that's the other key – he eats up innings. Brubaker will be hard-pressed to earn his third win because, well, he's on Pittsburgh, but he's the least likely of this week's candidates to hurt your H2H team.
Risky Two-Start Pitcher Streamer Picks
Keegan Thompson, Chicago Cubs - 40% rostered
Scheduled starts: vs PIT, @SF
Thompson had been on a strong five-game stretch until he ran into the Mets on July 14. In those previous five starts, he walked a total of six batters while striking out 35. In that final game before the break, he walked four, struck out one, and allowed five runs on eight hits. Was it just a bad day at the office?
We'll see how he rebounds when he takes on the Bucs on Monday. It's a good get-right spot against a weak offense. Unfortunately, he goes on the road to face one of the most productive offenses in the league with the Giants. In the week preceding the ASB, San Fran had scored the second-most runs. Thompson is a fine one-game streamer but two might be pushing it.
George Kirby, Seattle Mariners - 33% rostered
Scheduled starts: vs TEX, @HOU
I've stumped for Kirby enough this season but like any rookie SP, he's going to take his lumps at times. Like when he allowed 10 hits to Toronto in his final start before the break or when he gave up four homers in one game to Baltimore. He continues to pound the strike zone and challenge hitters to beat him, so let's focus on the matchups for Week 16.
The Rangers and Astros are both top-eight in HR on the season and top-10 in HR over the past 30 days. Marcus Semien is hot and Yordan Alvarez is back from IL. There is a very real risk for Kirby this week regardless of how well the M's are playing. In fact, Kirby himself hasn't earned a win since June 22 so it's not a sure thing he comes away with one this week.
Chris Flexen, Seattle Mariners - 33% rostered
Scheduled starts: vs TEX, @HOU
It's no secret that the Mariners were MLB's hottest club heading into the break with a 14-game win streak. Flexen is one of many players who has turned things around in tall order over the past month. In three July starts, he holds a 1.10 ERA and 1.22 WHIP. He still isn't striking many batters out, so don't expect more than the 16.3% K% he currently has. You can expect some more victories if the team keeps playing the way it has. He draws an average set of matchups this week and he's an average starting pitcher, so he goes down as a lukewarm recommendation.
Aaron Ashby, Milwaukee Brewers - 23% rostered
Scheduled starts: vs COL, @BOS
Some pitchers are experts at outperforming their expected stats, most notably those who pitch to induce grounders and soft contact. Ashby is trying but the luck hasn't gone his way. Despite a 57.3% GB% and solid 26.8% K%, the results have been disappointing. We can point to a .339 BABIP and a 3.49 SIERA which is over a full run lower than his 4.57 ERA to hope that regression is coming in a positive way. He is still hurting himself with an above-average walk rate, though.
Ashby has plenty of arm talent and velocity to spare with a fastball that sits around 98 consistently. His changeup is just as good if not better.
Best changeups by Stuff+ (only physical properties of pitch, defined off fastball), SP:
1) Ross Stripling (138!)
2) Sandy Alcantara
3) Logan Webb
4) Aaron Ashby
5) Merrill Kelly
6) Shane Baz
7) Trevor Rogers
8) Bailey Ober
9) David Peterson
10) Logan Gilbert (120)
(updated doc)

— Eno Sarris (@enosarris) July 10, 2022

His inconsistency and the inability to go deep into games continues to limit his upside, however. He was apparently removed from his last start with forearm tightness, so while he has had a week to rest up, that's another red flag that shouldn't be ignored.
Jakob Junis, San Francisco Giants - 21% rostered
Scheduled starts: @ARI, vs CHC
Junis had been quietly effective through early June when he landed on the IL with a hamstring strain. He made one relief appearance and got knocked around a bit right before the All-Star break but now he's ready to rejoin the rotation. Junis lives and dies by his slider so it's fair to explore how his opponents fare in that regard. Not surprisingly, the Cubs have struggled, posting a .567 OPS vs sliders, sixth-worst. The D-Backs land smack dab in the middle. These aren't bad matchups to exploit but it's also fair to wonder how long Junis will last in each start. Consider him a relatively high-floor streamer with modest upside.
Nick Lodolo, Cincinnati Reds - 20% rostered
Scheduled starts: vs MIA, vs BAL
The last two starts for Lodolo were rough, to say the least. In St. Louis, he only lasted two innings and allowed five runs on five hits and three walks. He simply wasn't sharp and acknowledged as much afterward.
Nick Lodolo on his rough start: "I just really didn't feel like I was moving in the right direction and just couldn't make an adjustment. I would try to make an adjustment and it would go the other way. It's just something I have to figure out." https://t.co/u4trV9nADN

— Bobby Nightengale (@nightengalejr) July 16, 2022

This is the dilemma with rookie pitchers, even high-end prospects. We'll see Lodolo go through his share of ups and downs just as teammate Hunter Greene has. Although the schedule looks very tempting with Miami and Baltimore up this week, don't get sucked in by that. Plus, Baltimore is apparently sort of good now.
Mitch White, Los Angeles Dodgers - 8% rostered
Scheduled starts: vs WAS, @COL
How best to describe White's performance since joining the rotation? He's... a rookie. The last three starts have warranted a seat restraint as his numbers have gone on a real roller coaster ride.
Over three starts in July, twice he limited the opponent to one hit with no runs over five innings. The other time, he was tattooed for 10 hits and six runs.
He should be solid when facing Washington but a trip to Coors is obviously cause for concern.
Stay Away from these Two-Start Pitchers
Chris Archer, Minnesota Twins - 9% rostered
Scheduled starts: @MIL, @SD
Since the season started and I've kept Archer in the Stay Away category several times in this column, has anything changed that would warrant him moving up in rank?

He was just activated off the IL, so if anything we should expect four innings, which is his average length per start, to be his absolute max. His ratios look fine but a 7.4% K-BB% with no possibility of a W is not worth streaming.
Kyle Freeland, Colorado Rockies - 4% rostered
Scheduled starts: @MIL, vs LAD
Bad Freeland has returned. He's given up 15 ER in 16 IP this month. I've previously stated that he could be streamed in plus matchups but he doesn't get that luxury in the coming week.
Glenn Otto, Texas Rangers - 3% rostered
Scheduled starts: @SEA, @LAA
Otto has shown one sign of improvement by only walking one batter in each of his last two starts. Otherwise, it has been more of the same which is not helpful in any way for fantasy leagues. His 5.59 July ERA is right on par with his 5.40 season ERA. A 17.4% K-rate isn't cutting it either. Throw two road trips on top of it and he should be avoided everywhere.
Zach Logue, Oakland A's - 1% rostered
Scheduled starts: vs HOU, @CWS
Among the sea of blue on his Statcast page, a .503 xSLG in the bottom-two percentile stands out most. Houston is one of the top slugging teams in the majors and the White Sox are getting there, posting a .434 SLG over the past two weeks. Logue is a crafty lefty (read: soft tosser) who will have to avoid the long ball to survive this week. I'm not pressing my luck, even with the fact he held Houston mostly in check a couple of weeks ago.
Download Our Free News & Alerts Mobile App
Like what you see? Download our updated fantasy baseball app for iPhone and Android with 24x7 player news, injury alerts, sleepers, prospects & more. All free!


More Fantasy Baseball Waiver Wire Advice