We've got a massive eleven-game slate for Friday. The Magic and Trail Blazers are the only teams playing the second leg of a back-to-back.
There are three games at 7:00 PM ET ([email protected], [email protected], and [email protected]), two games at 7:30 PM ([email protected] and [email protected]), one game at 8:00 PM ([email protected]), two games at 9:00 PM ([email protected] and [email protected]), and the late-night hammers at 10:00 PM are [email protected], [email protected], and [email protected]
Here are my daily fantasy basketball lineup picks for FanDuel on 2/12/21. You can also check out today's DraftKings lineup picks. Keep an eye on Rotoballer's injury news to stay up to date before lineups are locked.
FanDuel DFS Guards
Trae Young, PG - vs. SA ($10,100)
The Spurs play at the 10th-fastest pace and, while they are 10th in defensive efficiency, they are very generous to the point guard position. On the season, they are boosting the fantasy points per minute by 14.5% above league average, which is second-worst in the league. Young is the engine of the Hawks as he garners a usage rate of 32.6, launches 18 shots per game, and dishes out 9.5 assists. He's scored 62.25 and 53 FD points over the last two games and, on the season, he's contributed at least 50 FD points in 14 games with a high of 66. He's averaging 1.28 FD points per minute and 34.8 minutes per game.
Frank Mason, PG - @ SAC ($4,200) 
UPDATE: Mason injured himself during last night's game, so this recommendation is no longer valid. 
With Cole Anthony nursing a shoulder injury, Mason could make his second consecutive start. When he replaced Anthony in the last game, Mason played 33 minutes and garnered a 19.2 usage rate. He contributed 11 points, seven rebounds, and four assists. On the season, he's averaging 0.7 FD points per minute. He's not the most exciting option and the ceiling game is unlikely to occur, but in two games at the Orlando Bubble, he played 26 and 22 minutes while with the Bucks and produced lines of 18 points, four rebounds, eight assists, one steal, and one block in one game with 19 points, five rebounds, six assists, and two steals in the other. I know it's a different team and a different year but those games do show that he does have some upside. Now, the Kings are the best at neutralizing fantasy points per minute to point guards (23.17% below league average), but they play at the 11th fastest pace and are 30th in defensive efficiency. I apologize for writing way too much on Mason. He's cheap and could play a ton of minutes.
Terrence Ross, SG - @ SAC ($4,900)
With Aaron Gordon, Cole Anthony, Evan Fournier, Markelle Fultz, and Frank Mason off the court this season, Ross sees a 6.6% usage bump to 29.8. Last night against the Warriors, you garnered a usage rate of 31.7 and chucked 27 shots! He only converted 29% of them but thank goodness Fanduel doesn't factor in field goal percentage. Ross finished the night with 20 points, six rebounds, three assists, and three blocks. Ross should see plenty of minutes in this one and have a usage rate above 30 once again.
Zach LaVine, SG - vs. LAC ($9,600)
Over the last three games, LaVine has had usage rates of 38.5, 38.3, and 38.9. On the season, that number has been 30.3. The increased usage has translated to 46, 35, and 39 points, good for 55.25, 48.5, and 64.75 FD points respectively. The trend is definitely our friend here and it's scorching hot. Now he gets a matchup against a Clippers team that boosts the fantasy points per minute to shooting guards by 4.02% above league average. And that's with Paul George in the lineup.
Alec Burks, SG - @ WAS ($4,400)
Prior to the arrival of Derrick Rose to the Knicks, Burks had played 27 and 29 minutes. When Rose was inserted into the lineup, Burks still played 26 minutes. Things could change as Rose gets comfortable but it looks like Burks will play in the low-to-mid 20s regardless. Burks contributed 11 points, six rebounds,  and two assists on eight shot attempts with Rose in the lineup, good for 22.5 FD points. Now he gets one of the juiciest matchups for fantasy basketball, as the Wizards play at the fastest pace and are 29th in defensive efficiency. 20 FD points shouldn't be a problem for Burks in this one, and there's potential for 30 plus if things break right.
Also consider: LaMelo Ball ($7,700), Elfrid Payton ($5,100), DeMar DeRozan ($8,300), Eric Bledsoe ($5,100)
Want more NBA DFS tools and content? Our NBA Premium package includes our daily cheat sheets, research station, optimizer, and access to our premium slack chat where members can chat with our NBA analysts. Check out this big win from Tuesday night's NBA slate by RB premium member Bsuperak on FanDuel!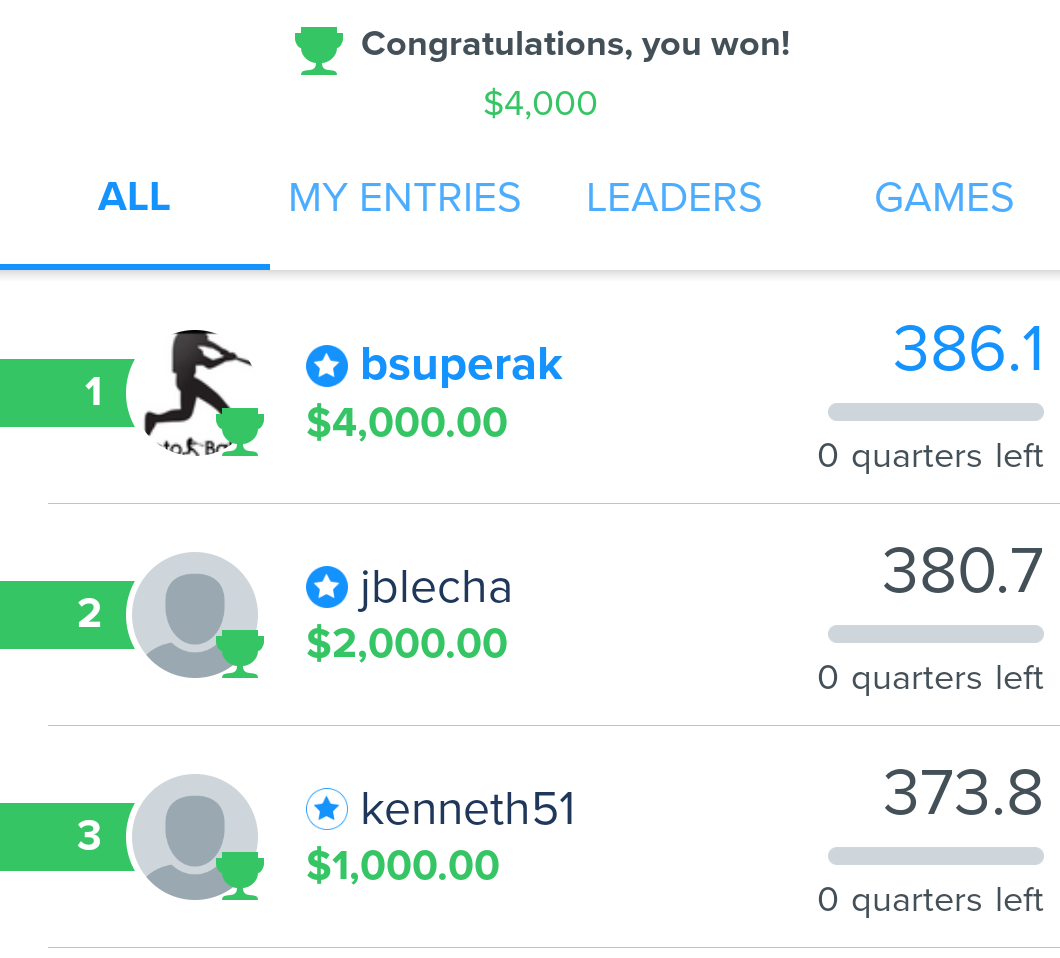 FanDuel DFS Forwards
Kawhi Leonard, SF - @ CHI ($10,000)
Leonard is averaging 1.35 FD points per minute and 34.5 minutes per game. Paul George is expected to miss his fourth game in a row due to a toe injury. With George off the court, Kawhi sees a 2.5% usage bump to 32.7. Not that he needed things any easier, but the Bulls play at the third-fastest pace and are 20th in defensive efficiency. He's scored at least 50 FD points in 11 games this season with the floor being 34.5.
Miles Bridges, SF - vs. MIL ($5,200)
Over the last three games, Bridges has played 30, 27, and 30 minutes and double-doubled in three straight. This has translated to 32, 31, and 34.8 FD points. Is it a coincidence that LaMelo Ball has started all three of those games? Me thinks not. Now, to be fair, LeMelo did start the three prior games as well and Bridges produced 6.2, 31.9, and 23.1 FD points. Maybe they were just figuring things out. Regardless, he's on a heater and now gets a matchup against the Timberwolves, who play at the sixth-fastest pace, which suits Bridges' game. They are also 22nd in defensive efficiency.
Giannis Antetokounmpo, PF - @ UTA ($11,000)
These two teams played back in early January and Giannis contributed 35 points, eight rebounds, four assists, and one steal for 51.6 FD points. The matchup and game environment aren't great for Giannis, as Utah plays at the 25th fastest pace and is 2nd in defensive efficiency. With that said, there's very little blowout risk so Giannis should see his full allotment of minutes, and when he's on the court, he's going to provide fantasy goodies regardless of the opponent.
Isaiah Stewart, PF - @ BOS ($3,600)
Mason Plumlee missed his first game of the season on Thursday, allowing Stewart to make his first start of the year. If Plumlee plays, then Stewart isn't an option, but if he's out again, then Stewart becomes more than viable. On Thursday, he played 31 minutes and produced 17 points, seven rebounds, one assist, one block, and two steals for 35.9 FD points. The Celtics boost the fantasy points per minute to centers by 3.53% above league average.
Also consider: Khris Middleton ($8,000), James Ennis ($4,200), Julius Randle ($8,600), and Carmelo Anthony ($5,300)
FanDuel DFS Centers
Nikola Jokic, C - vs. OKC ($10,800)
The Nuggets won by 38 points last game which resulted in Jokic only playing 29 minutes. He still produced 41.2 FD points. Amazing for normal humans but sub-par for Jokic. In the prior four games, Jokic contributed 58.4, 88.6, 32.8, and 74.9 FD points! Who does that? The matchup or game environment doesn't matter for Jokic. He's going to produce regardless. On the season, he's averaging a ridiculous 1.58 FD points per minute. The Thunder boost the fantasy points per minute to centers by 5.89% above league average. As if Jokic needed more help. The only worry is blowout risk but, as shown by the last game, Jokic will be a big reason why.
Mitchell Robinson, C - @ WAS ($5,100)
Robinson has been meh for....10 games, as he's scored fewer than 30 FD points in all of them, with three under 20. He's scored double figures in only seven games all season and grabbed at least 10 rebounds in eight games. At least the defensive contributions have been there. This has all translated to producing 0.9 FD points per minute. There are reasons to be optimistic, though. He's played 28, 31, 33, and 28 minutes over the last four games and the matchup is pristine as the Wizards play at the fastest pace so there will be plenty of possessions. They also boost the fantasy points per minute to centers by 12.29% above league average.
Also consider: Karl-Anthony Towns ($10,100), Nikola Vucevic ($9,800), and Clint Capela ($7,800)
Download Our Free News & Alerts Mobile App
Like what you see? Download our updated fantasy basketball mobile app for
iPhone
and
Android
with 24x7 player news, injury alerts, lineup notifications & DFS articles. All free!
NBA DFS News and Injury Alerts
More DFS Lineup Picks and Analysis