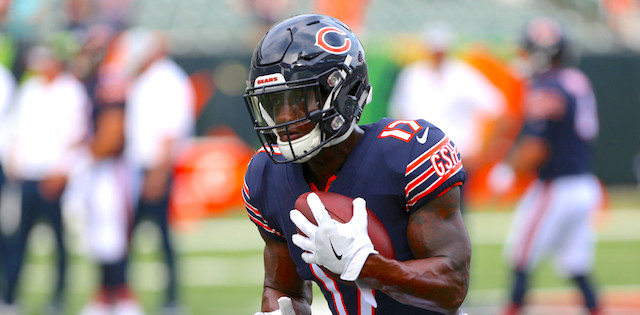 As an addendum to our famous waiver wire pickups list, and our weekly waiver wire columns by position, in this column we also present suggested waiver wire bidding percentages for fantasy football owners in leagues using a Free Agent Acquisition Budget (FAAB).
As a caveat, these prices do not by any means indicate how much these free agent players will go for. Each league values players differently and will continue to do so. These auction values are here to provide a baseline to understand roughly how much you should be targeting to spend on a particular player. If you want to go wild and blow a chunk of your budget on a guy you believe in, by all means, carry on. However, these players are not a dime a dozen. Guys get injured and other guys replace them and their production all the time, every year. You only have so much FAAB money, spend it as wisely as possible.
With the regular season winding down, it's time for struggling teams to bid high and spend on guys that could help them make that playoff push. Win-now teams should spend as freely as possible. Owners that feel stuck should as well. All it takes is one breakout player to push you over the top sometimes. With that being said, below are our FAAB auction bidding recommendations for Week 12. Good luck, and happy bidding!
Editor's Note: Get any full-season NFL Premium Pass for 50% off. Our exclusive In-Season Lineup Tools, Lineup Optimizer and over 150 days of Premium DFS Research.
Sign Up Now!
FAAB Waiver Wire Bids - Quarterbacks
Baker Mayfield (QB, CLE) - FAAB Bid: 5-8%
41% owned
With Hue Jackson and Todd Haley out of the picture, Mayfield is now in the hands of offensive coordinator Freddie Kitchens. Mayfield has been more than serviceable against a few of the poorer defenses in the league these past three weeks and should continue to provide borderline starter level numbers throughout the year with the set of weapons he has in play. Not worth splurging on but surely a buy. His schedule gets a bit tougher in the coming weeks.
Lamar Jackson (QB, BAL) - FAAB Bid: 3-5%
48% owned
Lamar Jackson is fun as hell to watch. He is electrifying with the football in his hands and will get the opportunities to show it going forward. Jackson racked up 27 rush attempts on Sunday which is absolutely bonkers for a quarterback. He only produced 117 yards on those touches but added on 150 yards through the air to give himself a decent QB2 day. Jackson failed to reach the end-zone against the Bengals but should have no difficulty against the slow Raiders defense. He's essentially been confirmed as the starter for Week 12 and should be considered one of the best plays of the week.
FAAB Waiver Wire Bids - Running Backs
Josh Adams (RB, PHI) - FAAB Bid: 15-20%
32% owned
Josh Adams was a beast at Notre Dame. He is a thumper who surprisingly went undrafted. He has taken over the Jay Ajayi role in the Eagles' offense and has seen more touches each of the past few weeks. They desperately need a player like Adams and as long as they keep giving him carries, he should continue producing. Adams was scripted out of the game in New Orleans but should be a stud in coming weeks.
Gus Edwards (RB, BAL) - FAAB Bid: 10-15%
4% owned
Legitimately shocked that this guy is owned at all but kudos to those that had him. Edwards was a bowling ball on Sunday and looked like the best running back that backfield has seen all year. Alex Collins is a talented runner, but his fumbling issues have limited his usage. This may be a turning point for the Ravens with Lamar Jackson starting and Edwards receiving a bulk of the carries.
Rashaad Penny (RB, SEA) - FAAB Bid: 5-7%
50% owned
Rashaad Penny has looked fantastic these past two weeks. The Seahawks are committed to running the ball and Penny will be getting touches in this backfield committee. For now, he's not worth blowing too much FAAB on unless you own Carson and want to handcuff. However, with the way the offense has been run this year, it wouldn't be shocking to see Penny lose touches completely thanks to a coaching whim.
Jalen Richard (RB, OAK) - FAAB Bid: 3-5%
44% owned
Doug Martin injured his ankle midway through this past Sunday's game against Arizona and we saw Richard finally get some consistent touches. He rushed well and caught the ball well (per usual) and is worth an add in PPR formats if need be.
Elijah McGuire (RB, NYJ) - FAAB Bid: 3-5%
14% owned
McGuire has been fairly productive since returning from IR a few weeks ago. He's carried the ball 13 times for 60 yards and has caught six passes for 54 yards in his two games played this year. If his role expands over the coming weeks, he could prove to be a solid RB3/flex, but for now, he should be regarded as a bench stash.
Spencer Ware (RB, KC) - FAAB Bid: 1-3%
10% owned
God forbid if something happened to Kareem Hunt, but if he were forced to miss time, Spencer Ware would be in play as his immediate replacement and jump into the RB1 discussion. Ware is a good pass catcher whose legs have come back to pre-ACL tear life. He has put up solid numbers with minimal touches over the past few weeks and could continue to be a factor going forward. Hunt owners should make sure he's on their bench come playoff time.
Rex Burkhead (RB, NE) - FAAB Bid: 0-1%
19% owned
Burkhead is due back from injured reserve around Week 13. He could be a decent stash now if you have an open IR spot. Don't expect too much from him when he returns given the emergence of Sony Michel and the breakout campaign by James White but grab him if you need some potential. Burkhead saw plenty of work around the goal line last year and could be similarly utilized down the stretch.
FAAB Waiver Wire Bids - Wide Receivers
Tre'Quan Smith (WR, NO) - FAAB Bid: 20-25%
27% owned
Smith is talented as a deep threat and should see his opportunities to shine going forward even with the signing of a washed-up Brandon Marshall. He went absolutely bananas against the Eagles, and while this may be attributed to the fact that their secondary is in shambles, it's hard to deny Smith's talents. He is a must add for all teams and worth however much you spend. He could be a must-start at home these next few weeks.
Josh Reynolds (WR, LAR) - FAAB Bid: 20-25%
45% owned
Josh Reynolds has taken over Cooper Kupp's role in the Rams' offense. Although he isn't exactly Kupp talent wise, Reynolds is still a capable receiver in a high-powered offense. After going off against the Chiefs on Monday, he will be a hot add this coming waiver period. Add Reynolds while you can. He's a viable option across all types of leagues.
Anthony Miller (WR, CHI) - FAAB Bid: 10-15%
42% owned
Miller's had a solid season for a rookie but could breakout in the coming weeks with the rapport he's built with QB Mitch Trubisky. Miller has 29 targets over the past five games and a VERY favorable playoff schedule. He could end the season as a high-end WR3 or low-end WR2 if he continues to play the way he has.
Christian Kirk (WR, ARI) - FAAB Bid: 5-10%
34% owned
Christian Kirk and Josh Rosen have a great connection and they should continue to build on it as the season progresses. He's surely had his ups and downs throughout the year but should see plenty of opportunities to produce as the season winds down. Not really someone you're confident starting but probably worth the add.
Adam Humphries (WR, TB) - FAAB Bid: 5-8%
15% owned
Garbage time has served Humphries well. Humphries is not someone I want to add, let alone start but he deserves a mention for his recent production. Humphries should be irrelevant, but given the state of the Buccaneers, he continues to be thrust into the spotlight with force-fed targets late in the game to try and come back. The Buccaneers have so many talented mouths to feed that they continually end up feeding the least covered one. He's worth an add in deeper leagues and a desperation flex for those stuck in need.
John Ross (WR, CIN) - FAAB Bid: 5-8% 
17% owned
John Ross is officially back in the picture with A.J. Green sidelined for the next few weeks. Ross has scored in back-to-back weeks and has looked worlds better while on the field. He has been getting wide open downfield but has trouble getting accurate passes thrown his way. Dalton's play and Green's impending return are the only things stopping him from being a must-add.
FAAB Waiver Wire Bids - Tight Ends
Cameron Brate (TE, TB) - FAAB Bid: 5-10%
23% owned
For the 23% of owners who had Cameron Brate in their lineups, congratulations! It is now your time to shine. O.J. Howard has been placed on injured reserve and will miss the rest of the year leaving Brate as the TE1 down in Tampa. Brate is pretty good. He had some rapport built with QB Jameis Winston last season and he will look to build on that as the season winds down. Given this offense's propensity to throw the ball, there should be plenty o opportunities for Brate to succeed, especially in the red zone, as a result, he could be a "must-own" TE going forward.
Jonnu Smith (TE, TEN) - FAAB Bid: 2-3%
7% owned
Smith wasn't too special this past Sunday but has been fairly effective these past few weeks. We're going to have to wait and see whether Marcus Mariota will start next Sunday but even if not, it seems that Smith was a favorite target for backup QB Blaine Gabbert. Pick him up if you need a TE.
Chris Herndon IV (TE, NYJ) - FAAB Bid: 1-2%
7% owned
Chris Herndon has been receiving fairly consistent targets for the past five games in a row. He is not someone you should run to the wire to grab but could be a decent buy for TE needy teams or anyone stuck in a bye. He'll be used in the end zone and throughout the field due to the lack of receiving options in the current Jets' corps.
Jeff Heuerman (TE, DEN) - FAAB Bid: 1-2%

24% owned
Heuerman is one of the beneficiaries of Demaryius Thomas's absence. He has seen an uptick in targets these past two weeks with 16 total and should continue to be a favorite target of Case Keenum's, despite not being the most talented at his position.
FAAB Waiver Wire Bids - Defense/Special Teams
Buffalo Bills D/ST - FAAB Bid: 1-2%
13% owned
The Bills are coming off of a bye and playing against a mistake-prone Blake Bortles. The Jacksonville offensive line has been atrocious and should get ravaged by the Bills elite pass-rush.
Dallas Cowboys D/ST - FAAB Bid: 1-2%
17% owned
Playing at home, on Thanksgiving against Colt McCoy. The Cowboys have the NFC East in their sights and will need this win to take that leap to the top. Their defense has been underrated all season and has a serious advantage over the Washington offense, especially if Trent Williams misses another game.
More Waiver Wire Adds and Pickups