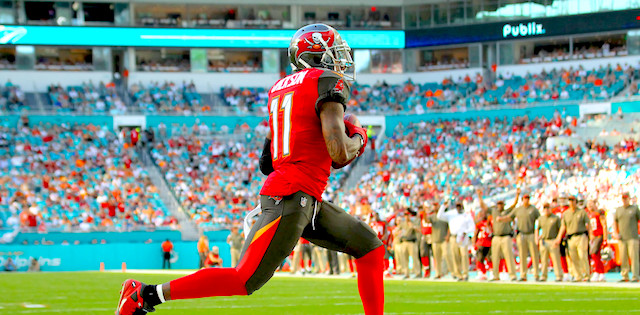 As an addendum to our famous Waiver Wire pickups list, we now present suggested percentages for fantasy football owners in leagues using a Free Agent Acquisition Budget (FAAB). Below you will find our FAAB auction bidding recommendations for those playing in FAAB waiver wire leagues.
As a caveat, these prices do not by any means indicate how much these free agent players will go for. Each league values players differently and will continue to do so. These auction values are here to provide a baseline to understand roughly how much you should be targeting to spend on a particular player. If you want to go wild and blow a chunk of your budget on a guy you believe in, by all means, carry on. However, these players are not a dime a dozen. Guys get injured and other guys replace them and their production all the time, every year. You only have so much FAAB money, so spend it as wisely as possible.
We're two weeks into the year so make sure you are set for the long haul with some FAAB in your pocket. Don't be disappointed if you don't get one of these guys because someone spent significantly more, because it's likely that they overpaid.  As the year winds down and the playoff race gets tighter, that's when you're going to want this fake money the most!
Editor's Note: All you early birds can get a full-season NFL Premium Pass for 50% off. Our Draft Kit, In-Season tools and over 150 days of Premium DFS.
Sign Up Now!
FAAB Waiver Wire Bids - Quarterbacks
Ryan Fitzpatrick (QB, TB) - FAAB Bid: 2-4%
23% owned
It is kind of insane that Fitzpatrick is even being mentioned here given that he might not have had a starting job in two weeks, but that's just a testament to how good he's been over the past two weeks. With back-to-back 400 yard/four-touchdown performances, he deserves mention for at least this week. If you need a QB streamer, Fitzmagic is your guy. The Steelers defense stinks without Ryan Shazier and should be targeted for a potential shootout every week. Don't go crazy spending on Fitzpatrick because this situation is way too volatile, even with how good he's been.
Andy Dalton (QB, CIN) - FAAB Bid: 4-6%
27% owned         
Dalton and the Bengals have looked so much more competent than last season. Whether this is due to the improved offensive line or positive regression, it doesn't matter. The Bengals should be considered better than awful going forward and Dalton could be a legit QB option for a team who needs an improvement.
Joe Flacco (QB, BAL) - FAAB Bid: 1%
13% owned
Flacco is another middling veteran quarterback who has started the year off hot. At the end of the day, he is still Flacco. In deeper leagues, sure, spend maybe more than one percent if your QB situation is atrocious. For shallower leagues (12 or less), Flacco will probably be available on the wire again in a few weeks anyway if he gets picked up. The weapons around him are improved and so is his protection with Yanda healthy, but he will have to show more than two weeks' worth of success for permanent roster justification.
FAAB Waiver Wire Bids - Running Backs
Phillip Lindsay (RB, DEN) - FAAB Bid: 25-35%
70% owned
The Broncos pulled a fast one on all of us. Royce Freeman and Devontae Booker aren't in a committee, Royce Freeman and Phillip Lindsay are in a committee. Head coach Vance Joseph went so far as to call Booker the starter only to barely give him touches these past few weeks. More importantly, Phillip Lindsay has a stranglehold on his role in the offense. The undrafted free agent out of Colorado is looking like the Broncos' best running back. They are using him on passing downs and between the tackles. While he and Royce Freeman can co-exist in that backfield, it is imperative that Lindsay is owned in every league. If you're in the 30% where Lindsay hasn't been snatched already, pay up now.
Giovani Bernard (RB, CIN) - FAAB Bid: 25-30%
29% owned
Cincinnati Bengals starting running back Joe Mixon is officially out for at least the next two weeks leaving Giovani Bernard with a stranglehold on the backfield. This is an easy grab for any owners who are in need of an immediate plug-and-play RB. Particularly, Joe Mixon and Devonta Freeman owners. Mixon owners may want to consider dropping a little more than recommended as insurance. Handcuffing here makes sense because despite Mixon's surgery being described as minor, there is uncertainty as to whether he will be able to stay healthy or carry the same workload when he returns. Bernard was solid while Mixon was hurt last year and doesn't have much competition outside of rookie Mark Walton. He's an every-week RB2 while Mixon is down.
Austin Ekeler (RB, LAC) - FAAB Bid: 10-15%
45% owned
Ekeler is a must-own player for any and all Melvin Gordon owners. Throughout the first two weeks of the season, he has graded out as one of PFF's top-rated backs and has put up FLEX-worthy stat lines. He's also a must-own in PPR leagues given that he's primarily a scat-back. Ekeler will see heavy usage in games that are out of reach for the Chargers and will get work as a change-of-pace back too, but will need a Gordon injury to be more than a boom-bust RB3.
Marlon Mack (RB, IND) - FAAB Bid: 10-12%
47% owned
Mack looked okay in his first game back from injury Sunday. The Colts offense as a whole was just alright so it's hard to blame the second year running back for not finding too many running lanes. While Mack may be the most talented running back on the Colts' depth chart, it seems that they are going to continue to give rookie Jordan Wilkins carries and that could really hurt going forward. Mack should be owned though and could be attained for cheap. Given the committee, you shouldn't blow too much, but just enough to take a flier on a good player who will get volume.
Corey Clement (RB, PHI) - FAAB Bid: 8-12%
22% owned
Clement was fantastic on Sunday but that was mostly because Darren Sproles was inactive and Jay Ajayi hurt his back. The Eagles' backfield is also entrenched in a committee for the time being but has amazing upside if Ajayi and/or Sproles get hurt long-term (which is not too far-fetched). Clement should be rostered by Ajayi owners (given his injury history) and will provide great dividends if his role expands going forward.
Javorius Allen (RB, BAL) - FAAB Bid: 8-12%
8% owned
Another day, another committee. With the loss of Kenneth Dixon to the injured reserve, the Baltimore Ravens have basically split the work between Alex Collins and Javorius "Buck" Allen. Collins gets more early down work, while Allen gets third-downs and passing downs. Allen has scored nicely these past two weeks but that's more due to touchdowns than anything. He is an inefficient runner who doesn't have Collins' leg talent but surely catches the ball better out of the backfield, protects it better and blocks better. This is what is keeping him on the field and what will continue to keep him on the field. Allen is not too valuable in standard leagues or even half-PPR by that matter, but in full PPR he should be owned.
FAAB Waiver Wire Bids - Wide Receivers
DeSean Jackson (WR, TB) - FAAB Bid: 10-20%
50% owned
Jackson is everyone's favorite boom-or-bust receiver since his entrance into the league a decade ago. No single receiver is more notorious for winning you weeks or absolutely disappearing.  He has once again caught the fantasy community's eye with his dazzling speed and agility over these past two games. Maybe it's just the Fitzmagic talking, but Jackson is a must-own. He looks healthy out there and will continue to wreak havoc on defenders (every other game). Even if Winston comes back, Jackson should still be relevant. His value is relatively unchanged throughout all league types due to his low-volume, high-efficiency play.
John Brown (WR, BAL) - FAAB Bid: 10-15%
26% owned
John Brown is back. He was a deep threat who was worth owning in all leagues during his time in Arizona. Now, he's found his way back into our hearts and fantasy lineups. The past year or so have been a bit tumultuous due to health issues and poor quarterback play but Brown's talents have been on full display in Baltimore. He's scored in each of the past two games and has seen a healthy 14 targets. Brown is in play as an every week WR2 or FLEX option going forward and should be owned as long as he's healthy.
Antonio Callaway (WR, CLE) - FAAB Bid: 5-10%
7% owned
The Browns just traded Josh Gordon and now have an open spot on the outside for the taking. Callaway is an extremely talented receiver who only wasn't a higher pick due to off-the-field issues. He has an opportunity now to regularly start in an offense that needs a deep man and he could be the guy. Callaway caught a beautiful shot to the end zone in last week's game against New Orleans and will hope to keep this momentum going forward. There is a risk here because of his team, quarterback situation, and personal history. However, he's worth grabbing as a bench piece to see if he pans out.
Geronimo Allison (WR, GB) - FAAB Bid: 5-10%
31% owned
Geronimo Allison is the fourth option on the Packers offense after Davante Adams, Jimmy Graham, and Randall Cobb, but he has Aaron Rodgers throwing to him so it does not matter. Allison has 14 targets this year and has hauled in 11. His large frame and improved hands have made him an appealing option for Rodgers and it would only take one of the other three to get hurt for Allison to turn into one of the premier fantasy WRs in the game. There have been rumors that Randall Cobb has been dangled to teams around the league all offseason, so if he were to go, there would be a couple more targets going Allison's way. Regardless, he seems to have Rodgers' trust and that is worth its weight in gold.
Chris Godwin (WR, TB) - FAAB Bid: 5-10%
35% owned
Chris Godwin has scored in the first two games of the year and has a chance to be very solid this season. The Bucs' offense is loaded with receiving talent and despite him being a starter, there isn't much excitement for a guy who is going to need volume to succeed. He's seen 10 targets so far and made the most with them by hauling two in for scores, but unless one Evans, Jackson, or even Howard go down, it's hard to see Godwin being too relevant. Maybe he has a better rapport with Jameis Winston, but we'll have to wait and see. He has more appeal in standard leagues due to the touchdowns for now.
Willie Snead IV (WR, BAL) - FAAB Bid: 3-6%
3% owned
Over the past two games, Willie Snead IV has received 14 targets as the forgotten man in the Ravens underrated receiving corps. Flacco has been spreading the ball around a ton to Michael Crabtree, John Brown and Snead IV enough so that everyone's eating each game. The touchdowns may be few and far between. However, it seems like Flacco trusts Snead IV in the short game and will continue to use the possession receiver as a safety blanket. The former Saint is more viable to own in PPR leagues, but he is worth consideration in Standard if you're needy enough.
Tyler Boyd (WR, CIN) - FAAB Bid: 3-6%
2% owned
For the first time since Marvin Jones and Mohamed Sanu left, a Bengals wide receiver not named A.J. Green is fantasy relevant (at least for the time being). Boyd was spectacular in last Thursday night's game against the Ravens and should continue to work as the Bengals primary number two until as long as John Ross doesn't break out. Boyd has 14 targets over the past two games, 9 of which coming on Thursday. Dalton seems to have built some rapport with the third year receiver out of Pittsburgh and will hope to carry this success through the rest of the year.
FAAB Waiver Wire Bids - Tight Ends
Will Dissly (TE, SEA) - FAAB Bid: 5-10%
31% owned
This guy might have the least football player name of all, but darn it he is putting in work for the Seahawks. Will Dissly now has 10 targets, 147 yards and two touchdowns on the year in an offense that is desperate for production. After losing Jimmy Graham in the offseason and Doug Baldwin to injury, Russell Wilson needs someone to throw to and Dissly seems to be one of his guys. Six receptions, 147 yards, and two touchdowns are nothing to scoff at from the tight end position so Dissly is worth that speculative add for those in need of a fill-in TE. He could totally fade out over the next month so don't blow too much on him, though.
Jesse James (TE, PIT) FAAB Bid: 3-5%
11% owned
Who would have thought that Jesse James would look good in a shootout? (hold applause) James had a magnificent game Sunday against the Chiefs but remains volatile due to the fact that the Steelers have way too many great options on offense. James might not even be the lead receiving tight end each week on his own team thanks to Vance McDonald. Buying in here is a gamble and it's probably not worth spending too much.
Eric Ebron (TE, DET) - FAAB Bid: 3-5%
55% owned
Is Eric Ebron finally breaking out? Maybe. Ebron's hands look a lot better through thus far but it's a long season and we have a lot of tape on the former first-round pick to show that he's unreliable. Moreso, he is barely playing. Despite having nine targets through two games, Ebron is on the field for just a fraction of the offense's snaps while Jack Doyle is receiving more targets and playing much more. It's hard to chase touchdowns, but the tight end position is so annoying that sometimes it's all you can do. Grab Ebron cheap for one more ride and hope he's a changed man.
Austin Hooper (TE, ATL) - FAAB Bid: 3-5%
17% owned
Hooper hasn't been too exciting throughout his career, but now, in his third year, he has a chance to make a name for himself in an offense that has struggled to get it going since Kyle Shanahan's departure. Hooper is a big body who has received his fair share of looks in the red zone. While he may only have nine targets on the year, he has scored once and had a few other chances. He could be the key to the Falcons' scoring woes but don't go crazy spending on hope alone, as one strong game doesn't promise a season full of fantasy production.
More Waiver Wire Adds and Pickups