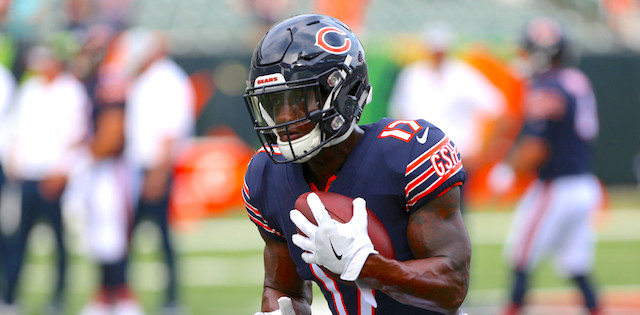 As an addendum to our famous waiver wire pickups list, and our weekly waiver wire columns by position, in this column we also present suggested waiver wire bidding percentages for fantasy football owners in leagues using a Free Agent Acquisition Budget (FAAB).
As a caveat, these prices do not by any means indicate how much these free agent players will go for. Each league values players differently and will continue to do so. These auction values are here to provide a baseline to understand roughly how much you should be targeting to spend on a particular player. If you want to go wild and blow a chunk of your budget on a guy you believe in, by all means, carry on. However, these players are not a dime a dozen. Guys get injured and other guys replace them and their production all the time, every year. You only have so much FAAB money, spend it as wisely as possible.
With the regular season winding down, it's time for struggling teams to bid high and spend on guys that could help them make that playoff push. Win-now teams should spend as freely as possible. Owners that feel stuck should as well. All it takes is one breakout player to push you over the top sometimes. With that being said, below are our FAAB auction bidding recommendations for Week 11. Good luck, and happy bidding!
Editor's Note: Get any rest-of-season NFL Premium Pass for 50% off. Our exclusive DFS Tools, Lineup Optimizer and Premium DFS Research through the Super Bowl.
Sign Up Now!
FAAB Waiver Wire Bids - Quarterbacks
Marcus Mariota (QB, TEN) - FAAB Bid: 5-7%
30% owned
Mariota's health has been the biggest concern regarding his fantasy value thus far. The ulnar nerve issue in his throwing elbow has hindered him throughout the season but now it seems that it is behind him. Mariota's thrown without a glove for the past two games and has been spectacular. The Titans schedule through the end of the season has some great matchups for Mariota and the offense (IND, NYJ, NYG, WAS in particular) and as a result, a pick up might be justified for those unhappy with their current QB situation.
Baker Mayfield (QB, CLE) - FAAB Bid: 3-5%
45% owned
With Hue Jackson and Todd Haley out of the picture, Mayfield is now in the hands of offensive coordinator Freddie Kitchens. Mayfield has been more than serviceable against two of the poorer defenses in the league these past two weeks and should continue to provide borderline starter level numbers throughout the year with the set of weapons he has in play. Not worth splurging on but surely a buy.
FAAB Waiver Wire Bids - Running Backs
Josh Adams (RB, PHI) - FAAB Bid: 4-8%
13% owned
Josh Adams was a beast at Notre Dame. He is a thumper who surprisingly went undrafted. Over the past two weeks, he has rushed 16 times for an efficient 108 yards. He could take over the Jay Ajayi role in the Eagles' offense with reports that Coach Pederson wants to give him more touches. They desperately need a player like Adams and as long as they keep giving him carries, he should continue producing. Adams is a great upside target in standard leagues. Would mostly ignore in PPR, bid lower in half PPR.
Mike Davis / Rashaad Penny (RB, SEA) - FAAB Bid: 3-5%
26% owned
Chris Carson is expected back this Thursday but the other RBs in this backfield are worth a grab despite their volatile production. Mike Davis is typically in line to receive a bulk of the carries when Chris Carson is ruled out. Unfortunately, with Pete Carroll at the helm, you never know what to expect. Rashaad Penny is also in the mix and could take the game over and ruin Davis's day at any time. Grab Davis and Penny as insurance to Carson, just don't bank on either being a trustworthy RB with Carson around.
Jalen Richard (RB, OAK) - FAAB Bid: 3-5%
53% owned
Richard's role did not change too much with Marshawn Lynch on Injured Reserve, however, he could be used more and more given how poorly the Raiders' defense has played. Richard hasn't been utilized as a runner much this year and he likely won't be going forward. He is more valuable in PPR and should be ignored in shallower standard leagues.
Elijah McGuire (RB, NYJ) - FAAB Bid: 3-5%
18% owned
McGuire has been fairly productive since returning from IR a few weeks ago. He's carried the ball 13 times for 60 yards and has caught six passes for 54 yards in his two games played this year. If his role expands over the coming weeks, he could prove to be a solid RB3/flex, but for now, he should be regarded as a bench stash.
Spencer Ware (RB, KC) - FAAB Bid: 1-3%
5% owned
God forbid if something happened to Kareem Hunt, but if he were forced to miss time, Spencer Ware would be in play as his immediate replacement and jump into the RB1 discussion. Ware is a good pass catcher whose legs have come back to pre-ACL tear life. He has put up solid numbers with minimal touches in three of the Chiefs' last four games and could continue to be a factor going forward. Hunt owners should make sure he's on their bench come playoff time.
Rex Burkhead (RB, NE) - FAAB Bid: 0-1%
19% owned
Burkhead is due back from injured reserve around Week 13. He could be a decent stash now if you have an open IR spot. Don't expect too much from him when he returns given the emergence of Sony Michel and the breakout campaign by James White but grab him if you need some potential. Burkhead saw plenty of work around the goal line last year and could be similarly utilized down the stretch.
FAAB Waiver Wire Bids - Wide Receivers
Josh Reynolds (WR, LAR) - FAAB Bid: 5-15%
4% owned
Josh Reynolds is set to take over Cooper Kupp's role in the Rams' offense. Although he isn't exactly Kupp talent wise, Reynolds is still a capable receiver in a high-powered offense. He is set to see over 85% of the offensive snaps as he did a few weeks back while Kupp was out with a knee sprain. Add Reynolds while you can. He's a viable option across all types of leagues.
Anthony Miller (WR, CHI) - FAAB Bid: 5-15%
15% owned
Miller's had an up-and-down season thus far. He has scored a touchdown in every other game he's played in. He's had a solid season for a rookie but could breakout in the coming weeks with the rapport he's built with QB Mitch Trubisky. Miller has at least six targets in each of the past four games and a VERY favorable playoff schedule. He could end the season as a high-end WR3 or low-end WR2.
Danny Amendola (WR, MIA) - FAAB Bid: 5-10%
48% owned

Amendola has been Brock Osweiler's go-to guy since taking over the offense a month ago. The former Patriots' slot receiver has some new-found relevance in Miami and as long as Osweiler is slinging it he should keep eating. 41 targets over the past five weeks are hard to ignore but should not be bought for much given the mediocre production. With Albert Wilson and now Jakeem Grant out, Amendola should continue to remain fantasy relevant (mainly in PPR, would not bother in standard).
Tyrell Williams (WR, LAC) - FAAB Bid: 5-8%
45% owned
Tyrell Williams has not received more than five targets in a single game this season. Do not blow your budget on him but feel free to buy in on the booming hype. He will have his duds these next few weeks but it's always worth adding a player with Williams' variance onto your roster just in case you need a big-time FLEX play in a farfetched matchup. He's worth a grab thanks to his production over the past month.
John Ross (WR, CIN) - FAAB Bid: 5-8% 
17% owned
John Ross is officially back in the picture with A.J. Green sidelined for the next few weeks. Ross received six targets Sunday against the Saints and looks to stay involved at least until their WR1 returns. With 39 yards on two catches and a touchdown, Ross had himself a solid fantasy day he will look to build off of. He was getting wide open downfield but could barely get an accurate pass thrown his way. Dalton is the only thing stopping him from being a must-add.
Tre'Quan Smith (WR, NO) - FAAB Bid: 3-5%
28% owned
With Dez Bryant injured, Smith is back on board as a solid add in fantasy leagues. He is worth an add in shallower leagues and especially in PPR just as an upside bench piece. He didn't see any targets Sunday against Cincinnati due to the game-script heavily favoring the run and short-passing game. Smith is talented as a deep threat and should see his opportunities to shine going forward even with the signing of a washed-up Brandon Marshall.
Christian Kirk (WR, ARI) - FAAB Bid: 3-5%
26% owned
Christian Kirk and Josh Rosen have a great connection and they should continue to build on it as the season progresses. Kirk has been productive despite just having one touchdown an no 100-yard games. He's worth buying in PPR formats but can be ignored in standard leagues for now. There are brighter days ahead for this Cardinals offense with the talented youth in place and Mike McCoy officially fired.
Adam Humphries (WR, TB) - FAAB Bid: 3-5%
2% owned
Adam Humphries has received 30 targets over the past four games. Garbage time has served him well to say the least. Humphries is not someone I want to add, let alone start but he deserves a mention for his recent production. Humphries should be irrelevant, but given the state of the Buccaneers, he continues to be thrust into the spotlight with force-fed targets late in the game to try and come back. The Buccaneers have so many talented mouths to feed that they continually end up feeding the least covered one. He's worth an add in deeper leagues as a desperation flex for those stuck in bye hell.
FAAB Waiver Wire Bids - Tight Ends
Jonnu Smith (TE, TEN) - FAAB Bid: 2-5%
13% owned
With Marcus Mariota's arm function back to normal, Jonnu Smith has been a beneficiary, especially in the red zone. Smith has scored in each of the past two games and looks to be a vital target for Mariota going forward. Despite the lack of targets, quality is oftentimes more valuable and Smith's rapport with Mariota in the end zone could be very valuable. He's a preferred grab in standard leagues but should still provide value in PPR. This could be a breakout TE you grab for cheap right now.
Chris Herndon IV (TE, NYJ) - FAAB Bid: 1-2%
13% owned
Chris Herndon has been receiving fairly consistent targets for the past five games in a row. He is not someone you should run to the wire to grab but could be a decent buy for TE needy teams or anyone stuck in a bye. He'll be used in the end zone and throughout the field due to the lack of receiving options in the current Jets' corps.
Jeff Heuerman (TE, DEN) - FAAB Bid: 1-2%
6% owned
Heuerman has been receiving increased looks his way the past few weeks and even has touchdowns in back-to-back games. With the absence of Demaryius Thomas in the offense, the targets from quarterback Case Keenum are likely to be peppered around, and it seems Heuerman is one of the beneficiaries.
FAAB Waiver Wire Bids - Defense/Special Teams
Arizona Cardinals D/ST - FAAB Bid: 1-2%
16% owned
They play the Raiders this week.
Pittsburgh Steelers D/ST - FAAB Bid: 1-2%
55% owned
Leonard Fournette's return makes the Jacksonville Jaguars less appealing to stream against, however, they just lost their starting center, Brandon Linder. This, along with the fact that they still trot Blake Bortles out there every week make the Steelers a worthy starting option if they're still available.
More Waiver Wire Adds and Pickups