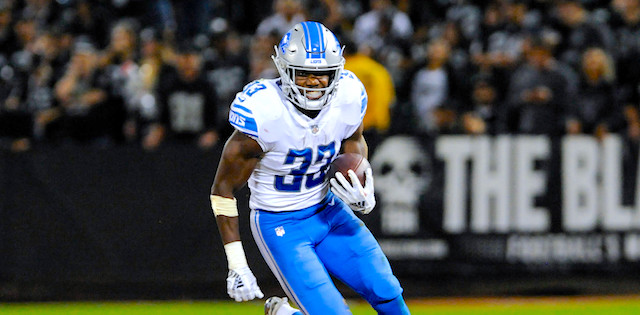 The top players at the running back position are well known. They are tried and true and never fail to live up to the billing. Unless you think players like LeVeon Bell, Todd Gurley II, David Johnson, and Melvin Gordon III disappointed last season. Oh, they did? Well then. Maybe you should be happy there are those other players like Kenyan Drake and Austin Ekeler who helped as sleepers for you.
What is the definition of a sleeper for fantasy football? In its simplest terms, it is a player found late in drafts or undrafted who performs to a level that helps you win a championship. In 2018, we had Phillip Lindsay. In 2019, it was a guy like Kenyan Drake. Coming into this season, it is important to yet again find that player who you can ride to the playoffs. Whether it be a late-round pick, or a waiver wire add, there is always the player who makes the difference for a team. If you had this player, you are excited about the memories. If this player went against you in the playoffs, you may not be so excited yet you still remember.
Looking towards the upcoming 2020 season, let us take a gander and see who is on the horizon to be the player who you can draft late who will provide fantasy goodness, turning that middling team into a contender in the process. As with all early season predictions, free agency and the draft will have a huge impact on these as well as all other players.
Featured Promo: Our friends at RIVAL Fantasy have created fun and unique DFS games including over/under contests and Fantasy Bingo. Use promo code BALLER to get a free year of RotoBaller Premium access ($199 value), and a $50 risk-free deposit.
Play Now!
He was a darling for draft nerds last season. He was supposed to have a good rookie season and be on his way but it did not turn out that way. Things in the NFL rarely do.
Despite playing in all 16 games, Hill only managed 58 carries for 225 yards. Some of this, of course, has to do with Lamar Jackson taking the league by storm. Some of it also has to do with being behind Mark Ingram II on the depth chart. Nonetheless, only being able to get on the field for 17% of snaps is concerning. With the Ravens being so good in 2019, much of this work came late in games and in Week 17 where they sat everyone after having the No. 1 seed already locked up.
Is Lamar Jackson going to rein it in this season? Probably not. But Ingram is a year older. With an offseason of turmoil likely coming, the younger Hill could be more refreshed coming into the new season. He is also in the second year of his rookie four-year contract. The team will want to see what they have in him before it gets too late. Much like Baltimore has done with others like Kenneth Dixon, they will give him the chance to show it. And the best part of all? He is going to be completely free in drafts. You can even get him off waivers after drafts.
Unlike some of the others on this list, Justice Hill is not a sure thing to even have a minor role in 2020. But with Baltimore running the ball at the highest rate in the NFL, the opportunity could arise. As a sleeper pick, you cannot get much deeper than Justice Hill for your fantasy team.
The Browns love Kareem Hunt. This was shown by their second-round tender on the troubled yet talented running back. The tender assures Hunt will be back in a Cleveland uniform in 2020. This could be great for his fantasy value.
The love is still strong for Nick Chubb. After being one of only two RBs to rush for over 1,400 yards last season, it is well deserved. But some love should also be given to his backfield mate Kareem Hunt. After his return from suspension, Hunt played a more than minor role in the Browns offense. He averaged 4.2 yards/carry on 43 attempts but his real talent showed off in the passing game. This is an area in which he excelled to the tune of 37 receptions over those same eight games. This skill added to his rushing ability allowed him to eat into Chubb's work.
Hunt averaged 10 touches per game after his return while being in on over 50% of snaps during that time. Coming into 2020, he will only increase this role as the Browns try to not only keep Nick Chubb healthy but also progress Baker Mayfield back to what he was as a rookie in 2018.
The Browns have already started to rebuild their offensive line. Adding Jack Conklin in free agency was a good start. With another lineman all but certainly coming in the draft, the offense should be much better. Dare I say what they were supposed to be last season? This will be due in large part to the play of Kareem Hunt in complimenting Chubb in the run game.
Hunt is a dynamic player. We saw in his time in Kansas City his ability to lead a team run game to greatness. On the field for only 65% of the offensive snaps in his rookie season, Hunt was still the RB3 for fantasy. In 2018, while playing in only 11 games, he still finished the season as the fantasy RB8. He won't be asked to carry the full load here. Though if he is, we have evidence to show his ability to do so. As a complementary back, Hunt is still a low-end RB2 for fantasy at worst. If something were to happen to Chubb, he immediately becomes a top-eight fantasy RB. He is the perfect sleeper candidate because he doesn't need an injury to succeed. But if one happens, he will again become one of the best backs in the NFL.
Talent has never been in question for Kerryon Johnson. Health, on the other hand, has been. We saw what he could do in an abbreviated rookie season. In 10 games in 2018, Johnson averaged 11.8 carries and 3.2 receptions per game. His 5.4 yards/carry led the NFL for players with over 100 attempts and the 32 catches show his ability to be an all-around running back when healthy.
Granted, his 2019 season left something to be desired. His 3.6 yards/carry was pretty bad and only having 10 receptions in eight games was not what we wanted to see. Injuries played a large role in this. The fact Detroit has not added a running back in free agency shows the confidence the team has that he will rebound for 2020.
Last season, Johnson was going in the third round of drafts. With injury concerns lingering, not to mention concerns about the Lions, Johnson will not go this high in 2020. Instead, he will be a starting RB whom you can grab in the fifth or sixth round. This is a great value for a starting RB on any team. So, don't let him pass you by at this point in drafts. You may not be missing out on an RB1. But you just might be missing out on a solid RB2.
The clear backup to Dalvin Cook, Mattison still showed in his rookie season he has value, especially on a team as run-heavy as the Minnesota Vikings want to be. Cook has not been the epitome of health in his career. Even last season, his healthiest yet, he still gave up work to Mattison due to the sheer volume of the run game.
With Cook getting an average of 17.9 carries/game and adding an additional 3.8 receptions/game you would think it would be silly to draft his backup. Even with those numbers going to Cook, Mattison was still able to pound out 100 carries for 462 yards and catch 10 balls from Kirk Cousins. His 4.6 yards/carry average was a full .5 yards more than Cook's 4.1.
His nine touches per game are not incredible. But it does show the trust they gave in the rookie directly after coming into the league. With Kevin Stefanski now in Cleveland and Gary Kubiak officially running the offense now, Mattison should see an uptick in work. Huge demand for Mattison in dynasty leagues will not lead to a huge draft price when it comes to redraft season in August.
Getting an RB who can garner you 10 touches or more a game in the double-digit rounds is hard to find. Finding one with this as his floor and RB1 upside if an injury occurs is even rarer. At worst, drafting Alexander Mattison gives you a bye week fill-in and a possible boom flex play. At best, he could be a league changer.
More Fantasy Football Analysis