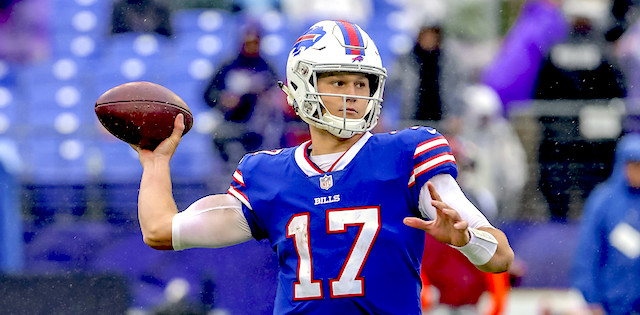 The NFL offseason has arrived, which means that it's time for us to go all-in on dynasty mode.
The time between the Super Bowl and the NFL Draft is the time for dynasty players to make some moves and try to make their team better -- or worse, if you're rebuilding and looking for draft picks -- before rookie drafts.
Buffalo Bills quarterback Josh Allen is an interesting player when it comes to dynasty leagues. He's young. He's mobile. He's looked...really bad at times. So, how should you value him heading into this offseason?
Editor's Note: Get any rest-of-season NFL Premium Pass for 50% off. Our exclusive DFS Tools, Lineup Optimizer and Premium DFS Research through the Super Bowl.
Sign Up Now!
Profile
Josh Allen
Team: Buffalo Bills
College: Wyoming
Age: 23
Height/Weight: 6'5", 237 pounds
2018 NFL Draft: Round 1, Pick 7
Case to Buy
Maybe the best place to start in terms of Josh Allen's value is to revisit the last time we saw him on an NFL field, which was Buffalo's playoff loss to the Houston Texans.
In that game, Allen was...Josh Allen. He was 24-for-46 for 264 yards, with no touchdowns or interceptions. He added 92 rushing yards on nine carries, caught a 16-yard touchdown, and fumbled twice, losing one.
It was a game that featured Allen at his most him. His passes were inconsistent. He made big plays, then failed to make the small plays. He ran. He got sacked. He lost fumbles. He made many, many people stand up and yell "JOSH ALLEN" while watching the game.
It was the kind of game that dynasty owners can capitalize on. Allen was the overall QB6 this year, but I have a feeling his ADP come draft season isn't going to be QB6. If an Allen owner is worried about his long-term outlook based on how he looked in his first playoff game, you can try to capitalize on it by jumping on Allen.
Allen has rushed for 17 touchdowns in two seasons. His floor as a runner is incredibly high, so if Allen can stay healthy, he doesn't need to make a Lamar Jackson-esque leap as a thrower in order to be a valuable fantasy option. Allen's a quarterback whose on-field value is debatable, but whose fantasy value is high because of the way we do fantasy scoring.
That value has a chance to go up next year if the Bills can add another receiver to the mix to help Allen out. John Brown is a good deep threat and Cole Beasley is a good slot option, but the Bills need someone who can be the other outside guy and draw coverage away from Brown, opening things up for the offense. I think it's safe to assume that Buffalo at least tries to do that, whether it's via free agency or through an NFL Draft that's got a lot of good receivers in it.
In that scenario, Allen's got a good chance to finish as a top-10 quarterback once again, and the cost of getting him should be fairly low in a non-Superflex league.
Case to Sell
I mean, did you read that whole thing above about Allen's inconsistent play?
Here's the thing about quarterbacks in dynasty leagues, especially Superflex leagues: You need a guy who you can count on going forward, and part of what goes into that isn't just fantasy production but real-life production, because if a player isn't producing on the real field, they run the risk of not having a long term future.
Allen was third in fumbles last season. He was ninth in interceptions. He was last among qualifying quarterbacks in completion percentage.
Allen has to get better at actually completing passes if he wants to have a long NFL career, and through two seasons I don't feel great about his chances of doing so. 2020 will be a telling season in terms of Allen's future, and it's very likely that his fantasy value is at the highest level it'll ever be at right now, because another season with a sub-60 completion percentage -- only three qualifying QBs had one this year, with Allen joined by Andy Dalton and Baker Mayfield -- is going to cast some serious doubt on him. Even with that erratic playoff game in mind, Allen's got more value -- especially in a SF league, where you can get a lot for a young quarterback -- at this current moment than he may ever have.
Final Verdict
So, what should you do with Josh Allen?
Let's break it down in both types of dynasty leagues.
Non-Superflex
This is where I'd be looking to get Allen if the price is right, or where I'd be looking to hold onto him if I already own him. I'm not super high on Allen's long-term future, but he can be a cheap, young quarterback who can help you now and has a chance to help you long term, and he won't be outrageously expensive like he might be if you tried to buy him in a Superflex league. I also don't really see you being able to flip Allen for pieces that will help you enough to justify the move, though you might have higher-profile quarterbacks on your roster who you could flip, and from there you can use Allen as your QB1. Even though I'm worried about his long term outlook, he should be a solid fantasy QB1 next year and in 2021.
Superflex
This is where I go out and explore the trade market and see what I can get. One of my strategies in a SF league is to have one stud quarterback and then to not focus as much on who the second guy is, as long as I'm able to have two starting NFL quarterbacks who I can play the matchups with.
If Josh Allen is my second-best quarterback in a SF league, I'm checking out the market. Can I get a first-round rookie pick? Can I get a couple of guys who can fill in the position player gaps in my starting unit? Might as well check on it and see!
If Allen is my No. 1 quarterback, I suppose I hold onto him, because you don't want to end up without a top-10 guy.
More Dynasty League Strategy