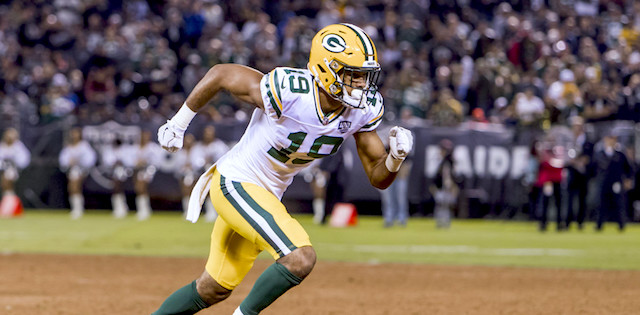 When it comes to the Packers offense, everyone wants to get a piece where they can get it. There's no denying the upside that Aaron Rodgers brings to the table for the pass-catchers in that offense. We've seen guys like James Jones come in and have some very valuable fantasy seasons. Obviously, there's Jordy Nelson who was one of the top WRs for fantasy purposes with Rodgers. Randall Cobb has offered some nice value for fantasy owners over the years as well. Then there's Davante Adams, who is looking like a potential stud for years to come in that offense. The bottom line is that this offense is amazing for fantasy purposes and everyone wants to get in on it where they can.
For the past couple of years, Geronimo Allison has been a name that many dynasty owners have been high on a potential breakout season. You're talking about an undrafted rookie in 2016 who didn't even make their starting roster at one point. The main reason for the upside despite being behind Nelson, Adams, and Cobb? Aaron Rodgers. Obviously, with Nelson out of Green Bay, that opens things up even more, but Allison was being looked at as a deep sleeper, even as the third option in that offense. Allison has shown flashes so far this year, Cobb has been dealing with some lingering injuries, and Adams has been healthy for the most part.
The potential for another wide receiver in Green Bay to make a name for themselves is there, but determining which one it might be won't be easy. With a trio of rookie wide receivers selected in the 2018 NFL Draft, dynasty owners now have a tougher choice than ever deciding who to target for long-term value. Now that these receivers have all seen the field during the regular season, let's dive into their profiles to see what direction to go.
Editor's Note: Get any rest-of-season NFL Premium Pass for 50% off. Our exclusive DFS Tools, Lineup Optimizer and Premium DFS Research through the Super Bowl.
Sign Up Now!
The first wide receiver that the Packers drafted this year was J'Mon Moore out of Missouri. At 6'3" 205 pounds, Moore is a big-bodied receiver with excellent agility and a massive catch radius. Despite being selected first of these three rookies, there was no guarantee by any means that Moore would be the first one to go in your dynasty rookie drafts. In the 2018 NFL Draft, the Packers selected Moore in the fourth round after taking three straight defensive players to start their draft. His final two seasons at Missouri he finished both with over 1,000 yards with eight and 10 touchdowns, respectively.
Watching Moore's tape at Missouri, you'll see him looking a bit sluggish on some of his routes. He is one of those receivers that uses his body well and can physically outplay defensive backs when going up for the ball. He doesn't have great long distance speed, but his quickness is good for his size. With Cobb manning the slot for the most part as long as he's active, Moore could make a name for himself on the opposite side of Adams. Moore belongs on your taxi squad at this point. He's seen the field in just two games this year so far, but I expect him to get a chance to show what he can do at some point this year.
The second rookie receiver off the board was Equanimeous St. Brown out of Notre Dame. The Packers took St. Brown in the sixth round of the NFL draft. St. Brown is another big wide receiver, but he's actually 6'5" 203 pounds, making him a great deal lankier than Moore. Although both are big pass-catchers, St. Brown has more speed and is more of a project than Moore. In 2016, he finished the season with 961 yards on 58 targets (16.6 YPR) and nine TDs. In 2017 he finished the season with 515 yards on 33 targets (15.6 YPR) and four TDs. He played just three years at Notre Dame, and in his freshman season, he had just one reception on the year.
As far as your dynasty team goes, St. Brown is someone that I'd be looking to add if you have the extra roster space. Be prepared to stash him at the bottom of your roster for some time, as I said previously, he's more of a long-term play. He showed flashes of his potential, but he needs to bulk up and get accumulated to the NFL first. One positive note to realize with St. Brown is that he'll be getting mostly second-team reps for now, with his former QB Deshone Kizer. I don't think that should be an issue, as his father was at one point, Mr. Universe. I'd be fine with leaving St. Brown on your taxi squad if you have one, but it's worth noting that he did get his first taste of the NFL against Detroit last week. In that game he saw five targets and caught three of them for a total of 89 yards, one of them being a nice 54-yard grab.
The final rookie wide receiver for the Packers is Marquez Valdes-Scantling, who made quite the name for himself last week against the Lions. Valdes-Scantling, similar to the other two rookies is a big bodied receiver, at 6'4" 205 pounds. Unlike the other two, however, he ran the second-fastest 40 time at the 2018 NFL Combine. He possesses elite speed and physicality that should translate quickly to the NFL. He does need to work on his routes and he catches with his body a little more than you'd like to see. Like his fellow rookies, he has things he needs to work on, but he possesses some excellent traits that you want in a prospect.
Valdes-Scantling broke out in Week 5 against the Lions with Cobb sidelined, hauling in seven of 10 targets for 68 yards and a touchdown. Unfortunately for him, I don't expect this production to be consistent at this point with all of the mouths to feed in Green Bay. However, with Cobb and Adams dealing with their own issues, be sure to monitor him and he could be worth a flex option if either of the other two is out again or misses more time. Similar to the other two rookies in Green Bay, Valdes-Scantling is absolutely worth a spot at the end of your roster. There's a good chance he's already owned after his performance last week, but most leagues saw him get drafted in their dynasty rookie drafts. After his performance last week, the main hope here is that you didn't already put him on your taxi squads if you have them.
The Bottom Line
The biggest reasoning when valuing these rookie receivers in Green Bay is what I mentioned in the first paragraph. Aaron Rodgers. All three of these rookies have interesting upside as potential future dynasty assets. The bottom line to take away here is that you want to get a piece of this offense wherever you can. If any of them are out there on your waiver wire, go get them. Hopefully, you didn't spend too much on one of these guys in your rookie drafts, because I believe at this point, they all have similar upside. Don't overpay for Valdes-Scantling after his breakout game, you're better off stashing whichever one you can get for the cheapest price. Don't count on any of these guys to bring you immediate production. My final point is something you need in dynasty football, and that is to have patience.
More Dynasty League Strategy