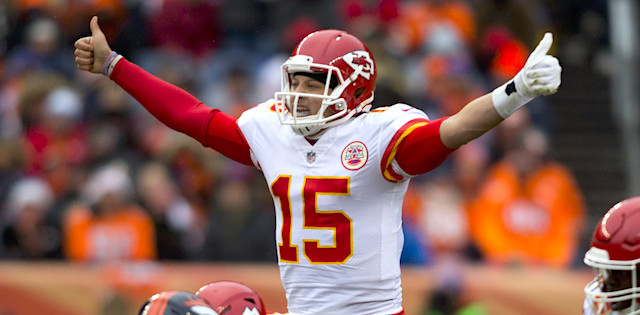 Football? We talkin' 'bout football? Oh yes, we most definitely are! It's always football season here at RotoBaller and our awesome NFL team has been pumping out some unbelievably good content to help prepare you for your upcoming drafts, so make sure and check out all that we have to offer as you prepare for your various leagues!
My focus here at RotoBaller is on the DFS side of the NFL and I hope you'll check out my weekly DraftKings column throughout the season. With DK dropping it's Week 1 pricing already, I thought I'd give you my first impressions of the slate. These are just preliminary thought/reactions, and I'll have my regular article up that digs much deeper into Week 1 as the season gets closer, but it's always fun to discuss the opening week.
One thing that is clear to me at first glance - DraftKings wants you to be able to build a lineup that you like in the season opener, as we are seeing very reasonable pricing basically across the board. Enjoy it while it lasts because I expect things to tighten up significantly as we move deeper into the season. Thanks for joining me, FOOTBALL IS ALMOST BACK, let's take a look at Week 1!
Editor's Note: Get any rest-of-season NFL Premium Pass for 50% off. Our exclusive DFS Tools, Lineup Optimizer and Premium DFS Research through the Super Bowl.
Sign Up Now!
Quarterback
It's not a surprise in the least to see KC's Patrick Mahomes ($7,200) sitting atop the QB salary scale. If you have a pulse and watch football then you know that Mahomes was the breakout star of 2018, as he lit up the scoreboard with 50 TD passes and possesses slate-breaking upside from a DFS perspective (Mahomes was the highest-scoring overall player in DK points last season with 437.10 points).
His matchup on the road against the Jacksonville Jaguars appears tough, but we routinely saw Mahomes shred even good defenses last year. I'm not surprised that Mahomes is the highest-priced QB, but there is a pretty substantial price gap between him and the second QB on the scale, Indy's Andrew Luck ($6,700). Luck reminded everyone last season why he is one of the best QBs in the game and it seems like both Luck and the Colts are currently trendy picks to have a huge season.
As we grew accustomed to last year, we once again see a pretty compressed "mid-range" at the QB position for Week 1, with 13 players priced between Jameis Winston at $6,600 and Kyler Murray at $5,600, including a couple of guys that are returning from serious injuries in Cam Newton ($6,500) and Jimmy Garoppolo ($5,800). I expect Arizona's Murray to draw a lot of eyes with his cheap price tag and the possibility of a high-octane offense under new Cardinal's coach Kliff Kingsbury. If this Week 1 pricing is any indication, we will once again be faced with fairly tight QB salaries on DK this season, which puts us in a position of basically going with our favorite player & matchup without giving a huge consideration to salary.
Running Back
When did running backs become such divas? With the "sitting out" precedent set by Le'Veon Bell last year, we head into the 2019 season with two of football's best backs sitting out due to their contract situation as of this writing. Both Ezekiel Elliott ($9,200) and Melvin Gordon ($7,500) were beasts on DraftKings last year, racking up 336.1 and 281.5 DK points respectively, and both are currently in limbo for Week 1 which gives us two huge question marks at the RB position.
The aforementioned Bell ($7,100) should be settled in with his new team in New York and the former all-world back comes in at seventh on the RB salary scale, behind 2018 studs Saquon Barkley ($9,000), Christian McCaffrey ($8,800), Todd Gurley III ($7,900), and David Johnson ($7,700). Barkley and McCaffrey's roles are clear, while Gurley, who scored the third-most DK points by an RB in 2018 in just 14 games, still has some questions to answer after a puzzling postseason disappearing act. Lots of folks are excited about Johnson's prospects this season in Arizona's new and (hopefully) improved offense.
As we move down the RB salary scale we find lots of quality players that have a great chance to have bounce-back seasons. Both Leonard Fournette ($6,100) and Dalvin Cook ($6,000) were dogged by injuries throughout 2018, but have what projects to be juicy Week 1 matchups and will be enormously-popular options. We also have talented players like Derrick Henry ($5,900), Kerryon Johnson ($5,800), Marlon Mack ($5,600), and Devonta Freeman ($5,300) with clear paths to larger workloads in 2019 thanks to either their 2018 performance or roster shakeups.
Wide Receiver
The wide receiver position routinely makes or breaks our DK lineups on a weekly basis. We're forced to roster three each week and it is always one of the most interesting positions to discuss from a DFS perspective. New Cleveland Brown Odell Beckham Jr. ($8,100) sits atop the WR salary scale for Week 1. It's easy to project a big season for OBJ now that he is finally free of being forced to rely on the corpse of Eli Manning's right arm. I was a tiny bit surprised to see him as the highest-priced WR, but it's a smart move by DK to counter all the excitement and hype (i.e. ownership) that surrounds him.
Julio Jones ($8,000) sits just below OBJ and is coming off a remarkably productive 2018 season in which he racked up 330.9 DK points despite "only" catching eight TDs. The only reason we ever need to worry about Jones is due to injuries, unfortunately that's not been the case with KC's Tyreek Hill ($7,600) who has been in the news for all the wrong reasons this offseason. Almost unbelievably, it appears that Hill has side-stepped any disciplinary action from the NFL and will be ready to roll in Week 1, though he does get a seemingly tough matchup against Jacksonville.
While there are some unquestioned "Number One" WRs in the league, most of these guys have to share targets with other quality receivers. Tampa Bay's Mike Evans ($7,900) will have a new running mate in Chris Godwin ($6,200) thanks to the offseason departure of both DeSean Jackson to Philly ($4,500) and Adam Humphries ($4,000) to Tennessee.
It's almost always impossible to decide between Adam Thielen ($6,800) and Stefon Diggs ($6,700) up in Minnesota. The same goes for LA's Brandin Cooks ($6,500), Robert Woods ($6,400), and a returning-to-action Cooper Kupp ($5,700).
After trading OBJ, the NY Giants have been seemingly cursed at WR, with Sterling Shepard ($5,000) breaking a thumb, freshly-signed Golden Tate grabbing a four-game PED suspension, and Corey Coleman out for the year with an ACL tear. At a position where I'm usually trying to save salary, I'll be keeping an eye on who emerges from this banged-up Giants receiving corps, despite the low expectations for the NY passing attack.
Tight End
When it comes to the TE position, it's feast or famine. The 'Big Three' are head and shoulders above the rest. Travis Kelce ($7,100), George Kittle ($6,600), and Zach Ertz ($6,100) are the only three TEs priced over $6k and are the unquestioned class of the position with Rob Gronkowski keg standing off into the sunset.
Can't squeeze in one of the 'Big Three'? Don't panic, as there are two strong mid-range candidates in TB's O.J. Howard ($5,000) and NY's Evan Engram ($4,800), players that appear to be on the verge of breakout seasons in 2019.
Those of you that want to punt the TE spot will probably be pleased to find some high-quality options with sub-$4k price tags. Hunter Henry ($3,900), Jordan Reed ($3,600), Delanie Walker ($3,500), and Jack Doyle ($3,400) are all high-upside players that will be working their way back from season-ending injuries suffered last year. While it may be tempting to take a wait-and-see approach with these guys, their price tags probably won't be this low for very long.
More Weekly DFS Analysis