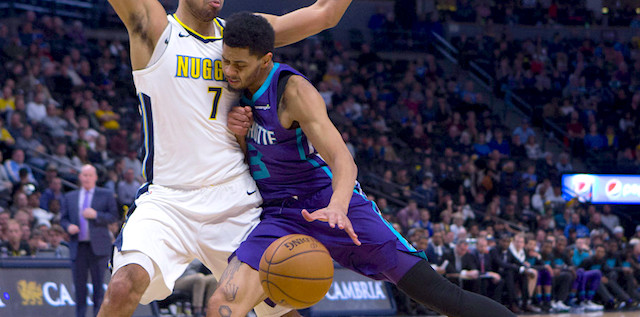 There are seven games tonight and none of them are all that appealing right off the bat, although the Lakers-Trail Blazers game has my early attention along with Hornets-Cavaliers. Both will be high-scoring affairs, but only the Lakers and Trail Blazers offer serious, consistent value. The Celtics-Pacers game is enticing, but it's hard to trust Celtics players. You never know how well they will be playing that night and if they are missing, they simply will move on to the next player looking for production. Great for real basketball, horrible for fantasy. The Celtics this year are the Spurs of years past so be careful when rostering them.
There are not many high-priced players you really need to roster, so just go with LeBron James and call it a day. Anthony Davis would normally be the easy go-to, but his injuries are worrisome and you don't want to be left in the dark because Davis was a late scratch. Until it is clear he will be playing, you'll be better off throwing your money into a more stable option. With James and Damian Lillard facing off, finding a way to get both on your team shouldn't be too hard, so let's play both.
In this article, I will be providing you with my daily fantasy basketball lineup picks for DraftKings on 11/3/18. These DFS lineup picks can vary from higher-priced players and elite options to lower-priced players and value picks on DraftKings. You can also read today's FanDuel lineup picks and our Premium DFS Cheat Sheet, as well as, check out the NBA DFS Matchup Ratings tool for daily player projections. Remember to check lineups before the games start and if you have questions, find me in the NBA Chat Room or @HalfCourtJester on Twitter.
Editor's Note: Get any full-season NBA and DFS Premium Pass for 50% off. Our exclusive DFS tools, Lineup Optimizer and daily Premium DFS Research.
Sign Up Now!
DraftKings DFS Guards
Rajon Rondo - PG/SG LAL @ POR ($5,300)
People will still talk down about Rajon Rondo's on-court ability, but he still produces with the top players in the league. His last game was not promising and the window where Rondo is still a starting point guard has seemed to close. After Magic Johnson was noted as being unhappy with Lakers coach Luke Walton, it wouldn't be surprising if Lonzo Ball becomes the permanent starter. Rondo still has upside because he doesn't need too many minutes to produce. You might be safer going with Lonzo, but Rondo has the price advantage and I am confident he will thrive in the reserve role. OK, he might not thrive, but I'll bet he either gives up completely or over-compensates through an unreal number of assists and shot attempts.
Tyreke Evans - SG/SF IND vs. BOS ($4,700)
Tyreke Evans production is usually scraping at triple-doubles, but this year his box score is just reflecting scoring. That's not promising seeing how every other season he is usually filling the stat sheet, but it's just how the Pacers work. They have players who can score the ball, just most of them produce in either catch-and-shoot or isolation situations. There is upside in assists if the rest of the Pacers are hitting, but many of them are either not looking for backdoor cuts or simply not even cutting for the ball in the first place. It's not a great strategy, but we have no choice but to work with it. If Evans price can stay low, then scoring will be all we need from him and expect his stat lines to eventually spread itself out into more well-rounded performances. Evans has been playing the same way for years and he hasn't abandoned his ways now that he's in Indiana, the team is still meshing.
DraftKings DFS Forwards
Jeremy Lamb - SG/SF CHA vs. CLE ($4,900)
This pick seems too easy looking at the opponent and value. Being under 5K allows you to afford someone like LeBron James and Jeremy Lamb has unreal upside by playing against another weak Eastern Conference team. Neither team has a specific agenda on the defensive end and this game will come down to whoever is shooting better. Luckily for us DFS folk, this means Jeremy Lamb should have free reign to score however he pleases. The Cavaliers are young, but they do not have a specific piece to put in front of Jeremy Lamb to keep him from getting offensive boards and to his spots. This should be a sloppy game, so I'm taking the second best isolation scorer on the Hornets.
Dante Cunningham - SF/PF SA vs. NO ($3,200)
It was tempting to possibly play Solomon Hill here simply for the value, but Cunningham is the much better option. Neither is a guarantee and both have a very high chance of flopping, but the value is unmatched and exceeding projected is easily possible if Cunningham just hits a few shots. The Pelicans have been one of the hottest teams in the league and the Spurs defense has been lacking, so Cunningham should have upside on both sides of the ball. His minutes are not in jeopardy, but he does need to hit a few shots for him to be effective. That being said, the Spurs are a different team and their attention to defense has slipped, meaning Cunningham will be required to do more scoring and shooting than anything else. It doesn't hurt that he has upside being a player who hustles for rebounds as well.
DraftKings DFS Center
JaVale McGee - PF/C LAL @ POR ($6,400) 
There are STILL few centers producing as much as Javale Mcgee is nightly, HIs most previous game against the Mavericks was arguably his best game this season and his double-digit rebounds is a nice surprise. McGee's upside in rebounds should be limited by playing another sizable center, but clearly, it's more motivation than anything. McGee and Jusuf Nurkic could not be more different when it comes to play style, so expect McGee to focus more on boxing out, team rebounding and scoring rather than using his length to go up after every board over the rest of the Trail Blazers.
NBA News and Player Updates