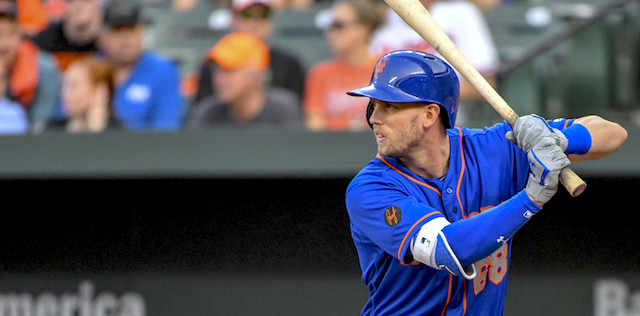 Welcome to Saturday baseball on DraftKings! We have plenty to look forward to on DraftKings, with some huge contests starting at 1:05 Eastern. The big dog is the $68 Sunday Eephus, where someone will bring home a $100K top prize. We also have an $850 qualifier to the World Baseball Championship, where just two of 67 participants will walk away with a live final appearance. No matter your desired price point, DK has a huge tournament designed for you. Just make sure to get in there and get your entry before they fill up.
We have 10 games on the main slate, so there's plenty to love at every position. At pitcher, there are four or five guys worth playing in cash games with another five or six worth consideration in tournaments. As for hitting, we're already looking at five teams with an implied total over five runs. It'll be a fun day, so let's dive in and make some sense of this slate.
In this article, I will be providing you with my daily fantasy baseball lineup picks for DraftKings on 7/28/19. The lineup picks will range from some of the elite players to mid-priced options and value plays. Be sure to also check out all the Vegas Odds for today's slate. You can also read more DFS advice and lineup picks for sites like FanDuel, and other sports too. If you have any questions or comments, feel free to hit me up on Twitter @VarneyDFS.
Editor's Note: Get any full-season MLB Premium Pass for 50% off. Exclusive access to our Draft Kit, premium rankings, projections, player outlooks, top prospects, dynasty rankings, 15 in-season lineup tools, and over 200 days of expert DFS research.
Sign Up Now!
DraftKings DFS Starting Pitchers
Robbie Ray - ARI @ MIA - $10,800
Trevor Bauer is certainly worth considering, but Robbie Ray is cheaper and in an even better match-up. The Marlins rank 28th in baseball against lefties with a .282 wOBA and 22% strikeout rate. They also hold the leagues lowest .122 ISO. As for Robbie Ray, he's struck out 11.85 batters per nine innings this season and has held both sides of the plate to a sub .325 wOBA. His only real issue is home runs, but he won't have to worry much about that going from Chase Field to spacious Marlins Park. Ray is a safe bet in this match-up and naturally has all of the tournament upside you could desire.
Alex Wood - CIN vs. COL - $8,100
This is his first start since coming back from a long-term injury, so we would usually take a wait and see approach. However, Wood has started four games in AAA and got up to 85 pitches in his last start. He struck out 27% and walked just 7% in those starts. He now gets a match-up with the Colorado Rockies, who rank 27th in wOBA outside of Coors Field. They're worse against lefties (.282 wOBA, 25% K rate)and hit for far below average power on road. Cincy is obviously still a great ballpark for hitting, but two or three runs won't do much damage to Wood as he typically strikes out 6-9 batters. Wood is going to be relatively ignored and his upside is huge if his pitches are rolling. Even in 85-90 pitches. Without much cheap pitching to like, I have a hard time staying away from Wood.
DraftKings DFS Infielders
1B - Paul Goldschmidt - STL vs. HOU (Miley) - $4,400
I have no idea what's recently gotten into Paul Goldschmidt, but he's homered in six straight games and has been plastering the ball all night long every night. He'll take the plate tonight vs The left-handed Wade Miley. We know Goldy prefers lefties, and he's smoked them for a .391 wOBA on the season. As for Miley, he's pitched far over his head and has given up a 4.52 xFIP. He's pitched through some decent games, but every peripherals points to luck and pending regression. Goldy is still affordable on DraftKings for whatever reason and he makes for the top play at 1B in all formats. Let's see if he can make it seven in a row.
2B - Jeff McNeil - NYM vs. PIT (Archer) - $4,300
Jeff McNeil is eligible at 2B, which we will look to take advantage of. On the season, McNeil ranks top 20 in BAA, HR, RBI, and R. He's one of the best pure hitting rookies we've seen in quite a long time and his swing is going nowhere. He's hit .340 with three home runs over his last 10 combined with a .427 wOBA. Chris Archer is a strikeout pitcher that allows a ton of home runs and at least three or four runs every game. McNeil is the best Mets bat on the board and being eligible at second base is huge.
3B - Miguel Sano - MIN @ CWS (Covey) - $5,200
Sano is expensive on DK< but it will hopefully keep the masses off of him. Dylan Covey is an absolutely terrible pitcher and he just got done getting knocked around by the Miami Marlins. On the year, Covey has allowed a 5.58 xFIP and is striking out just 5.85 batters per nine innings. He has been worse against lefties, but a 4.71 xFIP and 1.5 HR/9 is nothing to brag about. Sano has held a .340 wOBA against righties on the season and has hit 10 of his 17 home runs against them. Covey is absolutely pitiful and the Twins should get him out of the game early.
SS - Paul DeJong - STL vs. HOU (Miley) - $4,400
We've already touched on the Cardinals, but it's hard to stay away from this club right now. They are punishing the ball and now draw a match-up with a lackluster lefty that has gotten extremely lucky this year. The second half for Wade Miley will be a rude wakening and I expect the Cardinals to start it. DeJong himself has sported a .324 wOBA on the season with 7 extra base-hits in just 69 plate appearances. The Cardinals are expected to put up 4.5 runs by Vegas and DeJong should be involved. He's affordable with a ton of upside in both formats.
DraftKings DFS Outfielders
OF - Max Kepler - MIN @ CWS (Covey) - $5,300
This is one of the easiest plays on the slate. On the year, Dylan Covey has allowed a 6.84 xFIP and a .415 wOBA to left-handed bats. Ir doesn't get much worse than that until you get sent directly to the minors. He faces off with a Twins team tonight that has some real monsters vs righties. Kepler has hit 21 of his 27 home runs against them, while sporting a .387 wOBA and striking out just 15% of the time. Covey doesn't have much of a shot here unless Kepler hits it hard into a glove. The Twins are going to put up runs and it's safe to say Kepler will be involved. Nelson Cruz is in play as well if you can afford a full Twins stack.
OF - Jordan Luplow - CLE @ KC (Duffy) - $4,000
Jordan Luplow is a pure platoon hitter, though he will often stay in the game one a righty comes in through the bullpen. However, he's insane vs lefties. On the season, a .437 wOBA surrounded by a .365 ISO and 43% hard contact rate. We haven't touched on the Indians just yet, but Danny Duffy has been weak by any measure this year. He's striking out a solid eight batters per nine, but also allowing a 5+ xFIP and 13 home runs in less than 100 innings of work. The Indians are a high-upside stack tonight and Luplow alone is a great play in any format.
MLB DFS News and Injury Alerts