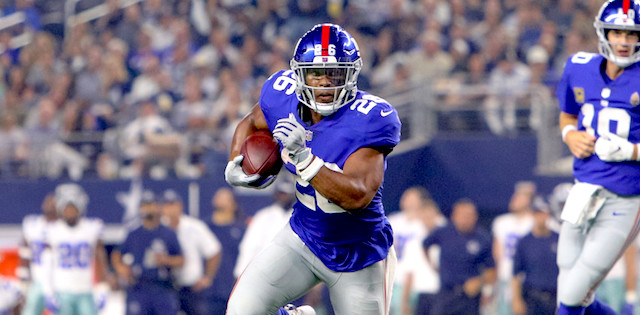 The draft strategies we implement in our fantasy drafts can change from season to season. One year it will be advantageous to load up with wide receivers early in the draft and the following it's best to draft heavy at running back. This is because the player pool is always changing. We always have a handful of players switching teams in free agency. Coaching changes could impact a player's outlook. A young prospect always has the potential of developing their skill set and becoming more productive on the field. There could also be a few talented rookies who are garnered as generational prospects. All of these variables can change our approach to how we strategize for our drafts.
There's a case to made that drafting running backs with your first two picks is the most optimal strategy for roster construction. Recently, during the last few years, it was very popular to fade the running back position early in drafts in favor of wide receivers. The ultimate goal with this strategy would be to stack up on top-flight wide receivers while being able to snag productive running backs in the later rounds.
This year is different. We are looking at a player pool that is very top-heavy with three-down running backs. There are talented wide receivers with top-end fantasy potential in almost every round of the draft this year. Therefore, in theory, it's best to get your running backs early before you start filling out the rest of your rosters with wide receivers.
Featured Promo: Get any full-season NFL and DFS Premium Pass for 50% off. Exclusive access to our Team Sync platform, Premium articles, Matchup Rating projections, 15 lineup tools, DFS cheat sheets, Research Stations, Lineup Optimizers and much more!
Go Premium, Win More!
The Running Back vs Wide Receiver Dichotomy
Here's another way to evaluate the scarcity at running back against the deeper talent pool at wide receiver. Last year we saw a 62.2 scoring variance between the RB12 (Chris Carson) and the RB24 (David Montgomery) which is a steeper decline when compared to the 25.3 variance between the WR12 (Jarvis Landry) and the WR24 (Stefon Diggs). On top of that, the 2019 season posted four 300+ point performances at running back versus just one at wide receiver. We did not see a wide receiver produce less than 150 fantasy points until WR46 (Marquise Brown). We couldn't say the same for the running backs since the first player to not hit the 150-point mark finished the season at RB32 (Devin Singletary).
NFL teams are passing the ball more. We saw 14 teams post at least a 60 percent pass rate and only two teams had a sub 50 percent pass rate last year. Compare that to ten years ago when we only had seven teams passed the ball for at least 60 percent of their plays while four teams posted a sub 50 percent pass rate. The increased volume in the passing game is elevating a large subset of the wide receivers in fantasy. With that being said, it's far easier to find functional fantasy options at wide receiver than it is for running back.
Drafting the First Round
Per the National Fantasy Championship's ADP, on average there are nine running backs being selected in the first round of fantasy drafts with there being four running backs getting selected within the first five picks. All of the running backs that are being drafted in the first round are key staples to their team's offensive game plan.
Obviously, there's no argument as to why Christian McCaffrey and Saquon Barkley should be the first two players taken in drafts. Both running backs see a lot of volume in the passing game and are the main attraction to their team's offensive output.
The rest of the list of running backs are considered key contributors to their team's offensive game plan and are candidates to finish the season as an RB1 in fantasy. Most of them are used heavily in the passing game or at least get enough rushing volume to sustain consistent production.
Of course, all of the wide receivers in the first round are safe draft picks. However, the talent pool is far deeper at wide receiver than it is at running back, making it more advantageous to snag one of the top running backs during this stage of the draft.
Most fantasy gamers are drafting running backs in the first round. When nine out of the first 12 picks are running backs in the first round, it's not a hard sell to talk most fantasy owners into drafting one. Things get a little trickier in the second round when you have to take into account the opportunity cost of missing out on one of the top wide receivers versus the position scarcity at the running back position.
Drafting the Second Round
Here is where it becomes more interesting. There's a considerable talent drop-off at running back, but each of these players will see a large workload while also having the potential of finishing the season as one of the top rushers in fantasy. There are some very intriguing options at wide receiver, tight end, and even quarterback here, but due to position scarcity, it's best to think about selecting another running back.
After the second round, we are going to see the talent pool at running back start to get shallower. Although we are passing on the top-tier of players at wide receiver, there are still going to be plenty of wide receivers to choose from in the next few rounds. There are plenty of options at wide receiver in the third to sixth round that could make an impact on our lineups.
I also want to preface, there's a lot of risk associated with pivoting away from some of the top wide receivers from the first and second round. These wide receivers are almost considered locks to finish the season as high-end fantasy assets. On the contrary, the opportunity cost of missing out on one of the top running backs could also blow up in our face when we could easily fill the void at wide receiver later in the draft.
We still see some of the top-shelf wide receivers left on the board here in the second-round, but running backs like Miles Sanders, Austin Ekeler, and even Kenyan Drake have the potential of delivering backend RB1 results. All three of these backs play in fast-paced offenses and specialize at catching the ball out of the backfield which can lead to fantasy success. Ironically, each one of these backs will experience a new situation that could elevate their production.
Sanders is entering the second year of his career. We should see him receive a larger market share of the touches out of the backfield for Philadelphia. Melvin Gordon III is gone, and Ekeler is primed to see a much larger workload this season. The Arizona Cardinals crowned Drake as their lead back this off-season. He ended 2019 scoring 90.3 fantasy points in his last three games. All three of these running backs can exceed expectations and develop into one of the top fantasy options in the league.
Although Julio Jones, Tyreek Hill, and Chris Godwin can outscore all of the running backs listed in the second-round, the drop off from the running backs being selected in this area of the draft is much greater compared to the wide receivers. Not to mention there was only a 24.44 point difference from the WR5 and the RB10 in 2019.
The opportunity cost from not being able to effectively roster the wide receiver spot might be detrimental to your fantasy team's roster construction. The market is telling us that drafters are going hard in the paint early on running backs.
Let's take a look at rounds three through six and see what options at wide receiver we can grab in the draft to help build our roster after going running back heavy during the first two rounds.
Drafting the Third Round
As expected, the third round has plenty of wide receivers to choose from and all of them have WR1 potential. At this stage of the game, there's a lot of ambiguity at running back. However, after draft running back in the first two rounds, it might be best to select one of the top wide receivers off the board since they deliver the most bang for the buck from a value standpoint. On the contrary, drafting another running back isn't a bad idea either, because the position starts getting even more scarce the farther we get into the draft.
Cooper Kupp finished the 2019 season as the WR4 with 270.5 fantasy points and he's falling to the third round of fantasy drafts. Even with Matt Stafford out of the lineup for a large portion of the season, Kenny Golladay was the WR9 with 248 fantasy points. Amari Cooper averaged 15.4 fantasy points per game and is another solid option in the third-round. We only got 13 games out of Mike Evans last year, but it was still enough for him to finished the season as the WR13 while averaging 17.9 fantasy points per game.
Odell Beckham Jr. didn't perform to expectations but prior to 2019, he was averaging 20.42 PPR fantasy points per game on his career. We also can't forget about D.J. Moore who is an up-and-coming wide receiver prospect. He finished last season as the WR16 and should see an added boost with Joe Brady, LSU's former offensive coordinator, calling the plays.
There's a lot of meat on the bone at wide receiver in the third round, making it more feasible to draft running back with your first two picks. You could easily draft a WR1 from this spot while also having two workhorse running backs already on your roster.
Drafting the Fourth Round
The fourth round is still loaded with wide receivers who can still deliver excellent results for your fantasy team. I would be worried if I didn't draft my first running back by now considering the lack of talent at the position at this stage of the draft. This is a good spot to draft your RB2 since all the running backs in the fourth round have enough upside to help your fantasy team.
After his rookie season, A.J. Brown's arrow is pointing up. He finished the season scoring 127.7 PPR fantasy points during his last six games. Brown will be a hot commodity this off-season. It was a rough year for JuJu Smith-Schuster. However, he did finish the 2018 season with over 1,426 yards and seven touchdowns. Smith-Schuster faced some bad luck by playing multiple bad quarterbacks after Ben Roethlisberger missed a large chunk of the season with an injury.
With Stefon Diggs gone, Adam Thielen is going to be soaking up the targets and is a candidate to post a bounce-back season. Courtland Sutton looks like a true alpha wide receiver and with some added volume, he has the potential to exceed expectations and be a true WR1 in fantasy.
DK Metcalf is a screaming value in the fourth-round. Russell Wilson has proven to be able to push the ball downfield to maximize Metcalf's abilities. With another off-season under his belt, Metcalf could be in store for a massive season.
Keep in mind, some of the top wide receivers from the previous round could trickle down to the early part of round four. This will push down the wide receiver pool and create more value in the fourth round. Not all drafts are the same, but there will be leagues where will see multiple owners reach on running backs in the third and fourth rounds. The fear of missing out due to the limited amount of talent at the running back position will cause some owners to put caution to the wind and pay a premium on some of the less-heralded running backs like David Johnson, James Cooner, or even Raheem Mostert.
Drafting the Fifth Round
ADP indicates that there will be around three running backs drafted in the fifth round which is a big drop-off considering there were nine running backs drafted in the first round. The fifth round is dominated with wide receivers with some tight ends and quarterback sprinkled into the mix. Since there's a lot of talented wide receivers still on the board and just a few running backs left to choose from who will receive enough workload to be fantasy relevant, it's now more than apparent that we need to draft our running backs early to optimize the scoring potential of our roster.
Even in the fifth round we still have some stellar wide receivers to choose from. There's a lot of ambiguity when it comes to draft value when we get to this stage of the draft. We could start seeing some of the wide receivers drafted in the sixth or seventh round start getting selected in the top-60.
Calvin Ridley played in just 13 games last year and finished the season as the WR27 while averaging 19.7 fantasy points per game. We could see him own a larger share of the targets this year. Austin Hooper is gone, leaving 97 targets on the table. This could be Ridley's blowup season.
The Chargers are transitioning away from Philip Rivers at quarterback, Tyrod Taylor is expected to take over as the team's signal-caller. No matter who is slinging the rock from under center, Keenan Allen is still one of the best route runners in the game. He will still see a larger market share of the targets and as long as he's healthy, he will have a chance to be a very productive fantasy asset.
DeVante Parker shocked the world by finally breaking out in his fifth season in the league, catching 82 passes for 1,202 yards and nine touchdowns. He is primed to be the team's WR1 for another season. The Dolphins should be trailing in a lot of games this season, allowing Parker to receive some extra looks while in garbage time.
Drafting the Sixth Round
Wide receiver is still going strong in the sixth round at wide receiver where the running back position is starting to get a little bleak. We have some dark horse candidates, but ultimately, wide receiver is the safest route at this time of the draft. We still have some candidates who could finish the season as a WR1 left on the board. The sheer depth at the wide receiver position is the main driver to why we should be stacking up on running backs early in drafts.
We have ADP as a gauge to see where these players are going in drafts, but once we get past the sixth round it gets harder to predict. We do know that the player pool at the running back position is almost completely diminished at this point while there's still palatable options left at wide receiver, tight end, and quarterback.
Buffalo wasn't the greatest landing spot for Stefon Diggs, but it's going to be hard to ignore a player who posted back to back 1,000-yard seasons. Don't sleep on Deebo Samuel. He posted double-digit fantasy weeks in eight of his last 10 games. Samuel was on fire at the end of the season and is a young wide receiver prospect who may emerge as one of the best pass-catchers in the league.
During his rookie season, McLaurin proved to be one of the best deep threats in the league with 1,299 air yards. In 14 games he averaged 13.7 PPR fantasy points per game. Another great deep threat in D.J. Chark. He came out of nowhere to finish the season as the WR17 with 225.8 PPR fantasy points. If the volume is there, then he too should have a great a year.
Conclusion
It's a good strategy to draft running backs with your first two picks. I wouldn't be against stretching it out to the first three since you can go multiple rounds afterward with quality receivers on the board to select. Waiting on running backs can get dangerous since the talent pool quickly diminishes after the fourth round. Using this method for roster construction, you will have a team with a strong starting lineup.
More Fantasy Football Analysis