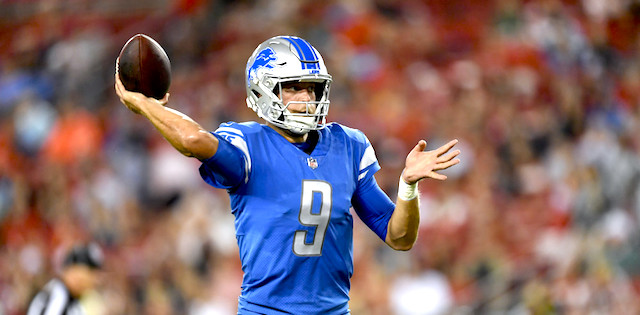 The Detroit Lions are the definition of mediocre in the NFL. Look no further than a string of average records in each of the past eight seasons (sans 2014). The Lions finished at the bottom of the NFC North in 2019, going 3-12.
It's no surprise that coach Matt Patricia has his job on the line in his third season of coaching. Owner Martha Ford brought back both Patricia and GM Bob Quinn for 2020 but has high expectations for this team during the upcoming campaign.
Much of 2019 was played without QB Matt Stafford, who was out eight games due to a back injury. Now the team is slated to return healthy and with largely the same offense from last season. Detroit was not won a championship since 1957, will they be any closer this season? Nobody knows, but what we do know is that there are some Lions players worth rostering in fantasy:
Featured Promo: Get any full-season NFL Premium Pass for 50% off and win big in 2023. Exclusive access to our Premium articles, 15 lineup tools, new Team Sync platform, Lineup Optimizer, Premium DFS tools and cheat sheets, and much more!
Sign Up Now!
Quarterback
Normally reliable and durable, 2019 saw longtime Lions QB Matthew Stafford play only eight games during the season due to a back injury. This was the first time he had not played 16 games since 2010.
Thus, he finished 29th among fantasy QBs for that reason. The Georgia product finished with 2,499 yards, 19 touchdowns, five picks, 312.4 yards per game, a 106-quarterback rating, and 66 yards rushing. He had a 20.8 percent poor throws per pass attempt rate.
Now 32-years-old, Stafford still has the weapons and can be fantasy-relevant as he will be fully healthy to start the 2020 season. During the last three seasons in which the QB played all 16 games (2016-2018), he finished 20th in 2018, 7th in 2017, and 7th in 2016 among fantasy QBs.
2018 was not Stafford's best year, either. He finished with 3,777 yards, 21 touchdowns, 11 picks, 236.1 yards per game, an 89.9 quarterback rating, and 71 rush yards. He had a 17.4 percent poor throws per pass attempt rate.
Granted, 2018 and 2019 may not have been his best seasons. Stafford should be viewed with the capability to be successful in fantasy this season, but there are better options to draft. This is because the Texas native does not provide rushing upside as the highest rushing yard total during his 11-year career is 207. In addition, this conclusion considers his stats from the past two seasons. For redraft, Stafford is best viewed as a solid backup and could be a starter in leagues of 14-16+ teams if you are willing to take a chance on him.
Running Back
Detroit has had struggles with RB production recently. To this day, the team's last 1,000-yard rusher in a season was Reggie Bush all the way back in 2013. Because of this, RB D'Andre Swift out of Georgia was drafted in hopes of jumpstarting the unit.
Swift should be in contention for the starting spot even as a rookie considering fellow RB Kerryon Johnson has dealt with injuries the past two seasons. The 5'8", 212 pound back had a terrific three seasons as a Bulldog. He had a total of 2,885 rush yards (two 1,000-yard seasons), 20 total rush touchdowns, 73 receptions, 666 receiving yards, five receiving touchdowns, and averaged 6.6 yards per carry. He also has strong workout metrics.
He ranks eighth in the Rotoballer rookie rankings. Per Bleacher Report, the back has splendid strength, speed, can erupt for big plays, and has adaptability in terms of complying with and playing in any type of offense. There are not many cons to Swift's abilities on the field, only minor ones like may not get much rushing yards after contact. He was even compared to Giants running back Saquon Barkley.
Meanwhile, returning RB Kerryon Johnson will already see his role on thin ice this season after only being drafted in 2018. Though leading the team in rushing last season, the 22-year-old did not inspire much confidence in his abilities to be a true RB1. The Auburn product has had to deal with knee injuries in both 2018 and 2019, thus leading him to play 10 and eight games, respectively.
His stats in his first two NFL seasons have not been all that great. Last season, he finished with 403 rush yards, three rush touchdowns, 3.6 yards per rush, 50.4 rush yards per game, 10 receptions, 127 receiving yards, and one receiving touchdown. He had two rush yards after contact per rush and eight broken tackles.
In 2018, the RB accumulated 641 rush yards, three rush touchdowns, 5.4 yards per rush, 64.1 rush yards per game, 32 receptions, 213 receiving yards, and one receiving touchdown. During that season, Johnson had 2.2 rush yards after contact per rush and 14 broken tackles.
At this point, there is some risk in drafting either Swift or Johnson too early. There is no clear-cut answer as to who is the starter. The likely scenario will be both backs getting carries early in the season and then the team may use a "hot-hand" approach to see who will get more snaps going forward. This doesn't eradicate any dilemmas for fantasy owners. Swift should be considered the better option to draft considering Johnson's injury history, but it's important to note that they both affect each other's fantasy value.
Swift can be an RB2 or RB3 on redraft teams while Johnson should be considered a flex piece meant as depth. Training camp may provide some clarity on the overall RB situation in Detroit.
Wide Receiver
The Lions have three receivers who could merit fantasy relevance this season: Kenny Golladay, Marvin Jones Jr., and Danny Amendola. Golladay is 100 percent fantasy-relevant. The NIU product had a monster year last season and led the team across the board, finishing with 65 receptions, 116/571 targets (20.3%), 1,190 yards, 18.3 yards per catch, and 11 touchdowns. He averaged 74.4 yards per game.
The 26-year-old has now had back-to-back terrific seasons after being drafted in 2017. 2019 saw him break personal records in total yards, yards per catch, and touchdowns. He finished third among fantasy receivers last season despite not having Matt Stafford for half of it. Just to showcase his massive ascension among NFL receivers, Golladay finished seventh in receiving yards, fourth in yards per catch, and first in touchdowns.
Coming off two 1,000-yard seasons and showing massive growth, Golladay is a top-five or 10 fantasy receiver and is a solid WR1 for your team in redraft leagues.
Marvin Jones can also be a valuable piece on your team. The veteran finished with 62 receptions, 91/571 targets (15.9%), 779 yards, 12.6 yards per catch, and nine touchdowns in 2019. He finished 27th among WRs in fantasy last season. The 2012 pick has had some of his best seasons in Detroit after playing his first three seasons in Cincinnati. He had his highest reception total and tied the highest touchdown total of his Motor City tenure in 2019.
Jones has a rapport with QB Matt Stafford and is reliable. He merits great WR3 or flex value on fantasy teams, especially those with more roster spots.
Finally, former Patriot Danny Amendola came over to the team in 2019 after a one-year stint with Miami in 2018. He finished with 62 receptions, 97/571 targets (17%), 678 yards, 10.9 yards per catch, and one touchdown. He proved serviceable as the WR3 on the team. Now 34-years-old, the veteran is taking on more of a backup role, but is still dependable, as evidence of his 2019 season. When looking at him for your fantasy team, it's best to keep him as roster depth at this point considering his role behind Kenny Golladay and Marvin Jones, along with TE T.J. Hockenson possibly taking on a bigger role in 2020.
Tight End
Now in his second year, TE1 T.J. Hockenson can be a breakout candidate in 2020. During his rookie year, the Iowa product compiled 32 receptions, 59/571 targets (10.3%), 367 yards, 11.5 yards per catch, and two touchdowns in 12 games played. The 22-year-old finished a modest 32nd among fantasy tight ends in 2019.
With NFL experience now under his belt, Hockenson should be more adjusted to the Lions system and ready to contribute more. Therefore, he can be considered a starter TE in 16+ team redraft leagues or a solid backup in any size league. For him to elevate to a weekly starter, it's best to monitor how he does during the first half of the season and evaluate whether he is getting decent production.
The backup TE on the Lions is former Steeler Jesse James. He did not produce much in 2019 during his first season in the Motor City, getting 16 receptions, 27/571 targets (4.7%), 142 yards, and 8.9 yards per catch. Those were the fifth-year player's lowest totals in receptions, targets, and yards since his rookie season with the Steelers in 2015. He's not fantasy-relevant considering he's further down the overall receiver depth chart of on this team.
More Fantasy Football Analysis