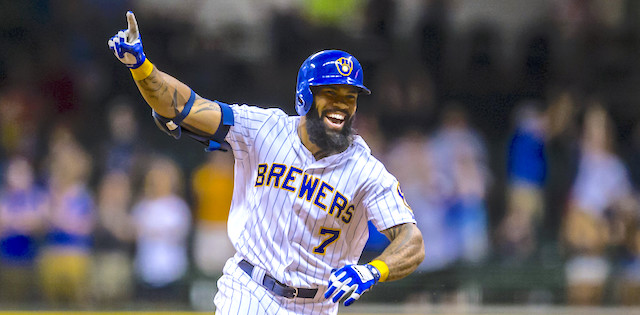 Every week in baseball, a significant player will hit the disabled list, slip into a slump, or get traded out of a good spot. How fantasy owners adapt to these situations can make or break the season as a whole. One lousy add might not hurt the long-term standing of a team, but failing to take advantage of breakouts or impact bats before others sure can.
The primary challenge of playing in an NL or AL-only league is often the lack of options regarding adding and subtracting players when needed. In mixed leagues, the players on the waiver wire are usually starting for an NL-only staff. So then how does one wade through the names of players that even regular fantasy players have never heard of, and that often will not even start for their teams, to begin with? That is where this series comes in.
Instead of owners spending time digging the waiver wire of 0% owned players, this article will give owners a player at each position to fill the gap, or at the least, keep an eye on to add or stash. Not all of these players will replace that injury, but offer the best option off the scrap heap. Often the players advocated for here are long shots due to the nature of shallow leagues. No quick fixes, but some upside that could turn into much more. With that, onto the Island of Misfit Fantasy Toys. Note: all FAAB bids assume a $1000 budget.
Editor's Note: Get any full-season MLB Premium Pass for 50% off, with exclusive access to our season-long articles, 15 in-season lineup tools and over 200 days of expert DFS research/tools.
Sign Up Now!
1% owned, FAAB $17
Diaz makes the list in part due to his plate value thus far, but also the evident struggles of Francisco Cervelli. With the latter slashing only .179/.269/.236 to start the year, there is a clear opening for Diaz to take over the job going forward. While the Pirates have been very vocal in terms of praising Cervelli's glove, the bat can only slump this poorly for so long. Even more, Diaz is slashing .245/.273/.264 with four runs, so there is an upgrade to be had already on the team. The other benefit is that Diaz is grading out as an average framer this year, so there might not be that much lost behind the plate.
The other reasons to buy-in on Diaz are the .297 xBA and 41.9 Hard Hit%. Even with limited time, Diaz is putting together some great plate appearances, seeing 3.89 pitchers per chance. This i consistent with a good track record, as over his career, Diaz has been a .255 hitter. Taking all the pieces into account, there is not much missing this year. Even with a overall middling offensive return, this production will place him near the top of the catching ranks in only leagues. For the time being, Diaz will get his chances, but when the switch comes, owners would be wise to be sitting on plan B.
1% owned, FAAB $7
Swihart's offensive output does not justify the first base tag, but the playing time has opened new options to fantasy owners. Not only does this add value on its own, but allows owners to buy a roster spot with a back-up at more positions. In some ways, this is Swihart's true source of fantasy value, as opposed to what he offers at the plate. Owners can use his flexibility to roster an additional piece this week, and use Swihart to back-up catcher and the infield spots. Even without the extra pieces, the fact that he can move around in this unique of a combination sets him apart.
While he is only batting .146 with the Diamondbacks, with only 41 ABs so far there is clearly plenty of time for a recovery. He does have a .167 BABIP, so there are other reasons to think that the rate stats could pick up. Even more, since the move to Arizona, there has been a different approach at the plate, with P/PA up to 4.24 from 3.79 in Boston. When a player moves to a new team, there will always be some changes. Fantasy owners should hope that those are coming around, and within a week or so, can know what they have with this asset.
0% owned, FAAB $11
Appearing a few weeks back as an option at third, Farmer has now added second base to his eligibility. Another player with a functional role on the bench, Farmer has also been playing a bunch since the call this year. Farmer has 58 ABs and is slashing .241/.286/.534 with five homers and nine runs. If that power can continue, owners can be sitting on an 18 homer bench bat, with multi-positional eligibility. Adding second base to the profile allows Farmer to move to the MI slot. At that spot, Farmer might have the best hit tool of any batter not currently a starter in fantasy leagues.
The red flags come from the expected numbers with the xBA sitting at .181, with the xSLG and xWOBA all being higher than the current outputs. Some of this might come down to Great American, in terms of the skew that it might put on fielding numbers, but yet, there is proof of good contact. With a 7.5 Barrel% and 16.1 launch angle, the power should be there, even with only a league-average exit velocity. Buy for the power, and hope the batting average, but all in all, Farmer is an excellent piece to target.
0% owned, FAAB $7
Reynolds has moved firmly into a platoon role at first, getting three starts versus three lefties in Washington, and then sitting for the next three games featuring right-handed starters. This works for fantasy owners, as the value comes from the raw power and Coors. Reynolds has shown that he can still hit, but even not enough to warrant anything more than a part-time option. With the recent call-up for Brendan Rodgers, Reynolds seems to have a firm spot on the bench, as Colorado now will try to get the most out of Daniel Murphy the rest of the way.
The bad news with Reynolds has been and will continue to be, the batting average. So far, he is hitting a flat .200, but does have four homers and 16 RBI. The launch angle is up this year to 21 from 18.3 last year, so there might even be more of an attempt to hit for power. While not the sexy play, if Reynolds is getting chances in the platoon, and playing at home, he is a solid start. While he will hurt in some categories, for owners willing to shuffle him in, there are counting numbers to be had.
5% owned, FAAB $7
This is the play for owners in leagues where the recent demolitions have led to some quick cuts on key players. Add in Nathaniel Lowe, and with Kieboom there are two premium talents on the market after large FAAB bids. The main reasons to target these players are the replacement level concerns. Even if Kieboom is only back with the Nationals for 150 ABs the rest of the way, over that time the production should be comparable, if not greater, than the utility option off the waiver wire. When short is so top-heavy in the NL, adding young talent and waiting is the best upside option. The risk of Kieboom offers more than Miguel Rojas on the bench at the very least.
While he did only bat .128 to start his career, the track record is there from his minor league marks to discount any early struggles. While it might take a few years to see the true potential, owners should be willing to take that risk. While Trea Turner being back hurts his chances to play right away, if the team continues to struggle, there is no reason to hold him back. Only upside with this play, but Kieboom will be a player to watch as owners start to prep for 2020. Just keep the FAAB bids low, and there is plenty of surplus value to be had.
4% owned, FAAB $22
Flying under the radar a bit after a slow start, Thames still offers owners plus power in an excellent hitting environment. In 92 ABs, Thames is slashing .239/.388/.446 with five homers and 17 runs scored. Even more, as expected, the exit velocity and Hard Hit% are both top-25% of the league. The other new mark this year is the BB%, which is up to 18.1% from 10.4%. If Thames can be more patient at the plate, then even in limited times is a lock for 20 homers.
The expected numbers are a bit light on his average but like the power and OBP potential. A .479 xWOBACON shows the overall package moving forward, and if owners can settle for a .230 batting line, the rest of the profile will make-up for the concerns. While only playing two times over the past week, the power floor will be there to make Thames a solid OF4 in most leagues. If needed, he also looks to be a lock at the CI as injury cover.
3% owned, FAAB $12
Camargo has been making the list a lot this year, mostly due to a lack of regular playing time. As highlighted in previous pieces, this was the concern entering this year, even off a break-out 2018 campaign. When the talk is now that Camargo is the Atlanta version of Marwin Gonzalez, and the Twin is struggling this year, the main appeal of this player type appears to be the glove. This is why the outfield eligibility is interesting, as Camargo will not play there the rest of the year with Austin Riley up, but still qualifies in that spot. Fantasy owners should take that, and with a chance to play around the diamond, and be the first injury cover for Atlanta, the value will be there over a full season.
Through 37 games, Camargo is only hitting .222 but has scored 12 runs while driving in 13 as well. This means that with the overall hit tool, Camargo will hit into outs, but produce runs as well. The approach will offer a trade-off for the roto categories, but the counting stats are hard to come by on the wire right now. The expected numbers are down the rest of the way as well. Still, the .230 xBA means that there might be a bit of gain in the rate so far. The ceiling is much lower than most expected this year, but the counting floor will make up for the deficiencies with the rate lines.
2% owned, FAAB $17
Like the Kieboom recommendation a few lines up, O'Neil is addable due to the lack of real talent at the bottom of the outfield list this week. Names like Curtis Granderson, Steven Duggar, and Bryan Reynolds are still there but have graced this column over the last few weeks. The issue with O'Neil is that there is no spot on the team for him right now. Harrison Bader is an excellent OF4 for the club, and Dexter Fowler is starting to hit a bit. Even more, since Fowler reaching the end of his time, the Cardinals are not trading O'Neil to win this year; especially when they might need him to win next year.
While he was up with the team, the hit tool was there, but there was no real power to fill out the profile. With only one homer over 38 ABs, there was just not a reason to keep him on the bench. In 14 games since his demotion to Triple-A, O'Neil has seven bombs, and when the leagues are using the same ball, this should carry over well. And yet, even without the power, owners will take a .260 batting average for the chance at a rebound. Add him for cheap with the roster spot, and hope that he makes it up in the next few weeks.
0% owned, FAAB $24
One word of caution on Fedde, he is set to pitch after this piece gets posted, so there might be an update coming tomorrow. For now, he looks to have the inside track on a rotation spot, at least until the team learns the full extent of the Anibal Sanchez's injury. Always thought of as a good pitching prospect, Fedde has admittingly seen his stock drop a bit over the past few years. At one point he was a future SP2, and now owners would be happy with an SP4 with some upside. The main concern will be the stuff, as he lacks a true out pitch to lefties. Still, he has the overall approach to get Big Leaguers out.
Thus far in 2019, Fedde has been used out of the pen, with five games and 10.2 total innings. The good news is that he has posted a 1.03 WHIP, with a 3.38 ERA. The fantasy ceiling is capped by the stuff, with only a 17.1 K% this year, and a career 21.5 K% over 78 total innings. Still, this is another year of development for Fedde as he is only 26. For owners needing a starter, this is a dart, but when the team behind him can rack up wins, there is value to be had. Assuming a rebound by the Nationals in the win column, Fedde is a secure stash.
1% owned, FAAB $7
This is a name to add to next year's draft lists ASAP. Lopez has an elite arm and has been showing it out of the pen in Arizona this year. While not the official closer, expect him to assume the role next year at the latest. Through 22 games he has an ERA of 1.00, a 20.3 K%, and 0.89 WHIP. A dominant arm in the minors, Lopez has run into some issues with homers in the Majors, but over a small sample, seems to be a useful arm at generating outs.
And yet, there is a rub with Lopez. Looking to the underlying numbers, all of this should not be happening. He has an xBA of .298, and 54.2 Hard Hit%. The only good mark on his expected numbers is a .223 xWOBA which places him in the top 20% of the league. The .152 BABIP is telling, but at the same time, a 35.7 PutAway% on his slider shows that he has been effective. Expect a bit of a rise, but also, expect the skills to be there to make this arm worth it. There is a clear role for saves if he can keep pitching well, and if not, can still be a source of Ks off the bench.
More Waiver Wire Pickups and Streamers
Check out RotoBaller's entire fantasy baseball waiver wire pickups and sleepers list, updated daily!