Welcome to Contact Rate Risers and Fallers for Week 4! Our premium tools allow us to get out ahead of trends in player performance, including contact rate. Every Wednesday, we'll be looking at some players that have seen an increase in contact rate and some that have seen it decline.
Contact rate can foretell a player's batting average and general hitting statistics, and any drastic change could signal a shift in performance. Contact rate shifts often act as a precursor to hot streaks and slumps.
Here is a breakdown of some of the biggest fantasy relevant risers and fallers in contact rate over the last seven days.
Editor's Note: Get any full-season MLB Premium Pass for 50% off, with exclusive access to our season-long articles, 15 in-season lineup tools and over 200 days of expert DFS research/tools.
Sign Up Now!
Contact Rate Risers
89% contact rate last seven days (+14%)
McKinney has had a strong week, posting an impressive .364 batting average and making contact with virtually everything. This is a much-needed wake up for a player who has had a tough start to the season, with just a .247 season-long batting average and a 0.26 BB/K rate. One thing that is interesting is the two doubles in the last seven days, taking his season total to six. Last year, he managed a total of 20 across all of his stops, so having six in just 73 plate appearances is definitely something to take note of.
Unfortunately, after hitting six home runs in just 119 major league PA last season, he has just one so far this year. However, this surge in contact rate and the interesting doubles production so far this season could be an indicator that now is the time to add McKinney before he breaks out.
88% contact rate last seven days (+13%)
Peraza, like many other players who are relied on for steals, is becoming one of the most frustrating players in baseball. He, along with many of the other Reds hitters, has struggled to make an impact this season, hitting for just a .159 batting average on the season. However, while he ranks near the bottom in many things when it comes to Statcast, his sprint speed ranks in the 84th percentile. When you are fast on the base paths then starting to make contact should give you a good chance to increase your batting average.
It is a small step but in his last three outings, he has registered a hit in each and stolen his second base of the season. However, the more promising thing is that in the last two games of the Padres series he hit in the leadoff spot with Votto out. If Peraza can start getting on base more regularly he should get the chance to leadoff in front of a Reds lineup which could be very powerful when it finally wakes up.
The most promising thing is that after opening the season with an O-swing% of over 50% Peraza has swung had just 25% of pitches outside the zone in the last week. It is an extremely small sample size, but it hopefully indicates a change in approach from Peraza, which could see his batting average improve over the coming weeks.
86% contact rate last seven days (+13%)
It feels like a long time since I have considered Dexter Fowler for a fantasy baseball piece but here he is. Fowler is off to a wonderful start this season, hitting .310, despite having a contact rate for the season right around his career average. In the last week, he has really gone from strength to strength, hitting .429 and adding his first home run of the season.
The season-long numbers suggest his batting average may be due to regress, but with Fowler hot right now he might be a useful pick up for the short term in deeper leagues. At the same time, he is also a hitter you should look to sell before the slump comes.
Contact Rate Fallers
48% contact rate last seven days (-19%)
If you own Mondesi, he is going to drive you nuts all season. He is one of the more streaky hitters in the majors and right now he appears to be slumping. Over the last seven days, he has a 38.7% strikeout rate and seven hits. His speed will always mean he can steal you bases, which is why you drafted him. However, the contact rate and the batting average fluctuations are going to make him volatile on a week-to-week basis for fantasy owners.
If you have had a slow start in steals, it may be worth floating an offer out there for Mondesi over the next week or so. It likely will not work, because his owner will have drafted him expecting this kind of performance. If you are an owner of Mondesi, you should absolutely be holding him, but do not be surprised if he ends on my list of fallers regularly this season.
62% contact rate last seven days (-19%)
Santana is loving life back with the Indians after his one year holiday in Philadelphia. He has opened the season hitting .362 and has been one of the more consistent Indians hitters so far. However, his contact rate in the last week does emphasize some reasons for concern. In those last seven days, he has struck out of a quarter of time and his batting average has been .263.
Additionally, despite his hot start Santana has hit just one home run, with an alarming drop in his FB% down to 22% from a career average of nearly 40%. In contrast, his GB% has rocketed to over 50%. It is just over a tenth of the way into the season, but the batted ball profile for Santana gives major reasons for concern, meaning that now may be time to try and shop the Indians first baseman.
57% contact rate last seven days (-16%)
It has been a really ugly start for Aguilar, who has yet to hit a home run and has a batting average of just .134 this season. We have now seen Aguilar miss the last two days and with Eric Thames heating up he could find himself short of playing time in the near future. The contact rate over the last week only serves to emphasize that Aguilar is not looking like breaking out of this slump any time soon. It also continues a worrying trend which saw him hit just .245 with 11 home runs and a 101 wRC+ in the second half of last season.
Those second-half numbers combined with this start to 2019 raises the question whether teams simply worked Aguilar out during his hot streak to start last season. Sadly the only thing you can do right now is hold and hope if you own Aguilar. If you do not own him then the recent numbers do suggest he is worth trying to buy low at this stage.
Contact Rate Risers and Fallers - Premium Tool
Identifying top batting average surgers for each week can help you spot the best pickups before your competition. RotoBaller's Premium Contact Rate Risers and Fallers tool has you covered every day. As thoughtful fantasy baseball players, we won't lead you astray. Here is a small sample: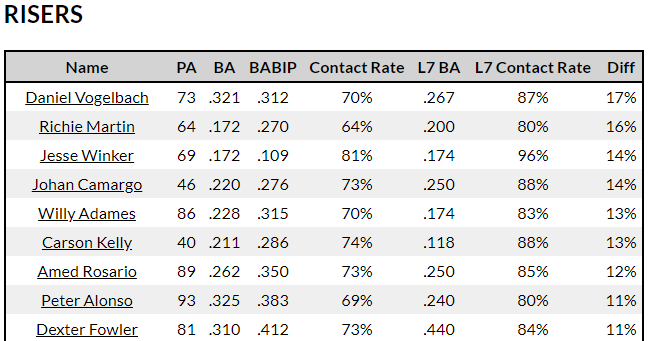 This type of data is available as part of our Premium MLB Subscription and launched on April 22nd for the 2019 season. Don't settle for basic stats and surface-level advice from other sites. RotoBaller brings you advanced statistics and professional analysis that you need to win your fantasy leagues and DFS games because we're ballers just like you. We are your secret weapon!
More Fantasy Baseball Advice and Analysis