Welcome to Contact Rate Risers and Fallers for Week 24! Our premium tools allow us to get out ahead of trends in player performance, including contact rate. Every Wednesday, we'll be looking at some players that have seen an increase in contact rate and some that have seen it decline.
Contact rate can foretell a player's batting average and general hitting statistics, and any drastic change could signal a shift in performance. Contact rate shifts often act as a precursor to hot streaks and slumps.
Here is a breakdown of some of the biggest fantasy-relevant risers and fallers in contact rate over the last seven days.
Editor's Note: Get any full-season MLB Premium Pass for 50% off. Exclusive access to our Draft Kit, premium rankings, projections, player outlooks, top sleepers, dynasty and prospect rankings, 15 in-season lineup tools, and over 200 days of expert DFS research.
Sign Up Now!
Contact Rate Risers
Data current as of 9/11/2019 and taken from RotoBaller's Premium Tool.
83% contact rate last seven days (+21%)
This has felt like a disappointing year for Myers, but realistically it is going to end up looking a lot like most of the rest of the last few years of his career. His second-half performance has dragged his numbers back, as he has hit .293 with five home runs and five steals in 145 PA. Most importantly he has cut his strikeout rate from over 35% down to 29.7%. Not great but an improvement.
His contact profile this year is pretty ugly, with a 13.1 SwStr%. On one hand, there is a lot of optimism to be found in his O-Swing% dropping over five percent. However, the problem is that his O-Contact% has dropped a whopping 12.6%, meaning that yes he is swinging less, but he also missed a lot too. To compound that issue his Z-Contact also dropped by more than five percent, contributing to a seven percent drop in overall contact rate. Do not get sucked in by his strong second half, this has been a grim season for Myers with the underlying numbers and he is someone to stay away from.
85% contact rate last seven days (+16%)
In contrast, Yoan Moncada is trending up in a big way. His batting average has leaped to .301, his ISO had jumped .231 and his wOBA is up to .369. However, one number that has reduced is his K%, which has dropped below 30% for the first time in his career, currently sitting at 27.5%. His contact profile is extremely interesting because his Contact% has actually dropped a fraction this year and his SwStr% is up to 14.3. This year he has an O-Swing% at 32.3, which is nearly six percent higher than his career number, and his Z-Swing% has also risen to a career-high 67.7%. These underlying numbers suggest that this years batting average could prove unsustainable heading into next season. Following 2019 you should be able to get a King's ransom for Moncada, and my tendency would be to take it if you can.
82% contact rate last seven days (+16%)
Oh look, Rougned Odor is on a hot streak again. No single player in baseball has frustrated me more this year. In fact, you can extend that frustration to his career, as he has alternated good and bad years by batting average. The problem with this seasons dip is the massive increase in his K% to 30.4. Much like Myers he has improved that in the second half, but it still sits at a career-high 27.6%. The issue is that he is making less contact both inside and outside the zone this year than he ever has in his career, and it has led to a career-high matching 12.9 SwStr%. Last time his batting average bottomed out it rebounded the following year, but this time the underlying numbers are worse and the strikeout rate is out of concern. Much like with Myers, do not get sucked in believing in Odor if he finishes hot.
Contact Rate Fallers
Data current as of 9/11/2019 and taken from RotoBaller's Premium Tool.
47% contact rate last seven days (-25%)
If you drafted Mallex Smith this year then congratulations you have gotten the 40 stolen bases you wanted. The problem is that those steals have come with a woeful .232 batting average and a 25.5% strikeout rate. Last season he cut that strikeout rate down to 18%, but the fact it bounced straight back up over 22.5% suggests that 2018 was the odd year out as opposed to major improvement. The problem is that his O-Contact% has regressed back towards his career mean, and the Z-Contact% also decreased. Additionally, this year he has also been swinging at fewer pitches inside the zone. That is a double whammy of both an increase of SwStr% and a called strikes, which has led to that inflation of the overall K% this season. These numbers have me extremely concerned for what we will see going forward. His steals will always be valuable, but we may need to accept he is not going to be that .290 stolen base dream we hoped he was going to be.
60% contact rate last seven days (-16%)
There has been a definite improvement in output for Swanson this year, as he will set career highs for home runs, runs, and RBI, as well as posting his highest batting average since his rookie season. The worry is that the jump in batting average comes with a similar BABIP to each of his last two seasons and a very minor decrease in strikeout rate. His contact profile actually gives me increased cause for concern. He is swinging at more pitches in the zone than ever, but making contact inside the zone at his lowest ever rate. He has cut his O-Swing% but he has also seen a slight decrease in his O-Contact%, which combined with the zone swings and misses has led to a SwStr% of 11.5%, which is nearly as high as last season when he had an O-Swing% of over 35%. his performances this season suggest to me that the breakout is not coming soon, and if you have been holding on in dynasty then now might be time to cut bait and move on.
55% contact rate last seven days (-14%)
2019 brings another mixed performance from Conforto. Yes, he has 29 home runs but his batting average remains floating around the mid-.200's. He dd cut his strikeout percentage a fraction but this just looks to be who Conforto is. His contact profile is very similar with a slight uptick in O-Contact% being countered by a dip in his Z-Contact%. It may be time to stop predicting that Conforto breakout and just accept that this is what he is going forward.
Contact Rate Risers and Fallers - Premium Tool
Identifying top batting average surgers for each week can help you spot the best pickups before your competition. RotoBaller's Premium Contact Rate Risers and Fallers tool has you covered every day. As thoughtful fantasy baseball players, we won't lead you astray. Here is a small sample: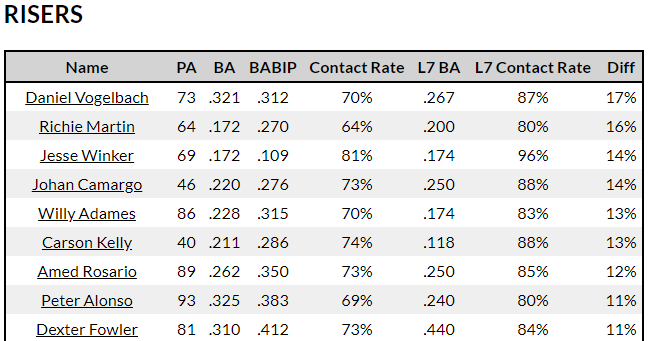 This type of data is available as part of our Premium MLB Subscription and launched on April 22nd for the 2019 season. Don't settle for basic stats and surface-level advice from other sites. RotoBaller brings you advanced statistics and professional analysis that you need to win your fantasy leagues and DFS games because we're ballers just like you. We are your secret weapon!
More Fantasy Baseball Advice and Analysis