Welcome to Contact Rate Risers and Fallers for Week 22! Our premium tools allow us to get out ahead of trends in player performance, including contact rate. Every Wednesday, we'll be looking at some players that have seen an increase in contact rate and some that have seen it decline.
Contact rate can foretell a player's batting average and general hitting statistics, and any drastic change could signal a shift in performance. Contact rate shifts often act as a precursor to hot streaks and slumps.
Here is a breakdown of some of the biggest fantasy-relevant risers and fallers in contact rate over the last seven days.
Editor's Note: Get our 2020 MLB Premium Pass for 50% off, with exclusive access to our draft kit, premium rankings, player projections and outlooks, our top sleepers, dynasty and prospect rankings, 20 preseason and in-season lineup tools, and over 200 days of expert DFS research and tools.
Sign Up Now!
Contact Rate Risers
Data current as of 8/28/2019 and taken from RotoBaller's Premium Tool.
96% contact rate last seven days (+7%)
In the large part, this has been a very underrated season for Seager, as he has bounced back since returning from his injury. The Mariners third baseman has got his batting average back to .250, cut his strikeout rate below 20% and hit nearly as many home runs in 320 PA as he did in 630 last season. Yes, there are still issues, his K% has never been above 18% before 2018, with more years sitting below 17% than above it and .250 is still on the low side batting average wise. Contact rate wise his Contact% is back up above 80% thanks in large part to his Z-Contact%, but his Swing% being over 45% has meant that his SwStr% remains above nine percent for just the second year in his career.
His batted ball profile is interesting because the dip in his batting average recently has been very much driven by a dip in BABIP as well as K%. His GB% has continued to dip, being replaced mostly by an increase in FB%. While this has helped fuel his home run outburst this season, it also seems unsustainable that he will keep hitting at a career-high HR/FB% of 17.2 as he heads towards his age 32 season. This is especially the case as he is not hitting the ball harder or particularly higher in terms of launch angle than he has done in the recent part of his career. The real situation is that Seager's is hot right now. 11 of those 17 home runs have come in the second half and he has eight with a .333 batting average in August. It is likely he will cool off but for now, this is a player to ride who can hopefully boost you into and through the early weeks of your playoffs. Ride the hot hand and be prepared to drop him if and when he goes cold.
81% contact rate last seven days (+17%)
Chirinos is another player having a reasonably hot second half. The Astros catcher is hitting .263 in the second half and appears to have traded off some power for more consistency, having hit just three home runs in that time. Overall, his batting average has crept up slightly and his K% has got back down below 30, even if only by a fraction. However, contact rate wise he has been diabolical this year, with his Contact% dropping even more to 67.9 and his SwStr% rising to 15.2. In fantasy baseball, people are always looking to ride the hot catcher, but with Chirinos swinging at over 33% of pitches outside the zone and making contact with barely 50% of them the bottom could be set to fall out at any moment. Right now he is also offering a pretty hollow batting average so if that falls away then you are going to be left holding nothing. Chirinos is not someone you should be looking to pick up in your playoff push unless you are absolutely desperate at the position,
84% contact rate last seven days (+15%)
Bader has been somewhat of a nightmare this season, hitting just .211 with seven home runs and seven steals. He could still be the double-digit power and speed guy we were hoping for but that will only mask an ugly season. August has been pretty good to him, as he has hit .360 in his 32 PA, but injuries and inconsistency have badly dented his season. Interestingly, he has increased his BB% and decreased his K% this season. He is swinging less at pitches outside the zone and overall is making contact more often than he has at any other point of his career. His SwStr% is down below 10%. Just in general Bader is swinging less. His Z-Swing% is down five percent and his overall Swing% in at just 40.9.
The problem has been when he makes contact. His BABIP is just .276, his exit velocity is in the 11th percentile, hard hit% in just the 26th percentile, and his xBA is among the bottom 4% of the league.  His FB% has rocketed up to nearly 43% and his LD% is down below 18%. He is hitting the ball too high and not hard enough to register hits. A lot of the contact profile is promising. It shows a hitter learning how to pick pitches and controlling himself. The batted ball profile may be injury driven, but three straight years of an exit velocity 86% or lower suggests this is what Bader is. A poor power hitter, offering inconsistency in stealing bases and a risk of a bottoming out batting average. Hopefully, this hot streak is a sign that a fruitful September is coming, and if you believe that he will never be cheaper in dynasty formats than he is right now. However, if your season is heading to the stretch or you are in amongst the playoffs you are better off steering clear of a player who is struggling to drive the ball in a year of great offensive production.
Contact Rate Fallers
Data current as of 8/28/2019 and taken from RotoBaller's Premium Tool.
38% contact rate last seven days (-32%)
Muncy has pretty much delivered on a repeat of his 2018 season, but without the same hype that came with his breakout. He has 33 home runs in 531 PA and a .255 batting average. Both of those are less impressive than last season, but importantly he has cut his K% below 25%. Interestingly, his SwStr% is actually up a little, as he is swinging at more pitches and making contact at a lower rate overall. Outside of the zone, he is actually making better contact, but this is negated a little by his slight drop in Z-Contact%. It is an interesting trade-off, as he is swinging and missing more often, but taking less called strikes, meaning his K% has dropped as an overall number.
The outcome is pretty negligible and the bigger issue is that he making slightly worse contact this season than last season. He is also hitting fewer fly balls this season, with the number dropping to below 40%, but has still managed to maintain a HR/FB% above 27.5%. Overall this season has really reinforced who Muncy is as a hitter. A 30-plus home run hitter who will hit around .250-.260 and have peaks and troughs such as his currently mini-slump. The only concern right now is that he could be slumping just when you need him most. However, even in a down period, he can still hit an average of 6.5 home runs a month.
58% contact rate last seven days (-18%)
Once again Hosmer has continued his yo-yo trend of the past few seasons. After hitting .253 last season he is back up to .283 in 2019. However, that is disappointing when you consider his good years used to be in the .300 range. Part of the reason he has not managed that this year is a career-high 21.5% strikeout rate. His contact profile highlights the issues, as his Contact% is down at 74%, having sat at 79% for his career. His SwStr% has crept up to 12.9 as a result of those contact issues, and when you combine that with an increase Swing% on pitches both inside and outside the zone it makes for ugly reading. At this point, Hosmer brings next to nothing to the table for fantasy owners, and given this was the up year it makes you fear for what 2019 might bring.
58% contact rate last seven days (-14%)
Acuna has pretty effectively backed up his 2018 season, putting up similar numbers when you compare them on a rate basis. Fantasy owners would have liked to see him cut that K% a little, but he has managed to hit around .290 with that K% over a 1000 PA sample size, which is promising that he is not suddenly going to bottom out. His contact profile and batted ball profiles have been extremely similar in the last two season, with a Contact% around 80 and a SwStr% of 11.5. These blips are going to happen, but Acuna, who has 15 home runs already in the second half was due a slow couple of weeks. If you have any concerns now is perhaps your last chance to sell before trade deadlines, but the only reason for concern is if you believe that as a young player he may be fading after already playing 133 games and having 620 PA this season.
Contact Rate Risers and Fallers - Premium Tool
Identifying top batting average surgers for each week can help you spot the best pickups before your competition. RotoBaller's Premium Contact Rate Risers and Fallers tool has you covered every day. As thoughtful fantasy baseball players, we won't lead you astray. Here is a small sample: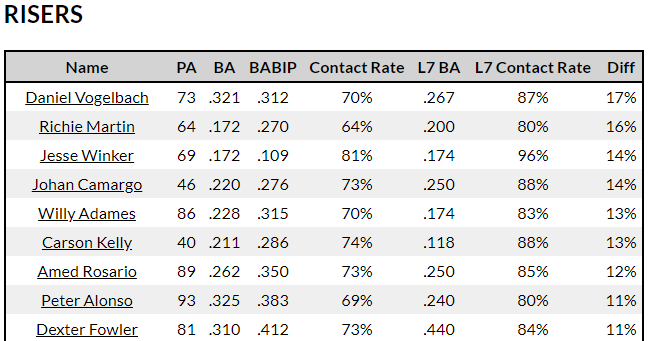 This type of data is available as part of our Premium MLB Subscription and launched on April 22nd for the 2019 season. Don't settle for basic stats and surface-level advice from other sites. RotoBaller brings you advanced statistics and professional analysis that you need to win your fantasy leagues and DFS games because we're ballers just like you. We are your secret weapon!
More Fantasy Baseball Advice and Analysis