Welcome to Contact Rate Risers and Fallers for Week 19! Our premium tools allow us to get out ahead of trends in player performance, including contact rate. Every Wednesday, we'll be looking at some players that have seen an increase in contact rate and some that have seen it decline.
Contact rate can foretell a player's batting average and general hitting statistics, and any drastic change could signal a shift in performance. Contact rate shifts often act as a precursor to hot streaks and slumps.
Here is a breakdown of some of the biggest fantasy-relevant risers and fallers in contact rate over the last seven days.
Editor's Note: Get our 2020 MLB Premium Pass for 50% off, with exclusive access to our draft kit, premium rankings, player projections and outlooks, our top sleepers, dynasty and prospect rankings, 20 preseason and in-season lineup tools, and over 200 days of expert DFS research and tools.
Sign Up Now!
Contact Rate Risers
Data current as of 8/7/2019 and taken from RotoBaller's Premium Tool.
94% contact rate last seven days (+21%)
Hopefully, the last week of strong contact can be Desmond turning his season back around. After hitting over .300 in both May and June, he has hit below .250 since the beginning of July, with just two home runs in 89 PA. Overall it has been a mixed season for Desmond, as he continues to strikeout around 24% of the time, but has managed to get his batting average back up to .267 this season. Interestingly his Contact% is the highest it has been in any single season since 2013, but still sitting around 75% is much lower than we got used to in the early part of his career. His SwStr% has also been cut down to 10.8%, which is the lowest since 2011 and is in part sue to him chasing the ball outside the zone less, decreasing his O-Swing% down to 38% from a career average in the low-30s.
If we throw in that his average exit velocity has been up again to start August compared to July and there is a lot of positivity that Desmond could finish the season strongly. In fact, there is enough optimism that I have been looking to speculatively acquire a player who could still yet get to 20 home runs while hitting in an extremely hitter-friendly environment. The big concern is that he has stolen just two bases in five attempts this season, suggesting his stolen base days may be over. Despite that Desmond should be such a dirt-cheap option right now that he can be added for virtually nothing and cut if this hot streak turns out to be nothing.
93% contact rate last seven days (+19%)
The ever-continuing enigma that is Conforto continues in 2019 as he is once again on pace to threaten the 30 home run mark for the third consecutive season. He has also managed to cut his K% down below 22%, but has only managed to get his batting average back up to .258 so far. Contact rate wise he has improved in 2019, cutting that SwStr% down to 10.5% with a 75.5 Contact% and an O-Contact% above 60% for just the second time in his career.
His form over the last month or so is extremely possible as he has seven home runs in 120 PA, including two already in August. As someone who has been generally stronger in the second half of the season in his career can Conforto finish 2019 with a bang for his fantasy owners and carry teams towards a title. So far things look good and hopefully this hot hitting in the last week is the perfect springboard for Conforto to explode past the 30 home run barrier in 2019.
88% contact rate last seven days (+18%)
Ah, Kyle Scharber. The frustrating but oh so fun Schwarber. There is a lot to be pleased about if you own Schwarber this year. Yes, he is still only hitting .233, but he has provided you with 25 home runs already and is on pace to get close to the 35-40 range. He has also cut his K% once again this year, bringing it down close to 25%. While not ideal that is far preferable to the 30% number we saw two seasons ago.
Contact profile-wise, his SwStr% is down at 10..7%, his Contact% is up at 74.9% and he is making contact with over 60% of pitches he swings at outside the zone. When you look at his batted ball profile then things continue to look rosy. He is driving the ball well and has maintained a HR/FB rate above 22% despite the slight changes in approach. His exit velocity is as high as it has ever been in his career, and sits in the top-4% of the league right now. His xBA does sit at .255, but he has always been a hitter whose actual numbers have sat below those expected numbers for batting average so do not expect any sudden improvements in the coming weeks. Right now Schwarber is exactly what we expected him to be at the start of the season. He provides solid power while doing some damage to your batting average, but if he gets hot then riding out the streak could be very beneficial down the stretch of the season.
Contact Rate Fallers
Data current as of 8/7/2019 and taken from RotoBaller's Premium Tool.
41% contact rate last seven days (-24%)
What can you say about Santana other than this is what we know he is? For the fifth year in a row his K% sits around the 30% mark, and his batting average is once again in the .270 region. Yes, he has 20 home runs but nothing he does on that aspect is particularly special. His launch angle is just 11.8 degrees and his exit velocity is the middle of the road. What drives the solid batting average despite a very high strikeout rate is his ability to hit the ball flat, with a 26.8% line drive rate, which always helps provide a good BABIP. His 25% HR/FB rate seems like it should be unsustainable, but it is something he has done in four of the last five years so right now there is no reason to doubt it.
Contact rate wise he is back to what he was doing in Milwaukee in 2016 and 2017, with a Contact% around 70% and SwStr% in the 13% region. Everything he is doing right now is consistent with what we have seen for the large part of his career. Therefore, if what you want is a hitter that can deliver you 30 home runs at around a .270 batting average then Santana is a perfect investment in all types of leagues. If you are short some power then try and use his slow month and bit to acquire him and hope he gets hot again to end the season.
58% contact rate last seven days (-23%)
August has started almost as concerningly for Jones as July was. Yes, Jones hit .288 in July, bouncing back from .224 in June. However, he did not hit a single home run in 80 PA in the month of July, and now he is hitting .231 to start August. After the season started so well, 11 home runs in March through May, it has become a struggle for Jones, with just two home runs since the start of June. His strikeout rate the last two and a bit months has been consistently above what we saw to start the season, and his wOBA has never got above .300 since the end of May.
Over the course of the year, his contact profile is similar to what we saw in Baltimore, sitting in the mid-70s for Contact%, with only his O-Contact% dropping a fraction down to 60.1%. Even since the beginning of June things have not been radically different for Jones. However, his SwStr% is up a little at 13.3% and his K% has jumped up to over 20% for the first time since 2008. His quality of contact is down as his hard-hit rate has dropped 5%, and shifted towards medium speed off the bat, which has then filtered back onto his HR/FB%, which for the season sits over 11% but is just 5% since the start of June. Some of this is down to age, but there is also some luck element. Jones was hitting the ball so crisply to start the season but is now hitting it softer and more on the ground. There is a chance for correction, but until we see him start to show this it is hard to buy-in. However, this is a player to monitor in the coming weeks. If he starts hitting the ball in the air more and making harder contact then he could be a great addition to take you through the final part of the season.
65% contact rate last seven days (-20%)
It is a season to forget for Jos Ramirez and his fantasy owners. Ramirez was talked about as being the next big power-speed threat whose batting average would not kill you. Well, his batting average this season is .242 and he will be lucky to end the year with 25 home runs. That is certainly not what people wanted they drafted him in the top-five this season. His K% while only at 13.5% has been the highest we have seen since his rookie season and a second straight year of .250 BABIP is now a major concern.
There is no massive aberration in his season-long contact rate numbers, with his SwStr% up a fraction at 5.5%, but his overall Contact% remains up above 87% for the fifth year running. His batted ball statistics are the problem, as his launch angle has jumped to a whopping 20.6 degrees, but a drop in Barrel% down to 5.9% has meant that another increase in FB% has been met with a sharp decrease in HR/FB rate. The problem here is that when you are hitting fly balls if they do leave the park they are more often than not caught. In 2019 Ramirez has sold out too much for power and is now elevating the ball a little too much. Unless he can start driving the ball a little flatter Ramirez is unlikely to recover what has been a somewhat disastrous season for his fantasy owners. At this point, Ramirez's fantasy owners are likely so frustrated that a challenger could use this latest slump to offer a speculative trade in the hope that Ramirez finishes this season strong. However, right now I would rather not have Ramirez than sell the farm to attempt to acquire him, because this may be a problem he needs a full offseason to try and fix rather than make an in-season adjustment.
Contact Rate Risers and Fallers - Premium Tool
Identifying top batting average surgers for each week can help you spot the best pickups before your competition. RotoBaller's Premium Contact Rate Risers and Fallers tool has you covered every day. As thoughtful fantasy baseball players, we won't lead you astray. Here is a small sample: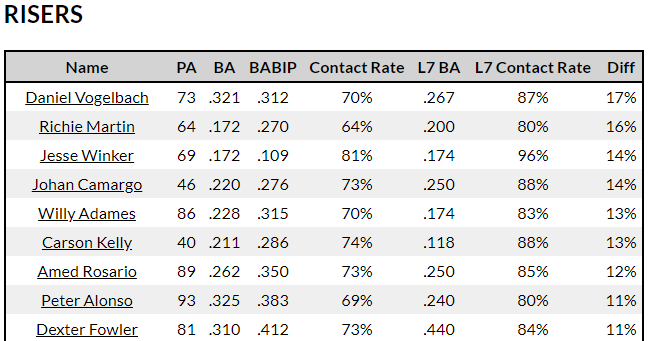 This type of data is available as part of our Premium MLB Subscription and launched on April 22nd for the 2019 season. Don't settle for basic stats and surface-level advice from other sites. RotoBaller brings you advanced statistics and professional analysis that you need to win your fantasy leagues and DFS games because we're ballers just like you. We are your secret weapon!
More Fantasy Baseball Advice and Analysis