Welcome to Contact Rate Risers and Fallers for Week 18! Our premium tools allow us to get out ahead of trends in player performance, including contact rate. Every Wednesday, we'll be looking at some players that have seen an increase in contact rate and some that have seen it decline.
Contact rate can foretell a player's batting average and general hitting statistics, and any drastic change could signal a shift in performance. Contact rate shifts often act as a precursor to hot streaks and slumps.
Here is a breakdown of some of the biggest fantasy-relevant risers and fallers in contact rate over the last seven days.
Editor's Note: Get our 2020 MLB Premium Pass for 50% off, with exclusive access to our draft kit, premium rankings, player projections and outlooks, our top sleepers, dynasty and prospect rankings, 20 preseason and in-season lineup tools, and over 200 days of expert DFS research and tools.
Sign Up Now!
Contact Rate Risers
Data current as of 7/31/2019 and taken from RotoBaller's Premium Tool.
82% contact rate last seven days (+17%)
It has been a productive last 10 days or so for Odor, with five home runs, 12 hits and 11 RBI since the 19th of July. That strong finish has made July the best month of his season so far, hitting .250 with eight home runs and 24 RBI. However, the fact we are celebrating this recent run quite so much highlights what has been the problem this season for Odor. His power has been solid, with 18 home runs already on the board, but his batting average sits at a woeful .204 and his strikeout rate is a whopping 31.7%.
His overall contact profile this season is pretty ugly, with his Contact% down nearly 5% on his career average, and his SwStr% up 2.2%. He is hitting below average both inside and outside the zone, but an O-Contact% below 60% for the first time in his career is perhaps the standout concern. When he is making contact, the quality of that contact is a concern. His IFFB% has risen to 12.5%, meaning that 1-in-8 times he hits the ball in the air it does not leave the infield. If we look at his xBA it sits at .221, the lowest of his career, and in the bottom-9% of the league this year. However, interestingly, his Barrel% is up at a career-high 13.4 and his average exit velocity is also a career-high 89.2. This hot spell contact wise may be the start of a strong second half for Odor. If he can get that average launch angle down a fraction from 15.4 degrees he may be able to provide some fantasy relevance in the second half. I would not count it right now, but it is worth watching just in case.
86% contact rate last seven days (+13%)
Now we look at another second baseman having an uninspiring 2019. On the bright side, Dozier is performing better than 2018, with a .241 batting average and 15 home runs so far. However, he is still some way from matching the career-high numbers of 2016 and 2017, and the strikeout rate has crept up to a career-high number of its own. Part of the reason for that can be found in a career-low Contact%, fuelled by an O-Contact% which is at risk of dropping below 60% for the first time in his career. His Swing% is down, which has stopped any kind of ballooning in his SwStr%, but that will be a small victory to any of his remaining fantasy owners.
Interestingly, nothing in his statcast numbers look wildly out of place. He is hitting the ball harder than he is since statcast data began being tracked. His launch angle is only marginally up on his career average and his xBA sits in the region you would expect. The increase in batting average this year compared to last can be attributed to a rise in BABIP, thanks in part to relacing some of his ground balls with line drives, and cutting his IFFB% down to a career-low. The problem with all of this is that these numbers suggest Dozier is exactly what we are seeing in front of our eyes. Hollow-power, and not even that much power anymore. Even with this little boost in Contact%, it is hard to really ignite any excitement for what Dozier can be in the second half, outside of an injury replacement if things are desperate and the matchups are good.
96% contact rate last seven days (+11%)
It has been a little bit of a strange season for Ramos. His batting average is down at .255 despite cutting his strikeout rate 5.3% from last year. However, his problem has been a .082 drop in BABIP this season compared to last. Power-wise he is on track to get back to 15 home runs, and he is on pace to challenge last years combined runs and RBI numbers. The K% and how it reflects in his contact profile is what I am really interested in here. After two years of elevated O-Swing%, he has cut that back down to his career average, while also boosting his O-Contact% a little. That has meant an overall Contact% just over 1% above his career numbers, and a SwStr% which ranks third-best in his career.
We can look at the parallels in his 2017 and 2019 years to see what the problem is with the batting average. His LD% has dropped 3.3%, while his GB% is up over 60%. In fact, his GB% is streets above even those 2017 numbers, which must provide some concern to anyone hoping he would suddenly become a 20 home run player once again. Right now Ramos is a middle of the road catcher, whose upside appears to be gone. However, he is by far not the worst option around, and many of the better options will cost a hefty price to obtain right now. He is a player to hold and hope that things get better as the season draws towards a close.
Contact Rate Fallers
Data current as of 7/31/2019 and taken from RotoBaller's Premium Tool.
54% contact rate last seven days (-22%)
It has been a wild dip for Bryant in the last week, with his Contact% down a massive 22%. Really this week has just been a blip on a very good season, in which is his hitting .291 with 21 home runs and has cut his strikeout rate down towards the 20% region. His SwStr% is marginally down on his career numbers, thanks to getting his O-Contact% back up above the 60% mark for just the second time in his career.
The key this year has been translating his Barrel% into exit velocity, which is up nearly three miles per hour compared to last season. Interestingly, his xBA is actually marginally lower than it was last year when he hit just .272 with a better BABIP. Some of that should concern his fantasy owners, but he has now .300 or better for three straight months, with 18 of the 21 runs coming in those three months. Right now Bryant is offering mixed messages, but if this cold slump contact wise continues another week it may be time to see if there is any value in a trade, just in case that .254 xBA catches back up to him.
60% contact rate last seven days (-17%)
It has been a super ugly week for Chapman, registering just one hit in 26 PA. However, that has not been reflective of his season so far, as he already has 23 home runs, a solid .264 batting average, and has cut his strikeout rate for the second year running. The drop in K% correlates with another drop in SwStr%, if only a minor one. Overall, his contact profile is pretty similar, with the exceptions of his O-Contact%, which has jumped 7% for the second year running so far.
The power has been the story of Chapman's success so far, with his HR/FB% jumping over 3%. That is in part thanks to his ranking in the 95th percentile when it comes to exit velocity this season. However, his exit velocity is marginally down on last year, but the slight increase in launch angle is just helping some of those extra balls leave the park. This blip is nothing to worry about as far as I am concerned. The shift away from line drives to fly balls is largely the reason for the batting average decline, but the drop off has not been big enough to cause any sort of alarm. If anything you should use this slump to attempt to trade for Chapman.
52% contact rate last seven days (-16%)
Kingery is certainly having a much improved season than his rookie year, as he has brought his batting average up to .273, already has 13 home runs, and is well on his way to double-digit stolen bases. However, much of the batting average success has been BABIP driven, as his K% has actually risen this season compared to last. A 29.7 K% is not pretty, and neither is a SwStr% of 15.2. A big part of the problem has been a massive decline in his O-Contact%, from close to 62% down to just below 53%. He has tempered that by reducing his O-Swing%, but even so, his Contact% has dropped below 70%.
What he does when he makes contact is very impressive, with a 18.1% HR/FB rate founded largely on a much improved average exit velocity. The contact profile offers a lot of concern as to whether he will continue to hit around .270, but based on what we are seeing when he does make contact there is a large potential Kingery can get to 20 home runs this season. His value to your fantasy team is therefore very dependent on what you need. Looking for some power? Stay with him. Looking for safer batting average? See what is available on the trade market.
Contact Rate Risers and Fallers - Premium Tool
Identifying top batting average surgers for each week can help you spot the best pickups before your competition. RotoBaller's Premium Contact Rate Risers and Fallers tool has you covered every day. As thoughtful fantasy baseball players, we won't lead you astray. Here is a small sample: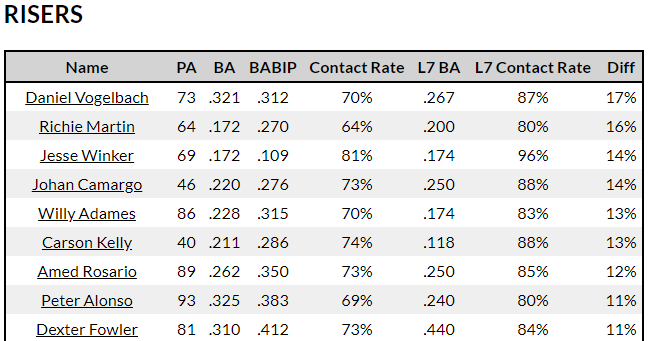 This type of data is available as part of our Premium MLB Subscription and launched on April 22nd for the 2019 season. Don't settle for basic stats and surface-level advice from other sites. RotoBaller brings you advanced statistics and professional analysis that you need to win your fantasy leagues and DFS games because we're ballers just like you. We are your secret weapon!
More Fantasy Baseball Advice and Analysis