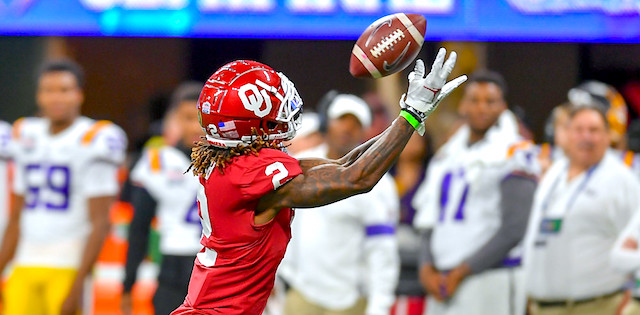 While the Cowboys may not have expected CeeDee Lamb, the talented Oklahoma Sooners wide receiver, to fall to them at 18th overall in the 2020 Draft, they made the correct choice in selecting him rather than reaching for a position of need like a cornerback. Lamb's fall in the draft from a potential top-10 selection to the Cowboys was peculiar but nonetheless, it is not the first time a clear elite talent has fallen further than expected (Randy Moss in 1998).
Lamb will begin 2020 as the WR3 in Dallas and start in their base 11-personnel alongside Amari Cooper and Michael Gallup. While usurping receivers who efficiently eclipsed over 1000 yards just last season will not be easy, Lamb is special enough to accomplish the task. He is the best bet of any WR from this class to end up a top-two round pick next draft season even though he has more competition than the likes of skilled first-rounders Justin Jefferson, Jalen Reagor, and Henry Ruggs III (Jerry Jeudy has the most difficult of any).
Just to clarify the title of this piece though, the assumption is not that CeeDee Lamb will finish as WR1 in scoring for Dallas but that he can take control of the WR1 role before season's end and into 2021. You should continue drafting Cooper well ahead of him and Gallup just above him. But Lamb could end the season at the top of the pile at a far lower ADP given the target distribution available from early on in the season.
Featured Promo: Get any full-season NFL Premium Pass for 50% off and win big in 2023. Exclusive access to our Premium articles, 15 lineup tools, new Team Sync platform, Lineup Optimizer, Premium DFS tools and cheat sheets, and much more!
Sign Up Now!
Lamb is a 2021 WR1
Dak Prescott is one of the more efficient and reliable passers in the league with a 65.8% completion rate and no games missed throughout his career. He has incrementally increased his pass attempts year-by-year from 459 his rookie year, to 490 as a sophomore, 526 in his third year, and 596 last season. While the volume climb will plateau at some point, it is a good bet to believe that it will not be 2020. Passing is often dictated by whether you are leading the game or not. Teams with substantial leads run more, teams in trailing, tied, or in close, late-game situations will pass more.
Also, talent dictates a good amount too. With the Cowboys adding Cooper/Gallup over the past two years, they have leaned on the pass given that they can efficiently operate. Last season, in particular, they were middle-of-the-pack in terms of playing with a lead/deficit.
The Cowboys' defensive ranking by weighted DVOA last season was 19th in the league and they just lost two key starters on that end: Byron Jones and Robert Quinn. They are now left with massive holes that they failed to properly fill over the offseason. While they still have Demarcus Lawrence wrecking tackles on one end of the line, opposite him is going to be some mix of Tyrone Crawford, the oft-suspended Randy Gregory/Aldon Smith duo, or fifth-round picks from the past two seasons, Joe Jackson and Brandley Anae. Whatever comes to start opposite Lawrence will surely be a downgrade from Quinn who just had his best season since hitting the Pro Bowl in 2014.
Byron Jones is probably even harder to replace given how much he has improved since the transition from safety early in his career to cornerback. Jones cemented himself as a premier, shut-down CB last season and was rightfully paid $82.5 million for five years with $57 million guaranteed. 2017 second-round pick, Chidobe Awuzie, will look to step into the CB1 role in Dallas but he will be hard-pressed to come close to replicating Jones' abilities on the perimeter. Awuzie has been a viable CB2 since getting drafted. However, he might not be suited to overtake the tasks asked of a primary CB.
Dallas has added some safety help in the form of HaHa Clinton-Dix to complement Xavier Woods in the back-end but neither of them is elite and capable of overcompensating for mediocre CB play despite possessing competent enough abilities in coverage. Trevon Diggs, the Cowboys' second-round rookie CB is probably going to see some snaps early on due to his draft capital and skillset but he is a few years away from anything close to CB1 duties (if at all) due to his tendency to lose receivers in space.
The loss of Maliek Collins is negated by the addition of veteran Gerald McCoy. Both McCoy and Collins serve similar duties and have produced similarly of late, which makes that transition marginal. A healthy Leighton Vander Esch returning is the biggest addition to this Cowboys' defense given that a neck injury obliterated his 2019 season and caused him to play poorly even when on the field.
Head Coach Mike McCarthy assigned Mike Nolan as defensive coordinator and while a new scheme could help mitigate the losses, I am firmly on the side of talent being more important than scheme. All-in-all, it is hard to envision that the Cowboys' defense looks any better heading into 2020, and is more likely to get worse if anything.
Vacated Targets
The Cowboys may have a front-loaded wide receiver room in four-time Pro Bowl WR Amari Cooper and a rising Michael Gallup but there's enough love from Dak Prescott to go around in 2020. With the departures of slot receiver Randall Cobb and former announcer Jason Witten, the Cowboys look to a fresh-faced receiving corps of Cooper, Gallup, Lamb, and Blake Jarwin to overtake primary receiving duties. Ezekiel Elliott will have his role as the short-area target/dump-off but likely will not be motioned out wide as better receiving backs like Alvin Kamara and Christian McCaffrey.
Disregarding more marginal target earners like Cedrick Wison, Tavon Austin and Devin Smith, the departures of Cobb and Witten open up over 160 targets going into 2020. While that may not be exact, again, we can assume the passing volume due to a poorer defense and playing with a deficit as often if not more will remain relatively high.
TE Blake Jarwin will be a major beneficiary from the shorter-area targets that had gone to Witten as well as seeing his fair share of work otherwise rising to TE1 on the roster. However, even by taking those away, along with the sprinkled looks around to Gallup, Cooper, and Pollard, Lamb should easily find a way to triple-digits. Lamb, Cooper, and Gallup should all deservedly hit at least 100 targets easily this season. If one of them were to get injured, that would skyrocket the other two into easy WR1 territory for the weeks that follow.
Michael Gallup missed two games early last season due to arthroscopic meniscus surgery which only kept him out for two games. Amari Cooper has only three games in his five year NFL career, however, he has suffered several ankle and foot injuries that he has played through. Short-term lower leg sprains are not the only deterrent for Cooper, he claims to have played through plantar fascitis during his rookie season which "got worse" as the year progressed. Nevertheless, he managed to play a full 16 and has for three out of his five seasons. There's no reason to assume that either of Cooper nor Gallup (Lamb as well for that matter) will see an injury recur that hinders their performance/ability to see the field but particularly, Cooper's injury history is something to keep in the back of your mind.
This Lamb is a GOAT
Lamb displays excellent ball-skills as a receiver at the point of attack and can contort to make high-difficulty catches in traffic. While his speed may not be the fastest receiver in the world, he uses his patience as a runner with the ball as an advantage over defenders. Lamb has a special stop-start ability. Much like Le'Veon Bell behind the line-of-scrimmage, he can shake around defenders to force them to miss and then break tackles with relative ease.
The scenario for him as a WR1 is simple. He will begin the year behind Gallup and Cooper on the target totem pole. Probably see a similar share early on in the same range as Zeke and Jarwin but if he were to shine with low volume early on (the expectation give his talent level) then the Cowboys will undoubtedly increase his target share to similar levels as their top-two receivers. From what we've seen from Cooper throughout his career and how Gallup projects as more of a vertical threat in the mid-to-deep field, it's fair to say that the Cowboys do not have a true alpha between them. Lamb could find himself as the 1A to Cooper's 1B by season's end and even lead the Cowboys in targets per game.
Hell, Gallup averaged more targets per game in 2019 as a sophomore (8.1 vs 7.4) than Cooper. If Lamb performs as well as he is capable of early on, he could absolutely top both of them by the end of the year and come into 2021 as the clear WR1.
There are also obvious trade rumors surrounding Jamal Adams of the Jets. Dallas is a ~loudly voiced~ landing spots given their need for secondary help and it is not impossible to envision Michael Gallup as part of a trade package given New York's need for receiver help along with Gallup's free-agent status next offseason. This would make the avenue to WR1 level targets MUCH for feasible but the situation seems unlikely as of now.
While Lamb did play in the offense-friendly Big-12 with Heisman-caliber/winning quarterbacks throughout his college career, the numbers he piled up and performances he displayed were overwhelmingly incredible. Lamb increased his yards per reception from 17.5-17.8-21.4 and scored 33 total touchdowns in those three seasons. He operated as a punt-returner given his skillset and was essentially his QBs' first-read these past two seasons with a quarter of his team's targets.
If none of this convinced you to believe in CeeDee Lamb as the WR1, just know that he is taking on the coveted number 88 jersey worn but historic Cowboy receivers Dez Bryant, Michael Irvin, and Drew Pearson. Buy in now because Lamb's price will not be cheaper for a long time.
More Fantasy Football Analysis