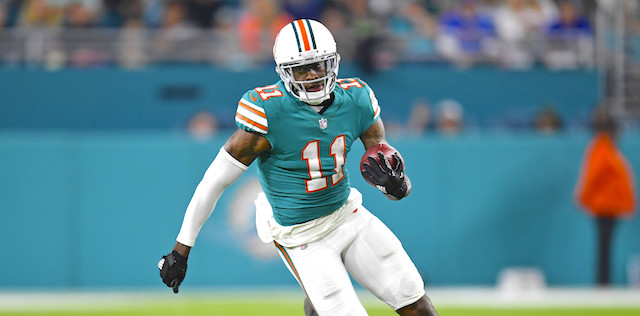 The fantasy football trade deadline is now imminent in most leagues. You must make your final trades either this week or next week in many leagues, whether they are private or public. The time to buy low and sell high is just about over in most cases. Now you must deal to either win this week or upgrade your team in any way you can before the playoffs start.
So stop wasting time with silly offers where you propose three guys for one star or attempt to deal your bench players for top guys on other teams. Stop wasting time.
Be prepared to give up something of significance to receive a quality return. If you simply have to win this week to keep your playoff hopes alive, do whatever it takes to plug your perceived holes in your Week 11 lineup.
Editor's Note: Get any full-season NFL Premium Pass for 50% off. Our exclusive In-Season Lineup Tools, Lineup Optimizer and over 150 days of Premium DFS Research.
Sign Up Now!
A Sensible Approach
I have one such example to share. In one league, I must win this week to maintain any postseason hopes. But I could certainly use an RB upgrade to further ensure victory. So I contacted one owner in my league that has been in existence since 2005.  He has always been easy to make a deal with. I tossed out the possibility of trading Patrick Mahomes for Tom Brady and David Montgomery. I obviously know this owner very well after many years and knew he would be open to acquiring the best QB in fantasy football. He's a big Patriots fan (who used to root for the Bills in the 1990s) and always loves to roster Brady but I knew I could sway him with a Mahomes offer.
He's fully open to doing the deal, and it makes sense for me to get Brady in a week where he is facing the Eagles. Plus, if my team survives, he faces the Texans in Week 13. Dallas, New England's opponent next week, is not a shut-down defense either. The other owner wants to do the trade, but I am waiting to see more reports on Montgomery's ankle before I complete the exchange. We had been discussing the deal right around the time Montgomery popped up as limited in practice on Wednesday. Ankle issues always concern me.
But let's not get sidetracked here on the injury. The main point is I am willing to give up a superstar to fill my needed gap in a must-win situation. Don't mess around, put together a respectable offer and do what you must to keep your team breathing or improve it for the postseason.
This week's buying targets are guys who can help you improve, and the sells are players you can give up to make needed improvements.
Buy 'Em
Derrick Henry, RB, TEN: It is easier to swing deals for players on bye weeks, especially if they are rostered by teams in must-win situations. If you are in a favorable spot in the standings and want to boost your postseason outlook, get Henry from a four or five-win team in your league. He has 10 total TDs and is more dependable than ever before. He is a wrecking ball who can also provide a big play at any time.
James Conner, RB, CLE: Many of his current owners have become frustrated with his health issues. Conner is indeed getting banged up often, but if you need a win and RB help this week, he should be ready to go against Cleveland. The Browns allow the fifth-most rushing yards to RBs and he faces them twice in the next three weeks. His other matchup is against the Bengals. Deal for Conner to survive and trade for Jaylen Samuels too if you want to feel safer about things.
Melvin Gordon, RB, LAC: There is still some lingering sour feelings on him after he held out and then started very slowly when he returned. But Gordon has four rushing TDs in his past three games and is coming on strong, as he registered his first 100-yard rushing performance of the season in his last outing. Gordon is rounding back into his best form and is a great trade pickup for teams higher in the standings. Four and five win teams should be less interested when you consider he has a Week 12 bye.
Chris Godwin, WR, TB: He has not caught a TD pass since Week 5, and his current owner may be getting antsy, as the upside is not there recently. This is a good time to swoop in and grab Godwin no matter what your record is.
Mohamed Sanu, WR, NE: He was a fine pickup for New England recently, and signaled that he is going to be an integral part of the Patriots passing game going forward with an impressive Week 9 performance. Sanu caught 10 passes for 81 yards and a TD and now gets the Eagles in a friendly Week 11 draw.
Tyler Lockett, WR, SEA: There are two big reasons to target Lockett right now if you are in a comfortable spot in the standings. He is on a bye and had a very recent injury scare. But published reports have indicated that his leg issue is not as serious as originally believed and he should be back after resting in Week 11. Acquire Josh Gordon too, just for further peace of mind.
Kyler Murray, QB, ARI: Have you noticed he is now the No. 5 QB in fantasy football? With a matchup against the 49ers on the Week 11 schedule, his current owner may be more willing to part with Murray. Plus he has a Week 12 bye. Acquire Murray for your postseason run if you are already in position to make the playoffs and you can stream another QB until then.
Tom Brady, QB, NE: You already read why I am targeting him right now. Two of his next three matchups are really good and he can be at least adequate against Dallas.
Jacob Hollister, TE, SEA: He has scored three times in his past two games and is effectively replacing the injured Will Dissly. He may even be a free agent in some leagues.
Gerald Everett, TE, LAR: He will continue to see frequent targets while Brandin Cooks is out, as Jared Goff must make higher percentage throws without his top deep threat in the mix.
Sell 'Em
Aaron Jones, RB, GB: If you are in a must-win situation you will get a nice return for Jones as he heads into a bye week. Get what you need and sell him to a team higher in the standings.
Damien Williams, RB, KC: He has apparently reclaimed the lead RB role for the Chiefs, but cannot be trusted. You may be able to sell him to a team that has a RB hole, especially for this week.
Keenan Allen, WR, LAC: There is a lot of name value still attached to him, but in reality Allen has not scored or topped 70 yards since Week 3.
Odell Beckham Jr.: If you need to win this week, you cannot wait any longer for the big performance that may never come. A team near the top of the standings may still want to take a chance on Beckham possibly providing improved production late in the season.
Russell Wilson (SEA), Lamar Jackson, (BAL), Patrick Mahomes (KC), QBs: If you have one of these three superstars, you can take a downgrade at a deep position and upgrade at another if you need to win this week, as I outlined earlier.
NOTE: We are sticking with our stance of not recommending any TEs to sell. If you have one of the better players at the position, you will need to keep him to win this week or to solidify your playoff chances. If you have two top TEs there is no major need to sell one. You could flex one of them, have good depth for injuries after the trade deadline passes, and will conceivably keep one of them away from the opposition in the postseason.
More Fantasy Football Analysis