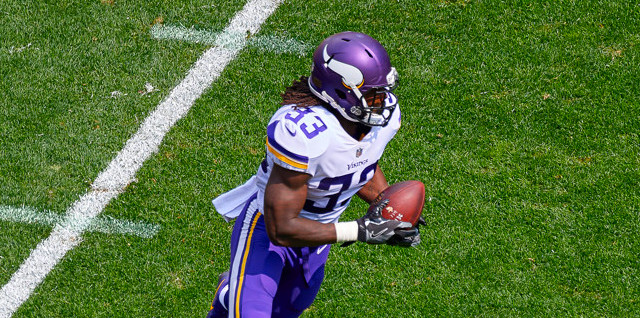 Our advance Fantasy Football Divisional series on Burning Questions for the 2019 season continues with hot topics to tackle from the NFC North.
The Packers still have the same signature player, but he is no longer the surefire No. 1 guy at his position. The Bears have an RB situation that must be cleared up for Fantasy purposes.
The Lions have a star RB in the making. So do the Vikings, but he cannot seem to stay on the field. Let's look at all four teams in the Norse division.
Editor's Note: Get any rest-of-season NFL Premium Pass for 50% off. Our exclusive DFS Tools, Lineup Optimizer and Premium DFS Research through the Super Bowl.
Sign Up Now!
Where should Aaron Rodgers be ranked at QB in 2019?
The King's Answer: Sometimes, even we Fantasy "experts" get locked in by certain narratives or longtime reflex functions. It seems just wrong to rank Rodgers anywhere outside of the Top 3 at QB. We are so used to putting him into that lofty preseason territory on an annual basis.
But injuries limited Rodgers to seven games in 2017 and hindered his overall performance in 2018. His 25 TD passes were the least he ever threw in a season where he played in at least 15 games. He will turn 36 years old late in the 2019 season, and Fantasy players are now at the point where it's valid to get concerned about his age.
Rodgers' receiving crew is also much less impressive overall than in seasons past. You could make an argument that Davante Adams is the best WR in Fantasy and one of the best ones in the NFL, but there are nothing but question marks surrounding him. Instead of the classic letter Gs on their helmets, the other Packers pass-catchers should have question marks on their headgear.
For the longest time, Rodgers and the Green Bay staff have made the running game a clear secondary option in the offense. That definitely hurt the team last season, when opponents were coming after Rodgers hard while he was playing injured. A new regime may put a higher emphasis on the running game. New head coach Matt LaFleur did show an affinity for a strong running game in Tennessee.
With Aaron Jones on the rise and showing a lot of promise last year, it would simply make sense for Green Bay to establish more offensive balance with the 2019 version of the team. Rodgers could obviously benefit from eased pressure of trying to carry the offense on his shoulders. Published reports may lead us to believe Rodgers may be irked by not being almost the entire offense anymore. But he could also be open to it if it means ensuring his health and leading the team to more victories.
If the Packers do indeed scale back the passing game some under LaFleur, we could see Rodgers' numbers take a slight overall hit from what we have been accustomed to. We could see a statistically-similar version to the 2015 Rodgers, who threw for 3,821 yards, and 31 TD passes. Rodgers finished as Fantasy QB6 this year.
If that is indeed the forecast, it is very hard to rank Rodgers ahead of Matt Ryan, who finished second at the position last season and there are no apparent reasons for an expected drop-off this year. Deshaun Watson has great potential to outscore Rodgers as well, especially as more of a dual threat.
Of course, if Rodgers somehow manages to stay healthy the whole year and Geronimo Allison solidifies himself as Green Bay's No. 2 WR and other shaky options including Jimmy Graham step forward, a revival season is possible. So Rodgers has to remain in the Top 5 at very least. I will have to put Ryan ahead of him but then it comes to be a very close call between Rodgers and Watson. I may have to go with Watson because of the additional rushing yardage and TDs.
So in my soon to be revised Fantasy QB rankings on RotoBaller, you will see Rodgers as my No. 5 QB. Honestly, I had him a bit higher initially, but after researching this piece and writing it, I have to drop him a bit while still giving him Top 5 respect.
How will the Bears revamped RB situation shake out?
The King's Answer: One thing is for sure. Tarik Cohen is destined to carry the ball even less than he did last season. The Bears acquired two guys who are capable of either being featured ball carriers or splitting the rushing workload. So instead of carrying 99 times like he did last season, he could see a similar amount of catches and a lesser amount of carries. That makes him a low-end RB2 at best in my estimation, and more of a pure flex play.
Many Fantasy players and analysts assume rookie David Montgomery has a red carpet rolled out to replace Jordan Howard. But it would be a mistake to overlook free agent pickup Mike Davis, who played well in some occasional increased opportunities in Seattle and should get a chance to compete for significant carries. In fact, even after Montgomery was drafted, Bears beat reporters predicted Davis would lead the team in carries in 2019.
So training camp and the preseason will tell us who opens the season as the lead runner for the Bears. It could even be a timeshare between Davis and Montgomery if the competition needs to be extended further or the Bears staff decides it is simply best to have the workload split. This situation is less in focus than many assume. Expect Cohen to define himself even more as a Darren Sproles type while Davis and Montgomery have to fight it out otherwise,
The King's Answer: Before last season, Lions GM Bob Quinn said he wanted to commit more to power football. So he invested in that vision by drafting Kerryon Johnson in the second round. Not only did Johnson fit the bill, his versatility made him even more appealing.
By Week 3, Johnson was rising as a Fantasy player, with a 16-carry, 101-yard outing against New England. He then had 21 carries for 125 yards and a TD over the next two games, and had his best game as a pro in Week 7, with 19 carries for 158 yards vs. Miami. He caught six passes for 69 yards in Week 8 and caught six for 38 and a TD in Week 10 and added a rushing score. He rushed for 87 yards and TD in Week 11. His season then ended because of a knee injury.
All reports indicate that Johnson is healthy and ready to be Detroit's lead RB in 2019. But Matt Patricia has already cautioned Johnson won't be over-utilized in 2018 to the point where he is getting nearly all the main touches. C.J. Anderson will get some work and Theo Riddick will still catch some passes. But Johnson has already proved he can make the most of every touch and still produce very good numbers. I would see his ceiling as a high-end RB2 and his floor as a mid-range RB2 if he stays healthy. I would not let him slip past the Top 15 PPR RBs taken.
Should we take another risk on Dalvin Cook this season?
The King's Answer: The electrifying, but frustrating Cook has started 14 games in two seasons for Minnesota. He has six total TDs. He has averaged 4.7 yards per carry so far in his career and has totaled 51 receptions. Cook has registered 1,364 yards from scrimmage so far.
Those would all be pretty darn good numbers if he played most of a full season, which has not seemed like a solid possibility so far. If he can somehow stay on the field for close to a full season and get into a rhythm, his upside could be even more apparent. The promise is tantalizing given his versatility and explosiveness when he is available.
This may be the final season where Cook is such a polarizing question mark. If he plays most of the schedule in 2019, he will have much more solid Fantasy stock heading into 2020. If he gets injured again, he will become the guy no one wants to draft as even a RB2 next season.
High-stakes Fantasy Football players will tell you that you don't win without taking gutsy risks. So while Cook is a enough of a question mark to the point where he cannot be drafted as a RB1, but if he plays most of the year he can finish as one. So you have to take the shot on him as a high-end RB2 and draft rookie Alexander Mattison for insurance as his likely handcuff.
More Fantasy Football Analysis
Check out all of RotoBaller's fantasy football rankings. Staff rankings are updated regularly for all positions and include standard formats, PPR scoring, tiered rankings and dynasty leagues.