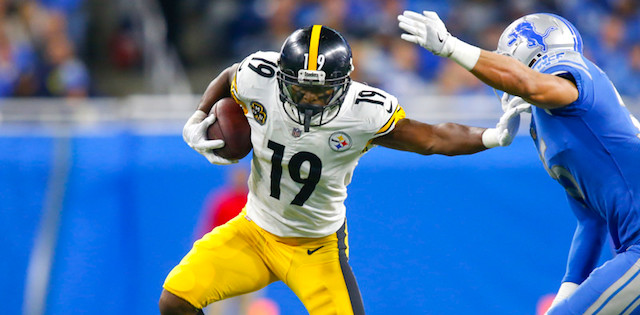 Our advance preseason divisional series on important Fantasy Football questions to tackle for the 2019 season continues with a look at hot topics in the AFC North.
We've already covered the following divisions, which you can read about by clicking the links: AFC East, AFC West, NFC East, NFC South, NFC North, and NFC West.
For today, we have a significant WR1 question in Pittsburgh, passing game questions in Baltimore, and lots to examine in Cleveland. What about Cincinnati? Read on, we're taking some editorial liberties in this installment.
Editor's Note: Get any full-season NFL Premium Pass for 50% off. Our exclusive In-Season Lineup Tools, Lineup Optimizer and over 150 days of Premium DFS Research.
Sign Up Now!
Pittsburgh Steelers
Burning Fantasy Football Question: Can JuJu Smith-Schuster continue to be a quality Fantasy WR1?
The King's Answer: Essentially, this question asks, can Smith-Schuster replace the departed Antonio Brown as the team's WR1? Well, the statistics may indicate that he already did that last season, when Smith-Schuster outperformed Brown in receptions and receiving yards. He finished as WR8 in PPR leagues, which states he was already a WR1.
The Steelers were so impressed with Smith-Schuster's breakout campaign that they decided it was O.K. to get rid of Brown in the offseason. I would have some confidence in what the Pittsburgh front office has deemed to be a situation they can live with, to depend on Smith-Schuster to fully replace Brown as the receiving target that defenses will fear most.
Of course, it is natural to wonder if JJSS can produce at such an incredibly high level without Brown commanding so much defensive attention. With no fully established WR2 across from him yet, opposing defenses will double team and add extra help to contain him. So expecting 110 catches and 1,400 yards again may be a bit much to ask. Brown's departure now puts a heavy opposing secondary focus on Smith-Schuster that will lead to some statistical regression.
Thankfully, though, Smith-Schuster has a QB who has adjusted to so much WR change over the years and has made stars of many different WRs. Before Brown, Ben Roethlisberger was a prime reason that Hines Ward, Santonio Holmes and Mike Wallace all stood out. So the future Hall of Famer will be able to adjust to yet another personnel change. Roethlisberger is coming off one of his best years and there's no reason to expect a significant drop-off in 2019.
I believe the Steelers are well prepared for this latest adjustment to their WR corps. They are consistently one of the best organizations in the game and I would trust their judgment more than other organizations. They knew James Conner could effectively replace Le'Veon Bell. So while I might expect a slight drop-off from Smith-Schuster in total catches and yardage, I would expect more TD catches than his seven of last year and I would be comfortable drafting him as a back-end fantasy WR1.
Baltimore Ravens
Burning Fantasy Football Question: Is anyone in the passing game going to be useful?
The King's Answer: Lamar Jackson went 6-1 and led the Ravens to the AFC North title, but he completed only 58.2 percent of his passes with six TDs and three INTs. The Ravens did move to bolster his receiving corps by drafting two wide receivers in the first three rounds. Jackson rushed for 695 yards and five TDs, so even moderate improvements as a passer could make him a high-end fantasy QB2 and streamer this year.
But while blazing rookie Marquise Brown and big target Miles Boykin are ideal additions for the longer term, the young QB is obviously a work in progress as a passer and cannot depend on first-year players to help him improve significantly enough. There will be a continued adjustment period for Jackson as his two potential top receivers try to work their way into the flow of the pro game. There is too much raw talent and inexperience all around to expect much of an impact in yearly leagues.
Willie Snead returns after being the leading receiver in 2018, and he is a nice safety valve for Jackson while the other WRs develop. But he caught only one TD pass and is more of a real-life asset than a fantasy producer. The one Raven I would watch to make a true impact, though, is second-year TE Mark Andrews. He caught passes of 74 and 66 yards from Jackson last season, the latter being an important catch-and-run TD in Week 16. He finished with 137 receiving yards in the final two games and could be one of Jackson's favored targets this season, especially because they have established familiarity. He should look to Andrews frequently on key downs and in scoring situations.
I would not draft either of the Ravens rookie WRs, but I would pinpoint Jackson as a possible high-end fantasy QB2. Andrews is a sleeper type who can earn fantasy TE1 status this season and think he is a nifty late-round flier.
Cleveland Browns
Burning Fantasy Football Question: Can I trust Nick Chubb as my Fantasy RB1 for the entire season?
The King's Answer: Chubb nearly rushed for 1,000 yards as a rookie, scoring eight times in just nine starts, so I'm very excited to see what he can do as a starter from the outset this season, especially as a TD finisher for a rapidly improving offense. But of course, there are obvious concerns about how Kareem Hunt will cut into his workload when he returns after an eight-game suspension.
The general feeling seems to be that Chubb can get you to the playoffs, but will his workload be reduced to the point where you cannot rely on him to make a deep playoff run? Can you count on him in the fantasy playoffs, when it truly matters the most, or will he just be a guy in a timeshare?
My take is that if Chubb continues to be the same runner he was last season for the first eight weeks, it is going to be hard for the Browns to feature Hunt over him at any point. Let's also remember that after eight missed weeks, conditioning could be an issue for Chubb. There is no way to replicate regular game conditions for him. So he might not be able to become a notable contributor for the Browns until the double-figure weeks of the regular season.
Yes, there is indeed a danger that Hunt could share some time with Chubb late in the year. But when I am drafting my team, I cannot worry about Week 10 or 11. My roster will change so much by then, and there is always the danger of a Chubb injury or the possibility that Hunt gets injured and he never becomes much of an issue. Much of the fantasy landscape will look different by the time Hunt returns. It's just too much of an unknown factor. And many RBs outside the Top 8 or so have their own question marks.
I am very confident in Chubb being a very productive featured RB for at least 9-10 weeks. And it's not like he is going to come off the field after that. If there was no Hunt lurking he would be an easy RB1 pick for me. But I  do know that he will serve me very well for a half-season plus and maybe more, so I will take him as a back-end RB1 and draft accordingly behind him. On Draft Day, I cannot overly concern myself with a Week 12 scenario. I need to get there first, and Chubb will take me there. I'll deal with the rest later, as I always do.
Bonus Browns Fantasy Football Burning Question: Where do you rank Baker Mayfield at fantasy QB in 2019?
The King's Answer: See the editorial direction I took here? I left out the Bengals. We know what they are fantasy wise. Joe Mixon is a quality RB1, A.J. Green has to stay healthy, and Andy Dalton is erratic. Tyler Boyd is a fine fantasy WR2 pick. That is all. No reason to waste more space on Cincinnati when the Browns deserve more pressing attention.
I covered this topic extensively when I did a full column on Mayfield being overdrafted in early expert mocks. I saw him picked as a top-five fantasy QB in two May mocks. One was a dynasty startup, which made Mayfield obviously more appealing, but he still has not proven enough yet to be a Top 5 guy in any format. Mayfield did throw for over 3,700 yards with 27 TDs as a rookie. I like him as a possible fantasy starter. But he also had 17 turnovers and defenses will be prepared for him to be the starter out of the gate this year after coordinators studied much film on him in the offseason. So a lofty rating has to be earned, not handed to him.
Yes, the addition of Odell Beckham Jr. obviously makes Mayfield very appealing, I don't disagree. But I would obviously not take him over Mahomes or Luck. Matt Ryan is going to have another great year with Calvin Ridley stepping forward. Deshaun Watson is more of a dual threat. I am not ready to just give Mayfield a ranking over Aaron Rodgers. Russell Wilson is much more proven and is another dual threat, and he always finds ways to be ranked among the better fantasy QBs at the end of the season. Jared Goff was playing at a very high level last year before he lost Cooper Kupp, and Kupp is back. Roethlisberger still plays at a very high level. I am excited to see what I can get from a healthy Carson Wentz.
There's at least nine more proven QBs I will take ahead of Mayfield. Philip Rivers is underrated every year and is so safe as a fantasy QB, and I could make debates for either him or Drew Brees over Mayfield, but I am fine with taking Mayfield over those two and maybe Wentz because of health worries.
I would not consider ranking Mayfield higher than 10th at fantasy QB this year. I like him too, but I am not going to overrate him. He's a back-end fantasy QB1 at best until he earns higher status. Ultimately, I probably won't end up with him on any of my teams this year, because I prefer to wait until at least the sixth round for my QB, and the Cleveland offseason hype machine and the OBJ addition will consistently mean he goes ahead of more proven passers that I can take later on.
More Fantasy Football Analysis
Check out all of RotoBaller's fantasy football rankings. Staff rankings are updated regularly for all positions and include standard formats, PPR scoring, tiered rankings and dynasty leagues.