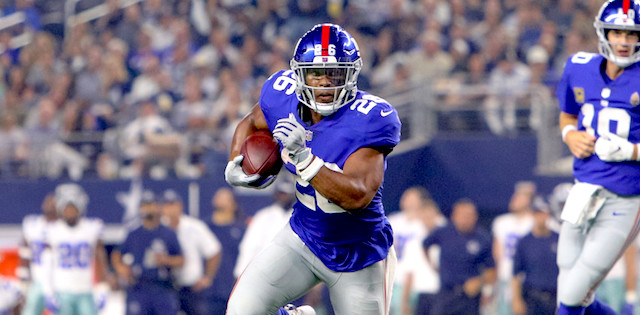 As the 2019 NFL season approaches, the minds of owners are filled with many questions that need to be answered. In our divisional series where we tackle one prominent fantasy issue from every team, we now move on to the NFC East.
In this series, The King (Scott Engel) goes division-by-division to take an early look at what issues must be solved for fantasy owners beginning in the preseason.
We began in the NFC West, so check out that article right here. Now, on to our next edition of Burning Fantasy Football Questions for 2019.
Editor's Note: Get any rest-of-season NFL Premium Pass for 50% off. Our exclusive DFS Tools, Lineup Optimizer and Premium DFS Research through the Super Bowl.
Sign Up Now!
Dallas Cowboys
Burning Fantasy Football Question: Who will be the No. 2 WR for the Cowboys? And can we use him as a fantasy starter?
The King's Answer: Many fantasy players will assume that Randall Cobb may have an opportunity to re-emerge here. They remember the name, and they remember the 2014 season, when he had a 91/1,287/12 stat line. But while he posted respectable catch numbers thereafter, he never reached 900 receiving yards again, and his best TD total was half of the '14 number. By 2018, he was reduced to a 38/383/2 line. Injuries have most notably cut into his potential production. This is his ninth NFL season and he has been banged up a lot, and the health issues have seemed to curtail what he can deliver.
Meanwhile, Michael Gallup may be on the verge of becoming a quality starter for Dallas. He started to show more flashes of promise late in 2018 and stepped forward as a key performer in the postseason. Gallup has big-play potential and can take advantage of the defensive attention that Ezekiel Elliott and Amari Cooper will command. He is younger and has more upside. Cobb could settle in nicely as a third wideout for the Cowboys, but it's Gallup I am betting on here. I will take potential over a somewhat unlikely bounce-back situation.
New York Giants
Burning Fantasy Football Question: Will Saquon Barkley's production slip without Odell Beckham on the team?
The King's Answer: This question is the product of the Giants losing Beckham and the potential of Barkley seeing stacked fronts and eight-man boxes because there is no longer a major downfield threat for defenses to be wary of. Opponents may not respect a passing game that not only lacks a star WR, but will be guided by either a has-been or newbie passer, neither of which are garnering much favor outside of the Giants' team complex. Defenses can key on Barkley and force the Giants to beat them in the air. It's s strategic approach even the average fan can see coming. Stop Barkley and you stop the Giants, yes?
To a certain degree, that is possible. Maybe to the point where you draft Ezekiel Elliott or Christian McCaffrey over Barkley when you are splitting hairs in the Top 3. But that may be where the dropping of him stops. Barkley's versatility dictates that the Giants can get him in open space as well, and with the departure of OBJ, they will give him a ton of opportunities as both a ball carrier and a receiver. Plus, defenses won't always be able to contain a supreme talent like Barkley just because they are attempting to do so. Opponents always loaded up against Adrian Peterson, for example, and he still rolled over them. AP was not a dual threat like Barkley, either.
Plus, the Giants do have at least a decent receiving crew to sustain some offensive balance. They may exhibit a conservative passing game, but a resurgent Golden Tate, plus Evan Engram and Sterling Shepard, can help the air attack at least be adequate. The New York offense isn't just going to be Barkley and nothing else. They drafted Daniel Jones to operate a high percentage passing game to complement their star RB.
So the ultimate answer is that it won't be as simple as it seems to stop Barkley, so you still have at least draft him as a top-four RB if you are concerned he is not quite worth the No. 1 overall selection.
Philadelphia Eagles
Fantasy Football Burning Question: Which Eagles RB should be drafted first in 2019?
The King's Answer: Ask the average fantasy player this question, and they will easily say Miles Sanders. Many owners already view Jordan Howard as a failure of sorts, and when rookies are given a significant opportunity to seize, Fantasy players often get very excited about new pros who get a chance to fill a perceived area of need, sometimes to the point where they overrate a rookie.
Sanders is indeed exciting and is a dual threat. He is elusive and is a quality pass receiver out of the backfield. But Howard is more of an inside runner and short-yardage type. He has scored nine times in each of the past two seasons. He also rushed for 1,100-plus yards in two of his first three NFL campaigns.
To me, there is a pretty apparent RB structure ahead this year in Philly. It's going to be a timeshare, with Howard as the inside and goal-line runner, and Sanders being the perimeter RB and preferred receiver. So that makes them both possible flex plays. In a PPR league, I will want Sanders first. In a non-PPR, I will opt for Howard. Sanders has a lot of potential but Howard has run hard in the past and knows he has to battle to keep a role, so I don't think he will simply fade away while Sanders shines.
Washington Redskins
Fantasy Football Burning Question: Are any Redskins players really worth drafting?
The King's Answer: Only in the late rounds, maybe a few guys are worth fliers in yearly leagues. Most notably, Adrian Peterson can still be good for depth and bye week usage, but if Derrius Guice can regain relevancy, he could hurt AP's already minuscule appeal. But such a scenario would mean that Guice himself is rounding into form to the point where we might start to wonder about his potential in a positive way again. Rookie Bryce Love is worth a late stab in deeper leagues, too.
Jordan Reed is simply a major headache you want to avoid. I cannot see Josh Doctson or Paul Richardson being worth a draft choice, as one is already a bust and the other is an injury-prone guy, and both are working with a rookie QB. The only WR worth taking a flier on is rookie Terry McLaurin, because he played with Dwayne Haskins in college. Haskins lacks weaponry here, making him irrelevant for now in redraft leagues.
More Fantasy Football Analysis
Check out all of RotoBaller's fantasy football rankings. Staff rankings are updated regularly for all positions and include standard formats, PPR scoring, tiered rankings and dynasty leagues.