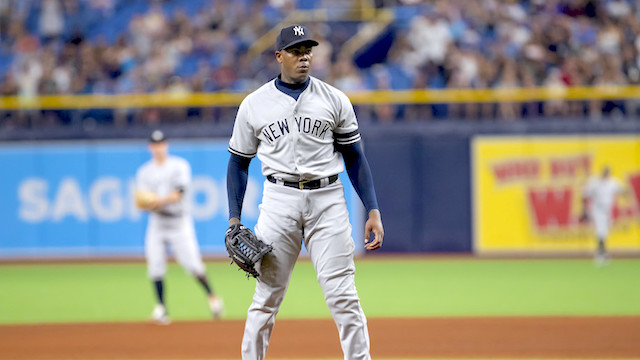 It's bold prediction time! Everybody's favorite time of year. Last year, I put out my bold prediction article and it was the second straight year of being all over the place with my results. Some of the predictions hit, like Randy Arozarena being outside the top-30 outfielders, Sixto Sanchez being the least valuable Marlins starter, and Trevor Bauer being outside of the top-15 starting pitchers (which, I guess, counts). However, I also claimed Jarren Duran would be the second-best rookie outfielder in fantasy, that Lucas Sims would be a top-15 closer, and that Kyle Crick and Jose Alvarado would lead their team in saves. Woof.
To be honest, I kind of have no idea where to start when it comes to bold predictions. How do you know how bold to be? Who arbitrates whether it's bold enough? There's so much gray area in what should be a fun column to write. So I decided to just look at it as an opportunity to plant my flags on players I like and those I'm avoiding. Some of these are guys I have lots of shares of this year and others are ones I just didn't have the cojones to pull the trigger on.
As is the case every year, bold prediction articles are meant to be fun. Don't drastically alter your draft strategy with our bold calls in mind, but maybe use it as an opportunity to take a deeper look at certain players. Hopefully, this article will enlighten you as to why I'm "in" or "out" on certain players and add to your own analysis.
Featured Promo: Get your 2023 MLB Premium Pass for 50% off. Exclusive access to our preseason Draft Kit, #1 accuracy rankings, #1 ATC projections, Team Sync platform, Live Draft Assistant, 15 in-season lineup tools, customized rankings and much more!
Sign Up Now!
Luke Voit is a Top-7 First Baseman
Vladimir Guerrero Jr. Matt Olson. Freddie Freeman. Pete Alonso. Paul Goldschmidt. Joey Votto. Luke Voit. That's how the 1B rankings will end up in terms of dollar value earned. Luke Voit finds himself with an everyday job in a good lineup, and we should be buying in. Last year he had a 15.8% barrel rate (94th-percentile), a 90th-percentile rate of barrels hit over 100 mph, an 86th-percentile xwOBA, and an 81st-percentile rate of balls in the air hit over 100 mph. We know that the 35% HR/FB ratio Voit had in the short 2020 season was a bit flukey, but it was also likely tied to his career-high pull rate that year. Considering his fly-ball rate and quality of contact didn't really change last year, it's possible that Voit can push beyond his career 25% HR/FB rate if he's able to get the bat through the zone quicker again now that he's fully healthy.
Also, we need to address the statement that Voit is injury-prone. It's just not fair to the big man and likely caused by people simply glancing at his Fangraphs page. Voit was a part-time player in St. Louis not because of injuries but because of over-crowding. He was traded to the Yankees in the middle of the 2018 season and played in 39 games after the deadline. He played 118 games in 2019 and 56 games in the COVID-shortened 2020, so last season was really the only season he was expected to be a full-time player and wasn't able to remain healthy for it. I expect the new team to invigorate him and if we're being bold and saying that the universal DH will help us get at least 140+ games of Voit this year, we'll see big production.
Jason Adam Leads Tampa Bay in Saves
Listen, every year there is a reliever in Tampa who comes out of nowhere and then becomes a fantasy darling. Who had heard of Pete Fairbanks two years ago? How about Andrew Kittredge last year? Now Kittredge is the center of fantasy debates about whether or not he can get 20 saves. Well, what if we say he won't because the Rays will deploy him whenever they need big outs and that will leave save opportunities over for Adam, who didn't sign with Tampa until the middle of March. The team has been pleased with how he performed this spring and has encouraged him to throw his breaking balls as much as possible. Based on what we've seen so far, I would say that's a good idea.
This is an anti-Aroldis Chapman prediction. Something just doesn't seem right there. Last year, Greg Jewett of The Athletic and Reliever Recon did a great job of breaking down Chapman's issues with his fastball. We knew that Chapman would lose that upper echelon velocity as he got older, but he experienced numerous stretches last year where he just couldn't get swinging strikes on the pitch. Meanwhile, Loaisiga looked electric at times.
With Chapman 34-years-old and in the last year of his contract, I don't think the Yankees will be precious with him if he's ineffective. This is a team that NEEDS to compete, so they will make the move if he's not effective. And if the season really goes south, we've already seen them trade Chapman away, so I wouldn't be shocked if they do it again.
Reid Detmers is the Top Rookie Starting Pitcher and Top-3 ROY
I covered Detmers in my "My Guys" piece, so I'm just going to double down. I think Detmers will be the highest-earning rookie starting pitcher by dollar value, and I think he'll finish in the top three in the AL Rookie of the Year voting. Y'all can have your Matt Brash love (I actually really like him too), but I'm hitching my wagon to Detmers.
Detmers throws mid-90s from the left side but has two really solid breaking balls in a slider and a curve. The curve had just a 2.66 deserved ERA (dERA) in 2021 with a 12.1 SwStr% and a 35.4% CSW, while the slider was Detmers' best swing-and-miss pitch with a 17.6 SwStr%, which is why he throws it 30% of the time in two-strike counts. It had a 3.19 dERA and allowed just a 4.3% barrel rate in 2021. I expect Detmers to have learned that he can't simply use velocity to beat major league hitters, so I expect better location with the fastball and sequencing with his offspeed to really make the leap.
Cal Raleigh finishes top-5 in HR at the position
I had a bold prediction about Raleigh last year, and it didn't pay off, but I'm going back to the well here. During the 2019 minor league season, Raleigh hit .251/.323/.497 with 29 HRs and 82 RBIs in 121 games. However, in his 47 major league games last year, he hit just .180/.223/.309 with two home runs. Yet, just like my Detmers pick above, we're going to bet on a strong prospect turning things around after a rough debut.
Raleigh learned from his struggles last year and came into spring with a different approach to his at-bats: He improved his "mental cues, preparation going into the box, your approach … I clean that up. I've spread out a little bit more and my hands are higher and I'm in a better position to hit. No major swing changes but things that will help me get to better spots." His swing has looked quicker this spring, and I believe it's foolish to believe that hitters are what they are after one or two seasons at this level. I still believe Raleigh can be a .240 hitter at the major league level, and with his improved defense and impressive slugging ability, I think that allows him to carve out the lead in the Mariners' timeshare.
Plus, who doesn't love "Beefy Boy" triples?
Josh Lowe Leads the AL in Steals
You know, I heard Paul Sporer mention on a recent podcast that he was happy when people in his Discord chat were keeping their Josh Lowe projections in check. WELL, SCREW THAT, PAUL! I mean, Paul's probably right that we shouldn't over-value rookies, but I'm also way over-invested in Lowe. I have him in dynasty leagues, draft-and-hold leagues, OC Qualifiers, and my home league. I'm just Leonardo DiCaprio at the front of the ship right now (which I guess makes Lowe the ship, which is weird).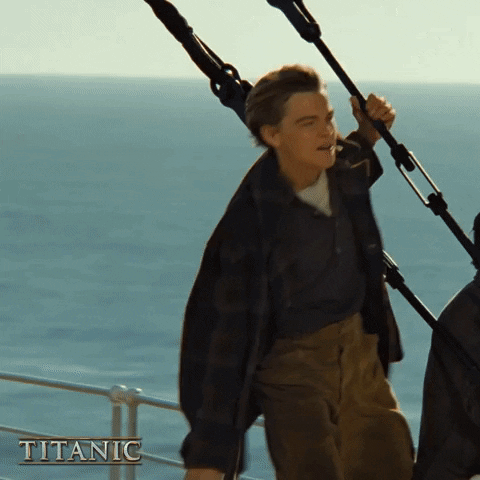 Yes, Lowe has some swing-and-miss in his game, but he also has a legit power/speed combo. Last year, in 111 Triple-A games, he hit 22 home runs and stole 26 bases. He's one the Rays' top prospects, so if he's up in the big leagues, it's because he's playing regularly. They are not going to keep him up here as a bench asset. I think his average will struggle early on, but the defense plays and the power/speed will keep him in the lineup, so 20 stolen bases for him is reasonable in a full season.
But we're not being reasonable. I'm going to say that Lowe steals 28 bases and because Myles Straw loses his starting job and Aldaberto Mondesi gets hurt, that will be enough for Lowe to sit atop the American League.
Robbie Grossman is Not Rosterable in 15-Team Leagues By the Summer
I have been known to pour cold water on a Robbie Grossman take or two. Sorry, I'm just not a believer when it comes to fantasy. Last year, he had just a 38.4% swing rate, which was good for the second percentile in the league. The dude LOVES to keep the bat on his shoulder. Yet, that seems to be working for him since he posted a 14.6% walk rate last year and has had double-digit walk rates in every year where he's played over 66% of the season.
You may think that's good for a speedster like Grossman, but the truth is that he isn't really one. Grossman had never had double-digit steals in a season before 2021 and ranked 168th in baseball last year in time from home to first, tied with Kris Bryant and Didi Gregorious. If you're more of a fan of Sprint Speed, he ranked 204th (tied with Mark Canha and Alec Bohm).
I also don't buy the power. He only had a 7.6% barrel rate and 87.8 mph average exit velocity last year, both below average. He also only hit the ball an average of 90.7 mph in the air, which was good for the 14th-percentile in all of baseball. So Grossman might be more of a 15/15 guy at best, which is fine but not good enough for these Tigers. I like this Detroit team and think that they can make a playoff push, so when Riley Greene is healthy over the summer, he is going to push Grossman out of the starting lineup as the team looks to the future with a Greene-Akil Baddoo-Austin Meadows outfield.
Download Our Free News & Alerts Mobile App
Like what you see? Download our updated fantasy baseball app for iPhone and Android with 24x7 player news, injury alerts, sleepers, prospects & more. All free!


More Fantasy Baseball Advice