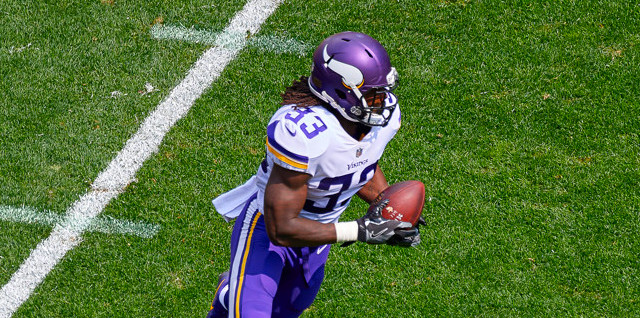 I mean, if you're not putting out absolute fire takes in the preseason, can you REALLY call yourself a fantasy football analyst?
Some of Rotoballer's big dogs are bringing you their bold predictions for the 2018 fantasy football season, and we might as well kick it off with the biggest dog in the yard, right? Your friendly neighborhood Roto_Dubs (Bill Dubiel) here, and I'm going to start things off with some of the spiciest, money-in-the-bank predictions that you ever did see.
This is just the first in our bold predictions series, so check back at RotoBaller.com every day for the latest and greatest in bold calls, shots in the dark and downright foolishness. There's a very real chance that none of what we claim will actually come to fruition, but we've been known to nail a few every year. Which ones seem the most plausible to you?
Editor's Note: Get any full-season NFL Premium Pass for 50% off. Our exclusive In-Season Lineup Tools, Lineup Optimizer and over 150 days of Premium DFS Research.
Sign Up Now!
Bill Dubiel's Bold Predictions
Dalvin Cook will be a top-three fantasy running back this season.
In case you missed my ADP throwdown with Dom about Dalvin Cook vs. Kareem Hunt, let me give you the big idea--I'm the conductor on the Dalvin Cook hype train. My big point about Cook is that the opportunity is there for him to be an absolute monster this year. He was well on his way to being a bell-cow last year despite the presence of Latavius Murray and Jerick McKinnon, and now pass-catching specialist McKinnon is out of the picture.
I simply don't buy the coach-speak about Murray seeing legitimate touches this year, and even if it's a Devonta Freeman/Tevin Coleman scenario, the production that's going to come from the lion's share of that committee will be incredible. Cook was an RB1 with competition last year and Case Keenum under center--now his top threat for touches is gone and he's catching passes from Kirk Cousins. We're going to be talking about Cook in the same sentence as Todd Gurley, David Johnson and Le'Veon Bell this time next year.
Cooper Kupp will be a top-20 fantasy wide receiver this season.
But didn't the Rams bring in Brandin Cooks? They sure did, my fellow Rotoballers, and I'm saying Kupp only gets better because of it. Cooks should help draw attention in much the same way Robert Woods and Sammy Watkins did last year, and Kupp did so very much damage even as a rookie last year. 869 yards and five touchdowns came from the slot last year, and with the Rams leading the NFL in three-wide sets I don't see any sort of drop-off in looks for Kupp.
He had a ridiculous 23 targets in the red zone, so I anticipate his touchdown total going up if he can capitalize on even a few more of those looks. He finished as the WR24 last season and despite the addition of the field-stretching Cooks, I think Cooper Kupp takes a major step forward in 2018.
Zach Ertz finishes the season as the TE1 in 2018.
I'm bold, but I'm not crazy. I think for this to happen, Rob Gronkowski has to miss time, and that's certainly a very real possibility given his prolific injury history. The big challenge for Ertz is going to be overcoming Travis Kelce. Kelce was utterly dominant last year, catching the most passes (83) of any tight end last year while also eclipsing 1,000 yards and scoring eight times.
The big factor here is in the quarterback situation. Kelce hit those numbers last year thanks to a career year from Alex Smith, and I don't think that Patrick Mahomes, talented though he is, can help Kelce match that efficiency. The Chiefs' tight end is ultra-talented, and I'm willing to bet he can still find the end zone eight times, but the connection Ertz has with Carson Wentz is undeniable, and I think they take the final step towards dominance in 2018.
The top three fantasy quarterbacks will be Aaron Rodgers, Russell Wilson, and...Kirk Cousins.
Don't worry about Brady, we'll get there in a minute. The big thing to take away here is my belief in Kirk Cousins. In case you couldn't tell by the Dalvin prediction about, I'm all-in on the Vikings this year. They're my Super Bowl pick, as they're incredibly talented and well-coached on both sides of the ball, and the upgrade from Case Keenum to Kirk Cousins should be the final piece of the puzzle for them.
Cousins has been a top-eight fantasy quarterback for each of the past three seasons in Washington, a minor miracle given how little support he's had around him. At different times in that span, the receiving corps, rushing game and offensive line have been different stages of terrible, and Cousins persevered with production all the same. Now he steps into an ideal situation--a lethal set of weapons to work with including Stefon Diggs, Adam Thielen and red zone monster Kyle Rudolph, a running game that defenses will have no choice but to respect, and a top-end offensive line that should keep his jersey clean most games. Cousins should be able to sleepwalk to 4,000 yards and 35 touchdowns in this offense as long as he stays healthy.
Alex Collins finishes as a top-10 fantasy running back.
Collins was dominant in the second half of last season, capitalizing pretty much as soon as he started regularly receiving 15+ touches a game around Week 8. Collins technically started in just 12 games last year, but piled up 973 yards thanks to a beastly 4.6 YPC, 2.1 of which came after contact (I know that's not how the stats work, just...okay?).
He should be used as the bell-cow from Jump Street this year, which is why I think he can be a top-10 back despite lackluster receiving numbers. Kenneth Dixon will likely see the majority of those snaps, but if Collins can be as dominant in the run game, he should still be able to sneak into the top-10, especially with the return of dominant guard Marshal Yanda to clear the way.
Kelvin Benjamin posts his best fantasy season yet in 2018.
Allow me to be a self-loathing fan here for a minute here. The Bills are "v bad", as the young people say on Twitter. The offensive line is a mess, to call the receiving corps "weak" is the understatement of the year, their best offensive weapon may be facing a domestic violence suspension and they don't have a starting-caliber NFL quarterback on their roster right now. They're going to lose a lot of games this season.
But ya know what happens at the end of those games? GARBAGE TIME, BABY. This is where the big-bodied Kelvin Benjamin can eat. As the Bills play from behind, Benjamin will be the starting quarterback (I expect to run through several) of the day's go-to as they try to claw back from behind. Benjamin's best season was his rookie year, in which he posted a 73-1,008-9 line. With virtually nobody in the receiving corps to steal looks from him, I can see a DeAndre Hopkins-level target share for Benjamin, and I believe he can parlay that into a 1,000-yard season no matter who's under center. Now about those knees...
Tom Brady will not be a top-10 QB in 2018.
"...he typed angrily, looking out over the Buffalo skyline. Perhaps this is the year, he thought. Brady has no receivers besides Chris Hogan, that traitorous snake, and the perpetually injured Gronk, and maybe this is the year his production falls off a cliff. A foolish thought, but one he revels in all the same during late August every year. He finished his Labatt Blue Light and closed the laptop, shuddering as he thought back to the Bills pre-season game against the Bengals.
"It's going to be a long season," he muttered to himself, turning off the lights and shuffling down the hall."
More Bold Predictions