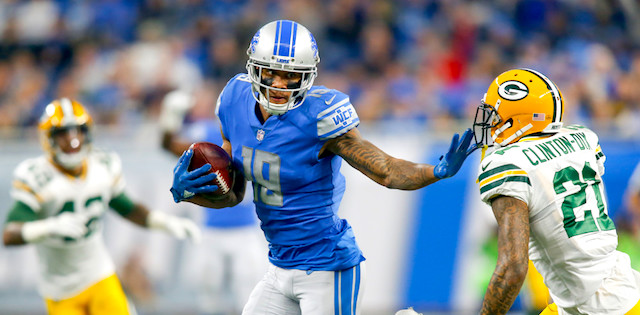 We are advancing through June with rising optimism that a 17-game regular season will eventually unfold. The team at RotoBaller shares your enthusiasm while providing you with non-stop news, and analysis. This is designed to help you prepare for upcoming drafts, and reshape your current rosters. We are also making continual updates to our tiered rankings in every format.
That includes the enormously popular Best-Ball leagues, which present the opportunity to construct your teams without requiring any form of in-season management. This makes it essential for you to assemble rosters that can withstand injuries and insufficient production without the benefit of a waiver wire.
That is why we also supply you with a detailed breakdown of our rankings, which incorporates analysis on the players to target during your draft process, and the performers to avoid at their current ADPs. This article will focus on wide receivers which will perform an integral role in your efforts to capture league championships. We will continue to update rankings in every format throughout the offseason and you can find the latest rankings here.
Featured Promo: Battle it out on Bettle with your season-long lineups! Join the free RotoBaller weekly contests on Bettle -- just important your season-long lineups and enter! Winners get a free year of RotoBaller Premium access for all sports ($450 value) plus another free $50 in Bettle credits!
Join Now!
WR Best-Ball Rankings
Tier 1
Michael Thomas, Tyreek Hill, Davante Adams, Chris Godwin, Julio Jones, DeAndre Hopkins
Thomas has delivered a steady increase in receptions and receiving yards during each of his four NFL seasons while accruing 32 touchdowns during that span. His name was prominent atop a number of major receiving categories during his career-best 2019 season. That includes his WR1 finish in scoring, targets (185), receptions (149), and receiving yards (1,735). He also finished first in red zone targets (26), team target share (33), and also generated more 100-yard performances than any other receiver (10). Replicating those numbers will present a challenge. But there should be no hesitation in making Thomas the first selection at his position.
Hill entered Week 6 with just two targets, two receptions, and 16 scoreless yards. But he overcame his protracted shoulder issue to average 8.0 targets, 5.3 receptions, and 77 yards per game from Weeks 8-17. He also finished fourth overall in air yards per snap and produced seven touchdowns during his final 11 matchups. The dynamic Hill has now accumulated 53 receptions of 20+ yards, and 26 catches of 40+ yards since 2017. His return to health should fuel a top-five finish in yardage and touchdowns, which preserves his status as a top-four receiver during your drafts.
Adams' lingering turf toe issue also delivered significant pain to his owners from Weeks 5-8. But his production soared following a return to health,  as he averaged 11.4 targets, 7.3 receptions, and 82.5 yards per game during Green Bay's final seven contests. He was also second in targets from Weeks 12-17 (70) and tied for the league lead in touchdowns (5). The Packers shockingly abstained from reinforcing their receiving arsenal during the draft, which leaves Adams to operate without any semblance of a threat to his WR1 responsibilities. This will allow him to commandeer an enormous target share and cements him as a Round 1 selection.
Godwin's ascension into elite status provided enormous incentive to target him as your WR1 even before Tom Brady's transition to Tampa. His enticing combination of size, speed, and athleticism has sustained a steady progression in usage and production from 2017-2019. That statistical rise culminated in last year's WR2 finish, while he was also third in yardage (1,333), and touchdowns (9). Godwin led all receivers in Football Outsiders' DVOA (Defense-Adjusted Value Over Average) and was second in DYAR (Defense-Adjusted Yards Above Replacement. He is primed to flourish in his fourth season and should be selected among the first five receivers in your drafts.
JULIO. JONES.

The fastest WR to hit 12,000 career yards.

? - https://t.co/8YtBlWE09c pic.twitter.com/58GRKBLQOS

— Atlanta Falcons (@AtlantaFalcons) December 22, 2019
Jones has accrued 9,388 yards since 2014 while averaging 1,565 per year during that span. This has propelled the 31-year old to 12,000 career yards faster than any receiver in NFL history (125 games). He has also averaged 162 targets and 104 receptions while finishing among the top seven in scoring during each of his last six seasons. There was no discernible drop off in 2019, as he finished second in targets (157) and receiving yards (1,394). He also led the NFL in air yards (1,911) tied for second in 100-yard performances and was third in receptions of 20+ (21). He remains a valuable resource that can operate as a WR1 for his owners.
It is unlikely that Hopkins will receive the massive target totals that he accumulated with Houston while operating with WR1 responsibilities in Arizona. He averaged 166 from 2015-2019 and finished among the top five in four of those five seasons. The extensive usage also propelled him to averages of 101 receptions and 1,318 yards during that sequence. That includes his output last season (104 receptions/1,165 yards), as he finished second in team target share, and third in yards before catch (1,185). His ADP has dropped three slots since his trade to the Cardinals. But he is entrenched among the top six receiving options for owners.
Tier 2
Kenny Golladay, Mike Evans, Amari Cooper, D.J. Moore 
These Kenny Golladay catches are just RIDICULOUS.@kgxix's best grabs of 2019! ? pic.twitter.com/E1B38RxTrd

— NFL (@NFL) February 15, 2020
Golladay has operated as Detroit's primary receiver for the past two seasons while collecting 235 targets, 135 receptions, and 2,253 yards. That includes the career-best 1,190 yards that he assembled during 2019. He also generated a league-high 11 touchdowns and soared to WR3 in standard scoring despite being limited to eight games with Matthew Stafford (back). Golladay also finished third in air yards (1,745), sixth in targeted air yards (15.4), and was second with 21 receptions of 20+ yards. Owners should be confident that Golladay can function as a WR1, and he remains available until late Round 2 in most drafts.
Evans has averaged 139 targets, 77 receptions, and 1,210 yards since 2014. He was also averaging 9.1 targets per game and leading the NFL in air yards (1,778) before his season-ending hamstring injury in Week 14. But he still finished among the top-five in both standard and PPR scoring. Evans also eclipsed 150 yards in three different matchups last season, which tied him for the league lead with Godwin. His potential to explode for massive numbers in any given week is unchanged by the arrival of Brady and remains beneficial in the Best-Ball format. This provides an opportunity to capitalize on his declining ADP (29), which has fallen four slots since mid-May.
Cooper's ADP has descended from 28 to 34 since Dallas selected CeeDee Lamb, and the rookie's emergence will present the proverbial mixed bag for Cooper. Opponents must account for Lamb and Michael Gallup which depletes resources that would otherwise have been focused on Cooper. But Lamb possesses enough talent to commandeer consistent targeting, and he should surpass the 14.3% target share that Randall Cobb accrued during 2019. This will lead to another season of inconsistent target totals for Cooper, who collected 8+ in eight contests and five or less in six other matchups. His overall numbers could disappoint anyone who selects him as a low-end WR1.
Moore's collected 10+ targets during five of his seven matchups from Weeks 9-15. This secured his breakout season, while also propelling him to the league lead in targets (75/10.7 per game) and yardage (711) during that span. He was also fourth in targets (133), third in yardage (1,174) and fifth in receptions (86) from Weeks 1-15 before a concussion suddenly ended his season in Week 16. Moore will join Christian McCaffrey in comprising Carolina's primary receiving weapons. He will remain highly productive by collecting short and intermediate throws from Teddy Bridgewater and should approach low-end WR1 status.
Tier 3
Odell Beckham Jr., Adam Thielen, Cooper Kupp, Allen Robinson II, JuJu Smith-Schuster, A.J. Brown
One year ago, it appeared that Beckham was primed to excel in his new environment. But his disappointing numbers were impacted by a hernia injury, the decline in proficiency by Baker Mayfield, and the inadequacies of Freddie Kitchens as both a head coach and a play-caller. Beckham did collect 133 targets, finished fifth in air yards (1,720), and was second in offensive snaps (1017/63.6%). However, his career-worst 64.7 yards per game average was well below the average of 90.8 from 2014-2018. Kevin Stefanski's offensive approach could launch a statistical rebound while providing justification for Beckham's Round 3 ADP (35).
Thielen's 2019 per game averages (4.8 targets/3.0 receptions/41.8 yards) would have placed him well outside the top 50 in each category over 16 games (77 targets/48 yards/669 yards). However, a lingering hamstring issue sidelined him for six matchups, while Minnesota's unrelenting commitment to the run (29 attempts per game) constrained his ceiling when he was available. He will confiscate WR1 responsibilities following the departure of Stefon Diggs, which has relinquished the 94 targets that Diggs absorbed in 2019. Thielen's primary hurdle resides with Mike Zimmer's penchant to deploy the ground game.
Kupp was leading the NFL in targets after Week 5 (63) while averaging 12.6 targets/8.2 receptions/101 yards per game. But he did not maintain those averages from Weeks 6-17. (6.5 targets/4.8 receptions/59.6 yards per game). Kupp is currently the 10th receiver to be selected in current drafts. But Robert Woods, Tyler Higbee, and Gerald Everett will commandeer enough targets to keep him from producing as a low-end WR1. However, Kupp did finish fifth in red zone targets (21), with the league's highest team percentage (30.43). This usage near the end zone will maintain his viability as a WR2.
Only Thomas and Jones accumulated more targets than Robinson last season. (154/9.6 per game). That career-high number included a double-digit total in seven different matchups, while Robinson's team target share of 27.1 placed him third overall. He also finished fifth in percentage share of team's air yards, sixth in receptions (98), and 13th in yardage (1,147). Robinson just constructed his most prolific season since 2015 and remains unchallenged for Chicago's WR1 role. He should continue to deliver highly productive outings regardless of whether Nick Foles or Mitchell Trubisky is under center.
There is an inherent risk in assuming that the return of Ben Roethlisberger provides an instant elixir that resurrects Smith-Schuster's numbers to 2018 levels (166 targets/111 receptions/1,426 yards). Diontae Johnson led all first-year receivers in receptions during 2019 (59), and should only rise in relevance. 6'4", 240-pound Chase Claypool is both an intriguing prospect and an eventual threat to secure a consistent role, while James Washington supplies another theoretical competitor for targets. Smith-Schuster enters his contract season amid uncertainty and is hardly a lock to justify his current ADP (40).
Second-year WRs with the highest projected target share

1. A.J. Brown - 24%
2. Terry McLaurin - 23%
3. D.K. Metcalf - 23% pic.twitter.com/msZmE5TFwU

— PFF Fantasy Football (@PFF_Fantasy) May 26, 2020
Brown's numbers rose significantly after Ryan Tannehill became Tennessee's starting signal-caller (6.1 targets/3.8 receptions/77.8 yards-per-game), as he ultimately paced all rookies in scoring and receiving yards (1,051). He also led all receivers in yards per target (12.5) and tied for the NFL lead in receptions of 40+ yards (8). Brown was also first in yards per targets (15.5), receiving yards (605), and touchdowns (5) from Weeks 12-17, and finished fourth in Football Outsiders' DVOA (Defense-adjusted Value Over Average) – (26.4%). The 6'1", 225-pound Brown delivers the potential to skyrocket into elite status during his second season.
| | | | | | |
| --- | --- | --- | --- | --- | --- |
| A.J. Brown  | Yards/Target | Targets/Game | Rec./Game | Yards/Game | TD |
| 6 Games w/ Mariota  | 11.9 | 3.8 | 2.3 | 45.5 | 2 |
| 10 Games w/ Tannehill | 12.8 | 6.1 | 3.8 | 77.8 | 6 |
| | | | |
| --- | --- | --- | --- |
| Weeks 7-17 | Yards  | Yards/Target | TDs |
| Michael Thomas | 1,093 | 9.3 | 6 |
| DeVante Parker | 973 | 9.7 | 7 |
| Julio Jones | 927 | 8.9 | 2 |
| Kenny Golladay | 826 | 11.6 | 7 |
| Robert Woods | 779 | 8.9 | 2 |
| A.J. Brown | 778 | 12.8 | 6 |
| Allen Robinson | 770 | 6.9 | 5 |
| Tyreek Hill | 764 | 9.9 | 5 |
| DeAndre Hopkins | 763 | 8.1 | 5 |
| D.J. Moore | 750 | 8.7 | 3 |
Tier 4
Courtland Sutton, D.K. Metcalf, Calvin Ridley, D.J. Chark, Keenan Allen, Robert Woods, Terry McLaurin, Deebo Samuel, DeVante Parker, A.J. Green, Stefon Diggs, T.Y. Hilton 
Sutton led the NFL in percentage share of team air yards (42.93) while also finishing 15th in targets (125), and 17th in receiving yards (1,112). Denver desperately needed a receiver that would force opponents to shift resources from Sutton, and that was accomplished by the selection of Jerry Jeudy. But Sutton now encounters escalating competition for targets from Jeudy, Noah Fant, and K.J. Hamler, This creates a sizable obstacle that impedes his ability to match last year's usage. Sutton's diminished output in five games with Drew Lock (4.4 receptions/56 yards per game) is also a concern.
Imagine a D.K. Metcalf breakout in Year 2 ?pic.twitter.com/v7tAD5D7tI

— PFF Fantasy Football (@PFF_Fantasy) June 7, 2020
Metcalf led the 2019 rookie class in targets (100), and red-zone targets (18), as his steady growth as a receiver blended favorably with his unique combination of explosiveness and pure athleticism. He also finished second among newcomers in receptions of 40-plus yards (4), and third in both receiving yards (900) and touchdowns (7). Metcalf accrued 69 targets (6.9 per game) from Weeks 7-17, while also generating 564 yards (56.4 per game) during those contests. His proficiency should improve during his second season with Russell Wilson, while he could finish among the top 10 in red zone targets.
The Falcons did not upgrade from Russell Gage as their WR3 during the offseason. This will allow Ridley and Jones to attain sizable target shares. Ridley accrued 8.2 targets/5.6 receptions/82.1 yards per game following the departure of Mohamed Sanu, and those averages would result in 131.2 targets, 89.6 receptions, and 1,313 yards over 16 games. Ridley finished 20th in targets (93/7.2 per game), 15th in targeted air yards (1,242), and seventh in touchdowns (7) despite missing Weeks 15-17 (abdomen). He is a strong breakout candidate, with an ADP that risen from 54 to 47 since mid-May.
Chark was 15th in targets (106/8.2 per game) and seventh in air yards (1,355) after Week 14 but his effectiveness was neutralized by an ankle issue during the Jaguars' last three contests (12 targets/52 yards). He still finished ninth in touchdowns (8), 19th in targets (118), 17th in air yards (1,413), and 12th in percentage share of team's air yards (33.1). Chark returns to a dearth of competition for targets. This presents an enormous opportunity for the 23-year old receiver and exceptional value for owners at his sixth-round ADP (68).
Allen has not missed a game during the last three seasons. He has also finished among the top six in PPR scoring twice during that span while accumulating 444 targets, 303 receptions, and 3,788 yards. Last season he also finished sixth in targets (149), second in receptions (104), fifth in receiving yards (1,199), and 11th in air yards (1,520). However, those results were generated with Philip Rivers. Allen is 28 and physically capable of delivering excellent numbers once again. But LA's transition at quarterback threatens his ability to sustain recent success.
Woods collected five more targets than Kupp during 2019 (139/134), and also paced the Rams in targets (92/9.2 per game), receptions (59/5.9 per game), and receiving yards (779/77.9 per game) from Weeks 6-17. This was fueled by his numbers during LA's final six contests, when he was third among all receivers in targets (68/11.3 per game), second in receptions (45/7.5 per game), and fourth in yardage (568/94.6 per game). Woods could lead the Rams in each category this season and provides enticing value at his Round 5 ADP.
McLaurin instantly established himself as Washington's top receiving option by capturing 16 of his 24 targets for 243 yards during his first three games. He eventually finished second among rookies in scoring (WR24), receptions (58), and yards-per-game average (65.6). McLaurin also placed sixth among all receivers in percentage share of team's air yards (37.09) and 10th in yards-per-target average (9.9).
Wide Receivers
Team %
Air Yards
Yards/Target
Yards/Rec.
Air Yards/Rec. 
Courtland Sutton
43
9
15.4
10.9
Michael Thomas
41.3
9.3
11.6
7.9
Stefon Diggs
41.3
12
17.9
13.4
Allen Robinson
39.2
7.4
11.7
9.3
Odell Beckham
39.1
7.8
14
9.7
Terry McLaurin
37.1
9.9
15.8
12.1
Robby Anderson
36.7
8.1
15
11.8
John Brown
36.1
9.2
14.7
12
Julio Jones
36
8.9
14.1
10.6
Emmanuel Sanders
34.5
9
13.2
9.9
DeAndre Hopkins
35.3
7.8
11.2
7.8
D.J. Chark
33.1
8.5
13.8
10
DeVante Parker
33
9.4
16.7
13.2
Kenny Golladay
32.7
10.3
18.3
14
The rookie tandem of Antonio Gibson and Antonio Gandy-Golden supplies the potential for eventual excitement as they grow into their roles. But McLaurin will not contend with a legitimate threat to his status as the Redskins' WR1.
Samuel averaged just 4.2 targets, 3.0 receptions, and 31.2 yards per game during the first six games of his rookie season. But he finished 12th among all receivers in yardage (575/71.2 per game) from Weeks 10-17, while easily leading San Francisco's wide receivers in targets (49/6.1 per game), and receptions (35/4.4 per game) during those matchups. He will enter 2020 as the 49ers' WR1 after leading the team's wide receivers in percentage share of air yards (20) and target share (17.2).   
Parker averaged 70 targets, 41 receptions, 554 yards, and two touchdowns during his first four seasons. But his well-documented statistical resurgence in 2019 included career highs in targets (128), receptions (72), receiving yards (1,202), and touchdowns (9). Parker's usage and output did rise when Preston Williams' promising rookie season ended in Week 9 (9.5 targets/5.5 receptions/100.2 yards per game). However, you can confidently target Parker near his current ADP (59).
A.J. Green averaged 9.3 targets, 5.5 receptions, and 80.5 yards per game from 2011-2017. But his last reception was registered in Week 13 of 2018. He has missed 29 games since 2016 and has repeatedly been disgruntled with the organization. He also resurfaces in a collection of weaponry that includes underrated Tyler Boyd, Auden Tate, and second-round selection Tee Higgins. These factors provide your incentive to avoid selecting him before his Round 7 ADP (73).
Diggs averaged 113 targets, 78 receptions, and 976 yards from 2016-2019. He also finished second in yards per target (12.0), and percentage share of team's air yards (41.5) last season. He will operate on the perimeter opposite John Brown, who finished eighth in percentage share of teams' air yards (36.1) and 15th in average targeted air yards (14.2). Neither receiver will sustain the downfield production that they attained last season, which limits Diggs to low-end WR2 status.
From 2013-2018, Hilton accumulated 787 targets, 457 receptions, and 7,236 yards. But that streak abruptly ended in 2019, as Hilton was sidelined for six contests (calf) and the Colts passing attack dropped from sixth in 2018 (279 yards per game), to 30th (194.3 per game) following Andrew Luck's sudden retirement. Hilton's ability to remain proficient with Rivers launching passes remains uncertain.
Tier 5
Tyler Lockett, Jarvis Landry, Michael Gallup, Tyler Boyd, Julian Edelman, Mike Williams,
Lockett was fourth overall with 767 yards and had already established career highs in targets (72) and receptions (59) after Week 9, But he only averaged 5.4 targets/3.3 receptions/ 41.4 yards per game from Weeks 10-17. Lockett was contending with flu and shin issues during that span. But he will not replicate those early-season numbers as Metcalf continues his ascension.
Landry's accomplishments during 2019 remain underappreciated after he finished ninth in targets (138), fifth in red zone targets (21), and eighth in snaps (998). Gallup's ADP has dropped from 72 to 79 since the Cowboys selected Lamb. His candidacy for a breakout season has also been eviscerated by the combined presence of Cooper and the talented rookie.
Boyd finished seventh in targets (148) and has now eclipsed 1,000 in two consecutive seasons. He also offers value at his Round 7 ADP (74) despite Green's prospective return. Only three receivers collected more targets than Edelman last season. But he is now 34, and might not achieve chemistry with New England's signal-callers.
Williams led the NFL in targeted air yards (17.4), experienced his first-1,000-yard season, and achieved career bests in targets (89), and receptions (49). But questions abound for Charger receivers in the post-Rivers era.
Tier 6
Diontae Johnson, Will Fuller, Darius Slayton, Marquise Brown, 
Johnson led the Steelers in targets (63) and receptions (41) from Weeks 6-17. His value could soar in an offense that can support two highly productive receivers.
Fuller was seventh in targets from Weeks 2-6 (45) and second in air yards (700) entering Week 7. But he only performed on 176 snaps during the next 10 matchups (hamstring). He could emerge as Houston's WR1 if he can elude injuries.
Slayton is an intriguing option in Round 9 after leading all rookies in targeted air yards (14.5)  He also led the Giants in targets (53/7.6 per game) receiving yards (467), and touchdowns (5) from Weeks 10-17.
Brown was third in yardage after Week 2 (233), and averaged 8.5 targets per game entering Week 5.  He only averaged 3.6 targets/28.6 yards per game from Weeks 6-17 but delivers enticing big-play potential in the best ball format.
Tiers 7 and 8 
Emmanuel Sanders, Jerry Jeudy, Sterling Shepard, Christian Kirk, Marvin Jones, Breshad Perriman, Robby Anderson, John Brown, Brandin Cooks, Anthony Miller, CeeDee Lamb, Alshon Jeffery, Golden Tate, Curtis Samuel, Justin Jefferson, N'Keal Harry, Jamison Crowder, Mecole Hardman  
The receivers that are contained in Tiers 7-8 are located between  WR39 and WR55 in our rankings. But they could ascend into a higher tier or plunge further toward irrelevancy as the offseason continues.
More Best-Ball League Strategy
Check out all of RotoBaller's fantasy football rankings. Staff rankings are updated regularly for all positions and include standard formats, PPR scoring, tiered rankings and dynasty leagues.