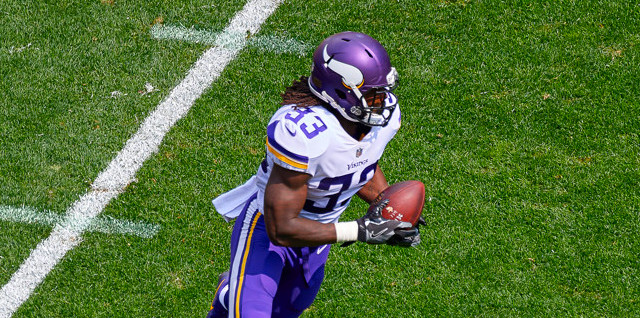 The Best Ball draft process continues to escalate, at a time that owners are searching for any form of fantasy football that can be embraced. The enticement of being able to build a roster that will not require in-season management also adds incentive to participate in this format.
The ranking experts at RotoBaller have just updated our tiered rankings that will help you prepare for your upcoming drafts. That includes our Best Ball rankings, which provide you with a valuable resource toward building league-winning rosters during 2020. We are also delivering a detailed analysis of these rankings, to boost your chances of fulfilling your championship aspirations even further.
That includes this breakdown of the critical running back position. These players maintain an unmistakable presence in our rankings, as seven backs are currently located among the top 10, while 23 are contained within our top 50. We will continue to update rankings in every format throughout the offseason and you can find the latest rankings here.
Featured Promo: Get any full-season NFL Premium Pass for 50% off and win big in 2022. Exclusive access to our Premium articles, 15 lineup tools, new Team Sync platform, Lineup Optimizer, Premium DFS tools and cheat sheets, and much more!
Sign Up Now!
RB Best-Ball Rankings
Tier 1
Christian McCaffrey, Saquon Barkley, Ezekiel Elliott, Dalvin Cook, Joe Mixon, Nick Chubb, Alvin Kamara   
A list of McCaffrey's achievements during 2019 could continue well beyond the limitations of this section. He should be the first selection in your drafts after averaging 10 points per game more than any other back in PPR scoring. He also finished third in rushing yards (1,387), and rushing touchdowns (15), while leading his position in targets (142), receptions (116), and receiving yards (1,005). His reception total trailed only Michael Thomas, while just seven players accrued more targets. Carolina's new offensive concoction that will be blended by Matt Rhule and Joe Brady won't be a deterrent for McCaffrey, who should approach last year's league-high in yards from scrimmage (2,392).
Barkley accrued over 50% of his season-long yardage total between Weeks 13-17 (1,003/542) after he overcame a troublesome ankle issue. That includes the 301 that he accumulated in Weeks 15-16 while averaging 6.7 per attempt. He also collected 100+ yards in four different matchups and has now eclipsed that number in 11 of 29 career games. Barkley also finished sixth among all backs in targets (50), and receptions (38) from Weeks 8-17, while also placing fourth in receiving yards (356) and third in PPR scoring during that span. Barkley now returns for his third season as the second overall selection in the majority of drafts.
Elliott was one of just two backs to surpass 300 attempts in 2019 and has now eclipsed that number during three of his four NFL seasons. He also finished among the top four in rushing yards for the third time since 2016 (1,357), even though his yards per game average has declined slightly each season (108.7/98.3/95.6/84.8). Elliott still finished at RB3 in PPR scoring, exceeded 100 yards in seven matchups, and generated 12 touchdowns on the ground. He also averaged 4.4 targets per game and should be among the top five players selected during your drafts.
Cook was second only to McCaffrey in scoring as he entered Week 11 (991 rushing yards/99.1 per game/20.3 attempts per game/10 rushing touchdowns) before his lingering shoulder problem impacted his availability until Week 17 (47 carries/144 yards). His usage as a receiver rose while Adam Thielen was sidelined in 2019 (5.2 targets per game),. That could be an indication that he will maintain consistent involvement as a pass-catcher this season following the departure of Stefon Diggs. He is entrenched as the foundation of Minnesota's offensive philosophy, which propelled the Vikings to third in run play percentage (49%/29.8 attempts per game)) during 2019.
Mixon averaged 12 attempts per game from Weeks 1-7, and his 36.2 yards per game average included four games in which he failed to exceed 17 yards. But his workload rose by 10 carries per game from Weeks 10-17 (22.1), including a whopping 24 per game during Cincinnati's final four matchups. That propelled Mixon to an average of 102 yards per game during the Bengals' last eight contests, while he produced all five of his rushing touchdowns during that span. The prospective return of A.J. Green and the arrival of Joe Burrow should be beneficial to both Mixon and a Cincinnati offense that ranked 26th last season.
Kamara's protracted ankle issue sidelined him for two contests and impacted his production after his Week 10 return. He only generated six touchdowns after producing the NFL's second-highest total during 2018 (18). His red zone usage was also reduced to 40 touches (27 rushes/13 targets) after he collected 77 during 2018 (51 rushes/26 targets). His yards per reception (6.6) and yards per target averages (5.5) also trailed his averages from 2017-2018 (9.5/7.6). But he still finished second among backs in targets per game (6.9), third in receptions (81), and fourth in receiving yardage (533). Despite the statistical downturn, a healthy Kamara can be targeted midway through Round 1.
Chubb finished second in rushing yards (1,494), after averaging 100 per game on 154 attempts (19.3 per game) from Weeks 1-9. His numbers diminished slightly to 691 yards on 144 attempts/86.3 yards/18 attempts per game) after Kareem Hunt returned in Week 10. Chubb also finished second in yards per game average (93.4), averaged 5.0 yards per attempt, and also led all backs with 11 runs of 20+ yards. His involvement as a receiver dropped from 4 targets/20 yards per game in Weeks 1-9 to 2.1 targets/14.6 yards per game after Hunt emerged from his suspension. But Hunt's presence does not keep Chubb from functioning as a top-8 back.
| | | | | | | |
| --- | --- | --- | --- | --- | --- | --- |
| Nick Chubb Rushing | Games | Attempts | Yards | YPC | YPG | TDs |
| Without Kareem Hunt | 8 | 154 | 803 | 5.2 | 100.3 | 6 |
| With Kareem Hunt | 8 | 144 | 691 | 4.8 | 86.3 | 2 |
| | | | | | | |
| --- | --- | --- | --- | --- | --- | --- |
| Nick Chubb Receiving | Games | Targ/Game  | Targets | Recepts | Yards | TDs |
| Without Kareem Hunt | 8 | 4 | 32 | 25 | 161 | 0 |
| With Kareem Hunt | 8 | 2.1 | 17 | 11 | 117 | 0 |
Tier 2
Aaron Jones, Derrick Henry, Josh Jacobs, Austin Ekeler, Leonard Fournette, Miles Sanders
Jones performed in all 16 of Green Bay's regular-season matchups during 2019, and the fourth-year back capitalized by seizing a spot among the league's RB1s. He tied for the league lead in rushing touchdowns (16), eclipsed 1,000 yards for the first time (1,084), was eighth among backs in receiving yards (447), and in yards after catch (454), and also finished 11th with 69 targets. In addition to attaining career highs in each of those categories, he also surpassed his previous career-best in rushing attempts by over 100 carries (236/133) and finished fourth in Football Outsiders' DYAR (Defense-adjusted Yards Above Replacement). His numbers provide your incentive to target him early in Round 2.   
Anyone who invested a fourth-round pick on Henry during 2019 was rewarded when he led the league in rushing attempts (303) and rushing yards (1,540). He was also the only runner to eclipse 100 yards per game (102.7) and was tied with Jones for the most rushing touchdowns (16). His minimal involvement as a receiver (24 targets/18 receptions/206 yards) could also rise after the release of Dion Lewis. He remains the centerpiece of a Tennessee offense that ranked fourth in run play percentage (47%) and seventh in attempts per game (28.7). Overreaction to his usage as a receiver should not deter you from targeting him during Round 2.
Jacobs was fourth overall in rushing yardage from Weeks 1-13 (1,061) and was eighth with 218 attempts (18.2 per game). But a shoulder injury sidelined him for three of the Raiders' final four matchups. He still finished the year eighth rushing (1,150) and was third in yards per game average (88.5). He also eclipsed 100 yards in five different contests and led all rookie backs in attempts and yards per game. His modest usage as a receiver (27 targets/2.1 per game) is likely to continue after Las Vegas signed Jalen Richard to a two-year extension. But Jacobs remains embedded as a top-10 back
While Melvin Gordon's 2019 holdout was disastrous for the former Charger, it provided Ekeler with an opportunity to elevate his value significantly. He finished at RB4 in PPR scoring by averaging 97 total yards per game, while also vaulting to second among backs in targets (108), receptions (92), receiving yards (993), and yards after catch (966). Ekeler also led his position in receiving touchdowns (8), yards per reception (10.8), and yards per target (9.2). He will not be contending with Gordon for touches, which should expand his snap count beyond last season's career-best 599. Questions surrounding the quarterback position should not discourage owners from selecting the elusive Ekeler in Round 2.
Fournette evaded lingering injuries during 2019, while also avoiding unnecessary suspensions. That allowed him to establish new career highs in games played (15), rushing yards (1,152), targets (100), receptions (76), and receiving yards (522). Those numbers launched him to RB7 in PPR scoring despite a dearth of touchdowns (3). Fournette also finished seventh in both attempts (265) and rushing yards, third among backs in snaps (918), and second in snap count percentage (88.4). He is available near the end of Round 2 in most drafts and can provide a viable RB2 option for your rosters.
Sanders finished third among rookies in both rushing attempts (179) and rushing yards (818) despite a troublesome shoulder injury that impacted his workload during the year. He also averaged 18.7 touches per game after Jordan Howard was sidelined with his own shoulder issue, while also averaging 74 yards per game from Weeks 12-17. He also finished eighth among all backs in targets (36/5.13 per game) and receptions (24/4 per game) during that sequence. Boston Scott could siphon a percentage of touches. But Sanders will operate as Philadelphia's primary back, and now resides on the threshold of RB1 status.
Tier 3
Melvin Gordon, Kenyan Drake, Jonathan Taylor, Todd Gurley
Gordon's transition within the AFC West has placed him atop a depth chart that currently contains Phillip Lindsay and Royce Freeman. But Gordon's $16 million contract should ensure that Lindsay will not match his average of 243 touches during 2017-2018, while Freeman's diminishing role will dissipate even further. Gordon will operate as the Broncos' primary back and should surpass the average of 13.5 attempts per game that he attained last season – which was his lowest average since 2015. He should also assemble sufficient yardage with that workload for owners to deploy him an RB2.     
Drake was among the biggest winners during free agency, and now joins an exclusive group of runners that are primed to perform as feature backs. He will collect a sizable touch total, while owners can avoid the frequent frustration that often emerges with timeshares. Drake earned his RB1 status by producing 814 total yards (102 per game), and 643 rushing yards (102 per game) while accumulating 19 touches per game from Weeks 9-17. He also vaulted to RB4 in scoring during that span. With only Chase Edmonds dwelling below him on the depth chart, he should become a consistent weekly scorer for owners.
Anticipation was already building for Taylor's arrival even before he delivered a 4.39 in the 40-yard dash during February's NFL combine. That has accelerated enthusiasm for many owners to seize the rookie, even before the identity of his team has been determined. His enticing attributes (size/speed/big-play potential/sustained health) have blended with his astronomical numbers at Wisconsin (6,174 rushing yards/926 attempts/6.7 yards per attempt/50 touchdowns), to create the prospects of Taylor quickly functioning as a difference-maker. Only the potential of an unfavorable environment could reduce expectations for the first-year back.
Uncertainty about Gurley's health has lowered his statistical ceiling and transformed what was once his lofty draft status. His current ADP (30) is a byproduct of his 2019 numbers, which included career lows in rushing attempts (223) and rushing yardage (857). He also registered his lowest totals since 2015 in targets (49), receptions (31), and receiving yards (207). However, he still tied for fifth overall with 14 touchdowns and will supply a talent infusion for an Atlanta rushing attack that ranked 30th last season. He will operate as the Falcons' lead back while providing owners with an effective RB2.
Tier 4
Chris Carson, Damien Williams, Devin Singletary, Le'Veon Bell, Marlon Mack, Mark Ingram II 
Carson has now accumulated 525 carries, 2,381 yards, and 16 touchdowns during his last two seasons while establishing career highs in yardage (1,230) and attempts (278) in 2019. That placed him fifth in both categories and propelled him to ninth in scoring. It appears that the hip issue that developed in December should not threaten his Week 1 availability, and he will continue to operate as Seattle's primary back. Rashaad Penny should only confiscate 30-35% of Seattle's backfield touches whenever he returns from his own health issue (ACL).
Williams finished 40th among backs in rushing attempts (111), 36th in rushing yards (498), and 33rd in yards per game average (45.3). But those were all career highs for the seventh-year back, who was limited to 11 games during 2019 (ribs). Despite a track record of restricted touch totals since 2014 (49 attempts/29 targets per season), owners are selecting Williams in Round 5 of their drafts. That reflects the combination of his perceived upside and the current level of competition on Kansas City's depth chart (Darwin Thompson/DeAndre Washington/Elijah McGuire/Darrel Williams).
Singletary launched his rookie season by gaining 127 yards (13.5 yards per attempt) in Weeks 1-2 before a hamstring injury sidelined him for three matchups. But he also delivered an encouraging seven-game sequence from Weeks 9-15, by accumulating 557 of the 775 yards that he accrued during the season. Singletary also averaged 79.6 yards per game/4.8 yards per attempt during that span and appears capable of functioning effectively with an expanded workload. That opportunity is dependent upon Buffalo's plan for reallocating the 179 touches that were distributed to Frank Gore last season.
Bell's debut season as a Jet provided him with the opportunity to perform in a feature back role. But he could not replicate the statistical success that he attained with regularity as a Steeler. Even though he finished in a tie for 11th with 245 attempts, he was only 23rd in rushing yardage (789), with an anemic average of 3.2 yards per attempt. He is currently the theoretical lead back again this season. But any trepidation surrounding the potential for Adam Gase to become an obstacle in Bell's pathway to productivity is justified.
The Colts finished fifth in run play percentage (46.4). with over 52% of the rushing attempts being distributed to Mack. He led the team in each major rushing category for a second consecutive season, finished ninth in attempts (245), and 11th in yardage (1,091) – despite missing two games with a hand injury. He also finished fifth in rushing 1st downs (67), while performing on 54% of Indy's offensive snaps. However, he only garnered 17 targets (1.21 per game), as Nyheim Hines remains Indy's primary receiving back ( 58 targets/44 receptions/320 receiving yards).
Ingram's first season with Baltimore included an RB8 finish in non-PPR scoring and a new career-high in total touchdowns (15). He also eclipsed rushing 1,000 yards for the third time in his career, while finishing 13th in that category (1,018). Ingram also finished third behind only McCaffrey and Elliott in Football Outsiders' DYAR (Defense-adjusted Yards Above Replacement).  But optimism regarding Ingram's favorable numbers can be offset by his age (30), his career touch total (1,777) and the likelihood that he will experience touchdown regression.
Tier 5
D'Andre Swift, David Johnson, David Montgomery, James Conner, Kerryon Johnson, Kareem Hunt, Phillip Lindsay
Swift's Round 4 ADP could shift in either direction following the upcoming NFL Draft. At a minimum, he should garner a consistent role and could commandeer feature back responsibilities with his new team. The 5'8", 215-pound rookie will capitalize on any opportunity that he is presented while providing owners with a steady point producer.
Drake's ability to thrive as the Cardinals' RB1 ushered David Johnson into irrelevance in Arizona. He will have an opportunity to resurrect his value with Houston. Montgomery tied with fellow first-year back Jacobs for 13th in rushing attempts (242) but also finished with 261 fewer yards (889/3.7 yard per attempt). However, his workload should expand this season.
Connor led the Steelers with just 464 yards last season, as an ongoing plethora of health issues (knee/thigh/shoulder) constrained his output and availability (6 missed games). His disappointing numbers represented a substantial plunge from 2018, which could compel Pittsburgh to draft another back. The growing list of concerns surrounding Kerryon Johnson includes two knee issues, 14 missed games, and Detroit's propensity to deploy multiple backs. His proficiency also declined from 2018-2019, as his yards per attempt average dropped from 5.4 to 3.6.
When Hunt resurfaced following an eight-game suspension, he performed on 59.7% of Cleveland's offensive snaps. He also averaged (58 total yards and 10 touches per game) during the Browns' final eight matchups. The 2017 rushing leader remains a viable flex option even though Chubb will sustain a sizable role.  The consistent decline in Lindsay's numbers from 2018 to 2019 was already concerning (5.4-4.5 yards per attempt/241-196 receiving yards//10/7 touchdowns). Now, the arrival of Gordon guarantees a significant drop in Lindsay's usage and production.
Tier 6
Sony Michel, Jordan Howard, Derrius Guice, Raheem Mostert, Darrell Henderson, Devonta Freeman
Michel tied for ninth among all backs in rushing attempts (247). But his yards-per-carry average plunged from 4.5 to 3.7.
Howard is still 25-years old and could end a three-year statistical decline - if Miami doesn't draft another back.
Congested backfields in Washington and San Francisco are problematic for Guice and Mostert, while Henderson could also have his ceiling constrained by a timeshare.
Freeman's value is dependent upon where he eventually relocates.
Tier 7-8
J.K. Dobbins, Ronald Jones II, Latavius Murray, James White, Tarik Cohen, Tevin Coleman, Justin Jackson, Adrian Peterson, Tony Pollard, Nyheim Hines, Cam Akers, Benny Snell II, Duke Johnson, Clyde Edwards-Helaire, Alexander Mattison, Chase Edmonds, Jamaal Williams
Tiers 7 and 8 contain players that are located from RB37 to RB53  in our rankings. But a large percentage of these backs could ascend into greater relevance as the offseason progresses. Newcomers Akers and Edwards-Helaire are both strong candidates for increased roles as their first seasons develop.
More Best-Ball League Strategy
Check out all of RotoBaller's fantasy football rankings. Staff rankings are updated regularly for all positions and include standard formats, PPR scoring, tiered rankings and dynasty leagues.