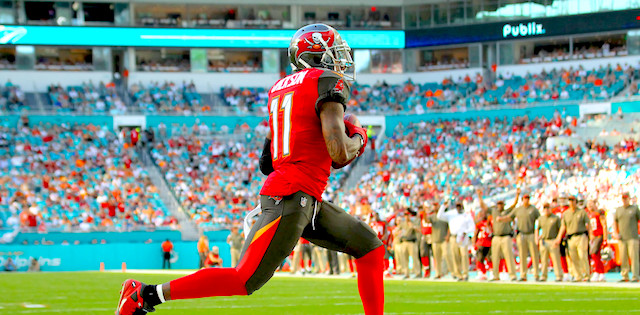 We are still in the midst of a long NFL offseason, but it's prime time for MFL10s, BB10s, and other best-ball formats. Regardless of where you play, one important factor to winning is to find the best late-round players to plant a flag in.
This means just as much in the long run of the season as getting it right in the early rounds. There are no drops or trades to help in cases of injury or bad play. You cannot grab that new hotness off waivers. Therefore, the late-round boom players need to be found in hopes of winning you the weeks when the stars may underwhelm a bit.
With this said, let us take a look at a few players at each position who could be those guys to win you a game or two and keep you in the money.
Editor's Note: Get any rest-of-season NFL Premium Pass for 50% off. Our exclusive DFS Tools, Lineup Optimizer and Premium DFS Research through the Super Bowl.
Sign Up Now!
Quarterbacks
Matthew Stafford, Detroit Lions | ADP - QB 24
Was 2018 a down year for Matthew Stafford? Of course. But when you have a fractured back and, more importantly, a wife battling major health concerns, this can be excused.
In a league in which quarterbacks are playing into their late-30s and even early 40s, Stafford is only now entering his age-31 season for Detroit. In 2018, he was able to produce 3,777 passing yards and 21 touchdowns. This, despite losing Golden Tate and Marvin Jones to trade and injury. He also lost Kerryon Johnson after 10 games. A running back who looks to finally end the curse which developed over the team after their treatment of Barry Sanders.
If Jones can come back healthy and Kenny Golladay can become the receiver people think he can, Matthew Stafford will get past his one-year production slide and be a top-12-to-15 quarterback again this season.
Detroit will only go as far as Stafford and his arm will take them. Despite persistent grumblings, Stafford won't be traded. It is not every day you have a franchise quarterback, and let's make it clear, Stafford is that. While not at the level of an Aaron Rodgers, or seemingly Patrick Mahomes, he is better than more than half of the starters in this league. Just entering his prime years, the Lions would set themselves back years by letting him go.
Younger players like Baker Mayfield and Mahomes are the new options. Everybody wants to take them in startup drafts. However, no one wants to take a tough-as-nails Matthew Stafford. I am here to tell you this is a mistake. While Mayfield and Mahomes are nice, Stafford is proven. On a team in Detroit whose offense will allow his production to remain high, 4,000 yards and 28 to 30 touchdowns is a safe assumption for Stafford. This may not be the flashy numbers put up by Mahomes last season, but they are also not numbers which lead you to believe regression is coming. He brings the stability to the position late in drafts, to allow you to build up your roster in early rounds.
Josh Allen, Buffalo Bills | ADP - QB20
One of the young guns who could be a moon-shot pick if he pans out. Josh Allen, the 6'5 rocket-armed quarterback from Wyoming could be among the best at the position within a few years. If he can finally allow his accuracy to match up with his arm and legs, Allen has the tools to be special. If his accuracy does not play out as wanted? Well, look at the fantasy career of Cam Newton.
Unlike Lamar Jackson, Josh Allen can actually throw the ball. He is not just a pure runner. But when he does run, he has the size to absorb hits without fumbling. Where a player like Jackson is a run-first player, Allen wants to be more conventional at times. He was forced into his rushing last season in part due to the ineptness of the team. Both the offensive line, which has six new players, including four projected starters, in 2019 as well as the ageing run game. The run game which can only be better this season than last. LeSean McCoy and Frank Gore will be solid contributors as rookie Devin Singletary gets increasing reps throughout the season. T.J. Yeldon coming in from Jacksonville cannot be forgotten either.
While the run game has obviously received a boost, so has the passing game. With John Brown coming in from Baltimore and Cole Beasley from Dallas, the group is starting to have the semblance of a real position group. Zay Jones needs to finally have a breakout season, and Robert Foster needs to keep his 2018 momentum going. But if these things happen, the Buffalo quarterback can get to 3,500 yards or better and his 10 touchdowns from 2018 should rise to the area of 25 this season.
With his current A.D.P. being QB20, Allen will allow you to garner an advantage at the wide receiver or running backs position in your best ball drafts. He will provide the rushing upside wanted from someone who at this point has a limited passing upside. He may not run as much this season, but it will still be a part of the offense. And as long as it is, Allen should be firmly in your plans as a late round target to win your drafts. As we know, in best ball, it really is all about the draft.
Running Backs
Justice Hill, Baltimore Ravens | ADP RB58
This draft price is only going to rise as the season comes closer. Mark Ingram is the main guy in Baltimore but by the middle of the season he may not be. Hill, out of Oklahoma State, is going to get more and more work as the season goes on. Baltimore was number one in the NFL in rush attempts last season, and with a full season of Lamar Jackson this season this should remain the same.
Guys like Alex Collins and Gus Edwards were getting opportunities in the Ravens offense last season, and Hill is a better player with higher draft capital than both of them. Kenneth Dixon is alright fine and the Ravens clearly like him, as demonstrated by keeping him through injury and drug suspension. However, it is put up or shut up time now. Not only is Ingram now there but with Hill there, Dixon looks to be on his way out if he doesn't perform.
2017 was the real breakout for Justice Hill. He caught 31 passes for the Cowboys showing he has the pass-catching ability to be a three-down back if called upon in the NFL. With Ingram there for the next two or three seasons at minimum, this will allow Hill to grow and mature. This will be a good thing as at 5'10" and only 200 pounds he will need to put on a few pounds to handle the punishment coming his way as a lead back.
RB58 is a great value for someone with the caliber of Hill. Even if he is not a weekly hit, there will be those times where he will be a week winner for you. The best thing about best-ball is the ability to take players with massive upside for only a few weeks. This will make sure that even if your stars have a down week there may be someone there to take over for them. Imagine how many weeks were won by DeSean Jackson in the first few weeks of 2018 while playing with Ryan Fitzpatrick. He did not do much the rest of the season, but based on his points in those weeks, you got off to a great start in points.
These are the types of players to look for late and Justice Hill is just this type of player for you, if you have the guts to take him.
LeSean McCoy, Buffalo Bills | ADP RB40
It could not have gone much worse in 2018 than it did for LeSean McCoy. One of the best running backs of the past decade, he was not even the leading rusher on his own team. That title went to a quarterback who only played 11 games.
With the offensive line being totally rebuilt through free agency and the defense getting even better with the drafting of Ed Oliver at number nine, the components are there for this to be a rebound season.
However, there are concerns he may not even make the team. His $9 million contract seems excessive, but the Bills have the salary cap room to absorb it. Even if he is released, he will find a home. The Buccaneers would grab him in a heartbeat, and he would immediately become the RB1 in their backfield. If this did happen, he would move up a lot of ranking boards as well. We saw what Bruce Arians could do in Arizona with another pass-catching back in David Johnson. Although older, McCoy has similar abilities, and this could propel him into the top-24 discussion in later drafts.
The future is not bright for LeSean McCoy in Buffalo after the 2019 season. The team drafted Devin Singletary and he should take over for 2020. But when it comes to this season, the Bills want to make another playoff run. They may make it. They may not. But either way the options are going to start with McCoy, and he will be a key to any success attained. Getting him at RB40 is a small price to pay for a player who could finish top-24. Even if he doesn't reach his ceiling, RB40 should be his floor.
Wide Receivers
David Moore, Seattle Seahawks | ADP WR82
With the retirement of Doug Baldwin, the Seahawks are going to need a number two receiver behind Tyler Lockett. D.K. Metcalf was drafted to fill this role, but the wide receiver position is notoriously hard to be successful in during year one.
To add to this, Metcalf is not the poster boy for health. He missed time with various injuries while at Ole Miss, including a severe neck injury. We all saw the combine he numbers put up, as the 40-yard dash, the bench press and the body fat numbers were incredible. However, the agility, three-cone and other numbers were less so.
With the concerns surrounding Metcalf as well as others on the Seahawks, the choice for draft value is clearly David Moore. He was on the team last season and in place of Doug Baldwin had some solid games. At WR82 he is also incredibly cheap. He is a player you can likely get with your final pick and this makes him even more of a value. Instead of using a third or fourth-round pick on Lockett, Moore is a cheaper option to get a piece of the pass offense in Seattle. With the amount the Seahawks ran in 2018 do you really want to spend a high pick on the pass game anyway?
Russell Wilson is a great quarterback. Arguably top-10 in the league. But his 8.2% touchdown rate from last season is unsustainable. Tyler Lockett and his 10 touchdowns are the first and most likely to regress as with only 70 targets last season this rate is also unsustainable. David Moore seems the least likely to regress and in fact the most likely to progress in 2019.
In 16 games last season, Moore had 26 receptions for 445 yards and five touchdowns. The touchdowns numbers are likely to go up a few but the receptions and yardage numbers should see a significant increase. His 53 targets would get closer to 85 or 90 and this will make him a great value.
DeSean Jackson, Philadelphia Eagles | ADP WR51
We saw what DeSean Jackson has left in the first few weeks of 2018 with Ryan Fitzpatrick. Of course, Jameis Winston had to return and ruin the value of Jackson from there on out but now he is on a new team. Well, a new, old team.
After being unceremoniously dumped by Chip Kelly, D-Jax is back and ready to thrive once again. If Carson Wentz is healthy, he throws a great deep ball. He showed in 2017 what he can do with a downfield threat. In that season it was Torrey Smith. This season it will be DeSean Jackson.
Jackson is a boom or bust player. This makes him far more valuable in best-ball drafts than it does for redraft purposes. Like other high-variable players, he can easily win you a week and with others on the team to cover up his bad weeks, he can't lose weeks for you.
Not having to worry about setting the perfect lineup, knowing when the boom weeks are coming is key to Jackson's ability to bring back return on his current price of WR 52. You are getting a player who is still one of the fastest players in the league at age 32. He is happy to be returning to his first NFL city. And he will be very happy to get to play with Carson Wentz instead of Jameis Winston who treated him like a red-headed stepchild.
Tight Ends
Darren Waller, Oakland Raiders | ADP TE36
Last season in Oakland, Jared Cook finished with 68 receptions for 896 yards and six touchdowns. This made him the number one receiver on the Raiders team. This does not mean Waller will be the number one this season. With Antonio Brown and Tyrell Williams on the roster, he will be lucky to be the number three. But it shows the amount Derek Carr uses the tight end when he gets in trouble.
Josh Jacobs is coming in to replace Marshawn Lynch in the run game and Antonio Brown and Tyrell Williams are coming in to provide more offensive weapons. This means Waller will fit in nicely behind these players as he could quietly have a good season at a bad position. Defenses will be keyed up to stop Brown. Still possibly the best receiver in the game, Brown is going to command 150 targets or more and this will force defenses to lose Waller in the passing game. As Williams takes the top off of defenses to provide the compliment to Brown, Waller will quietly be getting five or six targets a game. If he is able to turn these targets into four or five receptions for 60 or 70 yards this will allow him to finish with a similar stat line to what Cook put up in 2018 when he finished at TE 6.
If Darren Waller can provide these kinds of numbers in a better offense than the one the Raiders had last season, his price tag of TE 36 will be a far cry from his possible top-12 finish. Even if he doesn't finish top-12 but instead only finished top-20? He is still the TE 36 and will be your second or third at the position. This again will allow you to concentrate on other positions in earlier rounds thus giving you a positional advantage. Taking a shot early in drafts is dangerous. But waiting until the end of drafts and taking a shot in hopes of a grand slam? Sometimes when others are hitting three-run home runs, you need that grand slam to win.
More Best-Ball League Strategy