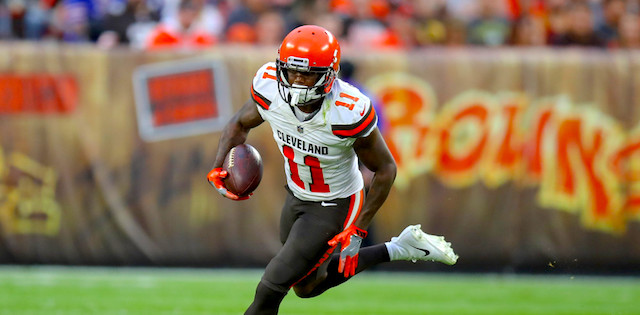 We have now advanced into August as our journey through the offseason nears its conclusion. Several developments during training camps have impacted the value for various players while preseason matchups will alter the fantasy landscape even further. Activities have also intensified for owners in redraft leagues, who are experiencing a massive surge in preparations for their upcoming drafts.
Most of you anticipate these final weeks of the offseason with great enthusiasm, and the team at RotoBaller shares your passion. That is why we are providing an extensive collection of statistics, analysis, and thoroughly researched recommendations that are designed to help you capture league championships.
That includes our profiles of players who are approaching their second seasons. Some of these performers will have legitimate opportunities to flourish due to a combination of talent, and a favorable environment. Others will encounter significant hurdles that will impact their ability to deliver consistent production. This article will examine Antonio Callaway, whose age-22 season begins with great uncertainty.
Editor's Note: Get any rest-of-season NFL Premium Pass for 50% off. Our exclusive DFS Tools, Lineup Optimizer and Premium DFS Research through the Super Bowl.
Sign Up Now!
An Inconsistent Rookie Season
Callaway's 2018 rookie season presented a blend of erratic production, brief displays of game-altering ability, and a frustrating collection of mental errors. That combination of factors created inconsistent numbers throughout the year.
His final results were hardly catastrophic, as he finished third among first-year wide receivers in targets (79), receptions (43), and touchdowns (5), and was fifth in receiving yards (586). But Callaway's output lagged behind the production that was attained by fellow newcomer Calvin Ridley (92 targets/64 receptions/821 yards/10 touchdowns).
Callaway also could not replicate the late-season surge that was delivered by D.J. Moore  (82 targets/ 55 receptions/ 788 yards) whose 960 yards from scrimmage led all first-year receivers. Callaway did not even produce a sequence of encouraging performances, similar to what was achieved by Dante Pettis (Weeks 12-15), Christian Kirk (Weeks 3-7), and Daesean Hamilton (Weeks 14-17).
Instead, his involvement in the offense fluctuated throughout the year. Callaway was limited to a meager 17% snap count in Week 1, which expanded to  75% during the Browns' next 15 games. He was also targeted just once in Week 1, then collected 7+ in three of his next matchups - including a season-high 11 in Week 3. That propelled him to a season total of 37 entering Week 7, which led all rookie receivers. But he also failed to surpass two targets in four of his next nine contests. That oscillating blend of usage created huge disparities in his weekly production.
An Ascending Offense
Much has transpired for Cleveland's offense since Week 1 of 2018.  The Browns began last season with Tyrod Taylor at quarterback, Josh Gordon was lining up at wide receiver, and the team was operating under the self-defeating leadership of Hue Jackson. A much-needed transformation both on and off the field began in Week 3 when Baker Mayfield replaced Taylor under center. Taylor was completing just 49.4% of his passes and averaging only 118 yards-per-game. But it still required Taylor's Week 3 concussion before Mayfield's superior blend of physical talent, moxie, and general acumen were deployed in Cleveland's lineup.
Jackson's emphatic refusal to provide Mayfield with an opportunity to receive first-team reps during training camp underscored his strange inability to comprehend which quarterback delivered the most favorable combination of skills. Mayfield completed 74% of his passes during the debut, and the offense functioned more effectively. But even though Mayfield instantly reinvigorated the team's anemic attack, his proficiency improved after Freddie Kitchens was promoted to offensive coordinator before Week 9. This mercifully released Mayfield from the indefensible restraints of Jackson and former coordinator Todd Haley.
When Kitchens became the architect of Cleveland's offense he quickly made schematic changes that facilitated Mayfield's development. One of his modifications involved an emphasis on quick throws. This minimized the effectiveness of opposing pass rushers and helped Mayfield construct a 19:8 touchdown interception ratio from Weeks 9-17. Mayfield's completion percentage also increased by 10% during the eight games with Kitchens as his coordinator (68.4%).
While the adjustments that Kitchens made to the offense were universally beneficial, Calloway's role remained virtually the same. His 5.6 target-per-game average before Kitchens' became the play-caller dropped to 4.25 in Weeks 9-17.  However, his 25.9 yards-per-game average did improve to 44 yards-per-game during that span.
Increased Competition For Targets
Callaway was running routes as Cleveland's WR2 behind Jarvis Landry throughout his rookie season.  But the acquisition of mercurial yet immensely talented Odell Beckham Jr. will force Callaway down the depth chart. Beckham was the only wide receiver to accumulate 1,000+ yards in fewer than 14 games last season and he will benefit greatly from the transition to Mayfield.
Beckham adds explosiveness and a capricious presence to the Browns, although his arrival is clearly problematic for Calloway. However, it did eliminate Breshad Perriman (21.3 yards-per-reception) from the equation. Perriman's agent (Drew Rosenhaus) and Cleveland General Manager John Dorsey had reached verbal agreement on a contract only hours before Cleveland's trade for Beckham. That transaction compelled Perriman to backpedal on the agreement, which removed his potential to pilfer downfield targets from Callaway.
But even though Perriman will be running routes as a Buccaneer, Callaway has failed to ascend beyond Cleveland's second-team offense in training camp. He is currently behind Rashard Higgins, who has confiscated most first-team opportunities. This is concerning since Beckham and Landry already provide two insurmountable obstacles that will negatively impact Callaway's usage.
Beckham was fourth in targets (115) and fifth in targets-per-game (10.5) from Weeks 1-12 last season and has averaged 145 during the four years in which he has played 12+ games. Landry has averaged 152 targets during his last four seasons and exceeded 160 twice during that span. He was also second in targets among all receivers entering Week 9 (94) before he ultimately finished eighth in 2018 (149). While Callaway can eventually overcome Higgins on the depth chart, he will not commandeer the percentage of targets that will be requisitioned by Beckham and Landry.
Third-year tight end David Njoku finished second on the team in targets last season (88) and should retain a similar role within Cleveland's increasingly potent attack. The Browns' running backs also garnered 20% of the team's targets in 2018, while Nick Chubb (2.9) and Duke Johnson (4.1) combined for 7-per-game. They will blend into the mix of receiving weapons, while Kareem Hunt will also emerge as an additional receiving option in Week 10.
Former Tampa Bay offensive coordinator Todd Monken was added to the offensive staff, but Kitchens has stated that he will remain the play-caller. As Kitchens progresses through his first season as a head coach, it is conceivable that the roles of both coaches will evolve.
The Season 2 Outlook
Callaway's potential as a downfield threat propelled him to fourth among first-year receivers in receptions of 40+ yards (3) and seventh in catches of 20+ (8). He was also second among all Browns in targeted air yards (TAY) with 20.44%. Those positives were offset by weeks of dormant production, and mental miscues that included six drops.
It would often be reasonable to expect improved proficiency and a rise in production from a second-year receiver. Particularly for a speedy 22-year old who possesses Callaway's big-play potential. However, he will be confronted by an alarming number of obstructions that impede his path toward replicating last year's target total.
Constraints in usage will result from laboring behind Beckham and Landry, while Njoku, Higgins, and Cleveland's stable of running backs also loom as legitimate threats to Callaway's target total.
This should create a major concern for anyone who is considering the selection of Callaway in redraft leagues. His vertical presence can justify a late-round investment in Best-Ball leagues. But the number of hurdles that Callaway must overcome should compel you to avoid selecting him in other formats.
More Fantasy Football Analysis