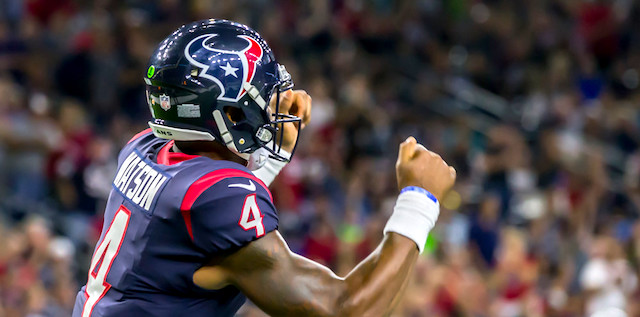 It's that time of the year again where preparation begins for the upcoming fantasy football season. The wait is over as the summer approaches and training camp looms. Teams are starting to hit the field and we begin to get our eyes on where the value lies. One place we turn to as we look for value is the quarterback position.
Gone are the days where you must attack this position early in the draft. In fact, in 2019 QB may be one of the deepest that we have seen in several years. Although we know that Patrick Mahomes will be drafted fairly early, the difference in the players behind him is very minimal. Two of the players that you will be pressed into deciding between early on will be Aaron Rodgers and Deshaun Watson. Both have been steady fantasy contributors and also present some intriguing upside in 2019.
But the question will be who should be on your roster after the draft is over? We typically like to promote the "wait on your QB" mentality in fantasy, but there comes a point in a draft where the value is just too good to ignore. That is why I am here to help you with the difficult decisions in your draft. Let's take a look at these two upper echelon QBs and who you should select in your draft in this ADP Showdown.
Editor's Note: Get any full-season NFL Premium Pass for 50% off. Our exclusive In-Season Lineup Tools, Lineup Optimizer and over 150 days of Premium DFS Research.
Sign Up Now!
Aaron Rodgers, Green Bay Packers
ADP: 49 (QB3)
We have been accustomed to Aaron Rodgers being one the top options at QB for a number of years now. Between 2009-2016, Rodgers finished either one or two at the position by season's end in all but two years (one cut short due to injury). Last season, he didn't have a great season by his standards (4,442 yards and 25 TD) but it was enough to finish as the fantasy QB6. His numbers were where we are used to seeing them but the TDs being down was somewhat alarming. That was due in large part to the Packers offense becoming a mid-tier scoring team (14th in PPG at 23.5). Considering that he was going in many drafts as the QB1, his finish at season's end felt disappointing to his owners.
Heading into the 2019 season, Rodgers draft stock is beginning to see a dip. His current ADP has him coming off the board at 5.05, which to me still seems a bit too high. There will be question marks with this offense in the upcoming season. New HC Matt LaFleur isn't exactly known as an offensive genius and will likely look to make this team more balanced. Rodgers essentially has the same pieces to work with in the receiving corps, led by Davante Adams and a trio of second-year receivers. What could affect Rodgers value in 2019 will be the run-pass ratio the Packers employ. If his attempts drop, so will his opportunities, limiting the high scoring production that we are used to seeing with Rodgers.
Deshaun Watson, Houston Texans
ADP: 55 (QB4)
Deshaun Watson has shown early in his career that if he is on the field, he is undoubtedly an upper-echelon fantasy QB. Before being injured in his rookie season, he was well on his way to a QB1 finish. In 2018, he played the entirety of the season and his QB4 finish showed us that he is just scratching the surface. Couple his passing prowess with his rushing ability and Watson could become the top dual-threat option in the game. That is, as long as he can stay healthy, which will always be on the back of the mind with fantasy owners.
Nothing should change with Watson and the Texans offense in 2019. All the key pieces are back, including Will Fuller, who seems to be a major influence on Watson's numbers. His QB rating is usually higher when Fuller is on the field and passing yardage tends to increase (four 300-yard games with Fuller to only one without). We know that DeAndre Hopkins will get his numbers, but a full season with Fuller on the field could put Watson in the discussion for QB1 overall. His current ADP of 5.08 has him in that second tier of QBs off the board after Mahomes, which is warranted. Is it a price that is worth paying?
Verdict
If you're faced with this decision, it could be a very tough one to make. On one hand, you have the QB that has the name cache that you expect to see results to warrant the ADP by year's end. On the other, you have a rising star at the position who continues to improve each season. With Rodgers, I look at a QB that may be on the decline and his numbers that we have seen over the last two seasons may be what we should expect from him going forward.
With Watson, you have a QB that can provide you with quality stats on a weekly basis with both his arm and his legs. If we continue to see the Texans' run game struggle in 2019 then more of the offensive workload will be on his shoulders. If that is the case, Watson could be on the verge of a big year.
Based on the current ADP, if I am forced with this decision I will be selecting Watson, who is available slightly later than Rodgers. Both players are on similar value levels currently but Watson has a bit higher of a ceiling in my opinion. Based on that, I would make my decision on Watson, as you should in your upcoming drafts.
More Fantasy Football Analysis